Shopping at Trader Joe's around the holidays might as well be my personal Olympics. It takes some real stamina to dodge all the charcuterie board creators, the Pinterest holiday cocktail recipe makers, the frantic shoppers who will throw hands to get that last tin of Jingle Jangle—oh, and the guy who's just trying to get his Orange Chicken. But I braved the chaos in search of the #1 way to celebrate the season: Trader Joe's holiday items.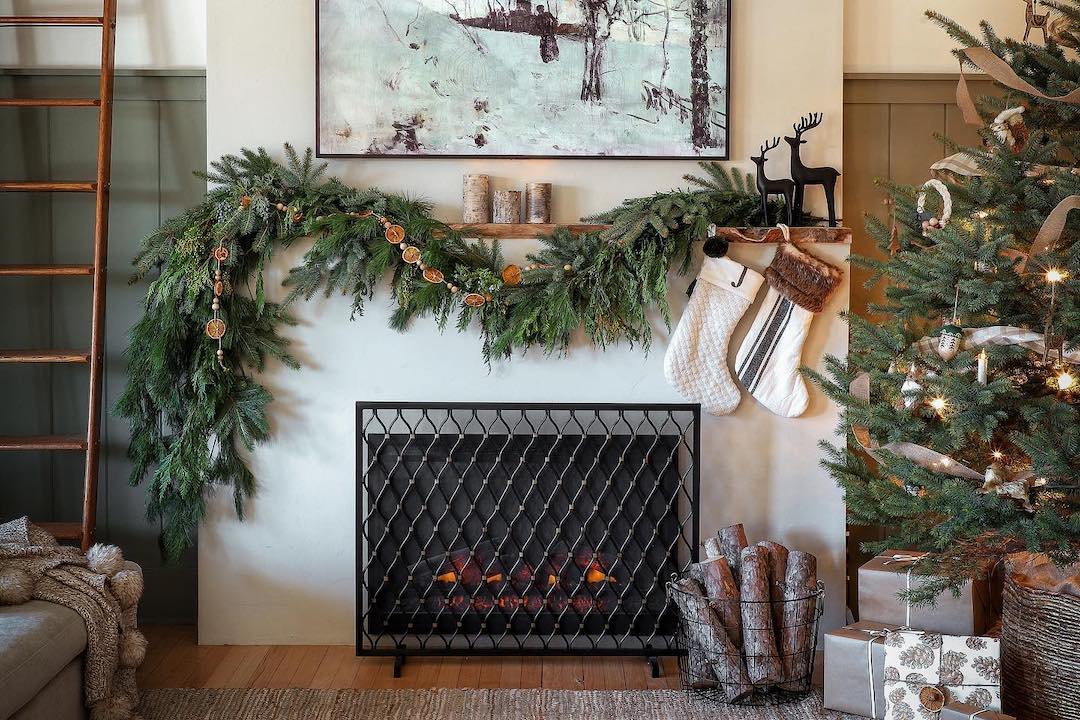 there's still time to deck your halls
I scoured the aisles (you'd think they could just put everything in one place?), grabbing all the seasonal products I could find while trying to maintain a good variety of items for us to try. We skipped the more giftable treats and holiday tins in favor of items you might actually buy for your kitchen. And much to our dismay, there was not one tin of Jingle Jangle in sight, so that will not be included in this ranking (but it's top three in our hearts).
Because everyone has been loving our system for ranking Starbucks' seasonal drinks, we decided to follow the same format for this taste test and ranking of Trader Joe's holiday items. Our team gathered in The Everygirl's office to test out the best of the best holiday sips, sweets, and treats and share our thoughts with all of you. We ranked them based on overall taste and flavor, festiveness, and the likelihood that we would buy them again.
Keep scrolling for our official ranking of all the Trader Joe's holiday items we could find:
16. Dark Chocolate Covered Minty Mallows
We all basically said "immediately no" to these. They have a strange texture that's almost like a cross between marshmallow and the filling of a York Peppermint Patty—and they are extremely minty. Overall, we agreed that we likely wouldn't reach for this sweet treat again. One taste-tester even said, "I love all desserts, but I would skip these." I will also say that none of us are huge fans of marshmallows in general, so if you're a marshmallow lover, you might like these. We also agreed that they would be good in a holiday hot chocolate.
15. Sugar Glazed Lebkuchen Cookies
Many of us were really excited to try these, but they just didn't taste as good as they looked. We were all extremely shocked by the texture: They're crunchy on the outside but soft and almost donut-like on the inside. The flavor is very nutty and spiced, so one taste-tester described them as "tasting health food-y." They also have a paper-like wafer on the bottom that provided an interesting texture. Upon further research into Lebkuchen cookies, however, I would say these are very true to the real deal.
14. Candy Cane Joe-Joe's
OK, no one come for us here. I know there are some huge fans of Candy Cane Joe-Joe's out there, but they just weren't it for us. We all thought the filling tasted very artificial and almost toothpaste-like, plus the majority of us were not fans of the candy cane chunks. These just don't live up to the deliciousness that is Pumpkin Joe-Joe's. However, most of us agreed that if we needed a sweet treat and had nothing else on hand, we would eat one again.
13. Egg Nog Greek Yogurt
This yogurt is not bad by any means. However, it lacked any specific eggnog flavor. We all thought that it just tasted like your typical vanilla Greek yogurt, so it didn't feel very special when compared to the rest of Trader Joe's holiday items. 
12. O'Nog Non-Dairy Oat Beverage
Much like the eggnog yogurt, this oat milk eggnog did not have a show-stopping flavor. It kind of just tastes like regular oat milk with a faint hint of some spices and a much thicker consistency. If you're looking for a dairy-free eggnog to serve with your alcohol of choice at your holiday party, this could be a great option. 
11. Truffle Dip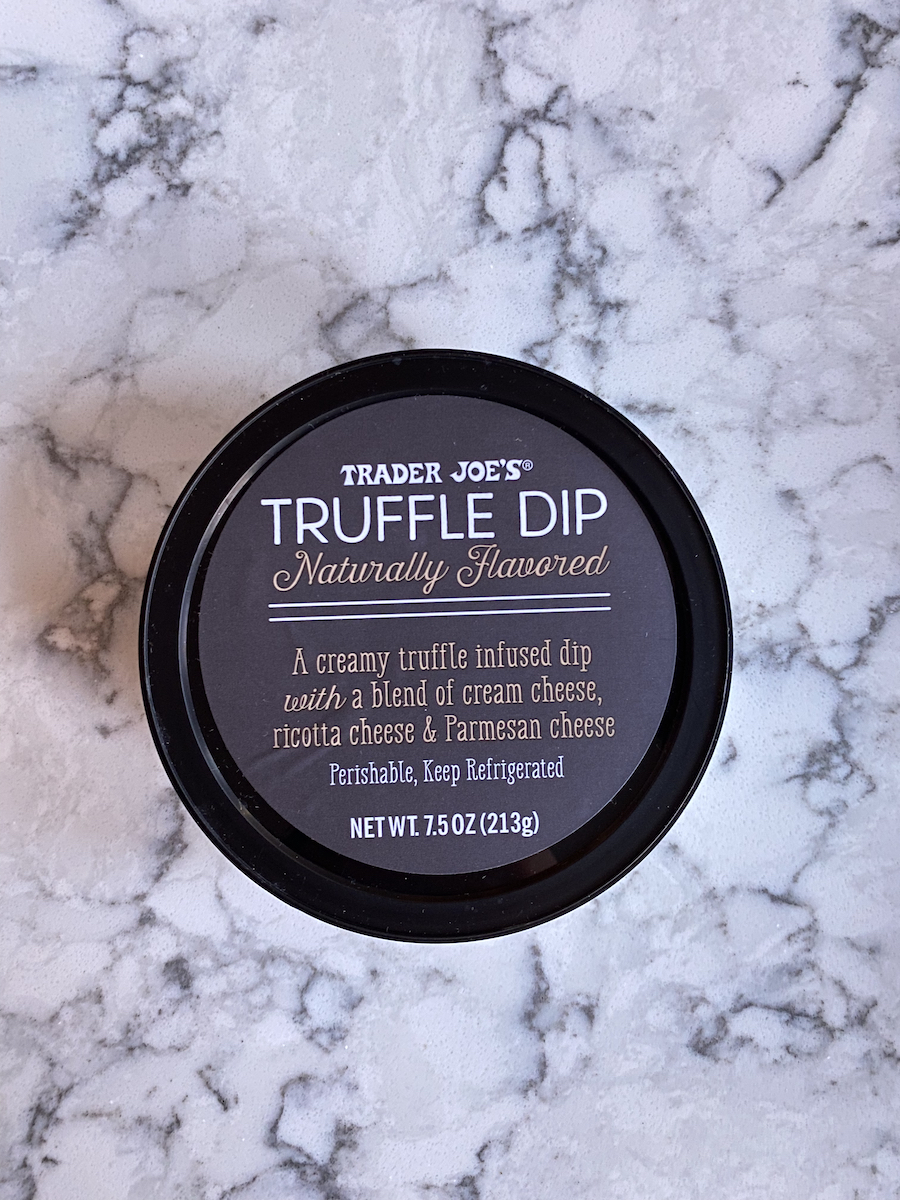 Let's get one thing straight: This dip is good. The reasons it ranked so low are 1) it's not very festive and 2) it's not exactly a dip—the consistency is more like a sauce or spread. We all agreed that this tastes very similar to a truffle aioli and would be amazing as a dipping sauce for fries or spread on a burger. If you're going to eat it as a dip, it would probably pair best with some sort of potato chips. Also important to note: It's not overwhelmingly truffle-flavored, so it's a good starting point if you're not the biggest fan of truffles.
10. Candy Cane Green Tea
Our taste-testers described this tea as "nice, mild, and light"—so it's good but not a major standout. It tastes a lot like a typical peppermint tea with just a hint of added sweetness. If you like peppermint and want something festive to replace your usual tea throughout December, this would be a great choice for you.
9. Sugar Plum Sparkling Beverage
We weren't exactly sure what to expect with this one (what does a sugar plum taste like anyway?), but we were pleasantly surprised. It reminded us of the Welch's sparkling grape juice we used to drink as kids while the adults at the party drank actual champagne, but this has a slightly more nuanced flavor. Add a splash of your spirit of choice, and this would make a very festive cocktail.
8. Fruit & Nut (& Other Stuff) Crisps
Everyone really liked these crisps, and they were probably what we ate the most of. They have a very festive, spiced taste that would make a perfect addition to your holiday charcuterie board. The almonds and dried fruit pieces add a nice texture without being too overpowering. If you like TJ's year-round versions of these crisps, you'll definitely like these. We did agree, however, that they're less of a standalone snack and more of a vessel for a spread, soft cheese, or dip. Keep scrolling to meet their perfect match.
7. Mini Cranberry Pistachio Biscotti
The best way to describe this biscotti is that it's truly delightful. The cranberry-meets-pistachio flavor is delicious and festive without being too sweet, and the drizzle of icing on top is the perfect finishing touch. They are pretty hard to bite into on their own, but we know that's how biscotti is meant to be. These would be absolutely delicious with a festive cup of tea or coffee.
6. Mini Dark Chocolate Mint Stars
These are an absolute necessity when the holiday season comes around. They are an ideal miniature treat to satisfy your sweet tooth without going overboard. Some of the things our taste-testers compared them to were Snow Caps and Thin Mints—however, these are plain shortbread cookies covered with dark chocolate and sprinkles, so they are unique in that way. These would be so fun sprinkled around a charcuterie board as a finishing touch.
5. Gingerbread Ice Cream
In short, this ice cream is phenomenal. The texture is creamy and decadent, it features generous chunks of gingerbread cookies, and it perfectly captures that warm, spicy flavor of classic gingerbread. The only reason it's not ranked higher is that it's pretty ginger-forward (thanks to those Triple Ginger Snap Cookie pieces), which might not be everyone's favorite flavor. 
4. Winter Wassail Punch
I'll start by saying that everyone's face looked absolutely shocked upon the first sip. We all said that we had never tasted anything quite like it. It really tastes like Christmas in a cup. I do need to say, however, that you probably wouldn't just be drinking a glass of this on its own; instead, it is the perfect mixer for a holiday cocktail. If you served up some sort of festive punch, mimosa, or mule with this in it, your guests would be extremely impressed.
3. Decked Out Tree Cookies
The word that immediately came to everyone's mind when we tasted these was "nostalgia." They are the quintessential chocolate-y holiday cookie and are kind of reminiscent of Keebler fudge cookies. Let's just say that if I was a small child and found these delivered by my Elf on the Shelf, I would 100% believe that they came straight from the North Pole. We also decided that these would be great for a holiday party, either to serve yourself or to bring as a hostess gift since the packaging is so cute.
2. Cranberry Goat Cheese
Let me just list out some of the things that were said when we tasted this goat cheese:
"Brilliant, incredible, amazing, show-stopping, spectacular…" – Lady Gaga – Ashley Selleke
"This is so good I could eat it with a spoon."
"

If you invite me to your holiday party and this is on your cheeseboard, I'm eating the whole thing. If it's not, I'm leaving." – Julia Poulter

"This is a good gateway goat cheese if you don't like goat cheese."
"I get the blueberry goat cheese every time I go to Trader Joe's, but this one is even better."
… so yeah. That's all!
1. Peppermint Pretzel Slims
Now you might be wondering: If you said all that about the goat cheese, what could have possibly topped it? Enter: Peppermint Pretzel Slims. These truly have it all. They are the ideal combination of salty and sweet, taste festive without being obnoxious (one taste-tester even said that she doesn't really like peppermint but loved these), and are not overpoweringly sweet like some of the other Trader Joe's holiday items. We all agreed that we could easily eat the entire bag in one sitting, and one taste-tester said, "These are so good that I grabbed my second before I finished my first. I'm going to Trader Joe's tomorrow to get these for myself."