One of the major highlights of each season (in my mind, at least) is seasonal treats. And maybe no one does seasonal treats better than Trader Joe's. From pumpkin to maple and everything in between, there are tons of new products available to help you fully embrace the festive flavors. In the interest of checking things out for ourselves, The Everygirl office taste-tested 12 of the popular grocery chain's fall offerings. Here's how they stacked up.
1. Pumpkin Cookies
The pumpkin spice cookies were hands-down one of the office's favorite treats. They reminded Editorial Intern Jess and I of the yogurt-covered animal cookies you probably ate as a kid by the handful (you know, the pink and white ones). They basically tasted a lot like you'd expect a pumpkin spice cookie to taste, and we couldn't stop eating them.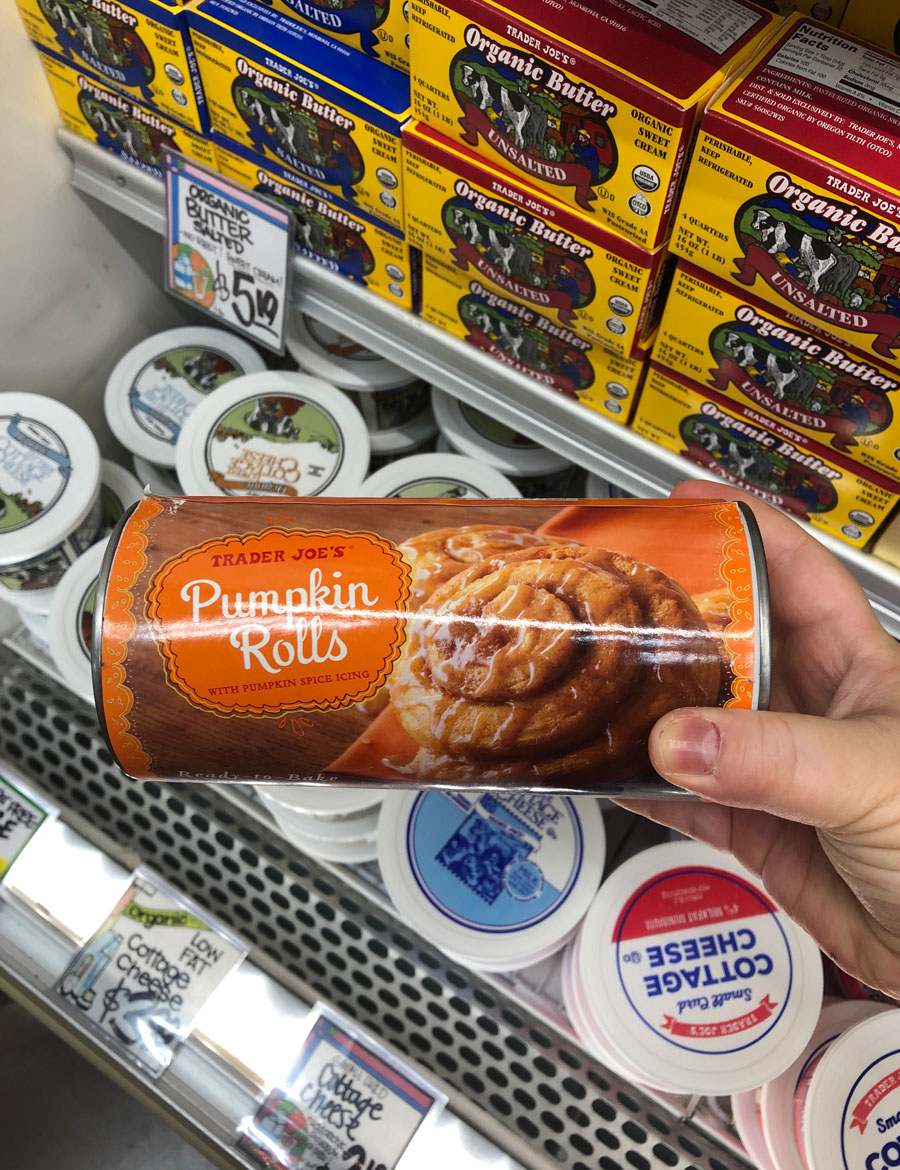 2. Pumpkin Rolls
These pumpkin cinnamon rolls were a dead-tie with the cookies for number one in my book (I've already picked up another tube for a lazy weekend breakfast). Editorial Assistant Maddie took a taste of one and said "oh ya!!!" The pumpkin flavor isn't overwhelming (which is maybe even a good thing? I have a deep and abiding love for a classic cinnamon roll), but they're a pretty delish fall treat.
Plus, who doesn't like a good excuse to eat a cinnamon roll? I'll take advantage of that excuse every. single. time.
3. Pumpkin Cream Cheese
As far as I'm concerned, cream cheese can never be number one when it comes to a "best of" list (unless it's a list of only cream cheeses), but the office thought this one was good enough that it couldn't fall below number three on this particular list. The consensus was that it was just enough to add some serious fall flavor to your breakfast. Plus, if bagels aren't your thing, I bet it would be an oh-so-tasty spread on some pumpkin bread.
4. Pumpkin Salsa
I'd eat this pumpkin salsa year-round, honestly. I love salsa — especially one that feels unique or unusual (hand over the strawberry salsa, pass the pineapple, gimme that cucumber). It was pumpkin-y — but not over the top — and would go just as well with a breakfast burrito as it does on it's own with chips.
I snagged another jar of this too, specifically to put on eggs at breakfast. And yet, it just can't hold a candle to those sweet treats at the top of the list. Bury me with those cookies and pumpkin rolls.
5. Pumpkin Tortilla Chips
These are basically Editorial Assistant Beth's favorite Trader Joe's find of the fall. I'll just let Beth explain: "I'm addicted to the pumpkin tortilla chips. They make hummus or salsa just a little more exciting. I'd be lying if I said I didn't eat a whole bag in one sitting the next day."
I didn't find them as tasty as Beth did (sorry, Beth, don't get mad at me!). The cinnamon and nutmeg on the chips was something that felt more like dessert than a tortilla chip. I definitely wouldn't dip them in a savory salsa. I'd take regular ole tortilla chips any day.
6. Pumpkin Bagels
If you like pumpkin spice and you're a fan of a sweet breakfast (or, at least, warm baking spices), you'll like these pumpkin bagels. I am decidedly NOT a sweet breakfast kind of gal, but I'd sort of grudgingly make the very occasional exception for these bagels. Bonus points for pairing it with the pumpkin cream cheese. Gotta get all that pumpkin in while I still can. IT'LL BE PEPPERMINT SEASON BEFORE YOU KNOW IT (and I can't wait).
7. Caramel Apple Granola
I didn't love the caramel apple granola (it tasted a bit artificial, plus apple just isn't my favorite fall flavor — I know, I know), but I was definitely in the minority: the rest of the office thought it was great!
It's not my thing, but if you lose your cool for caramel apples and all things sugary-sweet, grab a bowl and spoon — it sounds like it'd be right up your alley!
8. Boo Bark
OK, this was more a curiosity buy than anything else. Basically, it was just a thick layer of chocolate with candy and cookie pieces pressed into the top. It was totally fine — and a good way to add some festive flair to my chocolate stash — but I can accomplish the same thing by melting some chocolate and sticking candy pieces in it myself. It's just chocolate, guys! That's it! It's nothing out of the ordinary.
9. Pumpkin Cranberry Crisps
Full disclosure: we tried these on their own, not with cheese (which is how I eat their fig and olive counterparts, which I love more than maybe any other cracker on this earth). We didn't love them on their own, but Editorial Intern Jess tried them with a bit of the cream cheese and liked the result. We agreed that they'd probably be better with cheese (a nice cheddar, perhaps?), and much of the office thought that goat cheese would be a great choice (I can't weigh in on that — I'm a goat cheese hater).
Ultimately, I wouldn't bother with these. At least, not as long as the fig and olive ones are available.
10. Pumpkin Spice Almond Beverage
I love pumpkin, and I want to make that clear, but I would not want to drink a glass of this pumpkin spice almond beverage. My mom had a fall candle when I was growing up (seriously, I think it lasted the entirety of my childhood), and it was the first thing I thought of when I tried this on its own. Editorial Intern Jess said that she didn't love the after-taste but noted that it could be better if it was super cold or had been mixed with something.
Beth tried it in her coffee and said that it was "just enough pumpkin" and that it wasn't overly sweet. She said it wasn't as good as a coffee creamer, but was a great alternative. I generally agree with Beth, but it was too sweet. I poured some into an iced latte, and it did have sort of a PSL feeling to it. The bright orange color (which, honestly, shouldn't have been a surprise, there's pumpkin in it after all) just solidified this as a 'no' for me.
11. Fall Pasta
How cute are these little pumpkins?! Unfortunately, the fall pasta just didn't really impress. The consensus? It was fine but not stellar. All in all, if you're looking for something cute and festive, go for it, but if you're hoping that it'll be the best pasta of your life, skip it. That's way too much pressure for pumpkin-shaped pasta anyway.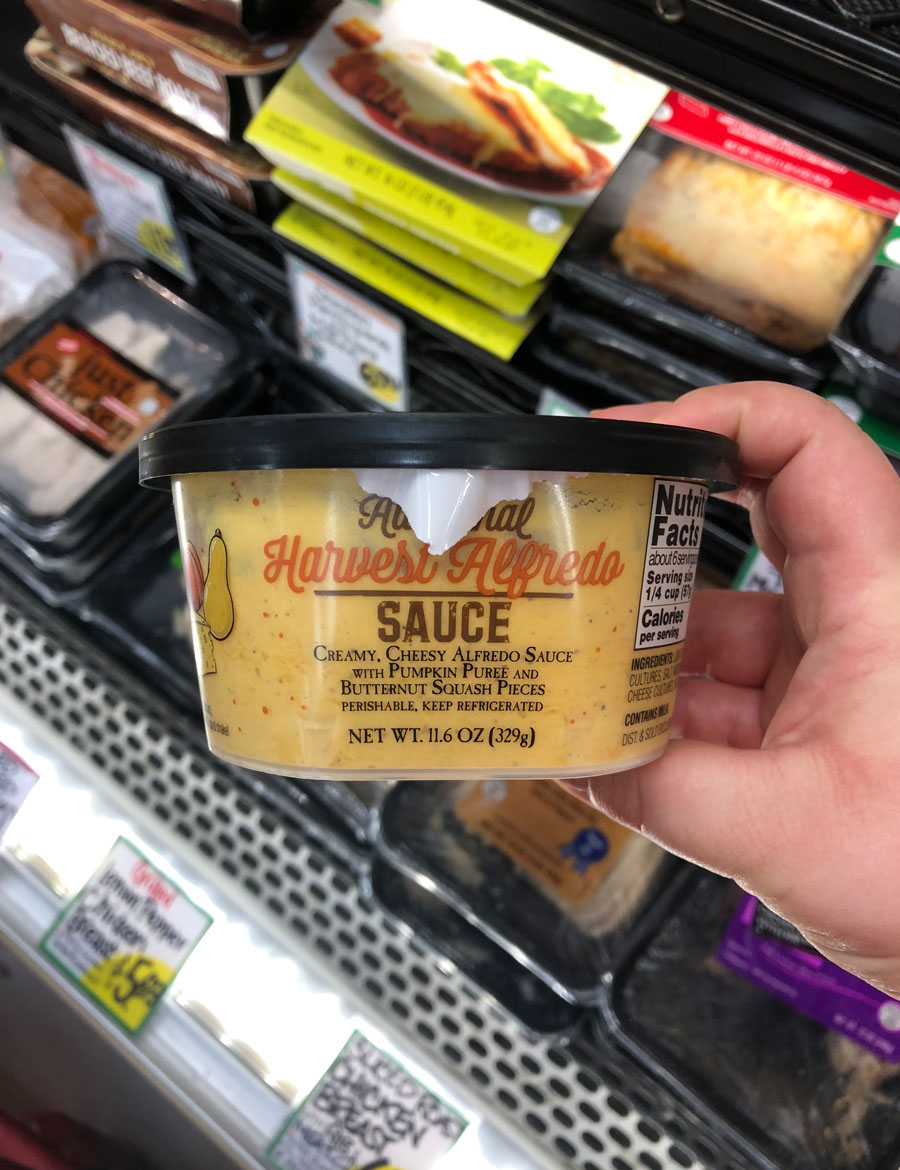 12. Fall Alfredo
I was super sad about the fall Alfredo because I had HIGH HOPES that it would be something great. A pumpkin-y, butternut squash-y pasta sauce that I could just spoon over pasta for a super quick dinner sounds like my fall dream come true. (… HAVE I had that dream before?) Ultimately, it didn't have as much flavor as we would've liked. I make a homemade pumpkin sauce in the fall (this one from Budget Bytes is fairly close), and until my fall dreams actually do come true, I guess that's what I'll stick with.