Hi, I'm Beth! And I'm Maddie! Welcome to our podcast (AKA article)! We're so glad you've joined us! We're big fashion girls, but we're also aware that fashion is never one size fits all. Every body is different, meaning clothes will always look the same on different body types, sizes, and more. To shine a light on this (and go shopping, duh), we took a trip to one of our favorite stores and decided to try on the same or similar pieces (as well as ones we weren't too sure about) to see how they fit.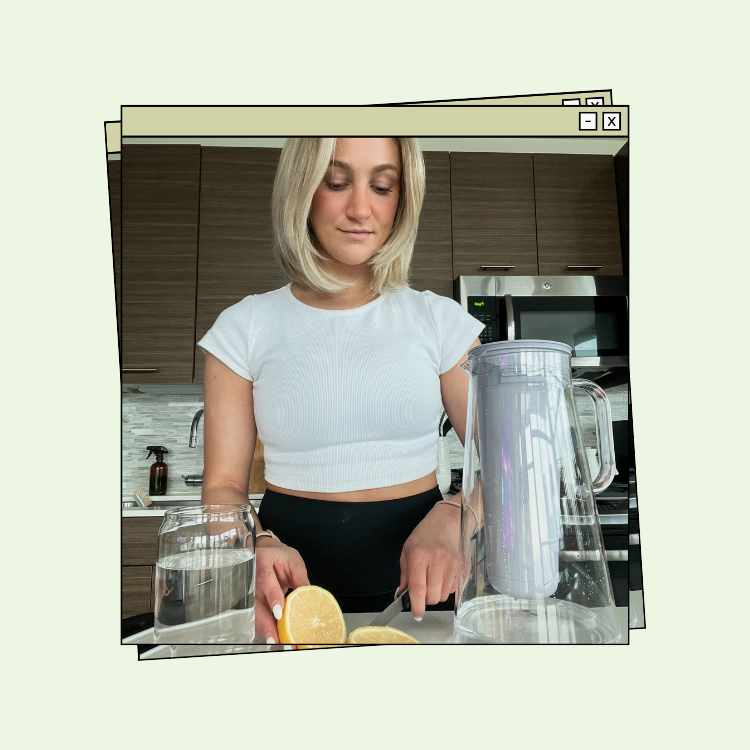 get it right in 2023 and beyond
Now, before you get into this story, a few things to know:
Maddie & Beth are more than coworkers, they are pals, so please enjoy our commentary
This journey was hilarious, awkward, and frustrating but also somewhat successful in the end!
Typically, Maddie wears a size 4, and Beth wears a size 16.
The Mission:
Beth: Maddie has inspired me to work out more (thanks to this article!), and after seeing all the press Nike has received about their plus-size activewear line, I knew I needed to check it out. I've seen all the photos surfacing the Internet of the #obesemannequin (amazing idea, by the way!) and wanted to get in on the action myself. I've never necessarily struggled with activewear, but it's not as easy as you'd think to find my size everywhere. My staples thus far have been JoyLab at Target and Zella, which goes up to a size XXL.
Maddie: Working out has always been a big part of my life. If I don't work out, I notice a huge difference in the way I feel both physically and mentally throughout the day, so I try to make sure I do some kind of workout five times a week. I've always resorted to running, but I recently started dabbling in more classes like yoga and barre. I've never struggled to find activewear but am definitely picky with what I choose to buy — nothing ruins a workout quicker than realizing you can see your buttcrack through your leggings!
I saw all the press surrounding Nike's new mannequins, and my lovely coworker (and friend!) Beth suggested that as two 5'5" girls with very different body types, we go and try on the same things to see how the fit differed between us.
At the Nike Store
Beth: We planned this excursion for a solid week (maybe more) and thought we had everything figured out. LOL.
We Ubered to the Michigan Avenue Nike, assuming they would have the biggest selection of both plus-size and straight-size options for both of us. We went straight to the third floor to find women's clothes. There were tons of cute clothes everywhere, but I didn't see a single piece of clothing in any size bigger than a large. "OK, so it must be with the specialty clothes. Annoying, but OK." Yeah, no. WTF? I was convinced we went to the wrong store or something.
Maddie: When we got to Nike, I thought it was going to be an easy process: go to any rack of clothing, and pick the same things out in our collective sizes. Boy oh boy, was I naive.
Beth and I went around every floor of the Michigan Ave. Nike (it's four floors!), and the plus-size clothes were literally nowhere to be found. We finally asked an employee where the plus sizes were, and she said in the middle of the woman's floor (which we had already checked.) Lo and behold, this was what she was talking about:
I had a million different options — racks and racks of leggings, sports bras, tops, and jackets of all different styles. There was only one type of legging Beth could try on, and it was loungewear — not even a workout pant.
All of this was a new experience for me. I have never had to buy plus-size clothes, so experiencing this first-hand with Beth was more than shocking. Not only were the plus-sized clothes set aside on their own (I assumed they'd be mixed in with straight sizes), there were no options for any plus-size woman who was actually looking for clothes to work out in.
Beth: The worst part about the plus-size section to me is that it wasn't even advertised. There was a small sign, flush against the table explaining that this was the plus-sizes. I expected a giant tri-fold or a mannequin showing off their offerings. A majority of women in America wear plus-size clothes, so to be so modest about this collection was telling to me. It made it feel like this wasn't a big deal for Nike, when everything else I've seen about their commitment to this collection seemed to be the opposite. Based on the press this collection has received, I expected an entire half of the floor to be flowing with plus-size options in all different colors and fits.
Maddie: We talked about whether or not most of the plus-size stuff was already sold out, but I don't even think that's an excuse. How they showed this plus-size collection made it seem like a total afterthought.
top / leggings (not available in grey online — go figure!)
Beth: YEAH. We tried to make the best of a sticky situation, so we tried a few of their options on. While the store was overflowing with clothes for Maddie (woohoo!), me not so much. I tried what I could. Beware for some unflattering pictures!
The only leggings they had were more loungewear leggings. They had them in both grey and black, so I tried on both. I would not recommend the grey to basically anyone. They were thin and see-through. I mean, I guess they made my butt look great, but that's not hard to do (LOL), so whatevs. Thumbs down from me.
Maddie: I could see myself buying these as something to literally lay on the couch and binge Netflix in, but they definitely aren't meant for any kind of physical activity whatsoever.
Beth: We took a picture wearing them together, but it was seriously too bad to ever go on the web. Sorry, folks.
Maddie: I also tried on this all-black number which I'd describe as "good" with a shoulder shrug. The sports bra was cool and was definitely the type of thing a girl that goes san-shirt at a $30 yoga class would wear – which I respect but probably wouldn't get myself because it just doesn't hold the girls in or do anything but make me look cute.
Beth: The black leggings were certainly better but nothing special. As Maddie said, I'd wear these to a solid Hinge Netflix 'n Chill night but not for any workout whatsoever.
Nike… at Nordstrom
Maddie: Lucky for us, our day was saved with a hefty dose of problem solving. We head across the street to Nordstrom to see if they had any plus-size Nike clothes, and they did — more than Nike itself had! When we got to the activewear, there was a plus-size mannequin at the front of the section and we knew we were about to make some progress on our mission.
Beth: I was a little nervous that the plus-size activewear would be with the plus-size clothes. It would be like rubbing salt in the wound if I went all the way to Nordstrom and had to try on all my clothes in a different place as Maddie. Why do stores not think about this?! Luckily, Nordstrom blessed me with two solid racks just next to the straight sizes. Love it.
Maddie: While Beth perused the two racks of plus-size clothes (hey, way more than Nike had!) I went around the straight sizes and picked up what I thought I would personally buy.
Running Shorts
Beth: I basically was down to try on anything they had in plus-sizes after I saw the sick joke that was Nike's section. The first thing I picked up was classic running shorts. You can never have too many of these. I'm not a big runner per se (I have asthma OK), but for basic cardio workouts at home or on the elliptical, they're perfect. I also am a bit of a ~Sweaty Betty~ (I have yet to try this line, but Maddie says she loves it!), and sometimes, leggings are just too damn much.
The top was cute too, but the clear winner here were the shorts.
Maddie: My hip-to-thigh ratio makes some activewear a little harder to find — I've always had muscular thighs that are a bigger size than my waist is. (There is no worse feeling on this earth to me than running shorts that hug your thighs.) Nike's are loose enough for my stems but not baggy, which is the sweet spot. If I could only buy one pair of running shorts for the rest of my life, it would be Nike for that reason.
Maddie: I already own approximately 500 pairs of Nike shorts and tear my jeans off to put them on the second I get home from work every day (if I'm not, you know, running in them). Despite that, these patterns were fun and different and I'm all about that with my workout gear.
Beth: OMG Mads those look so good. Soft smiles for daysssss.
Outerwear
Maddie: This jacket was AMAZING. I wish Beth and I had audio of us screaming through the fitting room doors as we tried it on. I'd give it a 10/10 on the cool scale, and since it's mesh, it actually seemed like something that would be good for running in.
Nikes leggings are pretty much foolproof, and this pair fit just like their other ones I own. The cut-outs were a fun twist to all of the plain black pairs flooding my closet.
Beth: GUYS. THIS JACKET. GRAB YOUR WALLET. HIDE YOUR KIDS, HIDE YOUR WIFE. (That has nothing to do with anything, I just have waited to say this since I started working here and now seemed like the time.) Maddie was right — we spent about 10 minutes being like "Should I buy it?" "I think I'm going to buy it!" "I want to buy it!" See for yourself, people. It's cute AF. (I also love these shorts — bought these for a new color to add to my rotation!)
Sports Bras
Beth: Sooooo…sports bras. Again, I don't necessarily have a hard time finding things for my body aside from nothing coming in my size. Nike nor Nordstrom had any sports bras in any sizes bigger than an XL, so I decided to give it a try and see how it'd work. Absolutely not. I barely got this thing over my head, let alone over my boobs. I'm a 38D/40C (depending on the brand), and this was just not it. My hunt for the perfect sports bra continues!
Sorry but there was absolutely no way I was putting a picture of myself in this atrocity on the Internet. Not even for my beloved fans.
Leggings
Beth: On the hanger, these leggings are so weird. I tried them on because I just wanted the experience of trying on one pair of actual workout leggings. However, I was SHOOK, to say the least, when I tried these on. They're almost a neoprene/swimsuit material which I thought would be uncomfortable and awkward. Quite the opposite! These were some of the most flattering leggings I've ever worn. There was absolutely no camel toe (plus-size girls know the struggle with leggings!), and they stayed in place. I think these would be perfect for running (you know, if I did that) or weight training. (Also, please ignore that I run a very messy fitting room.)
Beth: LOOK AT THE SIDES (and not my butt, please!)
Tops
Maddie: Karma really got me with this shirt because I tried it on as a joke and ended up actually loving it. Besides the fact that it literally blends in with my skin to the point that it makes me look like a cyborg, it's amazing. It's hands-down the weirdest material I've ever felt, but it's SO lightweight and would be amazing for something like a heated class that leaves you literally drenched in sweat (that even leaves dry fit feeling gross). 100 percent would consider buying (in a color that wouldn't make people do a double take at me because they think I'm naked).
Beth: I ventured outside of the plus-sizes a little to see what else was out there. Nike carries some of their items in an XXL which fits me perfectly. I picked up this cropped T-shirt thinking it'd be something easy to try on with shorts or leggings. Yeah, she came with home too. Something about this cropped top is so good. It's the perfect amount of "crop" — doesn't show any skin but hits me right at my belly-button. I love a good graphic T-shirt and jeans, and these neon colors scream summer. My denim obviously isn't Nike, but I recommend them a thousand times over. I wear them at a minimum three days a week. (Wouldn't it be dope if Nike sold jeans? @Nike, I'm ready. Well, actually, get your plus-sizes together first, then we'll talk.)
Closing Thoughts
Maddie: This was an eye-opening experience to me — to say the least. It's easy to think you empathize with and understand an issue that doesn't affect you, until you see it first-hand and realize how severe it actually is.
Beth has been shining a light on issues surrounding plus sizes since she and I started a year ago. I knew it was a problem, but I never saw how discouraging and truly absurd it was until today. To walk into a four-story store and only have one table of clothing you can fit into is not only unacceptable, but it should also be embarrassing to the retailer.
Beth: My dream as a plus-size woman is to be able to walk into a store and shop the exact same prints, styles, colors, and shapes as my best friends. While I'm grateful stores are starting to add 1X-3X into their lines, it's frustrating to only have a small portion of the store when everyone else gets an entire floor.
Maddie: This isn't a plus-size issue, this is an issue with the entire fashion industry, and is something that ALL sizes should be angry about. One type of body shouldn't take priority over another — all women who want clothes to work out in should be able to find them easily in fits that make them feel confident and ready to tackle anything.
That's what working out is about to me: confidence. I feel my strongest and most beautiful after I exercise, and all women should be able to feel the same — whether they're a size 00 or 26. Working out isn't just for people with athletic bodies, it is for everyone, and athletic wear should reflect that in their sizing.
Beth: A girl's woke! Thank you, Maddie! You're absolutely right.
I was able to try on some things, but I was entirely expecting this experience to go over differently. The fits are nice, but they're not made specifically for a plus-size body. I like that the options are there because it's frustrating to like something in a straight size and not be able to wear it. However, plus-size bodies are also just different. The clothes that fit someone who's a size 2 are going to have different angles and curves than someone wearing a size 22.
As a plus-size woman, finding my size has always been a struggle, but I'll never get used to the sting of going into a store and seeing so little options for me. Nike is supposed to be the leader in activewear, so to not see a comprehensive collection of plus-size leggings, tops, shorts, sports bras, and more is unacceptable. Most of the stuff I tried on I liked, so I'm holding out hope for even more pieces soon!