Almost all parts of fall feel like a breathe of fresh air after a long, hot summer, from the sweaters to the scents. But perhaps the best part? The food and flavors that come with it.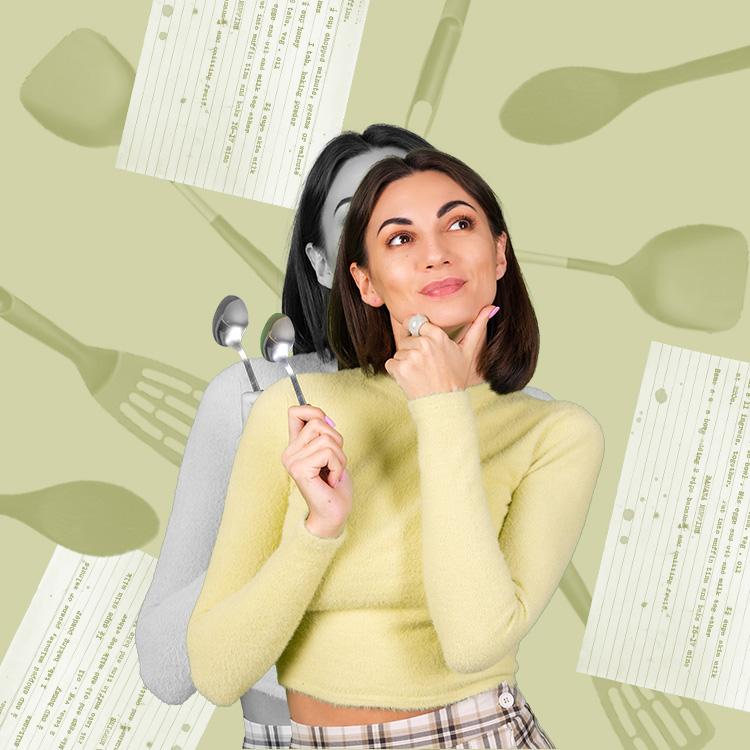 high in protein, good for gut health, and anti-inflammatory? yes, please!
You know we're suckers for Trader Joe's—they have some of the tastiest, most unique foods out there, and it's impossible to leave the store without something new that you love each and every time you go (not to mention it's the safest COVID-19 grocery shopping experience I've had). And every year when we say goodbye to August, we count down the days until Trader Joe's releases their coveted fall foods—and ladies, that time has come.
From the cult-favorites to 2020's new additions, we scoured the aisles to show you every single fall food Trader Joe's is offering this year (spoiler alert: we'd bet they'll make you head there before the end of the day). Happy pumpkin season!
1. Spicy Pumpkin Curry Simmer Sauce

This super flavorful sauce is made with pumpkin and coconut cream and is a great addition to any fall dish.
2. Pumpkin Biscotti

A classic biscotti with a pumpkin-y twist, these are begging to be dunked in your coffee.
3. Halloween Joe Joe's Cookies

The Joe Joe's you know and love, but shaped like jack-o'-lanterns—could you ask for more?
4. Maple Leaf Cookies

Yummy, leaf-shaped cookies with a maple cream filling. The perfect fall-flavored treat.
5. Pumpkin Ginger Flavored Mini Hold The Cone Ice Cream Cone

These mini cones have earned cult-level status this year, and the fall version doesn't disappoint: they're filled with pumpkin ice cream and have a gingery cone.
6. Pumpkin Cheesecake

This cheesecake hits just the right amount of pumpkin and is a great treat to keep in your freezer to whip out on a chilly night in.
7. Pumpkin Pancake and Waffle Mix

This mix lets you whip up restaurant-level pumpkin waffles and pancakes in no time at all.
8. Pumpkin Chocolate Chunk Oatmeal Cookie Mix

This mix will bring you your favorite new fall treat—and you can tell everyone you share them with that you made them from scratch.
9. Cinnamon Bun Spread

If you too are a lover of TJ's Cookie Butter spread, consider this the fall version—and maybe even take their advice to put it on vanilla ice cream.
10. Pumpkin Bisque
This creamy soup tastes like fall in a bowl and will warm up any chilly night.
11. Fall Zucchette Pasta

This pasta is one of the most looked-forward-to items that TJ's releases for fall—it's made of butternut squash and if you look close, looks like tiny pumpkins.
12. Pumpkin Pie Spiced Ginger Brew

Swap your go-to sparkling waters out with this one for the season—but make sure to stock up, they sell out fast!
13. Punkin' Brown Ale

This pumpkin ale is one of the best parts of the season (and as a general beer-hater, I can say that this is something even I look forward to!).
14. Pecan Pumpkin Oatmeal

This oatmeal is an office favorite for good reason: it's an easy, quick fall breakfast that will leave you feeling like you just made something from scratch. It isn't too sweet, and the pecan addition gives it a little something extra.
15. Spiced Cider
Our editor Beth referred to this as "literally the perfect apple cider," and what else do you really need to know?
16. Rustic Apple Tarte
A perfect treat to keep in your freezer, this apple tart is, in my opinion, one of the best things I've ever had from Trader Joe's. It's flakey, flavorful, and oh-so-fall-appropriate.
17. Spiced Chai
This spiced chai has the perfect kick and is excellent alone or mixed with the milk of your choice to make an at-home chai latte.
18. Pumpkin Flavored Joe-Joe's
A pumpkin-y take on Joe Joe's, these give just a hint of pumpkin and are the perfect cookie to snack on all fall long.
19. Haunted House Chocolate Cookie Kit
Who wants to wait until Christmas to make a Gingerbread House? Not I. Spend an isolated fall night in making this bad boy.
20. Pumpkin Flavored Ice Cream
If you never knew you needed pumpkin ice cream in your life, this is your notice that you do indeed. Put your vanilla and chocolate on hold and swap it out for this seasonal gem.
21. Fall Leaf Tortilla Chips
These are classic tortilla chips but shaped into adorable little leaves, and anything you dip these into is going to taste better because of it.
22. Maple-Flavored Oat Milk
This oat milk has juuuuuuust a hint of maple and is amazing for mixing into coffee or your morning oatmeal.
23. Organic Pumpkin Toaster Pastries
One of the best seasonal treats there is, TJ's pumpkin toaster pastries can't be beat—do yourself a favor and stock up on this one.
24. Maple Sea Salt Kettle Corn

This kettle corn has the perfect amount of maple flavor and will hit both your salty and sweet craving.
25. Pumpkin Bread and Muffin Mix

Don't want to mess with cans of pumpkin to make baked goods this fall? Stock up on this. With just this mix, eggs, oil, and water, you'll have the perfect pumpkin bread or muffins baked in no time.
26. Pumpkin Butter

This can be put on just about anything and can make it 10x better—from toast to crackers to fruit. It's the best pumpkin butter I've had to date.
27. Pumpkin Flavored Tortilla Chips

Another office favorite, these bring a fall twist to any dip or salsa (and are perfect paired with TJ's fall harvest salsa).
28. Petite Pumpkin Spice Cookies

These are a fall must (and one of my personal favorites of the bunch)—they taste similar to a frosted animal cracker but with the subtlest hint of pumpkin, making it any sweet-lover's dream.
29. Honey Roasted Pumpkin Ravioli

A tasty, fall twist on a basic ravioli, this makes the most out of an easy dinner all fall long.
30. Riced Cauliflower and Butternut Squash Risotto

This healthier twist on risotto is the perfect thing to whip up for a fall lunch.
31. Fall Harvest Salsa

All of the best flavors of fall mixed into one delicious salsa.
32. Pumpkin Waffles
Topped with maple syrup, these are the easiest way to bring a taste of fall to your morning routine.
33. Organic Pumpkin Spice Granola Bark
Pumpkin-y granola topped with dark chocolate and pumpkin seeds? What could be better?