Feb. 14 comes with a lot of stressors—making plans with friends, waiting to see if the guy you've seen a few times is going to lock down your night—but your Valentine's Day outfit shouldn't be one of them.
Need some gifting inspiration? No matter who you're shopping for, we found a slew of exciting gifts that are bound to leave them speechless.
It definitely is no ordinary day, and you probably want to take a step up from your average Saturday night go-tos—even if you're just having a movie night with your friends. But then another question arises: How do you look festive without simultaneously looking cheesy?
With touches of pink and red and a tasteful heart here and there, we've styled outfits for every possible Valentine's Day scenario, from a movie night with your friends to a nerve-racking date with someone new (good luck!). Spend time stressing about how much chocolate you're going to eat, not scrambling to find a last-minute look.
1. For your Galentine's wine night
Perhaps the most coveted of the Valentine's plans, a night with your friends and a bottle (or 10) of wine calls for something cozy and chic—a step up from the ordinary sweatshirt and leggings. Bonus: a festive heart sock moment to show off your attention to detail.
sweater | sweater (plus-size) | hair clips | sweats | sweats (plus-size) | slippers | socks
2. For your Galentine's out on the town
If you're heading out for dinner or drinks with your friends, a simple, sexy outfit is your best bet. A subtle, off-the-shoulder shirt and leather pants look feels romantic and festive without being decked out in pink or red.
top | top (plus-size) | bag | leather pants | leather pants (plus-size) | heels
3. For a casual date night
When your date is casual enough for jeans, it's a cause for celebration. A classic, sexy blouse, pearl details, and heart earrings feel festive without bordering on overdressed for a casual date.
top | top (plus-size) | earrings | jeans | jeans (plus-size) | bag | loafers
4. For a date with someone new
If you've got the first-date jitters on Valentine's Day, godspeed to you—cut your losses (and eliminate nerves) by giving yourself the gift of throwing on a foolproof, one-and-done blazer dress, black booties, and fun accessories, and treat yourself to a pour of red before you head out the door.
dress | dress (plus-size) | hoops | bag | booties
5. For a fancy date night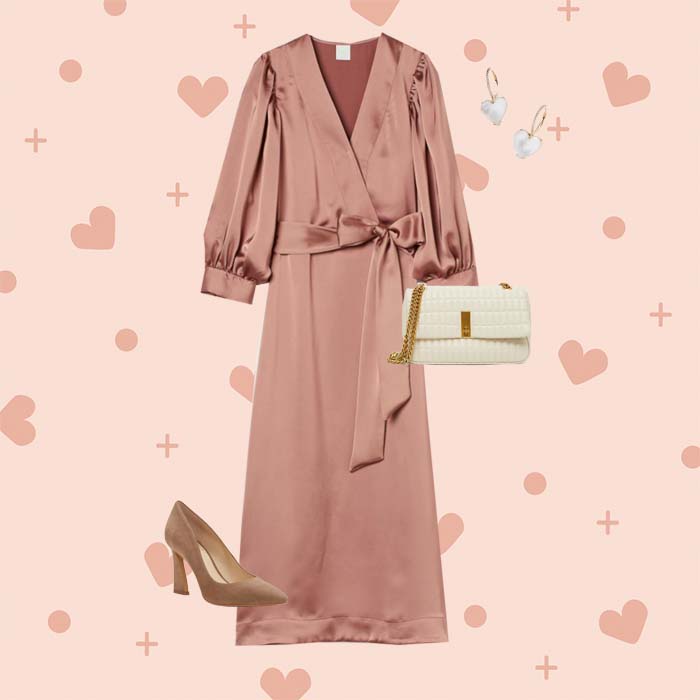 A fancy date on Valentine's Day deserves to be treated as an occasion, and a satin wrap dress in a romantic, pink hue fits the bill. Top it off with nude heels, a perfect going out bag, and subtly festive accessories.
dress | dress (plus-size) | short dress | earrings | bag | heels
6. For a date with yourself
If you're your date for the night, it doesn't mean you should succumb to jeans and a tee—you should feel just as good (or honestly better) as if you were on a date with anyone else. Impress yourself with something you wouldn't wear any old day and have yourself the best date you can remember.
top | bag | blazer | blazer (plus-size) | jeans | jeans (plus-size) | booties
7. For a night in with yourself
Whether your night alone is going to be spent binging Euphoria or with your vibrator, you deserve to feel a little festive, and nothing will do that more than a cozy matching set that can become one with you and your couch.
tank | pants | pants (plus-size) | sweatshirt | candle | slippers