As someone who just moved from a tiny studio apartment to a somewhat spacious two-bedroom, let me vent for a sec: Finding the right couch is hard. It has to be comfortable but chic and stand out enough to update your style while still being timeless enough to adapt to your changing taste throughout the years. Committing to a couch is arguably more stressful than committing to a relationship.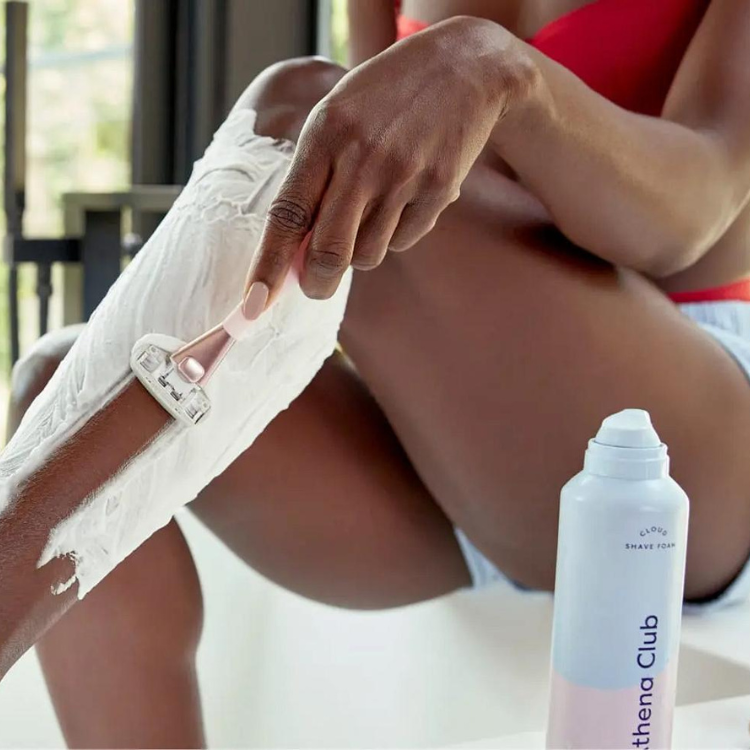 "This razor gave me the silkiest, smoothest shave I've ever had! I never get any cuts or scrapes, even on those hard-to-shave places."
Whether you're in need of a new couch or just looking for a statement piece to take up space, I have the perfect solution for you: a velvet sofa. Bold yet classic, comfortable but chic, it's the investment piece you didn't know you needed. It immediately makes any space more luxe, but at the same time, it's still welcoming. Call us bias, but the gorgeous pieces from The Everygirl's collab with Interior Define come in a variety of shades in luxe velvet fabrics, ranging from gorgeous jewel tones to chic neutrals. Trust me, you won't miss your boring old sectional. Just to prove that velvet works in any season or style, we put together a style guide on how to style your velvet couch in six totally different ways. Whether your style is more classic or trendy, there's a velvet couch setup for you.
Minimal farmhouse
couch / ottoman / lamp / rug / faux eucalyptus / wall art / wood tray
If Nancy Meyers had a velvet sofa on set, this is how it would be styled. If you're a sucker for timeless style, muted colors, and lots of texture, you're going to love plush velvet mixed with woodsy accents and a jute rug to make it feel more grounded. Joanna Gaines would be proud!
Eclectic
couch / pouf / throw pillows / mirror / gold vase / fiddle leaf tree
For the style star who isn't afraid to stand out and gravitates toward accents with personality, try the classic couch in a bold color like blush mixed with fun prints, bohemian poufs, and eye-catching pieces.
Mid-Century Modern
couch / coffee table / accent chair / snake plant / wall prints
We love mid-century modern because the cool design and clean lines means pieces that look more expensive than they are. Velvet pairs perfectly with the chic style, thanks to dark colors, sleek lines, and the perfect addition of faux leather and wood.
Grandmillenial
couch / throw pillows / end tables / dried bouquet / vase / lamp / wall prints
That's right: your grandmother's sitting room is officially cool, thanks to the grandmillenial style sweeping Instagram. Think: pleated textures, muted florals, and vintage pastels. It's like you entered a very on-trend time machine.
Relaxed Modern
couch / print / baskets / candle / stool / plant / rug
If your vibe is more California-cool, velvet textures will warm up natural accents and simplistic pieces. Let a black and white print and tropical plant stand out next to a few simple and stylish pieces. It's like the interior design version of "I woke up like this" makeup–intentionally effortless and oh-so-cool.
Parisian
couch / rug / wall print / faux peonies / mirror / bust / storage basket / side table
When you can't go to Paris, you bring Paris to your living room. Velvet is arguably the most elegant couch fabric, and it goes perfectly with extravagant gold mirrors, pretty peonies, and French girl-approved accents like rattan or busts. C'est si bon!
The Everygirl designed this product line in collaboration with Interior Define. If you buy a piece from our collection, we may earn a commission, at no cost to you. We only recommend products we genuinely love.