When you're first starting out on your own, acquiring all of the stuff that you need for an apartment or house can feel like a daunting task. And when it comes down to it, there are typically priorities about where to spend your money. With expenses like furniture, bedding, and the like on your list, outfitting the kitchen with absolutely everything you'd like it to contain probably falls closer to the bottom. You just can't afford to do everything all at once. Plus, what do you even need in a well-stocked kitchen?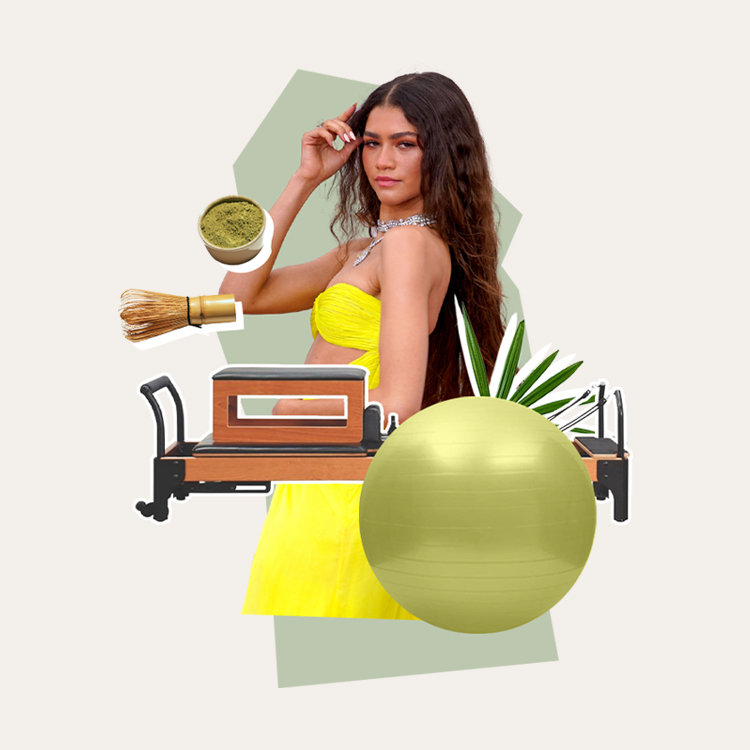 she's (kinda) just like us!
At some point though, it's a good idea to make sure your kitchen is actually stocked with all of the various tools and equipment needed to make it run smoothly. Having a well-stocked kitchen at your disposal not only makes cooking easier, it makes it much more fun. Feeling like you can't get through one recipe without frustration and irritation over not having the right tools would make anyone run from the kitchen. Though it might seem a bit overwhelming, you don't actually need that many things to make the time spent in your kitchen more efficient. The right group of essentials will make all the difference.
Epicurean
These cutting boards are my very favorite. They're sturdy, eco-friendly (what's not to love about that?), beautiful, and are heat-safe to 350 degrees F. They're well worth the money.
Kuhn Rikon
These peelers are proof that you don't always have to spend a lot of money in order to get a truly great tool. They're easy to use, affordable, and super sharp. I prefer the Y-peelers to the more standard veggie peeler, but if you prefer the standard version, that's fine too. You just need a peeler.
Ateco Ultra
Now, I know what you're thinking. 'Why would I need a bench scraper if I'm not regularly working with large amounts of dough?' But, hear me out. Sure, it works well for dividing and working with dough, but it's also a great way to save your knives. Use your bench scraper to transfer anything you've sliced or diced rather than the blade of your knife (which gets duller each time you do that). You can also use it to help make cleanup a snap.
BergHOFF
Cast iron is so fantastic to cook with, but if you're a cast iron newbie and are a bit intimidated by seasoning and caring for cast iron, give enameled cast iron a try. It has the same great elements as the traditional cast iron cookware, but can be washed and dried the same way your other pots and pans are. They can also go in the oven, making things oh so simple.
Sur La Table
Citrus juicers are a total dream. That might seem like a bit of a hot take, but once you've spent 10 minutes trying to fish tiny seeds out of your freshly-squeezed juice, I'm sure you'll agree. These are great because they're total time-savers. Simply pop a half of an orange, lemon, or lime in the juicer (cut side down) and squeeze. Pro-tip: Buy the orange-sized one and your lemons and limes will fit too. If you buy a lime juicer, you'll have to buy additional juicers for the other fruit.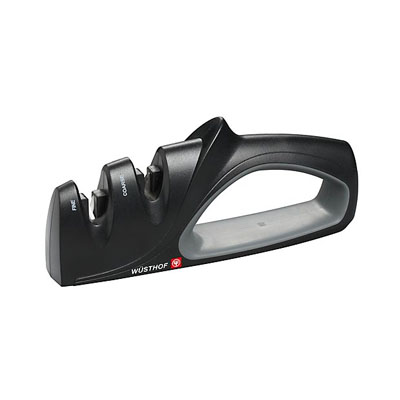 Wusthof
You definitely need a knife sharpener, guys. Sharp knives are so, so important and this hand-held sharpener makes it easy.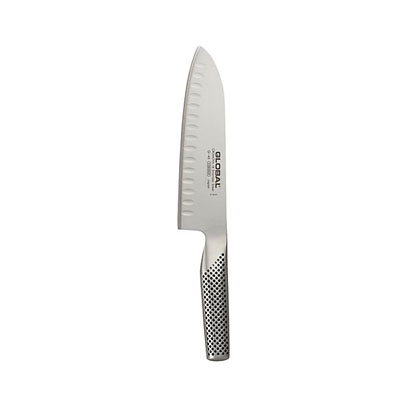 Global
Knives are super important. Unfortunately, they're really not one-size-fits-all, so a great idea is to go in to the store and hold the knife in your hand before purchasing. What one person loves, another might hate. You don't necessarily need to spend a fortune on your knives and you probably don't need a full knife set either. Only buy the knives you'll use. The rest you don't need.
KitchenAid
A good mixer is essential. Take it from someone who had no mixer whatsoever in college, and tried to make a cake and icing. It did not go well. If you live in a teeny tiny apartment and there's nowhere for a stand mixer, a good hand-held is absolutely fine! If that's what you prefer to use, there's nothing wrong with that. A good stand mixer should last you quite awhile — it's an investment. But it's more than worth it.
Duralex
Mixing bowls come in handy for way more than just mixing. They double as snack bowls, make an easy and simple double boiler, and more. You definitely need a good glass set.
All-Clad
Good pots and pans are just as important as good knives. My personal favorites are All-Clad. They're a dream to cook with and they're beautiful too. Yes, they can be pricey, but these are investment pieces. They're worth it!
OXO Good Grips
A variety of basic utensils is absolutely essential. I love this fish turner because it's thinner than most spatulas you'll find out there, meaning it's great for things that are delicate or thin. Make sure you also have whisks, a can opener, plenty of spoons, and the like.
Peugeot
A pepper mill is a must. Pre-ground pepper just isn't as good. Grind your own.
Cuisinart
If you rarely use a blender, then this may not be something that you need to spend much money on (though it's still useful to have on occasion). I did a ton of research before buying a new blender after breaking the last one I owned and settled on a mid-priced Cuisinart. It's high-speed enough for hummus, cashew milk, pesto, salad dressings, and smoothies, but didn't completely break the bank. I use mine quite often and it's just as great now as it was when I took it out of the box.