Isolation made a lot of us do some crazy sh*t. And I'm not even talking the bread-baking, bang-cutting, Tiger King-bingeing we saw all over social media. What I'm actually talking about is how basically at the flip of a switch, everyone was wearing pajamas day in, day out, never doing their hair, and practically swearing off the idea of anything beyond a tinted moisturizer and mascara as the devil's plot against humanity. It was like we renounced the very activities we kind of enjoyed in the morning before work.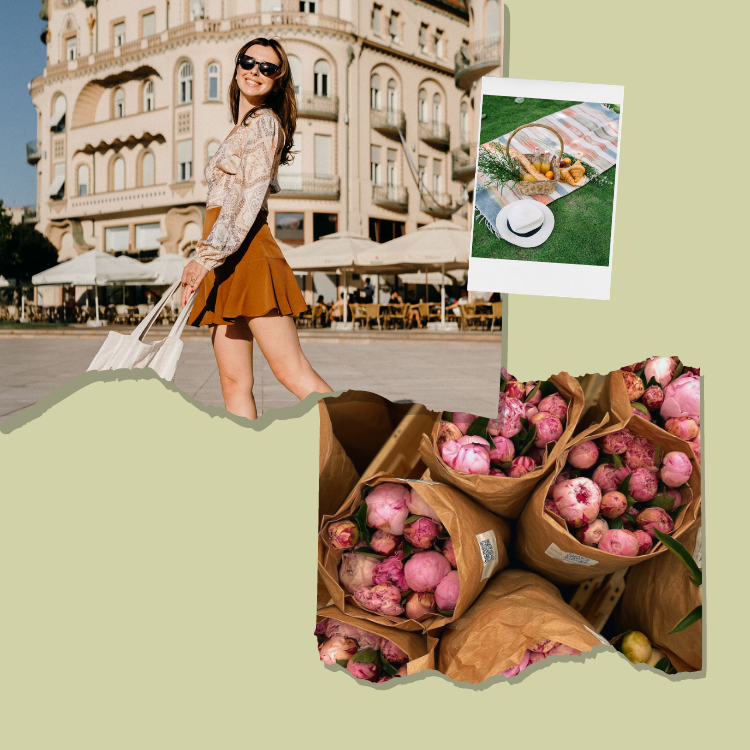 read this if you're in your saving era this summer
But I think there was a point to it all, if I must say. Wearing lighter makeup might have had a profound effect on your skin, and not having to worry about what to wear every day could have lowered your stress levels (especially at a time when stress was like everyone's middle name). And that brings me to your hair—you probably saw the "I'm not heat styling my hair in quarantine so I can go back to regular life with the most amazing hair ever" once or twice during your endless Instagram scrolls. But I'm a bit of a skeptic: can going without heat actually return our hair to the silky smoothness we had the days before our mom's finally let us use a flat iron? Here, I'm taking you along on my investigation.
So, what exactly is heat damage anyway?
I vividly remember the day I convinced my mom to let me get a heat protectant spray on a casual Walmart trip, but I'm not sure I ever knew, and still don't totally know what heat does to our hair. I mean, I know it's bad, but like what gives? According to Oribe Brand Ambassador and hairstylist, Stacey Ciceron, heat damage is what happens when using too high of a temperature on your hair comprises its natural texture. "Heat damage can occur on a single application and the effects are permanent," Ciceron said. Which brings us to …
Did my hair magically transform over not using heat for a few months?
Unfortunately, it's unlikely. "While you may have given up heat during quarantine, you may have had heat damage already, so this will not make your hair healthy right away," Ciceron said. So, your hair could still be damaged from the time you curled it for Valentine's Day. Staying away from heat tools isn't a bad idea though, and after enough time, you will notice a difference in the texture and strength of your hair.
What does heat do to our hair?
Heat is bad for any hair type, but Ciceron explained that if you have a curl or wave to your hair, heat damage disrupts that. "If the person's goal is to maintain their natural texture, they can compromise their natural curl pattern by adding a heat source and potentially lose it permanently," Ciceron said. However, if your hair is naturally straight, obviously, you're not at risk for changing your natural hair texture from the heat. But this doesn't mean that it's still not good for you!
How to keep your hair healthy even with heat damage
For starters, Ciceron said to "minimize styling with heat tools, use products with heat protection, and deep condition regularly to keep hair hydrated and nourished." Her deep conditioner of choice is Oribe's Moisture & Control Deep Treatment Masque "because it's packed with coconut and almond oils to quench thirsty curls and prevent breakage while repairing damage." Another important note is to keep your scalp healthy because that's the foundation to healthy hair—literally. She suggested using a hydrating shampoo, such as Oribe's Moisture and Control Shampoo.
Ciceron also mentioned the importance of getting regular (every 2-3 months) haircuts to trim away any dead ends, keeping hair "hydrated and supple."
How can we prevent heat damage?
Like Ciceron explained, heat damage is permanent, but there are some ways to help reduce further damage to your hair. "Make sure to adjust the heat settings based on your hair type, use thermal protection, and reduce any unnecessary heat applications."
She also explained that in the heat and humidity we're likely to experience this summer, you might be tempted to go over your heat styling when it gets frizzy or puffy, straightening it again or using the curling iron. Instead, Ciceron recommended trying a different style that doesn't require adding extra heat to your hair.
Styles to try if you have textured hair
If you do have a curl pattern to your hair naturally, Ciceron explained a few hairstyles you can try to keep your hair healthy without using heat, specifically for those with type #3 or #4 curls. For type #3 curls, you can do the wash-and-go technique by letting your hair air dry after applying product to wet hair. Use a detangling product in the shower to get out any tangles, dry your hair using a microfiber towel or old T-shirt, and then apply a curl-enhancing product to set the hair and get it ready for a style.
For tightly coiled hair (type #4), Ciceron explained that extra steps might be needed to style your hair straight out of the shower. "First, they should detangle and remove shed hair before the shower section by section with a mixture of water, either [Oribe's] Intense Conditioner for Moisture & Control or Moisture & Control Deep Treatment Masque, and oil (coconut oil, olive oil, shea butter or the 99 percent natural Gold Lust All Over Oil [from Oribe]." Then, after the shower, go through each section with a detangling product and a curl-enhancing cream to stretch or set the curl pattern with braids or twists. "Just note that in the summer humidity, defined curls will struggle," Ciceron said. "You need proper products to seal in moisture like butters and gels to keep curls looking their best." She recommended Oribe's Curl Gelée for Shine & Definition.
For straight or wavy hair types, our editors swear by these styles to keep their hair out of their face without resorting to extra heat styling.