We all have that friend: the one who sends you a text at 5pm on a Tuesday evening, inviting you over for a home-cooked meal. When you get to their door at 6:30, you're greeted by the enticing scent of something they "whipped up" emerging from the oven. Perfectly-timed and purportedly just thrown together.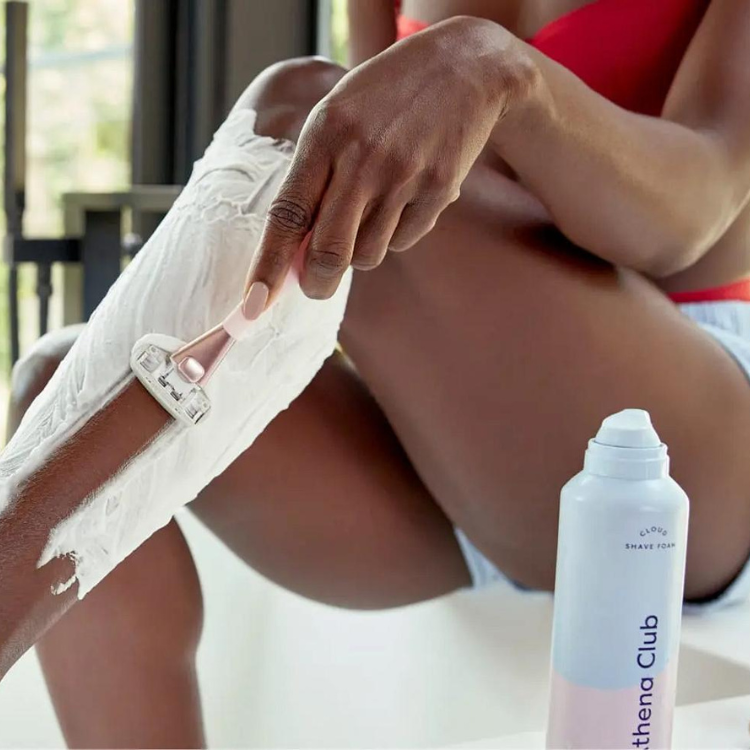 "This razor gave me the silkiest, smoothest shave I've ever had! I never get any cuts or scrapes, even on those hard-to-shave places."
For me, Tony Brush is that friend. Having worked in restaurants across the country, beginning at the now-closed Donald Sacks in New York and Berkeley's famed Chez Panisse, to now working as a freelance food stylist in Portland, Oregon, Tony is well-seasoned in the world of food and entertaining. Having grown up tagging along to Tony's dinners with my parents to now being a guest myself, I've learned much in the way of inviting company over for a memorable meal.
My biggest takeaway from befriending a chef and entertaining pro? I don't have to be one myself to make people feel welcome in my home and cared for at my table. Here's what Tony has taught me about taking a laid-back approach to cooking and what happens when you let good, simple ingredients speak for themselves.
1. Simplicity is key
OK, I've said the word twice already, but I wouldn't repeat myself if it wasn't important. If you're like me, the first time you're invited to dinner at a chef's house, you prepare yourself for a multi-course meal, expecting every plate to be adorned with intricate garnishes and ornate styling.
But here's the truth: when you have someone over, the invitation isn't for a gourmet meal at a Michelin-starred restaurant. Rather than intimidating your guests with an elaborate meal, your goal is to make them feel at home in your home. Take their coat and welcome them with a glass of wine. Give them the option of keeping their shoes on or kicking them off.
Letting someone know how happy their presence makes you is a sure-fire way to ensure a lovely evening ahead, no pretense necessary.
2. Don't do it alone
In the past, there was the antiquated assumption that if you were having a dinner party, you'd be doing it all on your own. I still have memories of my mother frantically prepping a week in advance for a dinner she was hosting, stressed to the point of not being able to enjoy the meal herself.
Splitting up the work has the dual benefit of taking some of the stress off your shoulders while also giving your guests the opportunity to showcase their own talents in the kitchen. The last time Tony had me over, he asked me to bring dessert, and I jumped at the opportunity to make a four-layer pumpkin cake with cream cheese frosting that I'd been itching to make all fall. When we cut into it, I beamed with pride at having gotten to complement his delicious meal with an offering of my own.
Trust me: take shortcuts when you need them and let your guests contribute where they can. You'll avoid the inevitable meltdown that comes with refusing help and your gathering will feel all the more communal and shared.
3. Mix textures and shades, but keep a consistent color palette
While the meals are different every time I come over, a constant on Tony's table are his neutral-toned plates, serving dishes, and bowls. The resulting effect is effortless and elegant, and allows your food to take center stage.
When I find myself drifting toward a maximalist aesthetic (and hey, if that's you too, no shame!), I find myself replaying shots from The Barefoot Contessa in my head, with images of Ina dishing up heaping servings of pasta in perfectly-pristine white bowls. Anyone who's watched an episode knows: if Ina does it, there's really no arguing that it works.
Next time you're torn between a Picasso-esque plate and an option that's a little more understated, try opting for the latter and notice how your salad stands out against the clean backdrop. How easy is that?
4. Celebrate the season
Tony and I share a deep love of Japanese culture, and among the many elements that make up our admiration is the culture's appreciation of the different seasons. The Japanese recognize the change of seasons through nature — both its decorative and consumable elements — and celebrate this cycle throughout the year.
Inspired by this recognition of change, Tony makes the most of each season's distinctive offerings. Living in Portland, the rain lends us an abundant summer and spring, with stunning produce populating the markets, and flowers spilling out onto the streets. A typical June gathering involves a table set in the backyard with a sheet of white linen spread across and bud vases lined down the middle. Even in the fall, Tony arranges artful bouquets of the neighbor's dahlias and piles plates high with the most delicious Brussels sprouts and delicata squash I've ever had.
Do a little research and see what's in season where you live during different parts of the year. Go a little further and start your own traditions that play to the strengths of the season. Pumpkin carving party? A gathering in the garden to celebrate spring? The options are endless.
5. Buy local
Having lived in New York during the 1970s, Tony's regaled with tales of a city much different from the one we know now. While food shopping today more often involves a virtual cart than a physical one, Tony's reflected on Saturday mornings spent going from the bakery for bread to the pasta store and progressing onto a separate produce stand to various cheese makers, and then to the butcher or sausage maker. Moving from shop to shop and taking the time to pause and ask about what's being sold gives you the opportunity to learn more about your purchases and to connect over what would otherwise just be an exchange.
Of course, there's nothing like the convenience of getting ingredients shipped straight to your door or the ease of meal kits portioning everything out perfectly for you. But if you can, try to carve out a little time to visit your local farmers' market. The boost in flavor and the experience of the trip itself is well worth the bit of extra effort it takes to look beyond your computer for food. What's more, if you take the time to hear someone share the story of what they've grown and made, you can relay that information back to your guests, adding a narrative that may not have otherwise been a part of your meal.
6. Garnish gracefully
Maybe it's just me, but it seems like the decision to garnish or not to garnish is one of the most polarizing topics in food. Some say to leave it blank, while others try to convince you that a little decoration helps clue diners into what flavors they can expect. Tony's take? Save the embellishment for the Thanksgiving turkey or for when the occasion calls for a little more festivity. Of course, many different opinions about garnish abound, and in this case, feel free to lean into exceptions when doing so adds flavor without sacrificing the golden rule: simplicity.
I've been happy to take a forkful of salad with chopped nuts scattered across or scoop up deliciously fluffy mashed potatoes topped with minced rosemary and thyme. Rather than getting in the way of serving a dish, garnishes should only add to the experience of eating it.
Conclusion? Play it safe. Your guests will thank you when they don't have to wonder whether or not to eat the slices of lemon tucked into their Shrimp Scampi.