Sometimes it's still hard to believe, but somewhere along the line, virtual job interviews became totally and completely normal. I personally completed a virtual interview for my current full-time remote job and now help interview other individuals over Zoom.
Whether you've completed a virtual interview before or are totally new to the process, chances are, there are a number of components regarding the experience that are giving you some anxiety and sending you down the rabbit hole of looking for the best virtual interview tips. As you're memorizing your resume, optimizing your space for natural light, and testing your WiFi connection for the umpteenth time, one thing you'll want to pay considerable attention to is your interview outfit.
Despite the fact that work-from-home attire tends to trend toward casual (OK, like, really casual), it's still important to dress appropriately and professionally when interviewing over Zoom. Even though you might be taking the video call from your dining room table (please, don't interview from your couch), it's important to treat the interview the same as you would if it were being conducted in person.
Thankfully, this is far from rocket science, and there are a handful of go-to outfit pieces that can set you well on your way toward dressing for (Zoom job interview) success.
Unsure of What to Wear for a Zoom Interview? Start Here
Obviously, when you dress for a Zoom interview, your most important pieces (in other words, the ones that require the most of your attention) are those worn from the waist up: tops and accessories. That being said, coordinating an entire professional outfit can help you feel more prepared for the interview and put you in that "work" mindset. In other words, don't style a button-up with a pair of sweatpants—your subconscious might not be as prepared if you send it lazy-day signals. As silly as it sounds, be sure you also wear shoes. I guarantee it will be harder to mentally bring your A-game if you're barefoot.
Although it's far from the "norm" I personally wear makeup and an entirely coordinated outfit every day at my WFH job. Even though I work from my home office, I find that dressing for my remote job helps keep me focused and motivated throughout the workday. In fact, when interviewing for my current job, I distinctly remember pairing a turtleneck dress with a blazer and a pair of heels. Doing so really made me feel as prepared as possible for the interview ahead.
While there are countless options and outfit combinations you can turn to when preparing for your virtual interview, these no-fail pieces can get you started.
Collared Button-Down Tops
When it comes to the best Zoom shirts, collared button-down tops take the cake. They're an essential building block in one's professional wardrobe and—given the structural symmetry of the collar—possess the ability to tell a fashion story, even when your camera is only displaying from the clavicle up. I also personally love collared button-downs for their versatility; they can be worn as-is or paired with a blazer, cardigan, or sweater vest, depending on your workplace's dress code, company culture, or the occasion you're dressing for (interview vs. a meeting with co-workers).
Blazers
While it might feel like overkill— sitting at your kitchen counter wearing a blazer—this wardrobe staple tells interviewers one important thing: I mean business. Don your blazer over a blouse, button-down, or bodysuit for a winning interview look. I guarantee hiring managers will appreciate the effort you put into presenting yourself in a positive light. Plus, blazers can make you feel confident in a way other pieces just don't.
Neutral Accessories
An accessory or two can really elevate an outfit by helping it feel complete. When it comes to virtual interviews, reach for neutral pieces that won't draw attention away from the content of your answers—which should remain the star of the show at all times. A simple headband, an artfully cinched claw clip, or dainty jewelry are all no-fail options when it comes to dressing your Zoom interview look up a tad. Aside from pulling your look together (and/or keeping your hair from falling into your face), these pieces demonstrate extra effort to your interviewers, which is certainly never a bad thing.
Blouses
A top doesn't have to have a laser-cut collar to be considered professional. There are a wide variety of blouses to choose from that give off the desired professional vibe you're looking to channel before (virtually) walking into your interview. Due to the wide variety of colors and prints you can find across this clothing category, consider leaning into this option if you're interviewing for a creative position (such as a job in graphic design). Just be sure to avoid overly busy patterns which could cause distraction. If you're unsure which direction to take, reach for neutral colors, which are always a good option.
The Best Zoom Interview Outfits
A Bodysuit + Blazer + Trousers
The classics are classics for a reason. If you're not looking to reinvent the wheel, then stick to the winning combo that is a blazer and a pair of trousers. This power combo can put you in the right mindset for your interview, giving you a sense of confidence and communicating a level of authority. Completing the look with a pair of sandals is the metaphorical cherry on top.
A Collared Dress + Heeled Boots
A collared dress is a timeless office piece. While you can pair your dress with sandals, heels, or flats, I know nothing personally makes me feel more powerful than a pair of boots. Reach for a heeled pair to tap into your authority. Simple earrings add to the look, and will frame your face without diverting attention from your interview.
A Collared Button-Down + Skirt + Pearl Earrings
A collared button-down is understated and elegant. Style it with a midi skirt (which are comfortable to sit in) and a pair of slingback kitten heels that will give you a sense of self-assuredness from their place under the desk.
A Tie-Neck Blouse + Blazer + Black Jeans
If you're not a collared-shirt kind of a gal, a tie-neck blouse can be a great, professional alternative. Style it with a black blazer, jeans, and a pair of loafers for a posh business-casual look.
A Jumpsuit + Headband + Sandals
If you're a one-and-done kind of person, then a professional jumpsuit may be the perfect solution for your next Zoom interview. Style it with a chic headband to add visual interest to the look.
A Lady Jacket + Trousers + Gold Hoops
For sophisticated prep, grab for a lady jacket as your central clothing piece. One with metal or gemstone buttons can add a touch of flair to the ensemble without distracting the hiring manager. A pair of gold hoops amp up the understated elegance of the look and subconsciously communicate that this interview is far from your first rodeo.
An Academia-Inspired Cardigan + Tank Top + Black Trousers
I'll admit, pop culture led to my developing an unwavering love of academia style (I'm a millennial who grew up watching Harry Potter and just recently completed my first watch-through of the Gilmore Girls—I know, I know.) Layer an academic cardigan over a high-neckline tank top and slim pants. A pair of vintage-inspired heels play into the aesthetic.
An Oversized Button-Up + Sweater Vest + Leather Leggings
If you're looking to zhuzh up your collared shirt, consider adding a sweater vest. Keep the Zoom interview attire both professional and comfortable with a pair of faux-leather legging and some on-trend ballet flats.
A Black Turtleneck + Necklace + Claw Clip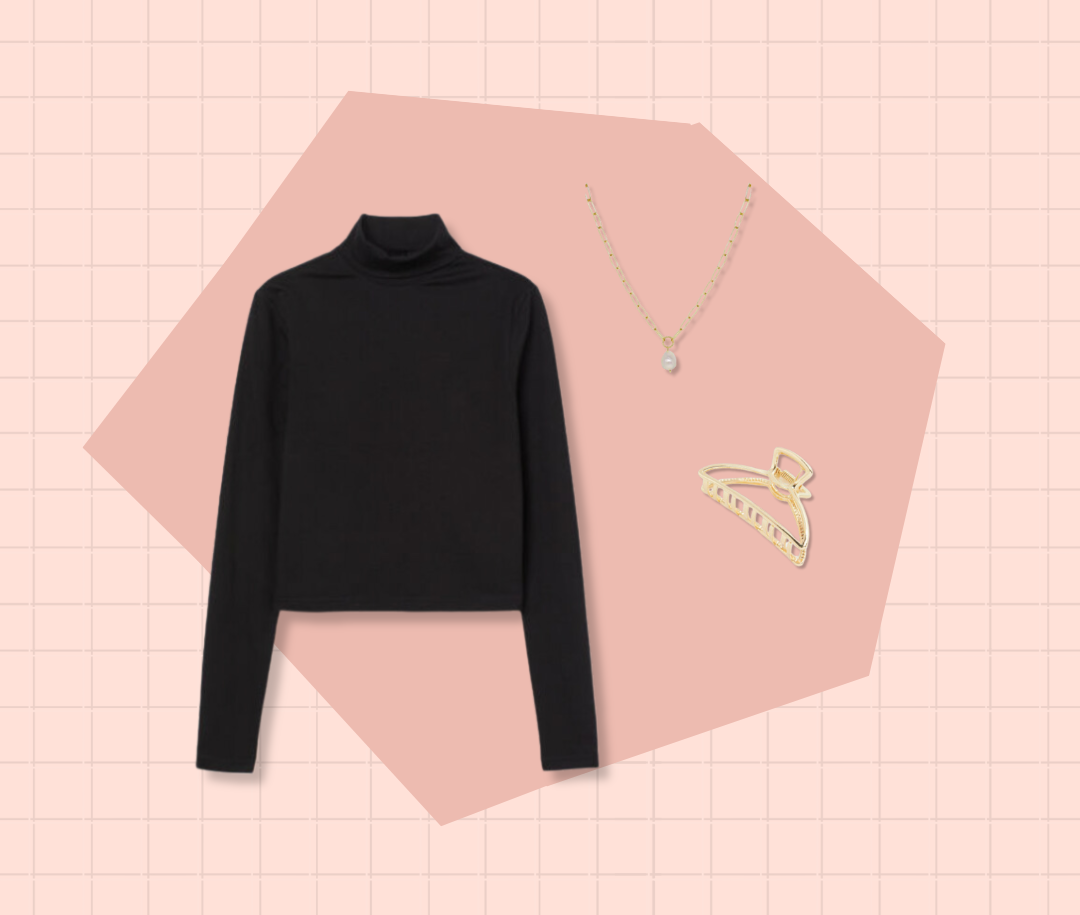 Turtlenecks, in their elegant simplicity, have a way of saying, "I know what I'm doing." Style a classic black turtleneck with a timeless necklace to communicate a sense of maturity and a claw clip to show you mean business. (Who has time to keep pushing hair out of their face? Not this girl).
A Sleeveless Blouse + Statement Necklace
If you're interviewing during the warmer months and have a tendency to sweat through stressful situations (no worries, no judgment here), then a dressy, sleeveless top can come to your fashion rescue. A statement necklace elevates the look and visually communicates a sense of confidence.