Way back in 2013, I broke up with my college boyfriend. Dating apps had barely been a thing when we first got together, and I was keen to throw myself into this brave new world of endless dating possibilities. I would go on a few dates, have some fun, and then meet someone, I told myself. After all, with so many potential partners only a swipe away how could I not find someone I liked spending time with enough to want to commit?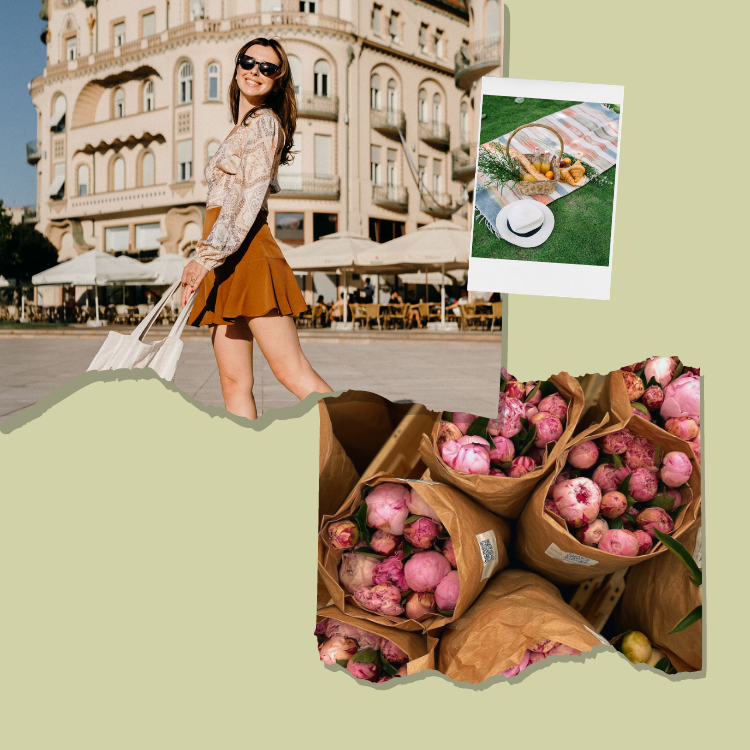 read this if you're in your saving era this summer
I was wrong. In fact, I spent over five years online. I went on great dates and I went on terrible dates. I heard openers that made me laugh out loud and openers that made me cringe. I was swipe happy sometimes, and other times I wanted nothing more than to delete my dating apps and never go for an after-work drink with a stranger again. But I learned an awful lot. These were some of the most valuable lessons:
1. Fill in your bio—completely.
Setting up a dating app can feel like a bit of an investment — particularly for newer apps such as Hinge, which focus on mindful dating and therefore ask for more information. But it really is worth it! Most people hunting for inspiration for that all-important starting message will use your bio as a starting point, so creating a profile that truly reflects who you are means that you will have much more interesting conversations. Leaving a blank space where your love of Harry Potter or your passion for collecting B-list celebrity autographs might go means that you will likely end up fielding the same generic openers and small talk over and over again.
2. Don't be afraid to talk first
Despite years of female empowerment, there's a bit of a myth that women shouldn't talk first on dating apps. I've heard various iterations of this, from the old-fashioned ("men like to chase") to the downright rude ("only ugly girls message first," which was a genuine statement from a dreadful date I went on. Needless to say, it was the last).
The fact is that messaging first is more than likely to mean that you will get your pick of the people that you are genuinely interested in. Lots of people simply won't message you, not because they aren't interested, but because they are so deluged by different profiles that it's sometimes hard to hone in on one. Perhaps they couldn't think of something interesting to say at the time, had a busy day at work, or simply missed the notification that you had matched. Regardless of their reasoning, plenty of people will be flattered to receive a first message, and coming up with a killer opener just gives you another chance to showcase your personality.
3. Don't take rejection too personally
When it comes to online dating, rejection is part of the territory. You might send out messages that never get a response, or find that a conversation that you were enjoying fizzles out. Although it can be difficult not to feel a slight sting, remember that rejection on dating apps is almost never personal. After all, this person has never even met you. In fact, all they have to go off is a couple of pictures, and perhaps your best one-liner.
Only seeing your potential dates through a screen can mean that you feel much more detached than you would if you met them in real life. And after all, how often have you been chatting to a perfectly nice person online and lost interest when work got too busy, or the conversation lost its spark? Shrug it off and get back to swiping. There are endless possibilities to start up something new.
4. Remember that it's only a date
One of the key errors that I made when I first downloaded Tinder was putting too much pressure on individual dates. I would talk to people two weeks beforehand, convincing myself that we were the perfect match before we'd even shaken hands with each other. On the day of the date I was a mess — I'd built this person up in my mind that I was terrified that I'd do the wrong thing and shatter my illusion of the storybook romance I'd been imagining.
It's important to remember that a first date is only a first date. You will probably go on lots of them. You don't have to make a decision about anyone there and then, and you're not expected to make someone fall in love with you within a couple of hours and after one too many cocktails.
On the day of the date, try and stay busy and distracted. Put all notions of meeting the The One out of your mind and treat it as a meeting where all you are trying to gauge is if you would like to go on a second date with this person. Whether or not you can see them as the potential future parent of your children is immaterial and will only distract you from doing what you are there to do — have fun, and show someone who you are.
5. There's no right or wrong time to go on a first date
People on dating apps seem to fall into one of two camps: either they ask you for a coffee after a few messages, or they will talk for weeks without any mention of a meet-up. Throughout my time online dating, I dithered between which of these was the "right" approach. Talking to someone for too long could lead to disappointment when you finally meet them, whilst bringing things into the real world too quickly can make for an awkward encounter when you learn that you have nothing in common.
What I eventually learned is that there really is no right or wrong time to go on a first date. Some of the best dates I went on had a build up so long that I knew their mother's maiden name by the time that we met up. Some of the most lasting connections I had came from me taking a chance on people who cracked one good joke and then followed up with "don't suppose you're free later?" It's fine to take your time to decide whether you want to invest the effort into meeting someone, and it's equally fine to dive straight in if you're feeling spontaneous. You might be surprised by the outcome.
6. Don't be afraid to talk on the phone
Millennials might be notoriously bad at picking up their phones for a long chat, but when it comes to online dating, hearing someone's voice can be surprisingly helpful. The first time someone asked me to speak on the phone I was dubious. But after a large glass of wine I agreed, and found that we got on far better than we had over text when we could riff off each other in real time. We ended up dating for six months.
Speaking to a potential date on the phone is a great way to get a gauge on whether you're interested in meeting up, particularly if they live a little further away and a real life get-together might take a little more time and effort. It can also make the first date a bit more relaxing — after all, you already know that you can chat without awkwardness.
7. Don't forget that there are other ways to meet someone
As much as online dating can be fun, it can also be exhausting, demoralizing, and time-consuming. After a while, I had had a few runs of bad luck on dating apps and felt dejected. After all, I wanted to find love, and focusing on actively trying to find someone was starting to make me feel like a failure. But everyone meets online, I told myself. If I deleted my dating apps was I giving up on finding The One?
Turns out that's not quite true. In my five years of using dating apps, I spent hours swiping, and yet I went on almost as many dates with people I'd met in real-life as with those I'd matched with online. When you look at it like that, the return on investment seems a little dubious. And in the end, I fell in love with my childhood best friend, who I met before we even had smartphones. For all my years of online dating, the right person for me had been there all along.
Dating apps are a great way to meet people. They can be an enjoyable way to spend an evening and open you up to interesting and exciting individuals who you might never have met otherwise. But they aren't the only way to find someone. If you're feeling the frustration of dating app fatigue then don't feel guilty about switching off. The right person might be waiting for you to look up from your screen.