Ah, the sweet signs of summer: happy hours on patios, packing a beach bag, and the oh-so-unfortunate fact that my wallet is hurting. Between outdoor concerts (I'm looking at you, Eras Tour tickets), weekend getaways, and refreshing my seasonal wardrobe, I always find myself strapped for cash this time of year. While I cannot wait for the warmth and fun of summertime, my bank account says otherwise. It's practically begging for me to put down my credit card.
If you're like me and heading into your savings era this summer, here are a few summer activities that you can try to cut back on spending during one of the priciest (and busiest) times of year—all without cutting back on the fun. From picnic parties to childhood hobbies, you'll want to bookmark this list and add these summer activities to your summer bucket list.
1. Use Groupon to score deals on local summer activities
Before you make reservations at your favorite restaurant, buy tickets to your hometown baseball game, or book your next summer getaway, you'll want to check out Groupon's latest deals. Groupon offers endless discounts for a wide variety of local businesses and events—from group fitness classes (pickleball, anyone?) to wine tastings at a stunning vineyard. You can even filter by price, location, category, and rating to find the exact summer activity you're looking for. Plus, you can browse real customer reviews to see what the buzz is about.
For a limited time, they're offering up to 20% off all local purchases when you shop through us, so now is the perfect time to get all your summer plans on the books at a much lower cost by simply hitting "add to cart."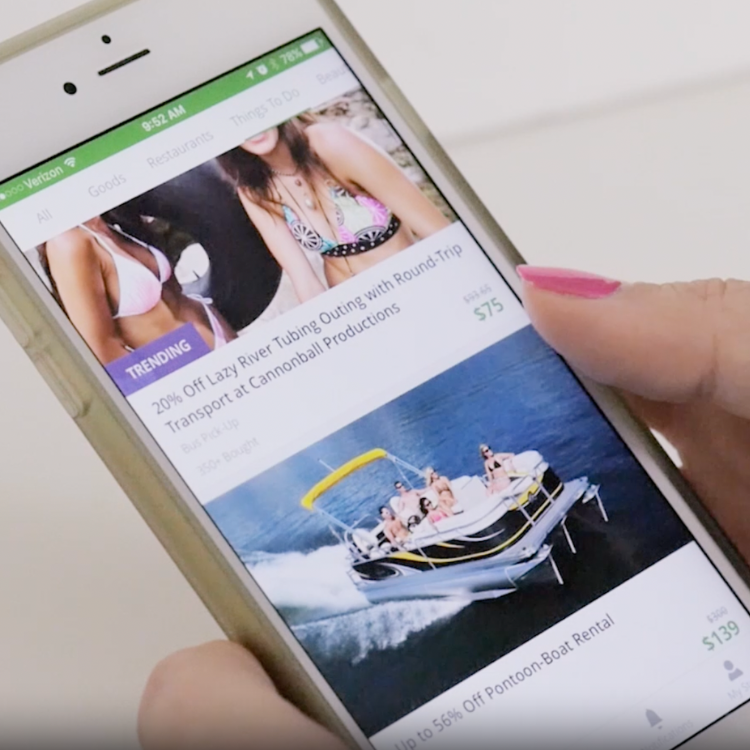 GROUPON
One of our best-kept secrets for saving money all summer long. For a limited time, you can snag up to 20% off all local Groupon purchases!
2. Throw a picnic party
Gather a couple of your gal pals and spread out your prettiest picnic blanket at your local park, in your backyard, or at the beach. Pack a picnic bag of your favorite Trader Joe's snacks, charcuterie board essentials, a bottle of wine or a pack of non-alcoholic drinks for the group, and prepare for an aesthetic, yet extremely affordable, afternoon. Make it a whole vibe with your summer playlist on your Bluetooth speaker and have everyone dress up in their favorite sundress from their closet.
3. Visit a state or national park
What better way to save some extra cash than spend it out in nature? Drive up to your nearest state or national park for the ultimate hot girl walk with some seriously scenic views. Better yet, camp there for an inexpensive weekend getaway (or try glamping in a camper or RV if roughing it isn't your thing). Prepare some camping recipes around the fire and snuggle up in a cozy tent sanctuary under the stars.
4. Revisit an outdoor childhood hobby
I don't know about you, but some of my favorite summer memories are from my childhood. Neighborhood block parties, meeting up with friends at the park, and ordering a scoop of ice cream from the ice cream truck continue to be some of my fondest summer moments. Tap into your childlike wonder and revisit an old summer hobby that you used to love. Here are a few options to jog your memory:
Roller skating
Soccer
Swimming
Flower pressing
Rock painting
Stargazing
5. Stroll through your local farmer's market
Farmer's markets double as a leisurely summer activity and grocery shopping—a win-win! Fill up your tote bag with organic goodies and flowers while sipping on an iced coffee or grab lunch from one of the food trucks with a friend. There's truly not a better, more inexpensive way to spend a weekend morning. Here are some of our go-to farmer's market tips for your next haul.
This post is sponsored by Groupon, but all of the opinions within are those of The Everygirl editorial board.