Full disclosure: Despite working in fashion, there was an entire category of my wardrobe that I neglected for years. I would pool all of my money into the clothes I wore to leave the house, but when it came to lounging around, well, you don't really want to see what I was wearing (spoiler: everything had sorority letters on it and was so faded and worn you could hardly read it).
But as was the case with many people, 2020 made me change my opinion on the importance of loungewear. When you're at home all the time—which I still am as I now work from home three days a week—the majority of life is spent in loungewear. The difference in how I feel every day in cute, presentable loungewear compared to worn, old ones that should have been retired years ago is capable of changing my whole day. Now that I'm on the looking-cute-at-home train, I'm always on the lookout for cute sets that catch my eye, and American Giant's Old School Polo Sweatshirt stopped me in my tracks—especially with its matching Old School Sweatpants.
I first heard whispers of American Giant from their best-selling Classic Full Zip, gave it a try, and fell in love with it (high-quality, heavyweight fleece and durable design for the win). So when I waited for my order of its sister sweat set, let me tell you—my expectation was high. We're now one month out from its arrival and the verdict is in. This set offers everything I look for in loungewear: a gorgeous color, a design that's a little different, and of course, the ability to wear it both inside and out of the house. After wearing it more times than I'd like to admit, it's become the set that I'll be living in all winter. Here's why:
American Giant
3 colors available
American Giant
3 colors available
Why I love them
The vibes
It's no secret that not all sweats are considered equal. Some shrink and begin to look worse for wear after a couple of washes, but not these. The material is thick and substantial, and feels like those vintage, quality sweatshirts that you'd steal from your dad's closet.
The fit and style
These sweatpants have a relaxed fit, so they aren't too fitted or too loose. They're super comfortable, but not so baggy that I feel frumpy in it. I love that both the sweatpants and sweatshirt have a naturally looser fit so they fall under the oversized clothes trend that we can't get enough of right now.
The versatility
I love sweat sets that are multi-purpose, and this one is the definition of that. I wear the polo sweatshirt on its own with jeans and sneakers all of the time, and have worn the sweats on their own with a T-shirt on warmer days, too. Whenever I want something cozy, I know I can rely on this set both together or separately and that it'll deliver every single time.
Fit and sizing
I prefer my sweatshirts to fit a bit oversized, so I sized up from my usual size small to a size medium in the Old School Polo Sweatshirt. The fit itself definitely oversized, so I probably would have been fine going with a small as the medium is quite big on me, but sizing up one size made it so it's cozy and long enough to wear with leggings.
I am usually a size 27 in jeans and small in other pants, and the size small pants definitely fit true to size.
American Giant
3 colors available
American Giant
3 colors available
The Verdict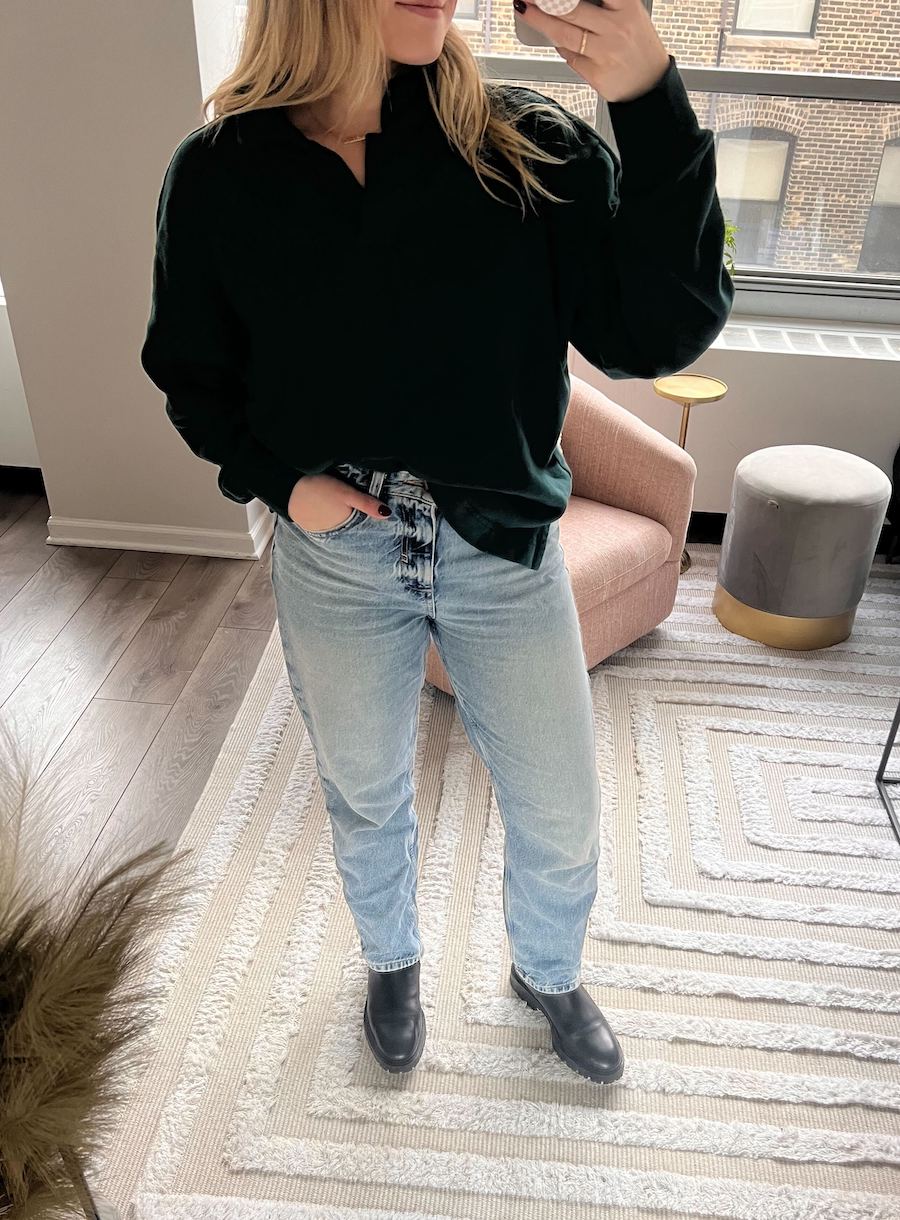 By now, I have a lot of sweat sets in my closet but none quite like this one. Between the gorgeous color that stops me in my tracks, an on-trend design that'll stand the test of time, sustainability that makes my inner-Greta Thunberg happy, and the versatility to dress it up or down, it's gotten my seal of approval. And when I find an elevated set that says "I tried," even though it's as comfy as wearing PJs, it's an automatic win in my book. Want a pair for yourself? Click here to shop American Giant and use code EVERYGIRL to score 20% off!
Shop more from American Giant:
This post is sponsored by American Giant, but all of the opinions within are those of The Everygirl editorial board.