After years upon years of hopelessly following tutorials, getting overwhelmed in Sephora and grabbing random things I don't need, and regularly losing the battle of trying to apply liquid liner, I've accepted my fate: I'm bad at doing makeup. I'm great at many things in life, but a full face beat just isn't one of them. I still really enjoy doing it, though, and love how confident even the easiest of steps can make me feel. So, instead of continuing my fight with contouring (it just never blends right) and smokey eyes (it always looks like I got punched in the face), I've been hunting to find the best makeup tips and products achievable for anyone and everyone. Makeup should be fun and make you feel like your best self—no matter the skillset you're working with.
If there's one thing to accomplish this weekend, it's hitting up one (or two or three) of these Memorial Day sales that'll make your home, wardrobe, and budget happy
Maybe you're like me and need to keep things easy, or you just prefer a routine that's as simple and low maintenance as possible. Whatever the case may be, a 10/10 look is not out of reach. Here are the best makeup tips and products for all my people out there that are just, well, kind of bad at makeup:
Exfoliating Over Everything
In my humble opinion, it's not talked about enough how difficult it can be to successfully apply full-coverage foundations and concealers, especially if you're dealing with more intense acne, scarring, or hyperpigmentation. The final look can easily turn out so uneven, cake-y, flakey, or just look like a kid went to town with streaky finger painting on your face. So, being sure to exfoliate on a regular basis is the key to smoothing out the canvas and paving the way for a base much less likely to crack and smear throughout the day.
Although problematic skin isn't always in our own control, healing your blemishes and trying out methods and regimens that work for you to clear up anything that's calling for heavy-duty makeup can lead you towards lighter products that are easier to apply and less harsh overall (AKA, the beautiful world of tinted moisturizers—which we'll get to in a second).
OLEHENRIKSEN
This exfoliator is a fan favorite for those with skin on the more sensitive side.
Paula's Choice
With 4.5/5 stars made up of over one thousand reviews and more than 200,000 favorites on Sephora's website, this exfoliator for acne prone skin is an obvious must.
CeraVe
This amazingly priced facial cleanser doubles as an exfoliator, so you can skip adding the extra step in your routine.
Skincare Includes Sunscreen
I'm sure I'm not the first person to tell you that sunscreen is an absolute must to keep your skin in tact as you age. Without it, the chances of developing dark spots and fine lines are way more likely, which will in turn call for thicker products that, for people like me, are a pain to apply and even more so to keep looking good throughout the day.
A lightweight, clear formula sunscreen is a must, especially for when you're wearing makeup, in order to avoid that white layer it can leave behind, giving you a Flashback Mary moment (if you know, you know).
Supergoop!
This cult favorite sunscreen is ideal for putting on alone or under face makeup, as it's oil free and is white-sheen free.
La Roche Posay
This lightweight formula is ideal for dry skin and actively prevents breakouts, too.
Fenty Skin
Being a sunscreen that's literally made to wear under makeup, it's guanteered to give you a matte yet moisturized base. Everyone say thank you, Rihanna.
Glowing Serums Are Your Best Friend
Another problem I've always run into is if I try to keep the products to a minimum, my final look ends up being just…dull. It's as if any sort of tinted product I use for coverage essentially sucks the life and dimension out of my complexion. So, when you're not exactly sure how to make you're face look plump and alive without the difficult-to-master sorcery of concealer and highlighter, glowing serums should be your go-to. A thin layer will effortlessly give you a bright, gleaming look to combat a bland, overly matte finish without feeling oily at all.
Glossier
This oil-serum hybrid gives a gleamy, glowing look and feeling to your skin that will last for up to 12 hours with no greasiness.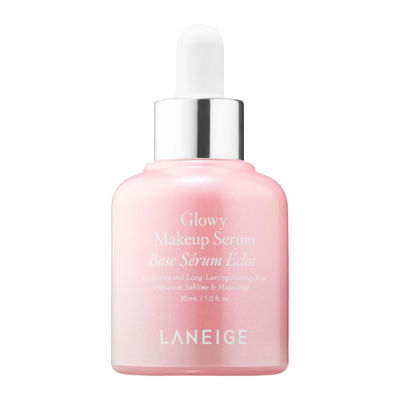 Laneige
A lightweight, super hydrating serum that keeps oil in check for smoother skin, longer-lasting makeup, and of course, a glowing complexion.
Don't Skip Out on Primer
For some reason, I always thought that using primer was exclusively for the big guns pulling out full glam serves, and that it was pretty much useless otherwise. However, I was sorely mistaken. Primer actually still works its magic of smoothing out your skin and getting rid of pores even without concealer or foundation layered on top of it. So, instead of relying on caked-up coverage for those pore-ridden areas, go ahead apply a bit of primer to deal with that annoying skin moment pretty much effortlessly.
For when you do decide to put on a little more, primer is obviously known for keeping your makeup in place. Staying on all day means avoiding reapplication, which results in dealing with less products and spending less time in the layering up to ensure it'll last.
Tarte
This primer is up there with the best of the best for smoothing and hiding larger pores, so it's a definite must-try if that's a main coverage concern of yours.
Milk Makeup
The amount of people I've personally heard rave about this product is absolutely wild. Just a pea-sized drop of the gel formula for your entire face will smooth out texture and practically lock on your makeup.
Tinted Moisturizer > Foundation
Aside from it just being better for your skin, tinted moisturizer is so much easier to apply than your average foundation. It's not as thick and heavy, it keeps your skin hydrated, and it is literally made to apply with your hands instead of dealing with blending brushes. If you'll take any makeup tips away from this article, let it be this one: make an effort to find a tinted moisturizer that works for you—it'll be worlds easier for you in the long run.
Bare Minerals
Whether you want a super subtle layer or something close to a foundation, this tinted moisturizer is incredibly buildable to suit whatever kind of coverage you're looking for.
20 shades available.
Laura Mercier
If your skin tends to be more oily, this product's matte finish prevents a greasy look while still giving optimum hydration.
20 shades available.
ColourPop
Priced at under $20, this moisturizer made with hyraluronic acid will give you great coverage, soft skin, and won't break your bank account.
Concealer Can Be Simple
I used to watch tutorials about applying concealer in a million different puzzle-like ways to change the shape of your face and highlight different features. That's super cool and all, but…what if I'm just in the market to hide some zits and dark circles here and there? That's where these super lightweight and easily buildable concealers will come in to save the day. Don't feel as though you need to opt for a high coverage option just because they're the kind that are the most raved about! A lot of the time, a thick concealer formula won't look right combined withe something thin like a tinted moisturizer, so going for a product designed exclusively for masking imperfections is key.
Glossier
I've personally been using this concealer for years mostly because of just how buildable it is. Whether it's just a tiny bit to liven up my under eyes or some more layers to hide breakouts, it always gets the job done.
12 shades available.
Maybelline
If dark undereyes are a main concern, this budget friendly concealer is a long time go-to in the makeup world for it's long lasting wear and 10/10 coverage.
18 shades available.
Neutrogena
Not only will this formula seamlessly hide any unwanted breakouts, but it also has active acne fighting ingredients to not only conceal current blemishes, but prevent new ones.
5 shades available.
Cream Products All The Way…Except Bronzer
Nothing in this world has humbled me quite like attempting to contour my face, and I legitimately praise anyone that's able to do it and make it look even remotely good. So, I tried using cream bronzers for a while to just add some color to my face, yet that still flopped horrendously. It then dawned on me that the darker the liquid product is, the harder it is to blend it in a way that looks natural. So, switching to a powder bronzer basically saved my life. It's much easier to work with in terms of controlling its pigmentation, and it can double as a light eye shadow for when you're feeling bold.
Benefit Cosmetics
Once I confronted my fears of bronzer and contour, this was the first powder bronzer I ever tried—and I've never looked back since. It's buildable, easy to apply, has a light shimmer, and just brings some life to my complexion overall.
4 shades available.
NARS
This bronzer is a big-time cult favorite that creates warmth and a long-wearing natural-looking glow.
4 shades available.
Blush Is For More Than Your Cheeks
Blush has always been my favorite step of my makeup routine, especially once I was introduced to the world of liquid and cream formulas. Why you may ask? Because as someone who immediately looks like I've dabbled in clown makeup when I attempt to apply lipstick, the pigment and consistency of a cream blush is much easier to manage when you want some more going on with your lips than a faintly tinted lip balm. Plus, its 2 in 1 usage calls for one less product to worry about finding.
Benefit Cosmetics
This God-send product adds a very buildable rosiness to your cheeks and perfectly doubles as a lip stain, too. Killing two birds with one stone, baby.
Milk Makeup
The super smooth cream formula of this easy-to-apply stick blush will feel like butter on your skin and leave a gorg tint all day long.
8 shades available.
Brow Gel or Bust
I'll admit with my whole chest that I was a victim of the Sharpie eyebrow era. I thought that turning to dark pencils and thick pomades was an essential step of pulling off a completed look, but dear God was I wrong. Fortunately enough, ever-changing trends have made a more natural brow completely acceptable for a bare face or full glam, making this tip a fairly simple one to incorporate into your routine. Brow gel is a fool-proof way to lock your hairs in place, with absolutely zero technique or real precision necessary. You can opt for a clear formula that will simply just hold the shape, or if you want to add some color to fill in gaps or add more dimension, a tinted option will get the job done without the risk of an unnatural looking finish.
Anastasia Beverly Hills
The perfect product to hold your brows in place for a polished look that'll actually last.
Glossier
If you want just a bit of a tint without committing to a pencil or palmade, this best-selling Glossier product is right up your alley.
5 shades available.
Prime and Curl Those Lashes RN
I do not have the time, patience, or skill to feel like I'm playing the board game Operation while trying to get my makeup done, so applying false lashes is just not in the cards. However, I have naturally short, light, flat lashes (thanks, Mom and Dad), so using mascara alone doesn't get the job done a lot of the time. Using an eyelash curler is a bit of an obvious tip, but still a game changer worth mentioning nonetheless. But, the little lesser known trick is to also utilize an eyelash primer that will add length and volume to your lashes before your mascara even enters the chat. This painfully easy extra step has legitimately made a worlds difference in my eye looks, so get on it, my fellow stubby lashed people.
E.l.f Cosmetics
You truly don't need anything fancy. This ideal option will gives your lashes that lift for just $5.
Urban Decay
Just a thin layer of this primer before mascara application with add a 10/10 lengthening and volumizing effect.
Bonus Tip: When In Doubt, Use Petroleum Jelly
One of the most common drugstore products of all time can take your makeup look from flat to plump and bright in ways you've probably never thought of. Aside from soothing dry patches and chapped lips, it can also add needed glow and smoothness anywhere from your eyelids to your cheek bones to your nose arch and Cupid's bow. Think of it as the most simple, affordable, and underrated glazed donut highlighter hack of all time. It's also ideal for quick touch up purposes if you're not looking to lug around multiple bottles and and brushes for your night out on the town. Basically, Vaseline's the multifaceted savior that will come to our rescue.