If you've been around here for a while, you already know how keen we are on the concept of a capsule wardrobe: a closet full of items that can be mixed and matched with one another for an infinite number of combinations and a permanent fix to your "I don't know what to wear today" conundrum.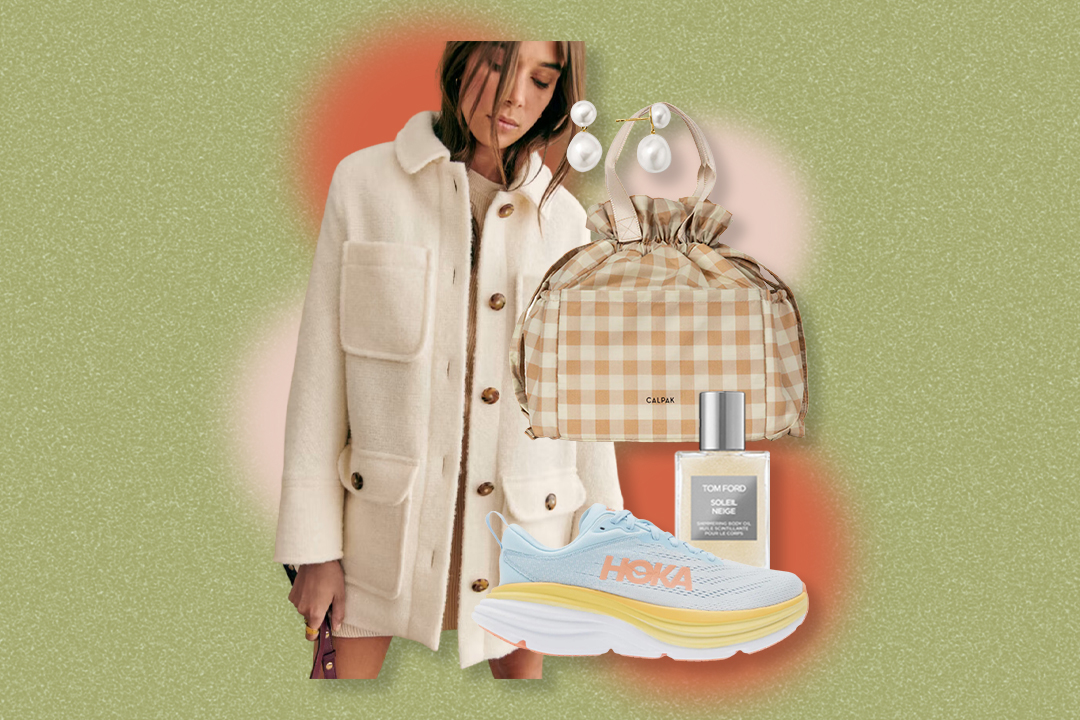 Another year has come and gone, which means that we're staring at a beautiful blank canvas of a year, full of opportunities to make it whatever we want it to be. No matter what your plans and goals are, one thing is true: In 2023, you should be showing up every day as the person you want to be. And one thing that always gets us there? Dressing in outfits that make us feel like we can tackle anything.
Maybe you're tired of constantly feeling like you have nothing to wear, or maybe your 2023 goal is to nix fast fashion and invest in pieces you'll have for years—not just for a season. No matter your situation, we're bringing you a capsule wardrobe that you can start with, full of basics that will be able to be worn constantly this year and beyond.
Start here, build on it, and welcome a world where getting dressed is your favorite part of your day.
To the office
tote | loafers | leather pants (plus) | button-up (plus) | loafers
A good office look should make you feel your absolute best, but also be easy enough that you don't have to put too much thought into it in the morning. A good white button-up and classic blazer will never steer you wrong, especially with a pair of timeless black loafers; but instead of reaching for black trousers, swap them out for leather ones instead. The texture will turn your office look from drab workwear to something you actually want to wear. Load up your office essentials into our editors' all-time favorite tote, and you're good to head out the door.
Pro tip: Rather than a fitted blazer, opt for one that's slightly oversized, like this one, to keep the look modern.
To run errands
sweatshirt (plus) | white sneakers | leggings (plus) | sunglasses | liner coat (plus)
Sure, you can run errands in anything your heart desires, but we prefer to do it in a look we won't mind running into people in (after all, it always happens when you least expect it). Opt for classic black leggings, an elevated hoodie, and sneakers, and top it off with a liner coat that's as chic as it is totally versatile.
Out with friends
bodysuit | leather pants (plus) | top-handle bag | black booties
Be it to a Friday night happy hour or late-night bar excursion, all black can never steer you wrong. Pair a form-fitting bodysuit with leather pants and heeled booties for a look that's sexy, understated, and ready for wherever your night takes you.
Out to lunch
gold hoops | sunglasses | black booties | jeans (plus) | button-up (plus)
There's just something about a crisp white button-up and relaxed jeans—especially when you pair them with a pair of black, oval sunnies. It gives that French je ne sais quoi that requires minimal effort, but has all the payoff. Don't forget to add your favorite gold jewelry as a finishing touch.
To grab coffee
white sneakers | ribbed tank | jeans (plus) | shoulder bag | sunglasses
You should never underestimate the power of a good tank, especially when you need something that's easy to throw on, but still put-together. With a pair of relaxed jeans and a couple good accessories, it's a day-off look you can turn to again and again this year.