For nearly as long as I could legally imbibe, a gin and tonic has been my drink of choice. It's the old standby I lean on when I'm out for drinks and just want something I know I'll enjoy. Sure, it's not the most exciting drink order out there, but it's reliably refreshing and pretty hard to mess up. But some days, you're just not in the mood for that basic cocktail you've ordered a hundred times. Maybe it's a special occasion and you want something that feels a little fancier, or maybe you just want to mix it up and try something new you've been seeing all over TikTok. Either way, we'll drink to that.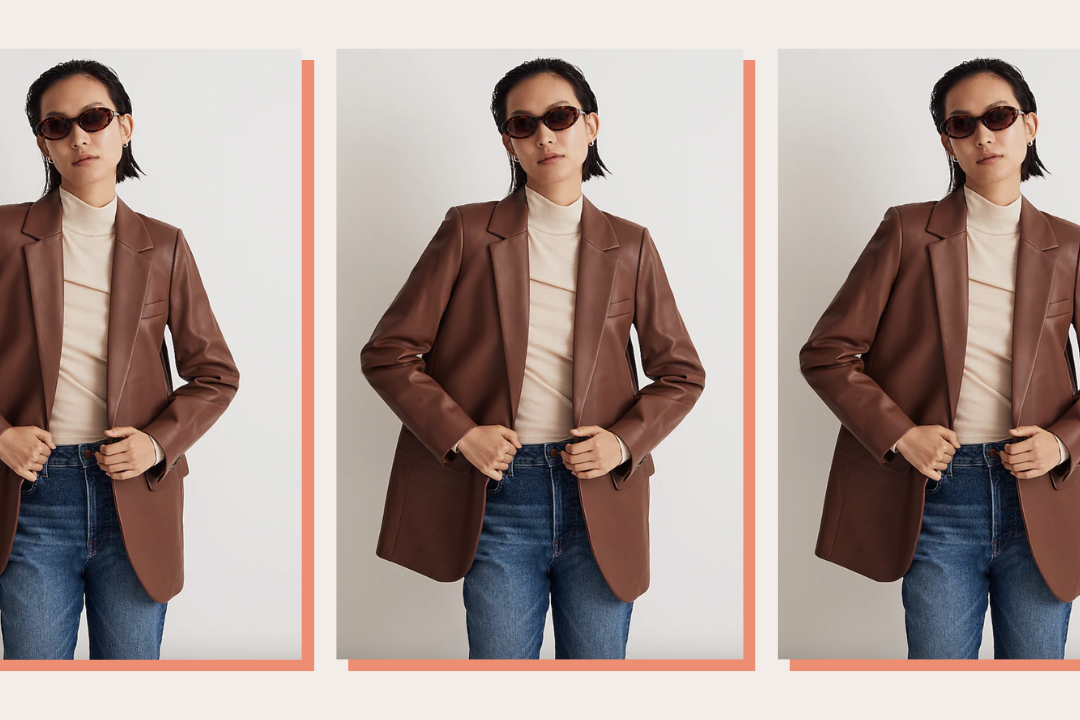 time for your fall wardrobe update!
To give you some inspiration, we've rounded up some of the most popular cocktails that everyone seems to be drinking right now. While 2022 gave us the espresso martini and the negroni sbagliato (with prosecco in it), but this summer's trendiest cocktails are light, refreshing, and perfect for your next patio happy hour. Read on for the top 10 cocktails to order at a bar, plus how to ask for them.
1. Hugo Spritz
If you haven't heard of the Hugo spritz by now, allow me to introduce you to your new favorite cocktail—and what TikTok is calling the official drink of summer 2023. A close cousin of the beloved Aperol spritz, this variation uses elderflower liqueur (such as St-Germain) in place of Aperol for a sweeter, more floral flavor. The liqueur is then topped off with prosecco and club soda to create a bubbly cocktail that's not too heavy on the alcohol. Some variations also include lemon juice and a mint garnish to make it even more refreshing. If you get a blank look when ordering a Hugo spritz at a bar, try asking for a St-Germain spritz, which is a little more straightforward.
2. Paloma
If you're a big fan of margaritas, consider this an elevated take on your go-to drink. Made with tequila, lime juice, and a grapefruit-flavored soda (or grapefruit juice and sparkling water), the paloma is a light pink, citrusy cocktail that practically screams summer. And if tequila isn't your thing, try ordering a paloma the way Stanley Tucci likes it: with gin instead of tequila.
3. Espresso Tonic
With the "sober curious" movement continuously gaining momentum, more and more bars are offering non-alcoholic options in addition to their typical libations. If you're craving the bittersweet coffee flavor of an espresso martini but want something sans alcohol, try ordering an espresso tonic. The name is pretty self-explanatory: the drink consists of tonic water poured over ice, then topped with a shot of espresso. Although you're more likely to find this on the menu at a trendy brunch spot than your local dive bar, if they're serving espresso martinis, there's a good chance the bartender will be willing to mix you up one of these as well.
4. Cosmopolitan
Blame it on the Sex and the City reboot, but this classic cocktail has made a major comeback this summer. Sporting a signature hot-pink hue, the drink consists of vodka, orange liqueur (like Cointreau), cranberry juice, and lime juice. It's basically a bougier version of a vodka cranberry, so if that's your go-to cocktail order, you're going to love this. The Cosmopolitan cocktail has been around for decades, so almost any bar you walk into should know how to make one.
5. Dirty Martini
The anthesis to the frilly-looking Cosmopolitan, if you will, the dirty martini means business. Made with either gin or vodka, dry vermouth, and a healthy splash of olive juice, dirty martinis are salty, savory, and, most of all, strong. It's the ideal cocktail to sip on when you want to feel sophisticated and a little sexy. When ordering one, be sure to specify whether you want gin or vodka, and consider ordering yours extra dirty if you want it heavy on the olive flavor.
6. Limoncello Spritz
Another riff on the classic Italian aperitivo, the limoncello spritz combines lemon liqueur, prosecco, and club soda for a citrusy cocktail that tastes like summer in a glass. Since it's only three ingredients, this drink is also super easy to make at home, but most bars should be able to make it if they have limoncello on hand. Order this the next time you're grabbing drinks on a patio to embrace Italian-girl summer without leaving the country.
7. Ranch Water
Like a margarita, ranch water combines tequila and lime juice, but instead of adding triple sec, you fill the rest of the glass with sparkling water (like Topo Chico) for a lightened-up take that's even more refreshing. Especially if you live in the South, most bartenders will know what you mean when you ask for a ranch water. But if not, simply order a tequila soda with lime and you'll get the exact same thing.
8. Dirty Shirley
The dirty Shirley was indisputably one of the most popular cocktails to order at a bar in 2022, and its popularity shows no signs of slowing down. The bright red drink consists of vodka, grenadine, and lemon-lime soda (often garnished with maraschino cherries), which makes for a fun, deliciously sweet cocktail that feels vaguely nostalgic. Nearly everyone is familiar with a Shirley Temple, so you should have no issue ordering the dirty version at any bar.
9. Malibu Sunset
You may have heard of a tequila sunrise, but this variation is slightly sweeter and even more crave-able come summer. Made with coconut rum, pineapple juice, orange juice, and grenadine, the Malibu sunset is a layered cocktail that looks as good as it tastes. If your bartender isn't sure how to make one, just ask for a tequila sunrise plus a splash of pineapple juice, with Malibu subbed in for the liquor.
10. Kir Royale
Calling all Emily in Paris fans. If you're all caught up on the Netflix series, you know that this iconic French drink was basically a supporting character in the latest season. It starts with crème de cassis (which is a sweet liqueur made from blackcurrants) and is topped off with sparkling wine. The resulting drink is sweet, refreshing, and perfect for those times when you want to pretend you're lounging at a Parisian café instead of holed up at your usual neighborhood bar. If your bar of choice doesn't have any crème de cassis, try asking for a raspberry liquor, such as Chambord, in its place.