Much like a first date or sushi, when jeans are good, they're great. But when they're bad? They have the potential to ruin your entire day and leave you devoid of any semblance of joy. In an effort to curb any jean-related suffering, our team is on a mission to find the absolute best of the best, and next on our list was Everlane's well-known good denim.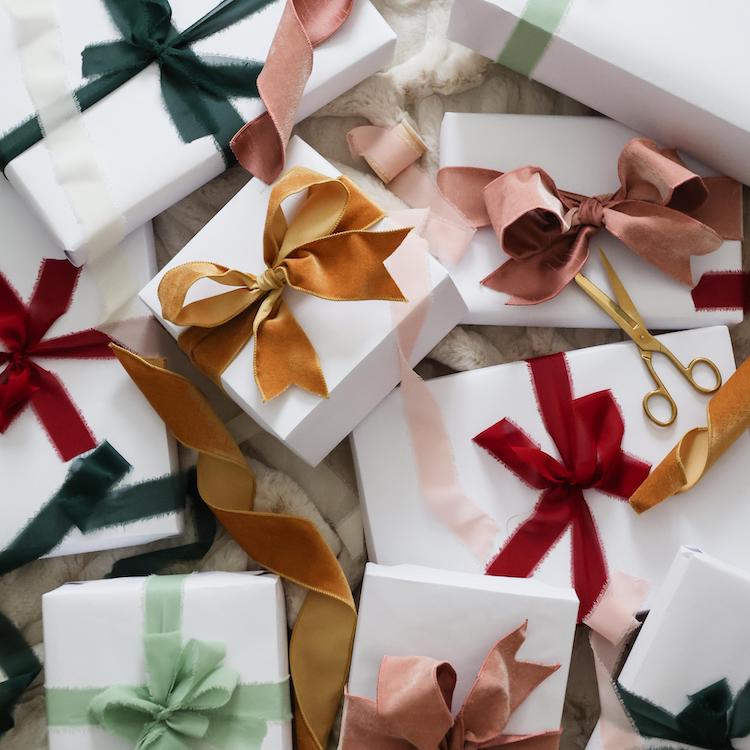 the perfect gifts for everyone—and we mean everyone—on your list
Dramatic? Maybe a little, but the premise still rings true: A bad pair of jeans is an absolute confidence killer. When you leave the house in the morning feeling great then have a sagging butt by noon or have a button digging into your stomach all day, reaching for that pair of denim again is about as likely as responding to a guy's text for a second date when you had to make a friend call you to save you halfway through the first date.
On a quest to find the pair of jeans that stays at the top of our jean pile and is the one we want to reach for time and time again, we set out to give Everlane's cult-favorite denim a try. Not only are Everlane's pieces made ethically with factories that give fair wages to employees and provide positive work environments, but they also have full cost breakdowns on the product pages of every item they sell. The result? Pieces that are made to last for years to come—and that's something we're always on board with.
Read on for our team's honest thoughts on Everlane jeans.
Let me introduce you to my new absolute favorite pair of jeans.
The moment I put these on, I knew that my high-and-wide search for the most niche of my jean desires was over for good. As we know, baggy, full-length jeans are one of the most sought-after silhouettes of 2021, but finding a great pair isn't as easy as finding a great pair of skinny jeans or straight-leg ones. A lot of things need to be right: the length, the material, and most importantly, a baggy-but-not-too-baggy fit, and these hit the nail right on the head.
I ordered these in my usual size 27, and they fit me like an absolute dream. I'm 5'5, which means that if I'm not careful, a baggy pair of jeans can swallow me up and be the most unflattering thing I can put on my body. But not these—these are baggy in a way that isn't hugging anything but my waist, but they also aren't so loose that I feel like I'm just wearing wide-leg jeans (which is the issue I've had up until now).
These are also one of the most perfect denim materials I've ever put on. They're made out of a thicker material that has just a touch of stretch but isn't rigid or uncomfortable. When I first put them on, I felt like they had already been broken in for me; it was like the perfect pair of vintage jeans you dream about stumbling across. I was able to open the package, put them on, and wear them out all day long without wishing they'd stretch out a bit so I could be comfortable.
These jeans are the effortlessly cool pair that absolutely anyone could benefit from having in their wardrobe. No matter what you pair with them, they're going to do all the talking.
Regardless of what the youths may be trying to tell us, skinny jeans are a classic item, and they absolutely have a time and a place in anyone's wardrobe. Once fall rolls around and I'm wearing my booties, I reach for my skinny jeans constantly, which means that these came into my life at the perfect time.
Of all the denim types, skinny jeans are the ones that are the least flattering if they have too much stretch and are prone to loosening up but are also hell to wear if they're too rigid. When I put these on, I was truly comfortable right away.
These skinny jeans have a very high waist (11.75 inches), which, in my opinion, is the most flattering for a skinny jean. I felt like they were hugging me in all of the right places and giving me the most flattering fit possible without suffocating me. These are a truly timeless pair of denim that will have a permanent spot in my wardrobe—plus, you can tell they were made to last.
For an out-of-the-house day, I love pairing this boxy oxford shirt with the jeans and completing the look with a pair of loafers. It's the perfect office uniform if I've ever come across one.

'90s-style denim has arguably been the trend of summer 2021, if not the trend of the whole year—and I'm all about it. I have been dying to try Everlane's curvy line because, as I've talked about before, I love a good curvy jean. I have a smaller waist and bigger hips and butt, so curvy fits tend to work the best on me. So when I saw these jeans that mix both '90s and curvy, I knew I needed to try them.
With its 11.5-inch inseam and a button fly, I immediately noticed how flattering these are. I ordered them in a size 31 and would say they are true to size—however, they are a 100 percent organic cotton denim with no stretch, so I would recommend sizing up if you are between sizes. They are a vintage fit that hugs my body in all of the right places (I mean, I can't lie, my butt looks great in these).
I also opted for the regular length (vs. ankle length), and I really like where they fall. I don't own too many pairs of full-length jeans, so I am excited to have these in my collection and think they will be so cute during the colder months. If you're looking for a cool pair of '90s denim to wear this fall and winter, these are perfect for you.
I thought it would be interesting to compare a similar style of jeans that were not from the curvy line, so I opted for the Original Cheeky Jean. I've seen a lot of hype about Everlane jeans, and this style has always been one of the most popular. I was immediately drawn to the medium wash and raw hem because I typically go for a light wash and thought it would be nice to switch things up a bit for the fall season.
I got these in a size 31 and at ankle length. They fit true to size and have a bit more stretch than the '90s pair (they're made with 2 percent elastane), so they're perfect for days when you want a little extra comfort. I am short (5'3), so they fit more like a regular length on me, but I do still like the length. The rise on these is slightly shorter at 11″, and they have a zipper fly.
I think this pair of jeans is a perfect option for those days when you just need a classic, nice-looking pair of jeans—like for a day at the office, weekend activities, or a dinner out. They look super cute paired with this oversized white T-shirt and mules but could easily be dressed up with a nice sweater and booties.
Like Maddie said, when I put these jeans on, I felt like they had already been broken into, which is an instant sign that these will be a pair that I find an excuse to wear with just about any top I own! I love jeans that are loose enough to feel like they aren't sticking to me in warmer weather but snug and durable enough to wear when the temperature drops outside, and these jeans totally fit the bill. The wide-leg style is super flattering and can easily be paired with just about any type of shoe, making it the perfect selection for any and all occasions.
As someone with long legs and a short torso, finding a pair of high-rise jeans that are the perfect fit has always been a struggle. Luckily, the Way-High Baggy Jean has a longer inseam, with the bottom hem hitting right at my ankle bone, making it the perfect crop. The waist fits a bit snug despite it being a looser style and allows for you to subtly show off your figure and not feel like it's getting lost in the denim.
My hunt for a '90s style jean is officially over now that I have these, and I imagine I'll be wearing this pair all year long!
Finally, a jean that hugs you in all the right places! The cotton on this practically molds to you as you wear it without being too tight. The patched pieces bring a cool, vintage look and easily make your outfit look styled without putting in any effort.
I went with my usual size for this pair, but it fits a little snug, so I would recommend ordering a size up if you're going for a breezy, loose feel. I also love a good button-fly pair of jeans, as it can make the jeans feel more custom to your body and a bit more secure when you're wearing them. I'd also like to take this time to hype myself up and mention what's not pictured: how great these jeans make me look from the back!
I'm looking forward to incorporating this pair in my fall/winter capsule wardrobe and styling it with some simple black boots and a leather jacket.
This post contains a sponsored inclusion of Everlane, but all of the opinions within are those of The Everygirl editorial board.