The first time I wore a pair of skinny jeans, I was in sixth grade. They were a low-rise, extra-skinny pair from Abercrombie Kids that I had begged my mom for enough that she bought them just to shut me up. But who could blame me? My bootcut Levi's had been deemed unacceptable by every pre-pubescent girl at my middle school, and instead, braces-clad faces were accompanied by some very, very tight jeans. (I, unfortunately, didn't have braces yet—just "the worst case" my future orthodontist would tell me he had ever seen. DM me for photographic evidence).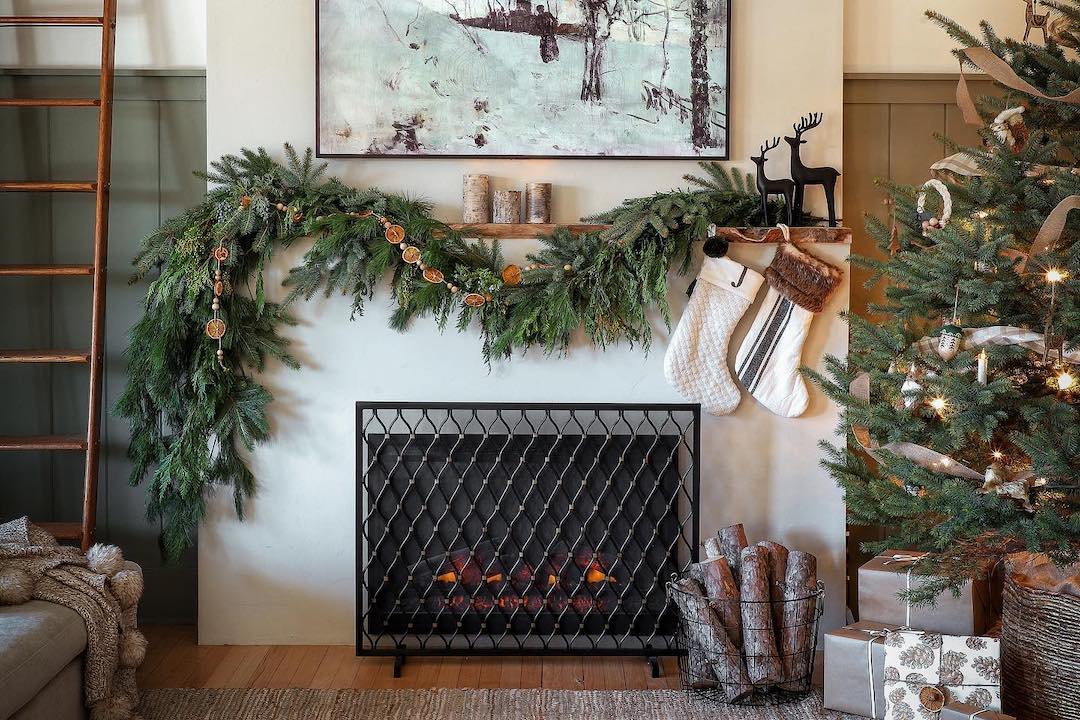 there's still time to deck your halls
My point? That was over a decade ago.
Sure, there will always be a time and a place for our skinny jeans, but we're on the team of experimenting with new shapes and silhouettes and moving onward and upward. Skinny jeans dominated our closets for long enough that we're OK with taking a step back from them.
Give your skinnies a nice, cozy place at the back of your closet for when you really need them, and try out these 2021-approved pants for size.
'90s Inspired
If there's a denim trend dominating 2021 it's a fit inspired by the '90s. The style is relaxed, full-length, and pairs well with just about anything (especially once the temperatures drop and you break your boots out).

jacket / tee / sunglasses / jeans / boots
Leather Pants
A few years ago, you probably wouldn't have considered a pair of leather pants unless it was October 30 at Spirit Halloween while you were settling on being Sandy from Grease as a last-minute Halloween costume. But alas, the fashion gods have a way of making us eat our words, as they've done with the leather pants of seasons past (and future). We've sung the praises of the Spanx leather leggings for years now, and while they're still a permanent part of our rotation, straighter, trouser-like versions have popped up that we've fallen for too.
sweater / sunglasses / pants / booties
Our Favorites
Flare
If you've been sticking exclusively to skinny jeans as of late, put on a flared pair and see what they do to your legs and how many times you're caught looking at your butt in the mirror throughout the day. A flared pair of jeans hugs your body in all the right places and enhances your figure in ways that a skinny pair simply can't. With a heeled pair of booties or sandals, you'll be the chicest girl in any room. (If you really want to be on-trend for 2021, try them in a lower-rise waist).
tee / jacket / jeans / booties / bag
Our Favorites
Baggy
In a nod to the '80s, baggy, ultra-loose jeans are one of the most dominant bottom trends of the year. If you don't know how to start (or feel a bit odd in them at first), try something fitted on top to balance out the larger proportions on bottom. After you give these a whirl, you'll be asking your mom why she didn't save her old clothes for you.
top / sunglasses / bag / jeans / sneakers
Trousers
It's easy to get stuck in the mindset that trousers are a workwear-only piece of clothing—after all, that's what they were meant for. Styling them in a monochromatic look is a seamless option, but this season graced us with pairs in patterns and colors that scream "wear me with a T-shirt on a Saturday."
sweater / necklace /pants / booties
Our Favorites
Straight Jeans
Obviously, straight jeans have been the clear replacement of skinnys throughout the past couple of years. They're nothing out of the ordinary, but are more flattering on the body and give off an effortless, cool-girl vibe (especially with a distressed hem). As opposed to the aforementioned '90s fit, these are more snug throughout the butt and leg (like they're just one step wider than a skinny jean).

blazer / tee / sunnies / jeans / sneakers
Our Favorites