Though the fall arrivals at Trader Joe's often get a lot of buzz (and rightfully so — they're so good), in my opinion, the holiday arrivals are what are really exciting. I love pumpkin as much as the next person, but I can't help but get excited when fancy (fancier?) cheeses, gussied up desserts, and the like hit the shelves. Anything that lets me eat my way to holiday cheer is pretty much a yes in my book. Whether your December is filled to the brim with social events or you're planning to be spending much of the month cozied up at home (winter, am I right?), Trader Joe's — as always — has you covered. From sweet treats to eggnog, coffee to appetizers, swing by your favorite supermarket chain for everything you need to light up the last month of the year.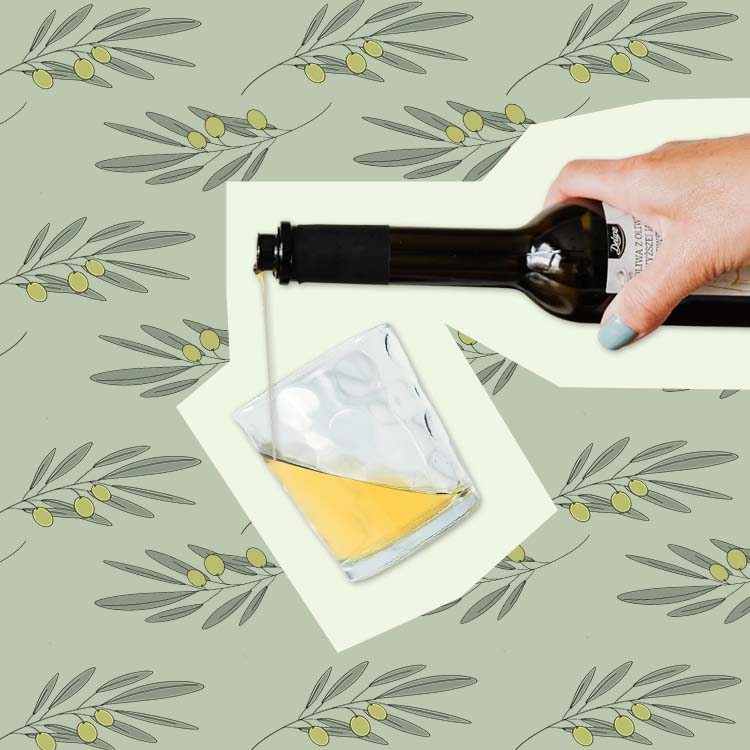 we love olive oil, but this seems a bit too far... or is it?
1. I Dream of Chocolate Cake

Frozen chocolate cake is honestly never not great in my book. I would happily keep this stocked in my freezer all winter long, but there's no way it'd last. A great choice if you need to be ready for last-minute guests during the holiday season.
2. Pistachio Pomegranate Crisps
Like the store's Fig and Olive Crisps (which I love so much — a cheese plate isn't a cheese plate without them), this seasonal take is ideal paired with cheese, dips, and spreads.
3. Horseradish Cheddar
Upgrade your typical cheese board with this Welsh cheddar cheese flavored with the spicy kick of horseradish. Everyone will wonder what makes it special.
4. Candy Cane Joe-Joe's Ice Cream
My birthday is in December, and I have a long-standing tradition of requesting peppermint ice cream alongside my birthday cake, but I also really, really love the original Candy Cane Joe-Joe's. I've been known to squirrel a few boxes away so that I can enjoy one of my all-time favorite holiday treats a little while longer. When I saw this ice cream, I knew I had to have it.
5. Almond Nog
Whether you love traditional eggnog but can't tolerate dairy or are an almond beverage fan who wants to try something a bit more festive, this almond nog is waiting for you. Fear not, TJ's also carries a classic eggnog as well as a light version if only dairy will do.
6. Peppermint Hot Chocolate
Editorial Assistant Beth said that peppermint hot chocolate is her favorite hot chocolate, so she'll be thrilled to see that she can now buy her seasonal fave at Trader Joe's. Bittersweet chocolate and peppermint? What's not to like?
7. Eggnog Yogurt
If you're a real eggnog fan, you'll definitely want to know that you can upgrade your breakfasts and snacks with eggnog yogurt. Trader Joe's also offers an eggnog coconut yogurt for those who are dairy-free.
8. Cheese Biscuit Duo
These look, to me, like cheese straws and gougères, and what better to have on hand when friends or family gather (or you just feel like a snack) than cheese puffs? Put them out all alone or alongside other bite-sized snacks like mixed nuts, olives, and more.
9. Salted Caramel Hot Cocoa
If peppermint just isn't your thing, give this salted caramel hot cocoa a try. You honestly cannot go wrong when it comes to caramel and chocolate, and this looks like the ideal thing to warm up a snowy day.
10. Smoked Salmon Trio
Smoked salmon is totally a year-round food, but flavored versions feel like your go-to bagel topper has been gussied up for the holidays. This package comes with three flavors — dill, black pepper, and beet — so there's something for everyone.
11. Pimento Cheese Puffs
There's a special place in my heart for pimento cheese, and when you mix that with bacon, caramelized onions, and pastry, well, I'm basically swooning. Make sure that you get enough of these if you're planning on sharing — they'll probably go fast.
12. Lebkuchen Cookies

Over the past several years, I've made homemade lebkuchen while Christmas cookie baking, but they're never quite as good as these. These cookies (a German classic) are soft and chewy, spicy, and lightly sweet with the perfect crackly glaze.
13. Wintry Blend Coffee
I tried this coffee on a whim one year and loved it so much. It was so sad to see the season end. Luckily, it's back this year, so I can really lean in to the baking spices flavor that I want in basically everything.
14. Truffle Dip
Truffles feel fancy, so anything truffle-flavored is perfect for the holiday season. This truffle dip is a great appetizer to keep around for fancy movie night snacks or to have when people just so happen to stop by.
15. Ginger Snowball Cookies
My mom makes pecan snowball cookies every year, and they were one of my favorite Christmas cookies growing up. This ginger version looks like a spicier, grown-up version of the classic that I love, and I know they'll be tough to resist all winter long.
16. Gluten-Free Candy Cane Joe-Joe's
As you now know, I love a Candy Cane Joe-Joe. But now my gluten-free friends can indulge in this treat as well. The real candy cane is, in my opinion, what puts these over the top.
17. Gingerbread Coffee
If you wait all year for gingerbread, this coffee is absolutely for you. A cup of coffee that tastes like your favorite spicy, slightly sweet, complex cookie? Sign me up.
18. Rustic Spice Cake
Is this cake a show-stopper or what? Spice cake layers draped in cinnamon cream cheese icing sounds like my kind of dessert. None of your friends or family members need to know that you picked this beauty up at the store. Thanks for the assist, Trader Joe's.
19. Cheddar with Garlic, White Wine, and Parsley
Honestly, this sounds like the tastiest cheddar cheese I've ever come across, and it's sure to have a permanent place on my cheese board this winter. Good luck getting me to share.
20. Orange Cardamom Muffins
These are one of the holiday arrivals that I'm most excited about, believe it or not. I love cardamom and citrus and taking a breather from the cinnamon, cloves, nutmeg, and peppermint that pervades this time of year sounds pretty blissful.
21. Panettone
Love panettone but don't want to make your way through a regular-sized one all on your own? Enter this cute little single-serving panettone. All the flavor of your original favorite in a smaller size.
22. Over the River and Through the Wood Trek Mix
This snack mix will definitely help you power through crowded shopping trips, long travel days, and busy errand-running. A mix of roasted nuts, dried fruit, and chocolate-covered pretzels, this is a snack mix that you won't have to pick anything out of.
23. Chocolate Peppermint Almond Beverage
I personally am a fan of this seasonal almond beverage. Trader Joe's noted that you can drink it either hot or cold, which I love to hear. I've also found that it's super tasty when added to coffee. Chocolate and peppermint, my two true loves.
24. Winter Wake Up Tea
I'll let you in on a little secret: I forgot about this tea until I saw it at my local Trader Joe's again this year. My forgetfulness aside, this is one of my favorite ways to wake up during the winter. I'm a tea and occasional coffee drinker, so I don't mind the zip of the black tea, and the spices and tea balance each other well. I'm so glad I remembered how great it really is.
25. Peppermint Mini Mashmallows
Is hot chocolate even hot chocolate without marshmallows? These mini peppermint marshmallows are a festive upgrade to the hot cocoa classic and are sure to keep your spirits up all winter long.
26. Cookie Mixes
If you're more of a cookie eater than a cookie baker, look no further than these mixes. You'll have home-baked cookies in no time flat.
27. Mini Peppermint Meringues
Eat these on their own, dip them into a cup of coffee, add them to a bowl of ice cream, crumble them and sprinkle on top of cake or brownies. You get the idea — the opportunities here are endless!
28. Chocolate Peppermint Baking Mix
I am truly obsessed with the perfection that is the Trader Joe's Chocolate Olive Oil Cake. This, to me, seems like a very good holiday season substitute. As an added bonus, you can use the mix to make cookies if cake just isn't your thing.
29. French Onion Soup Bites
I made a sort of similar version of this from scratch for Thanksgiving, and boy oh boy, do I wish I had known these existed. It's not that the homemade version was hard, but anything that makes cooking during the holidays a little bit easier is a total win if you ask me. French onion soup? Swiss cheese? In pastry? As an appetizer? Sign me up.
30. Jingle Jangle Ice Cream
If you've never had jingle jangle candy mixed into ice cream before, you must try it. It's sweet and salty and crunchy and creamy — basically a dream dessert. If candy mix-ins are your jam, high-tail it to the Trader Joe's freezer aisle.
31. Black Truffle Alfredo Pasta Sauce
Want a rich and creamy pasta dish that feels fancy but is a snap to make? Look no further than this pasta sauce from Trader Joe's. Cook your favorite pasta, toss with this sauce, top with fresh herbs and perhaps an additional sprinkle of cheese (no judgment), and you'll end up impressing yourself with your cooking skills.
32. Savory Shortbread Biscuits
This, to me, sounds like the absolute perfect addition to any light appetizer or snack spread this time of year. They feel fancy enough for a party or to serve to guests, but can also be eaten by you, alone, out of the bag. If you've only ever tried sweet shortbread cookies, you have to try their savory counterparts.
33. Nantucket Style Cranberry Pie
Like the layered spice cake, this pie will totally fool your friends and family into thinking you spent hours in the kitchen without you actually, you know, having to spend hours in the kitchen. It's a festive treat that can be eaten at home alongside vanilla ice cream or taken to a dinner party for an impressive ending to a great meal.
34. Mini Dark Chocolate Mint Stars
OK, The Everygirl office is absolutely obsessed with these. I think we went through more than one box a few weeks back, and I am a little ashamed to admit that, but they're really that good. They're like a chocolate after-dinner mint in cookie form.
35. Hot Cocoa Snowman
How cute is this hot cocoa snowman?! There cannot possibly be a cuter hot cocoa accompaniment in existence. It may feel a bit over the top for your standard Wednesday night cup of cocoa, but there's no denying that it'd be fitting for when you want to really embrace the season.
36. Everything but the Bagel Smoked Salmon
Yes, yes, I know that there are two separate smoked salmon entries on this list, but how could I leave off the one that'll change the way your weekend bagel looks forever? Everything bagel fanatics, here's the smoked salmon of your dreams.