Watching the news has its ups and downs. For one, it's lovely to be informed about what's going on in the world and know as much as you can. But it's often inundated with devastation, sadness, and despair—and that's on a normal day, not when we're dealing with a global crisis. If you love to stay informed but are feeling thwarted and anxious from watching/reading the news, here's what you can do.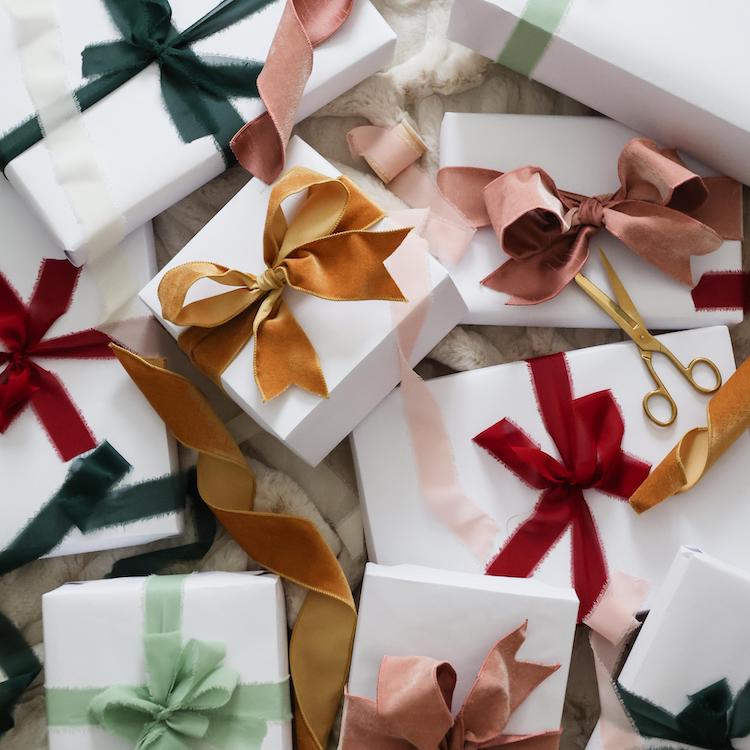 the perfect gifts for everyone—and we mean everyone—on your list
1. Reset your phone notifications
Go into the settings on your phone and look over the apps you allow to notify you. If you're really feeling stressed, remove notifications from any news apps you subscribe to and keep the notifications you do allow to a minimum. When I go out of town, I turn off email, Slack, Twitter, Instagram, and Facebook notifications to keep my mind on the present, and doing the exact same during this time has definitely helped keep overwhelm at bay.
2. Find alternatives
If you're watching the news every day, do you have a reason why? Focus on what is making you tune in and find alternatives. For example, if you want to know what's going on in your area, instead of turning to the local news, join a Facebook group for your area or see what's happening on Twitter. Or if you want to know the guidelines for your state, check out the website for your state's Department of Health. You don't have to be constantly tuned in to what's happening to be informed.
3. Donate money or resources
I'm going to be totally honest: life feels a little hopeless for some of us, especially if you're tuning in to every press briefing and news conference. But knowing you can make a difference in people's lives without having to leave your home (which is also saving lives, by the way) might make things feel a bit more bearable. Support local and small businesses whenever you can, buy gift cards for your hair and nail salons, favorite small coffee shops, and other places you frequent on a normal basis. You can also donate to these organizations:
Food Assistance:
Aid for Medical Supplies:
Direct Relief:
4. Read a magazine
Reading a magazine (photography, makeup, fashion, yoga, cooking—you know there are hundreds of magazines for every single hobby, right?) can make you feel like you're learning new things and staying in the loop without having to know death tolls and other things that might make you feel uneasy. Get lost in a magazine for a few hours. Kindle offers many free magazines, or grab one from your stash. I recently looked through my September 2008 edition of Seventeen (with Miley Cyrus on the cover, of course) and let me tell you, it was a trip.
5. Turn your focus to good news only
There is still so much good happening around us, and we can't see it when we're paying all of our attention to the bad. John Krasinski's "Some Good News" on YouTube is a great place to start (with a beautiful face), but there's good news all over the Internet. Good News Network, The Today Show's "Good News" section, Twitter's trending pages, and more are easy ways to seek out news to uplift and inspire you right now.
6. Start a movie marathon
Pick a movie franchise (Harry Potter, The Hunger Games, Marvel, Twilight, Lord of the Rings—the list is endless) and have a marathon! Getting started on a movie marathon is similar to starting a show—it gets you focused on something else for a long period of time. My family started rewatching every single Marvel movie last weekend, and I couldn't recommend it more.
7. Listen to new music
Seek out new music from your favorite artists (or artists you've never even listened to). Artists and bands are still releasing new music amidst this time, and it's yet another way to stay involved. You'll have something to talk about with friends, and it's great to pass the time. We're currently listening to Niall Horan, Childish Gambino, Troye Sivan, Dua Lipa, 5 Seconds of Summer, PartyNextDoor, and All Time Low (OK, that one might just be me, but it slaps).
8. Bullet journal
Spending time planning your life is a great way to distract from stressing out about the present. You can use a bullet journal as a planner, or you can use it as a journal, or you can use it for list-making (which is what I do!). Bullet journaling is cool because you make it to fit you, so if you hate to-do lists (which would be weird AF but whatever), no need to make them. Or if you love having tons of space for one, you can do that. I use it to make lists for things to buy, how to practice self-care, how to decorate my apartment, goals for my career and life, and more.
9. Watch a documentary
Get sucked into a documentary or docu-series to pass the time and get your mind focused on something else. We love true-crime (and Tiger King), but there are truly documentaries all over Netflix and Hulu. If you really love documentaries, MagellanTV is a streaming service strictly for documentaries and has plans as low as $4.99 a month.
10. Reschedule appointments
Obviously, most of our appointments need to be rescheduled, so what better time than now to look to the future? Hair appointments, non-essential doctors' visits, manicures, cosmetic procedures and maintenance (my eyebrows are dying), and more had to take a little break while we're staying at home, but it's not a bad idea to re-make those appointments if you're able to. If you can, purchase a gift card for anything local to help them while they're not taking clients.
11. Download a new podcast
Just like a documentary, a podcast you can really sink your teeth into is a great distraction. These ones are offering daily episodes to keep you occupied every day!
12. Customize your Twitter feed
As much as I love Twitter, it is really easy to get it bogged down by negativity, hate, and lots of bad news. However, I've found by limiting the content you allow yourself to see, it can be a great place for funny memes, good news, and helpful advice. Go through who you're following and unfollow anyone who doesn't fit the content you want to see. Then, go into your settings and change your content preferences. I have it selected to only see trends that are specific to me, so topics trending based on who I follow, my location, and more, rather than just overall global or national news. I also have specific words muted that I don't want to come up on my timeline. These all make it easier to use Twitter for fun right now rather than for news which might be how I'd primarily use the app.
13. Send a letter
Even though you can't see loved ones, you can still connect with them! Write a letter to a friend and actually send it this time. The giddy "I got mail!" feeling never goes away.
14. Change your alarm ringtone
Many of us reach for our phones as soon as we wake up and scroll Instagram, Twitter, and your favorite news sources. To break the cycle, change your morning alarm to play a song. I prefer something dance-y, but I've also used a soothing song to make getting up a little calmer. Change this often. You'll wake up and want to dance or sing and maybe forget about spending all of that time reading the news.
15. Remind yourself why you're watching the news
Set an intention for reading about the news in the first place. If you really want to be informed, keep your news-watching/reading to a minimum. Set boundaries for yourself, and stick to them. If reading about what's going on is important to you, that's totally fine, but keep your mental health in mind too.
16. Create your own artwork
I'm not saying you have to turn into a young Kelly Etz here, but flex those creative muscles. I was fed up with how expensive wall art was, so I decided to make some of it myself. Am I a reincarnation of Picasso? Barely, but I had fun making it and that's all. Bring out those sorority paddle-making supplies you collected forever ago, and get to work.
17. Try a new recipe
This one is pretty obvious, but there's a reason it works: cooking (and especially baking) takes focus, and putting your time and energy into something else right now is exactly what you need. We recommend these recipes for baking, and these for cooking (and these if you haven't stepped foot in a kitchen until the last few weeks).
18. Go on Pinterest
OK, hear me out: Pinterest is the single most productive social app we have in our lives. I know it's a little 2013, but using Pinterest to make mood boards, seek inspiration, and live out your hobbies couldn't be more 2020. I use Pinterest pretty much every single day to inspire my closet, apartment decor, and makeup looks, but I also love it for career advice and more. I recently made an entire mood board for my time spent at home, and it's been a great way to get rid of the mental clutter of what's going on right now and channel it into some productivity. But TBH, it's also just fun to look at cute clothes and living rooms right now too.
19. Talk to your loved ones
Obviously, you can talk about whatever you want to feel whole (and maybe just talking about the weather and your favorite shows helps too!), but sometimes staying informed on what's going on in the lives of your friends and family can make up for those feelings of isolation and loneliness. Give a call to a friend, get on a Zoom call, or reach out via text—you'll feel eons better knowing your friends and family are there for you in whatever capacity you need it.
20. Give yourself grace
As much as we all want to live these perfect social-distance lives right now, it's just impossible, and you have to give yourself some grace and leeway. We're not on vacation; this isn't "time off." It's a global crisis. If you watch the news and it makes you cry, or it makes you sad, anxious, upset, angry, frustrated, or depressed, that's the most normal thing you could feel right now. It's expected that we will feel a little resentment toward the news right now, so allow yourself to feel those feelings first and foremost.