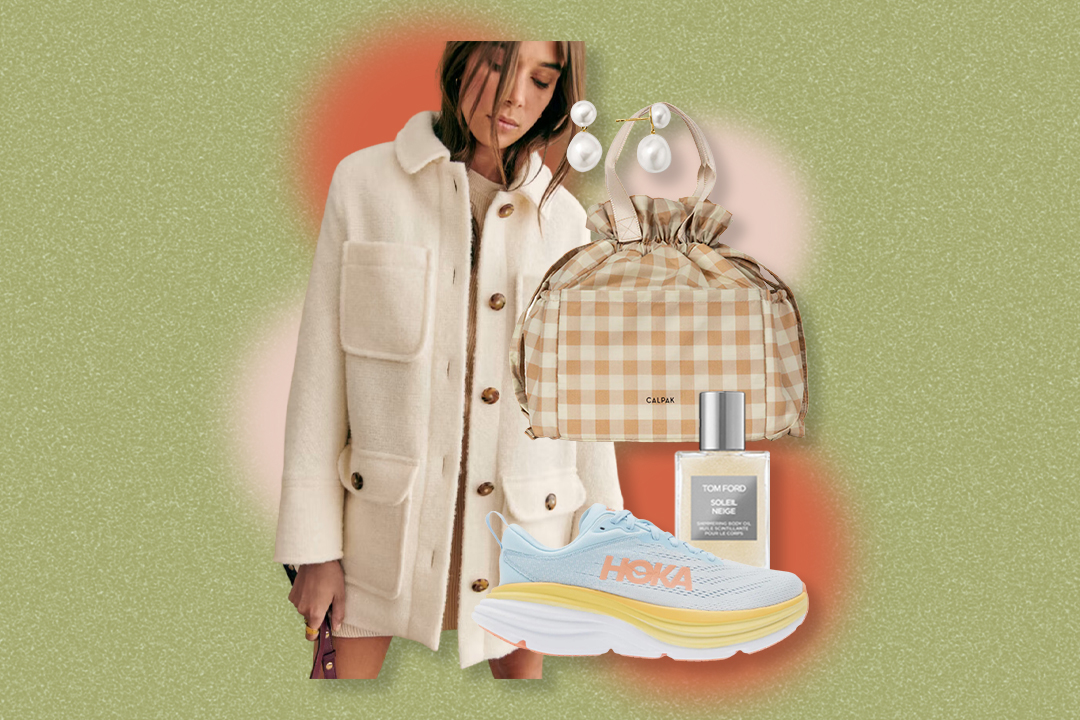 A Note from Maddie
If there's one thing I've learned from writing about fashion for a living, it's that while trends universally come and go, style is anything but objective.
Much of my days are spent styling the outfit graphics you see on The Everygirl's website and social media, and writing about the season's hottest trends and colors and accessories and everything in-between. While I know my personal style, I try my hardest to get outside of that for everything I write—from past experiences in the fashion industry, I know that one of the main reasons the best fashion editors are so great is that they can look at clothing from an eye that's outside of, "Would I wear this?"
But it goes without saying that this is often easier said than done. I've discovered that some of my best work comes from thinking outside of my own day-to-day with things like what trends Meghan Markle might be wearing and what Rachel Green might have worn if Friends took place in 2019. So when my boss, Alaina, came up with the idea for me to style a full week of outfits for her, I couldn't have been more excited for the challenge.
Alaina and I are at very different points in life, have very different personal style, and have different aspects of our bodies to consider while dressing ourselves (read: she has boobs, and I don't.)
I also had two main dictators for the outfits I wanted to choose for her: we're still working from home, and she has two kids under 2. What she's wearing from home while wrangling her two kids and working during the hot, 90-degree summer in Chicago is quite specific—much different than, say, what she'd be wearing if we were working from the office in the days of yore. Everything needed to be comfortable, breathable, and realistic, but still chic, put-together, and something she might not gravitate toward herself.
As with any experiment, you win some, and you lose some—but our week of outfits taught both of us unexpected lessons about personal style and a little about the magic that can happen when we get out of our comfort zones.
A Note from Alaina
I've never considered myself stylish, per se. But I didn't think I was that bad. And never did I think I'd find myself in such a fashion rut that I'd pitch myself for my own personal makeover story on The Everymom and The Everygirl.
But two babies in two years via C-section, a stay-at-home order that has me reaching for loungewear day in and day out, and my recent purchase of six identical $7 tees from Target was the wake-up call that had me say, "Hey, Maddie, can you help me? What should I wear? What could I wear?"
Enter Maddie, as in Madeline Galassi: our 24-year-old fashion guru who produces top-performing fashion article after another for The Everygirl (and she's done quite a bit for The Everymom). I was elated when she was up for the challenge.
To give you a sense of what I wear on any given day the past five months, I am in some version of what you see below.
I open my trusty top drawer overflowing with comfortable, machine-washable tees. Well, I personally forced the more delicate ones to become machine-washable because #whohastimeforthat.
Is it chilly? Hello, leggings and sweatshirt. Is it day 11 in a string of 100 degree days in Chicagoland this summer? Hi, stretchy-waist shorts and tee.
Ooo, stripes. I'm fancy.
(Pile of laundry–another constant in my life–but that is neither here nor there.)
I see these beautiful fashion stories and graphics show up on our sites and Instagram accounts and think, So cute! But that wouldn't work on me. And I wanted to put that negative thinking to the test. But I needed help. So, I asked Maddie if she would style me for a week. I know. Super lucky me, with a personal stylist at my fingertips.
Here is what we made happen!
Monday
THE OUTFIT PLAN
linen jumpsuit / white sneakers / straw bag
Alaina's Initial Thoughts: So cute. But that color will never work on me and jumpsuits are tricky.
THE OUTFIT REALITY
Maddie: When I saw this jumpsuit on Madewell's website, I knew I wanted to see Alaina in it. I personally have a couple of linen jumpsuits that I've been living in lately, and this one looked like it would be both comfortable and flattering (and it was in a color I thought she wouldn't choose for herself). And I loved it on her! Paired with a pair of white sneakers, it looked put-together and casual, and I thought it was a great "day of Zoom meetings" summer look.
Alaina: Love. Love. Love. What a way to start the week! I felt so confident and stylish in this outfit. I was SHOCKED. 1. That it fit, and 2. that this color actually worked on my skin tone. And I was so excited to have something new that was this chic and comfortable. Great for work meetings, errands, working from home, anything.
Also want to comment on the sneakers, because I've always thought "a white sneaker is a white sneaker. What's the difference?" Um. This. The leather and this detail made these Madewell sneakers so chic. Also–huge props to Maddie because I tried this outfit on with my typical flat sandal (which is how I would have styled it), but the sneaker really elevates the style factor of this look.
Tuesday
THE OUTFIT PLAN
knit tank / paperbag shorts / python sandals
Alaina's Initial Thoughts: It's super cute and trendy, and I love the color palette. But for me personally, I hope I can button the waist on those shorts. Also, I haven't worn a tank top in years. Also, I've never worn anything snakeskin. But sure, why not?!
THE OUTFIT REALITY
Maddie: Sticking with the breezy linen theme, I thought these shorts were another perfect work-from-home summer staple. I live for a monochrome moment and think it's a great way to make something casual (like these paperbag shorts) look more elevated and sophisticated. Knitted tanks are everywhere this season, and you can see why here: they couldn't be more flattering. Both paired with these python sandals, the beige color was consistent from head to toe, and was an outfit I thought was ultra-flattering on Alaina.
Alaina: I surprisingly really liked this outfit on! Especially the shorts. I could not believe how comfortable they were. And they buttoned easily because of a sneaky elastic bit in the back of the waist. I am not going to lie, I am not super comfortable with how large my chest is post-babies, and this shirt definitely highlights it, but overall I feel really good in this. The top is not too fitted which I like, but it's light for summer.
Wednesday
THE OUTFIT PLAN
tan tank / white straight jeans / acetate belt / black sandals
Alaina's Initial Thoughts: Love, love, love. This looks like something I'd pick out for myself before I had kids.
THE OUTFIT REALITY
Maddie: After working with Alaina for the past two years, I know that she's partial to skinny jeans—something I don't blame her for, but that made me want to try other fits of jeans on her body. Different neutrals paired together always looks chic—even if it's just a combination of basics—and that's what I was going for here.
This amazing belt ended up being sold out in Alaina's size, and I know that personally if I'm tucking a tighter shirt into jeans, I like having a belt on to complete the look and cinch in my waist a bit, so I do wish we had that incorporated here. These jeans ended up being a bit big on Alaina—but I still could see the gist, and thought if they had fit right, they could have been a winner. Nothing in this outfit is too crazy or trendy—it's just a few elevated basics that you could throw on in the morning without much thought.
Alaina: This was probably our biggest miss (aside from the date night looks you'll see below). It's surprising because this was the look I would have probably bought for myself. I love the outfit, but not on me. I just don't think it's flattering. The white denim did not fit right. The size I ordered was actually a size too big, but it was still snug around my mid-section, highlighting my C-section pouch which made me feel insecure. I feel like the SNL Mom Jeans video in them.
I was excited to try the straight leg denim because I paired it with skinny jeans at first and that was, by and large, an even greater fail. The straight leg made this look much more stylish, and I probably would have liked it more on my pre-baby body when I carried less weight in my chest and midsection.
Thursday
THE OUTFIT PLAN
puff-sleeve blouse / denim shorts / mint sandals
Alaina's Initial Thoughts: [giggling to myself] This is never going to work … I am too old for this. Maddie, this would look great on you, but it will never work on me.
THE OUTFIT REALITY
Maddie: Another thing I wanted to see Alaina in was—you guessed it—a puffy sleeve. Puffy sleeves have been everywhere for over a year now, and I had never seen Alaina in one. They give everything they touch a little more femininity and elevation and are pretty foolproof with their styling—throw them on with some jeans (or jean shorts), and you're good to go.
I think Alaina might disagree with me on this one, but I loved this top on her. I think it was flattering—albeit a bit tight on her chest—and paired with these slightly longer jean shorts was a great option for a summer barbecue or socially-distanced get-together. She had two sizes of this—the larger of which definitely fit better.
Alaina: I'm still torn on this look! First, I should say I was delightfully surprised at how I felt with it on. I felt good! The size medium top was definitely a bit more flattering and I think if I lost 5-10 pounds, I'd prefer that to the way the large fits, but for now the large is where my comfort zone is. Not too fitted. But I still look at it and question, does it look too young for me? Do I look like a mom trying to feel 16 again? Haha, I guess the jury's still out.
Friday
THE OUTFIT PLAN
green midi dress / colorful sandals / gold hoops
Alaina's Initial Thoughts: [again giggling] Super cute look for summer! If only I could wear something like that … spaghetti straps and anything overflowing just does not work on me. I'll end up looking like a sack of potatoes. But again, I am up to try anything!
Maddie: Here at The Everygirl, our style leans heavily toward neutral colors—so during this, one of my missions was to dress Alaina in brighter colors that I knew she wouldn't gravitate toward herself. This dress was the first outfit I picked for her. I knew the color would look amazing with her dark hair and fair skin, and that it would be as comfortable as pajamas while remaining a versatile closet staple. Everyone needs a couple of lightweight, flowing midi dresses in their closet, and this jewel tone is a fun way to make it not as basic as a classic white one.
When I saw the picture of these fun, colorful, python sandals, I thought they'd be perfect for this dress—they made the whole look more exciting than say, a pair of basic brown sandals. Topped off with a simple pair of gold hoops, it's a chic two-minute look for a busy mom; throw on the dress and sandals, and you're done.
Alaina: Um … love. This outfit had me feeling impossibly chic in that effortless way as if summer is just my season, and this is how I am most comfortable dressing. (Even though it absolutely is not, and oversized sweaters and leggings in winter is actually my most comfortable way of dressing.) This outfit turned heads, mostly because of the beautiful, bold color. I felt stylish without being super dressy. I basically want to live in this dress.
AND the gold earrings are the best everyday staple that zhush up your face for daily Zoom calls. Again, THANK YOU, Maddie, for opening my eyes to the possibility of color and trying new things!
Date Night Fails 1 & 2
THE OUTFIT PLAN
yellow midi dress / white sandals / rattan bag
Alaina's Initial Thoughts: Hmm … I loved the yellow dress post we ran on The Everygirl. Love the neckline. I like that it's fitted–that should be more flattering on my curvy figure. I'm hopeful! But the always lingering question in the back of my mind is, will it zip up all the way?
Maddie: Ah, this dress—where to begin? Looking back, it was a pretty audacious choice, but hindsight is 20/20. Light yellow is one of the hottest colors of this summer, and when I saw this dress on the Nordstrom model, I thought it would be sophisticated and breezy and a little something different—but the result ended up looking like Alaina would need to be singing that "she wants much more than this provincial life" when she was wearing it.
This dress is an amazing example of how you really never know what something online might look like in person. The model they showed this dress on was a tall, Size 0 woman with no cleavage to worry about. Here, you can see that it's much longer, where instead of hitting mid-calf, it's hitting at Alaina's ankles; and while the neckline is gorgeous, it doesn't leave too much to the imagination on someone with a bigger chest. It's a whole lot of yellow—and let's just say it was a very clear fail.
Alaina: Wrinkles aside, this dress was a weird combination of sexy/farmgirl Belle. And it was a miss. The length was off–would realistically need to get it hemmed if I was trying to make this work. The slit in the skirt was not open enough and there was not enough movement in the skirt, creating this effect that I was wearing a giant sheet of yellow fabric as opposed to showing skin to break up all the fabric. Remember Angelina's weird leg pose years ago? I felt that that was how I had to stand to make this work. I did like the neckline but that was the only thing working for me in this dress. My husband's response was, "Ooo that's sexy. You look like Belle. Wait are you supposed to wear that out in public?" So, even he was confused. Haha.
THE BACKUP PLAN
white midi dress / peach sandals / rattan bag
Alaina's Initial Thoughts: After the yellow dress fail, Maddie sent me three options, and I chose this one! I thought it looked summery fresh and had an equally flattering neckline with straps that would hide my bra straps. Loved!
Maddie: Another dress that looked gorgeous online, but like a literal sheet that should be worn to a college toga party in real life. Again, on the model, I thought this dress had much more shape and structure to it—but in person, it does absolutely nothing for the body. It looks like a linen dress you have at the back of your closet just in case you have one too many graduation parties to attend that summer. It's the clothing version of "womp womp." Not even a pair of strappy coral sandals and a gorgeous structured bag could save this one.
Lesson: pay attention to product descriptions—not just what they appear to look like on the model.
Alaina: I never even got the shoes on because let's face it, I was wearing a nightgown. Or so it looked. And not in a good way. The material felt cheap and was almost see-through. The fit was off, the length was wrong (again)–and I'm not short. I'm 5'6″! Nothing about this dress worked on me, and we were ready to throw in the towel. Quite frankly–I loved the green dress for date night, as much as I loved it for daytime! So, that was a success enough!