As a fashion editor, it's no surprise that I own a lot of clothes. It's part of the job, and while I love trying new things and experimenting with new trends, it isn't always sunshine and rainbows. If I'm not careful (spoiler alert: I'm usually not) I can get to a point where my closet is overstuffed, impractical, and unusable, making a clean-out required.
If there's one thing to accomplish this weekend, it's hitting up one (or two or three) of these Memorial Day sales that'll make your home, wardrobe, and budget happy
When the seasons change and I swap my closet out for new weather, it's always a perfect time to purge some of the things I no longer wear. I make sure I will actually wear the clothes I take out of storage, and ensure I'm not putting anything back into storage that I ended up not wearing the past season. This all transpired a few weeks ago, and the result was 10 garbage bags full of donations both to charity and my very, very happy little sister.
While I was purging, it was interesting to see that there were some things I'd never consider getting rid of. From basics that I splurged on, to statement pieces that I get use of time and time again—it's my own little eclectic capsule wardrobe. The items I've invested in have certainly paid off and definitely won't be getting the boot from my closet any time remotely soon.

I'm a huge sneaker girl—candidly, I probably own over 10 pairs of white ones alone. But despite my large collection, I find myself reaching for my Vejas more than any others. I love them so much that I have them in three different styles, and I wear them all constantly. Better yet, I've had them all for years, and if they're looking scuffed or dirty, a handy-dandy magic eraser makes them look brand-new. They're my tried-and-trues, and they aren't going anywhere anytime soon.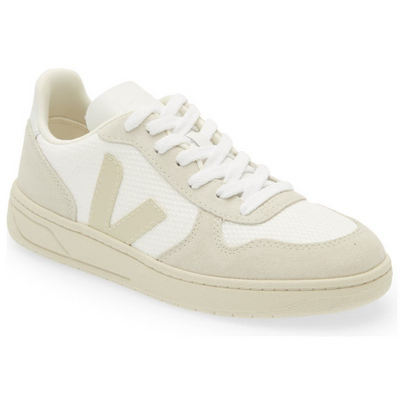 During my career, I have tried quite literally dozens of different jean brands, but no matter what, my most-worn ones end up being Abercrombie's. Even over my pairs that retail for over double the price, I find my Abercrombie '90s jeans living at the top of my pants pile. I rarely, if ever, reach for another pair. They're the most flattering, comfortable, no-fail jeans I own. I've seen many other pairs in my closet come and go, but have yet to meet a pair from Abercrombie that I don't love.
I was a fast fashion sweater buyer for years, but of all the pieces in my closet, I found that poorly made sweaters have one of the shortest life spans of all mass market pieces. Instead of loading up on trendy sweaters, I've switched to adding one or two high-quality ones to my closet a year. Not only do they feel better on, but they wear beautifully over time, and I don't have to worry about pilling or pulls. My collection of knitwear is small, but is something I'm glad to have invested in, as I reap its benefits for the majority of the year.

A trench coat is truly a wardrobe staple, and mine proves that. A couple of years ago, I invested in a high-quality one that I had my eye on for ages, and it's payed off in spades. I opted for one with leather details (which fits my style a little more than a classic one), and I look forward to wearing it both in the spring and the fall. I'm so glad I got the one I really wanted, rather than spontaneously picking one up that I wouldn't really wear. Even with just jeans and a tee, it makes me feel put together and chic whenever I wear it.

Whenever I don't know what to wear, my go-to outfit is jeans, a tee, and a blazer. I wear blazers constantly (especially now that we're back in the office). I've acquired quite a few over the years—I have a classic black one, a satin one, a plaid wool one, a hot pink one—and I don't regret a single one of them. Every blazer gets an equal amount of time in the spotlight, and I've strategically chosen each to be able to go with other pieces I own, so my collection is something I never tire of.