When my coworkers suggested I try the Kristin Ess Curl Line, I was skeptical, to say the least. Typically, I love trying new beauty products. Oh, there's a serum you swear by? An eye palette you need everyone in your life to have? A lipstick that changed your entire makeup routine? Sign me right up. All it (usually) takes to get me to try a new product is someone telling me they can't recommend it enough. When it comes to my hair, on the other hand, I am downright stubborn.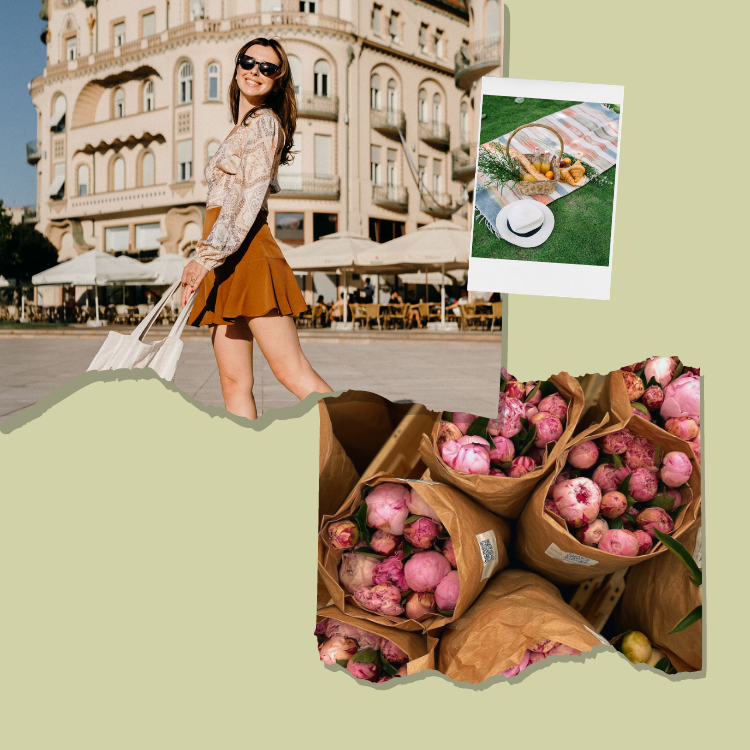 read this if you're in your saving era this summer
About My Hair
In the eight years I've worn my hair naturally, I've had just about six haircuts and changed the products in my routine only four times. It's been a long journey to get my hair to where it is now, and I am not about to go wild experimenting at the risk of losing some of the progress I've made. And when I do get my hair cut, I tell the stylist that by the time she's finished, I want to not even be able to tell that anything has changed.
Though the first few years of my curly hair journey were rough (straightening your hair for years will do that to you), I'm now at a place where I'm fully comfortable with my hair and know exactly what it needs.
Because I know what my hair likes and doesn't like, my routine has been pretty consistent: a co-wash, a clarifying shampoo and deep conditioner every few weeks, a leave-in conditioner, a strong-hold gel, and an alcohol-free hair spray. The brand doesn't matter as much to me, but I used Ouidad for years before switching to the more budget-friendly As I Am. Here are the products I use on my regular wash days:
About Kristin Ess Hair
Even though my coworkers couldn't speak highly enough about Kristin Ess, I still wasn't sure. The products might work very well for their hair, but I am happy with my routine and barely even listen when others talk about hair products because the chances the brand has a (mostly) Curly Girl Method-approved line is typically slim to none. Well–and I can't believe I'm going to say this–I was wrong.
After taking a closer look at the Kristin Ess curl line, I was pleasantly surprised to see the products were all free of silicones, sulfates, and parabens, and only two of the products had an ingredient that wasn't technically CG-friendly. I'm not the most strict when it comes to making sure every single ingredient in my products is approved, so the fact this line is about 90 percent there is more than good enough for me. I purchased pretty much the entire line (the co-wash was unavailable), set aside an entire Saturday for my wash process, and got to work. Here's what I thought:
The Scent – 7/10
The first thing I noticed when I started using the product was the smell. This entire line smells like the inside of an Abercrombie and Fitch, though it isn't overwhelming and was actually quite pleasant once I got over the shock of being thrown back into my teens.
The Packaging – 8/10
The Kristin Ess curl line packaging is simply *chef's kiss* beautiful. However, this shouldn't surprise anyone familiar with the products. The curl line comes in a slightly muted terracotta color with white and gold details. The products look so aesthetically pleasing on my shelves.
The Price – 10/10
When you have to use an intense multi-step routine every time you do your hair, spending salon prices on products isn't exactly economical. For curly girls, this presents quite the conundrum. Stylists often tell us the "best" products for our hair aren't exactly budget-friendly (think: Ouidad, Innersense, DevaCurl). If you love the products your stylist recommends and don't mind the price tag, more power to ya. But if you, like me, want salon-like results without shelling out the big bucks, there are so many options out there. Kristin Ess is one of them.
The products in the curl line range from $10-$14 and can be easily purchased online or at your local Target. As someone with a lot of hair, I have to repurchase my styling products every 3-4 weeks. At a price-point like this, the Kristin Ess line is easy on my wallet and mind.
Full disclosure: I rarely shampoo my hair. I am married to my co-wash and don't even spare my clarifying shampoo a glance for weeks at a time. By the time my Kristin Ess products were delivered, I was well overdue for a cleanse.
The Kristin Ess Curl Shampoo features a pointy applicator that makes applying the product directly to your scalp super easy – a huge bonus if you, like me, only like to use shampoo on your scalp and roots. The shampoo lathers nicely, but it did take quite a bit of product for me to start getting a good lather going. When I rinsed, I could tell this shampoo did its job right away. My hair felt squeaky clean – exactly what I look for in a shampoo.
Whenever I use a deep conditioner or hair mask, I don't typically also use my regular conditioner. That said, I did want to try this line's conditioner, so I combed a little bit through my hair to help detangle it. The conditioner has a thick, creamy texture so a little really goes a long way. I can't say the conditioner made detangling my hair any easier (the detangling process is difficult for me no matter what product I use), but when I was finished combing through my knots, my hair was noticeably softer.
However, I used this product again later in the week as a co-wash and was very impressed with how my hair felt afterward: soft, silky, and smooth.
*This product has one ingredient that isn't CG-approved: isopropyl alcohol.
This product surprised me the most out of the entire line! I'm used to my deep conditioners coming in a tub that I scoop product from, but the Kristin Ess mask comes in a bottle with a pump. I am a big fan of pump bottles, so this was definitely a bonus.
The mask has an almost mousse-like texture and, like the conditioner, a little goes a long way. I wanted to set this line up to really impress me, so after I combed the product through my hair, I put on a shower cap and let it sit for about an hour, and I am so glad I did because WOW.
After rinsing, my hair felt like actual silk. It was soft and felt so clean. Honestly, if I finished my wash routine right there, I bet I would have had a decent hair day, and I never go without an intense styling routine. This product will definitely be one of my go-tos.
To my surprise, this leave-in cream is actually a spray. To get the most out of the product, I sprayed it directly into my hands and then combed it through my hair. It's a very lightweight product, but like the mask and conditioner before it, my hair felt noticeably softer after I applied it.
This product loses points because it is a spray. I have a lot of hair; spraying 8-10 pumps of this conditioner into my hands 3-4 times throughout my routine is just not sustainable. I prefer a leave-in cream I can squeeze gobs of into my hand. That said, I do think this product would be great for those who like to refresh with a bit of spray conditioner.
*This product contains one ingredient that isn't CG-approved: isohexadecane.
To be frank, I wasn't sure about the jelly from the very start. The bottle notes it's for "fine to medium" hair, which mine is not. However, I was fully committed to giving it a shot. All I need from a gel is for it to be CG-approved, have good slip, and a strong hold. If this hit those three marks, I saw no reason it couldn't work for me.
This product comes in an easy-pump bottle, which made the actual styling process really easy. Right now, I have to pour my As I Am gel from its tub into a pump bottle before I can use it.
I usually apply my gel with the "rake and shake" method, or, if I'm feeling fancy and have time to spare, I'll apply the gel and individually twirl each curl. In the spirit of giving this line a fair shot at wow-ing me, I went with the latter. As far as application goes, the jelly has a thicker texture than I'm used to, but the slip is nice and the application is easy. Two wins for the jelly.
As I was styling, though, I quickly noticed just how much of the product I was using. At just 6.7 fl. oz, the jelly will not last me long AT ALL. I predict three maybe four washes at most. As I mentioned before, I have a lot of hair, and this just simply isn't enough product.
That said, I measure the success of a wash day, and specifically a gel, by how well it holds and how many days I get. I usually get three solid days of wearing my hair down after a wash, four if I'm lucky, five if there's been a miracle. I could tell by the barely-there cast the jelly provided (a clear indicator this product doesn't have a ton of hold), this wasn't going to be a long-lived wash.
Unfortunately, I was right. On Monday morning (just two days after my wash!), my coworkers were treated to ponytail-Garri. My hair is incredibly sensitive to friction, and though I sleep with my hair in a loose silk scrunchie, wrapped in a silk scarf, on a satin pillowcase, after just two days my curls were frizzy and undefined.
However, just as you can't judge a dog by its ability to fly, I can't judge this gel by its ability to style my curls–it simply isn't made for my hair type. If your hair is on the fine-to-medium spectrum, I bet this product will work very nicely.
The Final Verdict
When it comes to my hair, I am a creature of habit, so I'm proud of myself for stepping out of my comfort zone and trying something new! The shampoo, conditioner, and hair mask made my wash day experience feel super luxurious. I seriously can't remember a time my hair has felt softer and cleaner. They very well might become permanent parts of my routine, especially considering their budget-friendly price point.
The line fell flat for me in the styling process. The spray leave-in is just not a convenient product to use, and I need a gel with a stronger hold. Everyone's hair is different, however, and if you have a looser curl pattern, these products might work like a dream.