Despite the fact that I've known my skin is sensitive for pretty much all my life, it wasn't until my early 20s that I learned my skin is dry, too. This revelation felt like a cruel joke—it revealed itself as I was trying to develop a skincare ritual that targeted anti-aging. Of course, once that happened, trying to find products that targeted all of my skin concerns was like trying to find a needle in a haystack; I've lost count of the number of skincare products, brands, and combinations I've tried over the years. Out of everything, I can confidently say there's consistently been one brand that never disappoints: La Roche-Posay.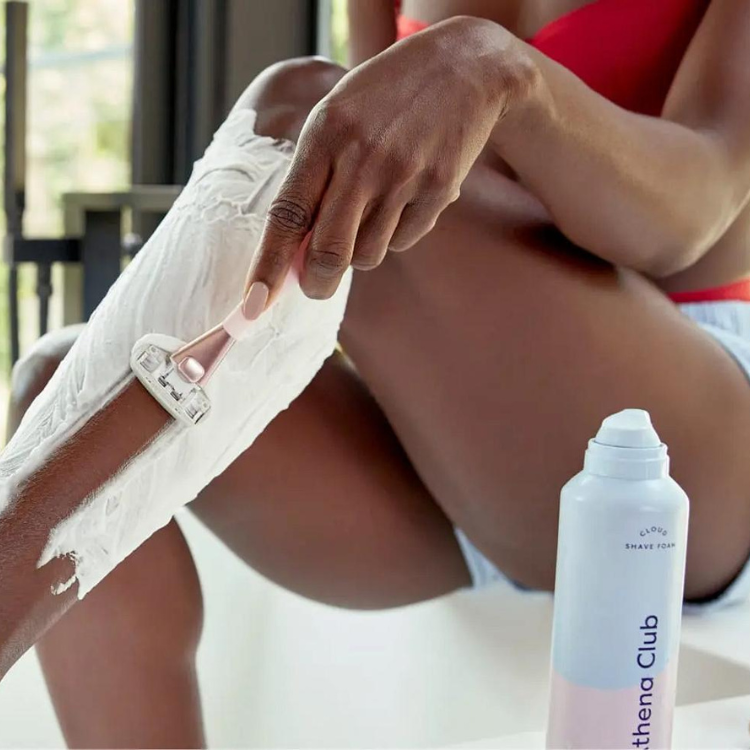 "This razor gave me the silkiest, smoothest shave I've ever had! I never get any cuts or scrapes, even on those hard-to-shave places."
If you have sensitive and dry skin or one or the other or have struggled to find gentle products that actually work for your skin concerns, you've come to the right place. Today, I'm breaking down everything there is to know about La Roche-Posay, why it's especially great for sensitive skin, and why I love it. And to top it all off, I've also included a round-up of my personal favorite La Roche-Posay products as someone with dry, sensitive skin. Keep scrolling to learn more.
What You Should Know About La Roche-Posay
In 1975, La Roche-Posay was founded in a French town of the same name, and the La Roche-Posay Dermatologique was created. From the beginning, the brand has partnered with dermatologists to deliver effective skincare solutions and products, especially for those with sensitive skin. Today, 90,000 dermatologists worldwide (mine being one of them!) recommend La Roche-Posay to their patients, thanks to the brand's scientifically developed gentle, minimal formulas alongside dermatologists.
That said, although the brand was developed for those with sensitive skin in mind, La Roche-Posay has a wide range of products that address various types of skin concerns like acne, eczema, and psoriasis, just to name a few. So, regardless of your particular skincare concern and needs, rest assured you can find a product specially formulated to target it.
Why La Roche-Posay Is Great for Sensitive Skin
Turns out there's a reason the brand was founded in the French town of La Roche-Posay: It's thermal springs. For six centuries, the thermal spring water of La Roche-Posay has been used to treat various skin conditions like eczema and psoriasis due to the fact that it's naturally rich in minerals and antioxidants, specifically selenium. La Roche-Posay sources this Thermal Spring Water and uses it as a core ingredient in most products.
The La Roche-Posay Thermal Spring Water is a distinctive combination of minerals, trace elements, and a high concentration of selenium. This ingredient is suitable for all skin types—including sensitive skin—and is used for hydration and soothing. This, combined with the fact that every product is formulated with minimal, gentle ingredients—you won't find any preservatives, fragrances, or any other irritating and drying ingredients included—make it especially great for sensitive skin. Additionally, the ingredients are formulated to promote a healthy microbiome (AKA protective barrier) in the skin. When your skin's microbiome is balanced and healthy, it'll look fresher, healthier, and unproblematic.
Why I love La Roche-Posay
As someone with sensitive skin, having a brand I can truly trust is so refreshing. True to their word, I have never used a La Roche-Posay product that's left my skin irritated, dry, dull, or flaky. Since consistently using La Roche-Posay for the core of my routine, my skin actually looks dewy, fresh, and radiant for the first time in as long as I can remember. The best part is that I don't need to slather on 30 products to get it looking that way either—in fact, I've found that a "less is more" approach is what works best for me.
Previously, I was using more products in an attempt to tackle anti-aging while trying to look like a glazed donut, and all that did for my skin was strip it of its natural oils and dry it out even more. In turn, this gave my skin a dull appearance and highlighted the fine lines around my eyes. La Roche-Posay has gentle formulas that actually penetrate my skin's natural barrier and soak into it rather than sitting on top of it, and my skin looks more supple than ever.
As if that wasn't enough, the brand is also affordable AF, and their products last. For example, a 13.52 FL oz bottle of their Toleriane Gentle Facial Cleanser retails at $14.99 and typically lasts me about six months with daily use morning and night. And as I mentioned above, they have products for all skin types that target a very wide variety of skincare concerns. La Roche-Posay has found a loyal lifelong customer in me.
My Favorite Products: