Nothing marks the start of the holiday season quite like bringing out a dusty box of holiday decor from the depths of a storage closet, turning on a cheesy Christmas movie, whipping up some hot chocolate, and decking the halls to make your home a festive wonderland. Out of all the rooms in the house, the living room is obviously the most important when it comes to holiday decor. It's the spot most visible to guests and the room where you can really go all out with garlands, lights, and the whole shebang.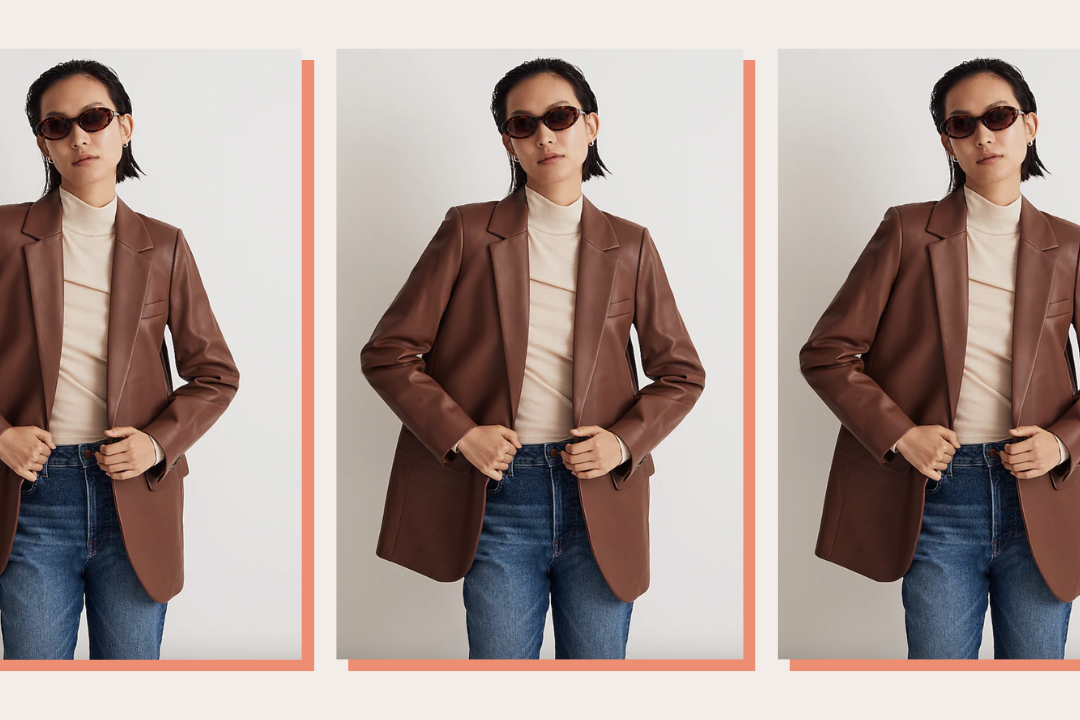 time for your fall wardrobe update!
The goal is to make your space look and feel as warm and inviting as possible, and the internet is full of inspiration to help you do just that. Whether you're working with what you already have or re-envisioning your whole holiday setup, look no further. These 10 holiday living rooms are so good, you'll want to copy them immediately:
1. This elegant living room that's truly a holiday oasis
Filled with warm colors and traditional touches, this living room is the epitome of elevated yet festive. To recreate it for yourself, lean into cozy colors like burgundy, bronze, and blush for your tree trimmings and accents. Then work in classic holiday decor like a wreath and wooden bead garland to bring life and warmth to an already beautifully curated space.
2. This colorful Christmas situation that feels especially merry and bright
You don't have to stick with classic red and green holiday decor if that's not your style. This holiday mantel setup mixes in unexpected colors and bold patterns with a more traditional draped garland for a look that feels personalized and inviting.
3. This simple holiday setup that'll stand the test of time
With pops of white against greenery and plenty of texture, this living room showcases timeless holiday decor at its best. It's simple yet interesting to look at, and by playing with some statement ornaments amongst neutral decor, you can pull off a similar look.
4. This bright living room that makes a statement with trees
Why settle for one tree when you could have one in every corner? This holiday living room features several trees throughout, all in varying sizes but with the same sparse, Scandi-inspired look. Add in a cluster of candles and a few seasonal accents for a setup that feels fresh and appropriately festive.
5. This understated holiday decor that's perfect for small spaces
You don't need to go all out on decor to celebrate the holiday season, and this minimalist setup is proof. With a small tree tucked into a basket and paper stars that make use of the walls, this look is easy to pull off and doesn't take up too much space.
6. This frosty Connecticut dream that looks oh-so-cozy
This holiday decor makes us want to snuggle up, sip on some hot chocolate, and shamelessly watch our fifth Hallmark movie in a row. With frosted faux trees and a white throw blanket, you too can transform your living room into a winter wonderland in no time flat.
7. This Scandinavian-inspired living room that'll make you feel right at home
We love a good Scandinavian holiday decor situation, and this living room is no exception. To recreate a similar holiday oasis, play with wooden ornaments, add in pops of red, and use garlands atop your TV stand or around an archway or mantle.
8. This modern-meets-traditional setup with an organic feel
This living room formula makes decorating for the holidays both simple and impactful. With brass accents and hints of white, this easy-to-achieve holiday decor sticks to a neutral palette but still feels plenty festive.
9. This holiday haven that's equal parts minimal and magical
When we first saw photos for this holiday home tour back in 2019, we audibly gasped, and we love it still to this day. It's organic, it's magical, and it's probably one of our favorite holiday setups of all time. To achieve a similar look, let your greenery do the talking and add neutral accents like faux sheepskin throws and brass candlesticks.
10. This cozy take on nostalgic holiday decor
Bring nostalgic vibes to your holiday living room with a big, fluffy tree trimmed in vintage or homemade ornaments and a wood-beaded garland. Add in cable-knit stockings for a cozy holiday look everyone will appreciate.
Hearth & Hand with Magnolia