Now that the end of daylight savings has blessed us with darkness at 4 p.m.—my absolute least favorite part of winter, by the way—there is no better time than now to consciously work toward creating habits that can improve your overall wellbeing. I know that it's much easier said than done (and sometimes you just need to have a bad day), but I can say from experience that implementing small changes into my daily routine has significantly helped improved my overall mental health.
If you're looking to save money, time, AND a headache this holiday season, we've got you covered.
As someone who is not an expert in all things wellness, I needed to find healthy habits that actually fit into my routine, rather than trying to be someone I am not. Some of these things might sound silly, but I've learned that consciously working toward mindfulness, romanticizing the little things, and setting intentions for myself really does work for me. If that's just not your jam, that's fine too. Although winter is just beginning, I've been working on these things for quite some time, which hopefully means that I can keep doing these easy steps and have a less dreary winter as a result.
Here are seven easy steps I take to make my days better:
1. I romanticize my coffee routine
If there's one thing I make sure to do every single day, it's make myself a coffee-shop level homemade latte. It's been about a year and a half since I upgraded from a Keurig to a Nespresso, and I can confidently say that I'll never go back. There's something so meditative and relaxing about taking five minutes to brew some espresso, froth some milk, and truly enjoy my iced latte. Plus, it doesn't hurt that I save money by actually preferring to make my own coffee at home.
2. I try to incorporate mindfulness and meditation into my daily routine
I am by no means well-versed in practicing mindfulness or meditation, but it's a small thing that I've started trying out. I will search Spotify for a quick five-minute meditation and do it while on a walk or relaxing at home. As far as practicing mindfulness, I make an effort to be more intentional about the things I do—and don't do. I've also really worked on learning to shift my mindset when I need to. For example, if I'm getting in my head a lot or overthinking something that's happening in my life, I remind myself that I have the power to choose how I approach and handle the situation.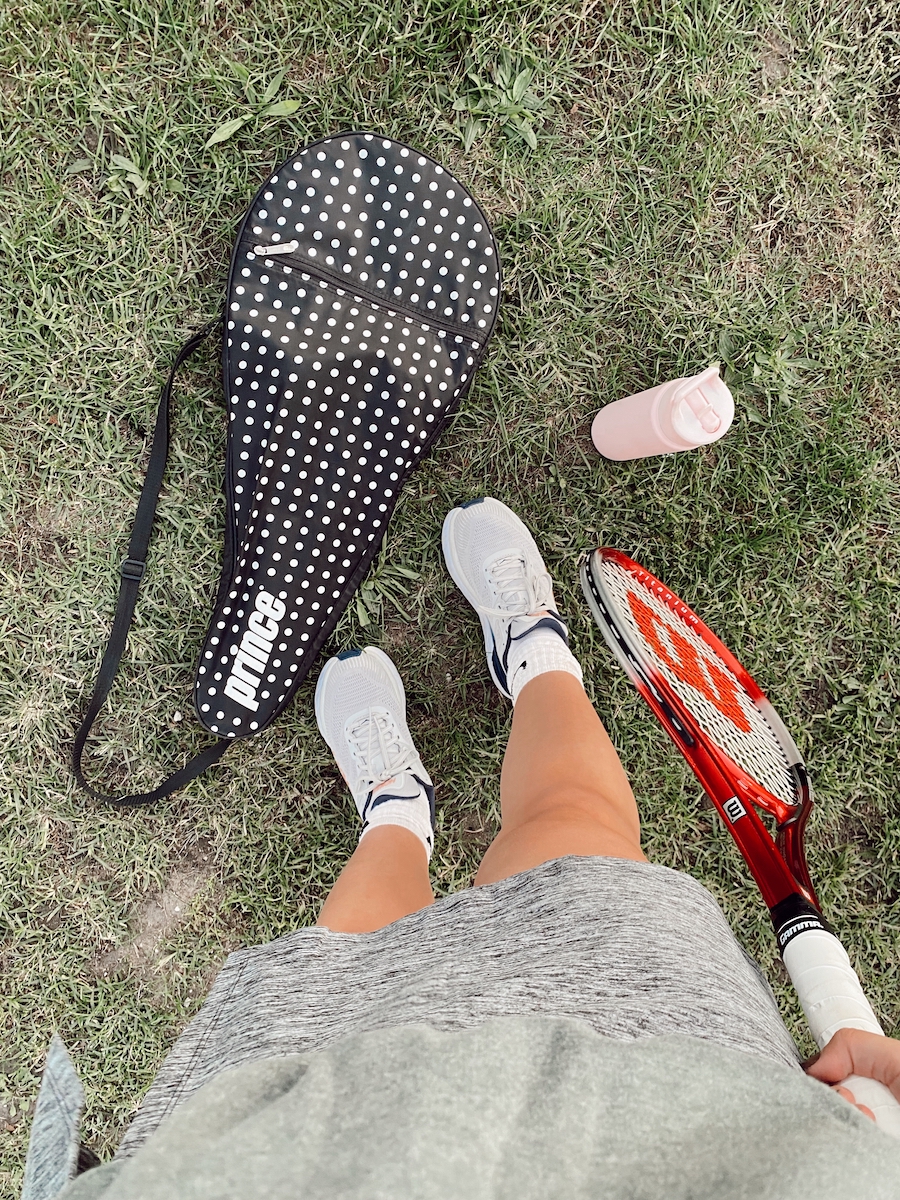 3. I found physical activities I actually enjoy
During the spring of this year, I genuinely fell in love with going on long walks as a regular part of my routine. I learned that not only are there tons of health benefits of walking, but it also really helps to clear my mind and boost my overall energy. I take the time to listen to music or podcasts, and it is a great way for me to unplug and unwind from my day. Outside of walking, I also started taking tennis lessons and have truly been enjoying it as a new hobby. I've learned that finding forms of exercise that I actually enjoy is so much better for me than trying to force myself to go to a gym or do intense workouts that I dread.
4. I make it a rule to do one thing just for myself every Sunday
A lot of times, I find myself with a pretty severe case of the Sunday scaries. I tend to get overwhelmed and anxious, so over the summer I decided that in order to combat that, I should treat myself to something that's just for me every Sunday. Some examples include: ordering food from one of my favorite restaurants, going on a Target run for no specific reason, watching the sunrise or sunset, or popping some popcorn and watching an old favorite movie.
5. I started using a budgeting app
I put off actually budgeting my monthly spending for so long that the task felt far too overwhelming to start. I always figured that it would stress me out more than it would help, but after a few recommendations from friends, I decided to download an app that does it for me (I use Truebill). After using it for a few months, I can honestly say that it's given me more peace of mind and helped me feel less anxious overall.
6. I take breaks from Netflix and my phone to read instead
Although I love watching Netflix and scrolling social media as much as the next gal, sometimes I find myself getting lost in mind-numbing binge sessions and TikTok black holes and need to take a break from my screens—especially when I spend all day working on one. I've always ebbed and flowed when it comes to how regularly I read (like reading seven books in a row and then not picking one up for months), but I've been in a consistent reading groove—mostly on my Kindle, which I am absolutely obsessed with—for quite some time now, and it's been very enjoyable.
7. I cook a slightly more advanced recipe a few times per week
I've talked about it before, but I'll say it again: I've never really been super into cooking, however over the past year or so I've started to experiment more in the kitchen. I actually find it extremely therapeutic to spend some time cooking a meal for myself, and it helps me to take a break and just focus on that for a little bit. I've made it a goal to make myself something that isn't just a frozen Trader Joe's meal (although I'll never give those up) at least a couple times a week.