Last week, I met a guy on Hinge who said his biggest dream in life is to be on Chopped. This was exciting because not only am I a Chopped fanatic, but I'm also a total fool in the kitchen who would love to meet someone who can cook me delicious meals. But when the questions shifted and he started asking me what my secret ingredient would be, I couldn't say anything besides Trader Joe's frozen rice—because the only thing I really know how to cook is Trader Joe's frozen food.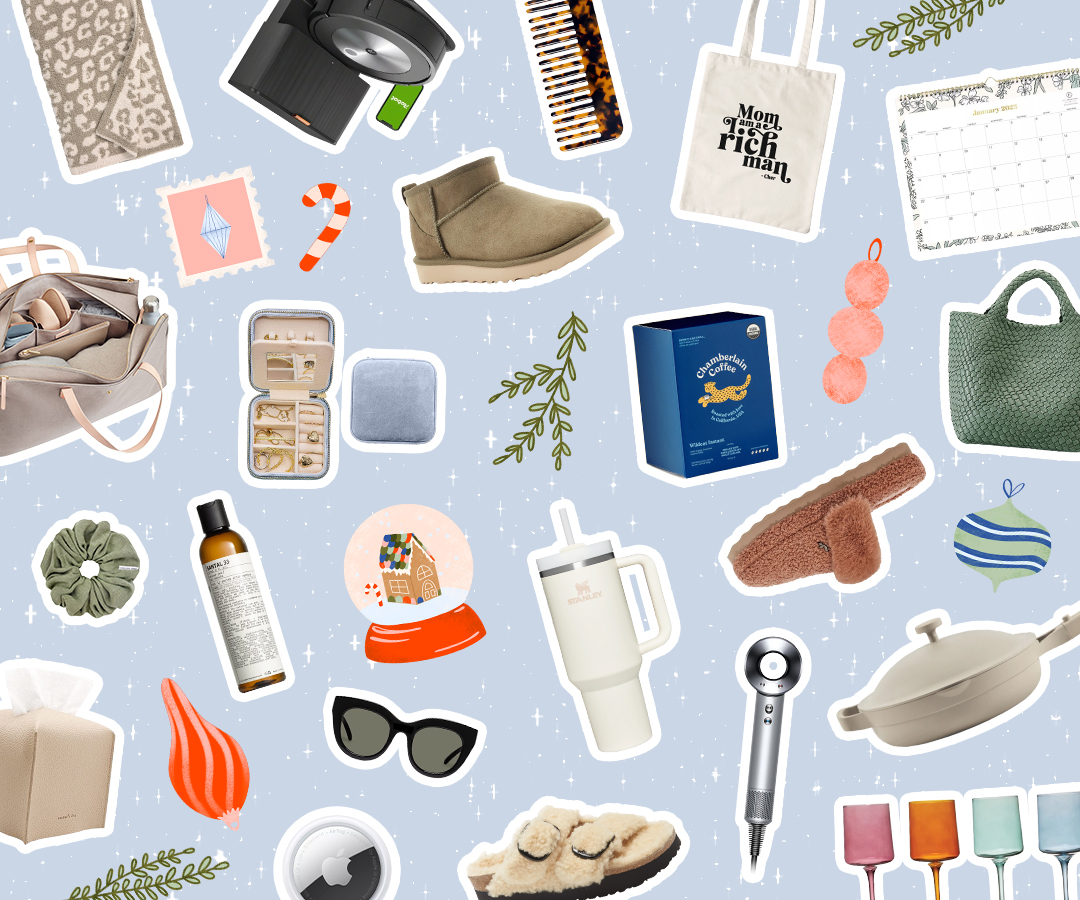 With hundreds of thoughtful gifts, you're sure to find something for everyone on your list!
I have a few staple meals I make from time to time, but for the most part, I rely on a freezer full of my TJ's favorites to get me through a week's worth of meals at home. I typically doctor everything up and pair things together instead of always eating just a giant bowl of Mandarin Orange Chicken (granted, I still do that some days). Here's what I rely on:
1. Broccoli Florets + Spaghetti Cacio e Pepe + Cooked Shrimp
In my opinion, the cacio e pepe from Trader Joe's is the richest, most indulgent pasta in their line-up, but when I add a veggie and some protein (this meal is amazing with shrimp, but I make it with chicken too), it's a complete meal that doesn't make me feel like I ate just a giant, unhealthy bowl of pasta and cheese sauce.
2. Chicken Chow Mein + Chicken Gyoza Potstickers
I only just tried this Chow Mein a few months ago, but it quickly became a staple once I realized how easy and tasty it was. I like to make this with an added side protein (like these potstickers), and it becomes a filling dinner that tastes almost as good as Panda Express.
3. Cauliflower Gnocchi + Pesto + Broccoli Florets
The all-enduring favorite meal of a Trader Joe's go-er, cauliflower gnocchi in the air fryer with a little pesto and a veggie (I also like to add protein sometimes—the TJ's chicken sausages are great with this) is a classic combo that never fails. I make this for lunch and dinner often because it's a pretty hands-off meal. I just pop the gnocchi in the air fryer and top it with a little pesto. I also add regular pasta sauce sometimes—it all just depends on what I have in my fridge!
4. Asian Vegetables With Soy Sauce + Riced Cauliflower + Chicken Spring Rolls
When I want a veggie-heavy meal (typically good for lunch when I know I'll be indulging in a giant bowl of vodka pasta that evening while watching The Bachelorette), I'll put these frozen veggies with some riced cauliflower in a big bowl. For some extra protein, I'll cook up a few of the chicken spring rolls. Sometimes if I want even more protein, I'll add some pre-cooked grilled chicken too.
5. Breaded Chicken Nuggets + Broccoli Florets + Mac & Cheese
The Trader Joe's collection of mac & cheeses are an amazing lunch to have on hand, but having just one of those little packages never, ever satisfies me. So, I doctor them up with some broccoli and chicken for protein, and if I'm feeling frisky, I'll add buffalo or hot sauce. It's a perfect WFH lunch that takes less than 10 minutes to put together.
6. Chicken Fried Rice + Riced Cauliflower + Chicken Cilantro Mini Wontons
One of the oldest tricks in the book is mixing the classic TJ's fried rice with the riced cauliflower. When they're combined, you can't taste the cauliflower at all, and it adds an extra veggie to my meal while bulking up the volume a bit. Then, I add the chicken cilantro mini wontons with a little stir fry sauce for dipping, and there you have it: one of my favorite weeknight dinners.
7. Breaded Chicken Nuggets + Turkey Corn Dogs + Dill Pickle Mustard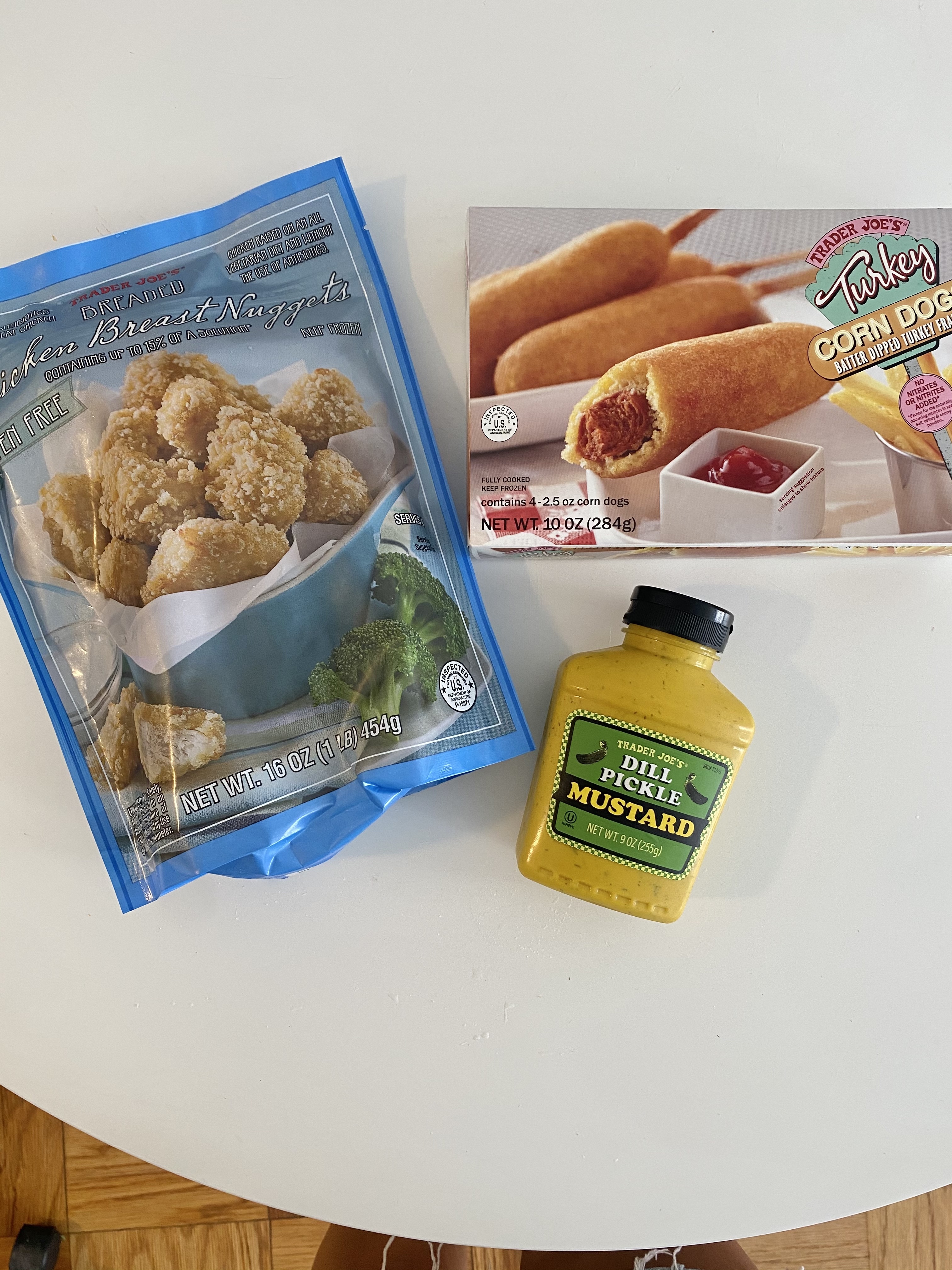 When I'm craving a nostalgic lunch, I opt for this. The Trader Joe's turkey corn dogs are arguably one of my most favorite things on Earth. I love them so much that when I was recently visiting home and actually indulging in my classic 8-year-old meals, I didn't even like the non-TJ's corn dogs. I pair them with these breaded chicken nuggets and my favorite condiments. You can use any condiment you like, but right now, I want to express my undying love for the Dill Pickle Mustard. Please, Trader Joe's, never get rid of this. It's the best condiment I've tried in a very long time.
8. Japanese Style Fried Rice + Thai Sweet Chili Veggie Burger
This Japanese-style fried rice is quite possibly my favorite frozen item at Trader Joe's. I could eat the entire bag of this stuff in one sitting (I would feel disgusting, but my heart and taste buds would be happy). I often make it with a fried egg on top and then add the Thai veggie burger with a little sriracha to the side for some extra protein.
9. Mandarin Style Orange Chicken Bowl
See, sometimes I just eat a bowl of Mandarin orange chicken! This frozen bowl has saved me too many times to count. I keep one in my freezer at all times in case of emergencies. It tastes just like the giant bag of the classic TJ's mandarin orange chicken we all love but with rice and added veggies. This also works great when I head to the office and need to pack a lunch in my bag too.
10. Spinach Artichoke Dip + Pasta + Breaded Chicken Nuggets
One of my favorite hacks lately that's super easy is using the classic spinach artichoke dip from TJ's as a pasta sauce. I saw this on Instagram once, and it's been a life-changer. I cook the pasta of my choice and cook the dip as directed, then I add the dip over the noodles with a tiny bit of water to thin it out. It makes the perfect creamy, light sauce. I add breaded chicken nuggets for a little protein and make a side salad (sometimes adding in extra veggies or more spinach) to make it a complete dinner that feels fancy even though it's super simple.