When I was young, one of my most favorite pastimes was to whine a desperate, "I'm bored," to just about anyone who would listen. Though I don't declare my boredom to the universe as dramatically as I used to, it usually and silently manifests as a ton of screen time and a whole lot of blue light. Last weekend, while I was on my eighth episode of half-watching Love Island and scrolling TikTok at the same time, a lightbulb went off in my head. What if I could replace mindlessly swiping and barely binge-watching with activities that actually inspire me? So I etched up a list of things to do while I'm bored.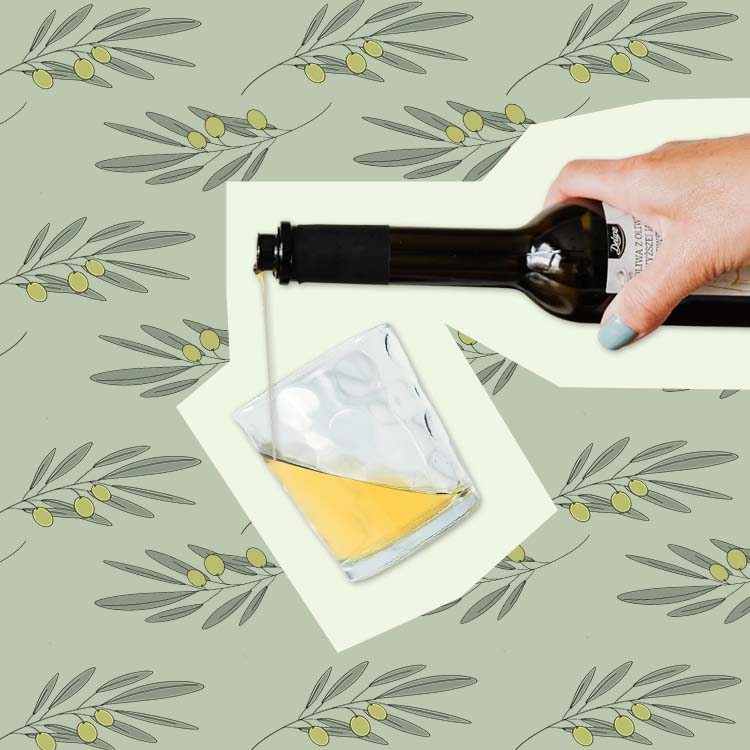 we love olive oil, but this seems a bit too far... or is it?
Discovering little (or large) pockets in the day where you find yourself with a lack of entertainment or duty is the perfect opportunity to get to that ever-growing list of hobbies you want to try, random tasks you want to check off your list, or pastimes you want to revisit. The next time you find yourself mindlessly scrolling or audibly sighing, "I'm bored," turn to this list of 15 things to do—that doesn't include scrolling on your phone.
1. Paint
Channel your inner Picasso, get a canvas, grab your paintbrushes, and let's get artsy. Painting can be such a great way to flex your creative muscle and to do something that doesn't involve screen time. Whether you opt for paint-by-numbers or freehand on a canvas, you're bound to get inspired and create something that you're proud of.
2. Deep clean your bathroom
Listen, I never said that tackling boredom was glamorous. Deep cleaning your bathroom can be a task and one that is tough to achieve during the hectic ongoings of a busy week. If you ever have an extra hour or two, it might just be the perfect time to bite the bullet, grab some gloves, and get to scrubbing. Once you get in the groove and get it done, you'll be so happy that you did it.
3. Journal
Journaling is one of the easiest ways to fill the void that comes with free time and one that can really help you clear your head, get in tune with your emotions, set goals for your future, practice gratitude, and manifest what you want your future to look like. Whether you invest in a prompting journal, answer online prompts on a napkin, or write your stream of consciousness in a sketchbook, this is a great activity. Getting your pen to paper and your thoughts out into the universe can really help you think and evaluate your reality.
4. Make a playlist
I can appreciate a good playlist, but truth be told, I've never made my own. The next time you find yourself with a few extra minutes, organize your music into playlists to streamline future listening. Make personal playlists for working out, crying about an ex, dancing the night away after a few glasses of wine, and oldies that'll take you right back to the prime of your high school years. Who knows, maybe creating your own soundtracks will turn into a one-woman dance party that you definitely won't be mad about.
5. Organize your closet
I don't know who needs to hear this, but it's time to clean your closet. Again. I know, it feels like you just did it yesterday, but let's be real: Since you last cleaned it out, styles have been deemed "cheugy," you've accumulated new pieces, and, surprise, you didn't touch those three items that you swore you'd wear this summer. Reorganize your clothes, bag up what you don't need, and either sell it or donate it to make getting ready a bit smoother.
6. Start a new book
Your ever-growing to-read list is calling, and it's finally time for it to shine! If you're feeling inspired and looking to improve your bad self, give one of these reads a go. If you're just looking for the simple joy of getting lost in a great novel, crack open one of these.
7. Give yourself a manicure/pedicure
A self-care activity that can help us save money? Sign us up. Give your nails the TLC that they deserve and treat yourself to an at-home mani or pedi. We're talking the whole nine yards—cuticle care, shaping, painting, and even nail art. With these tips from the cofounder of OPI, you'll absolutely nail your next at-home manicure situation.
8. Do an online workout
One of the best things to come out of quarantine was the fact that so many of our favorite workout avenues now offer virtual workout sessions. Whether you're a fan of yoga, pilates, weightlifting, or a quick cardio session, there's an online workout with your name on it. Getting your sweat on and subjecting yourself to that post-workout endorphin rush? Sounds like our idea of a good time.
9. Go for a walk and listen to a podcast
If it's nice out, getting some fresh air, getting some steps in, and listening to your favorite playlist, podcast, or audiobook is a recipe for time well spent. You're exercising, you're finally able to catch up on your favorite podcast, and you're not scrolling on your phone while becoming one with your couch. Talk about a win-win situation.
10. Call a friend
In the hustle-and-bustle of day-to-day life, it can be tough to keep up with what our friends and fam are up to. If you find some extra time, rekindling relationships, checking in on a friend you haven't heard from in a minute, or catching up with a family member can help you feel connected to others. FaceTime, call, or send a text to experience the magic of maintaining and growing your relationships.
11. Try to recreate your favorite restaurant meal
I'm looking at you, Carmine's vodka pasta. In the chaos of a normal week, we often lean on our go-to, quick-and-easy recipes. While we hold them in the highest regard, the automation and repetition of eating the same things over and over can take the fun out of cooking. Fall in love with cooking again by going all out, stepping out of your comfort zone, and recreating your favorite restaurant meal. Bon appétit!
12. Organize/back up your photos
Take a trip down memory lane and go deep into your archives because when you're bored is the best time to go through your photos, organize them into albums, and back them up to ensure they're stored safely. Who knows, you might find some forgotten hidden gems in the process.
13. Plan your next vacation
Whether you have a vacation coming up or just want to daydream about getaways you've always wanted to experience, planning your next (or dream) vacation is a fun and productive way to pass time. Research where you'll be going, where you would stay, what attractions you want to see, places you want to eat, and give in to your wanderlust.
14. Learn a new language
I downloaded Duolingo last year to brush up on my Spanish (really wish I would have paid more attention during my high school language course), and I've found it to be one of the most productive ways to kill time. Here's an idea: Commit to learning a new language with a friend, practice together, and plan to book a trip overseas so that you can "refine the language."
15. Clean your makeup brushes
Q: When was the last time you cleaned your makeup brushes? A: We can't remember, but we're probably long overdue. While you should be cleaning your makeup brushes every few weeks, it can definitely take a backseat to all of the higher-priority tasks that we deal with in our daily lives. If you find a few free minutes in your day, it's 100 percent worth your time to clean your brushes that have likely built up a good amount of bacteria since the last time you gave them some love.