Historically, at least a few trends every year are shocking in nature. Did I think I'd wake up one day in fall 2021 and realize I have a full stack of sweater vests in my closet that I rotate through every week? No, but that's where the year has brought me. Another thing that feels shocking? That regular folk are now wearing leather pants on a regular Tuesday afternoon.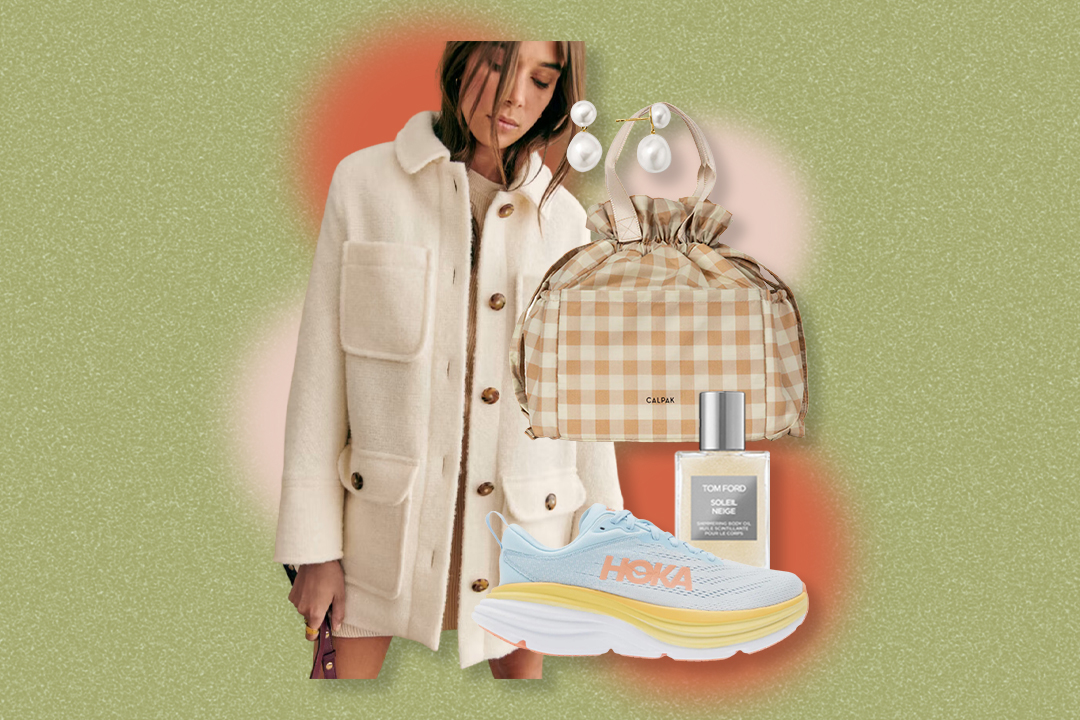 No longer a back-of-the-closet item that's reserved for last-minute Sandy from Grease Halloween costumes, faux leather has been spotted on everything over the past year, and pants are at the top of that list.
The thing about them is that unlike jackets or tops, there's a lot of room for error in a faux-leather pant. You buy the wrong pair, and you'll be squeaking down the street, constricted and uncomfortable every time you brave leaving the house in the them; it's something that has (very unfortunately) happened to me many times—until now.
Abercrombie has been consistently stepping up their game for the past couple of years, and I've found myself reaching for their pieces in my closet constantly. I truly have not been disappointed by a single item I've gotten from them as of late, so when I saw that they had a version of their famous '90s high rise jeans in faux leather, I immediately ordered them.
Abercrombie's jeans are some of my all-time favorites, and a big part of that is because of their fit. I am generally a size 27 in pants, but a lot of straight-leg pairs haven't quite fit right because I have some muscular thighs to account for. I've found that their Curve Love line is my absolute ideal fit of pants, as they have an extra two inches of material through the hip and thigh. Those two inches have made a world of difference for me and have given me some of the best-fitting pants I have ever found (and, honestly, ones I'd pay much more for given how high-quality they are).
When I slid these pants out of the package, I knew they were a hit right away. Unlike many faux-leather materials, they felt buttery soft and lightweight, and when I put them on, I genuinely did not want to take them off. The other faux-leather pants I own are a nightmare because the inside is almost a fleece-like material, which makes my legs hot, sweaty, and stuck—not ideal. These were both flexible and breathable, which made them feel more comfortable than even my favorite jeans.
The fit of these is absolutely true to size. They also come in their standard jean fit, multiple colors, and a cropped and skinny version. I am absolutely in love with this deep, rich brown, especially with the creams and burgundies in my closet this time of year, but the black are a classic that I'm planning to pick up as well.
I've spent a lot of time (and far too much money) trying to find an inexpensive but high-quality pair of faux-leather pants, and my mission has finally come to a close. Don't waste your time trying to find something better than these—as someone who has tried just about every brand of faux-leather pants on the market, these are the best bang for your buck.