Do you ever stop and just appreciate the fact that we live in an era where casual office dress is a thing? I honestly have on more than one occasion (I type while wearing a lemon print sundress and a pair of blue western boots). While there are plenty of employers who still maintain a formal dress code or expect "business casual" at the very least, some of us are fortunate to work for those who have adopted a casual dress code (or observe casual Fridays—a win is a win!). But with great freedom and flexibility can come great confusion—and maybe even a little dressing anxiety.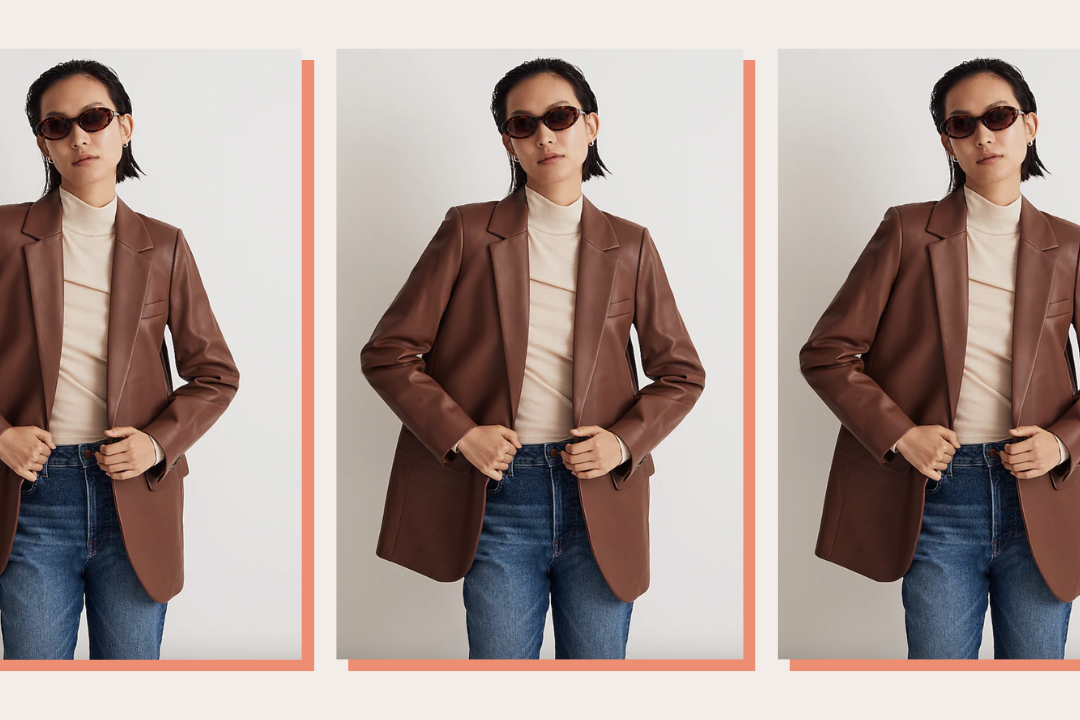 time for your fall wardrobe update!
If you've ever found yourself wondering what exactly a "casual office dress code" entails and subsequently wondered what that means for getting dressed in the morning, you've come to the right place. Keep reading for a breakdown on what it means to dress casually (and appropriately) for the office, and all the OOTD inspo you need for your 9-5.
What is casual office wear?
In case you're unclear on what your employer's casual dress code actually shakes out to mean, a general interpretation of the term tends to include the acceptance of jeans, T-shirts, sneakers, and other casual, everyday pieces. If you're nervous about dressing "too casually," try to avoid destroyed articles (think ultra-ripped jeans), controversial graphic prints (maybe reserve your pro-cannabis tees for the weekend), and athletic wear (I get it—sweatpants are amazing, but they have a tendency to downplay someone's professionalism).
While these generic "rules" can guide you toward dressing success, it also never hurts to check your company's official policy or reach out to your HR representative if you have any questions.
What to consider when choosing a casual office outfit
Even though putting together and wearing casual work outfits can be a lot of fun—allowing for more creativity and comfort—as with any kind of styling, it's not always as easy to nail as it might appear at face value. As mentioned above, sometimes it can be tricky just drilling down the core of what, exactly, "casual dress" actually means in the office.
Beyond wondering how casual is too casual, you also have to account for your commute (whether it be by car, bus, or foot) and the weather (which can be rather fickle, depending on where you live). Trust me, I get it. Even "casual" outfits require a lot of thought—especially when you throw business into the mix.
8 Casual Office Outfits
If you've found yourself struggling with the conundrums above or, perhaps, are just always on the hunt for casual work outfit ideas, keep reading for a round-up of casual outfit ideas that will get you through the workday in a comfortable, offhandedly stylish way.
For the sneaker fanatic
blazer | jeans | tank | sneakers
When it comes to casual workwear wardrobe essentials, sneakers instantly come to mind. There is something so fetching about a woman who's not afraid to wear sneakers to the office. It conveys a supreme air of confidence—no time to talk, I've got meetings to run and moves to make. Look for more refined materials (such as leather) for a casual shoe that's also a bit more polished than your run-of-the-mill canvas sneaker. A blazer adds to the casual professionalism, and will ensure the sneakers look office-appropriate. Put your hair up in a claw clip for a look that's put-together but requires minimal styling time.
For a casual Friday
button-up | jeans | satchel | loafers
Nothing says "casual Friday" like your favorite pair of jeans (Just ask Michael Scott about his Levi's). Baggy, wide-leg jeans are a fun, on-trend, and comfortable way to embrace casual Friday—just try to avoid destroyed varieties to maintain professionalism. Style them with a basic top—whether that be a button-up or peasant blouse with ruffles—and a pair of loafers. Accessorize the look with a practical and timeless satchel.
For a casual-chic vibe
tee | hoops | trousers | flats
If you want to elevate your casual look while staying as comfortable as possible, relaxed trousers are the way to go. Pair them with a basic striped top for a look that tips a hat to French fashion. Ballet flats are a no-nonsense shoe that add to the chic vibe. Finish the look with simple gold jewelry, such as an understate pair of gold hoop earrings.
For working from home

sweatshirt | shorts | slippers
It probably goes without saying that casual outfits are more than fair game when you work from home. While I personally love elevated casual while working from home (collared shirts, sweater vests, etc.), it's also totally acceptable to "show up" wearing your favorite loungewear set. Matching your top and bottoms will transform your outfit from feeling like traditional sweats to a vibe that's a bit more put-together.
For a hot summer day
Sundresses are a great jumping off point when putting together casual summer work outfits—so comfortable and effortless. Look for midi or maxi lengths and sleeved options to keep it office-friendly. Flat sandals are about as casual as it gets and can keep your feet comfortable if you walk to work (they're also way easier to walk for a commute than heels). It's a two-piece look that you can rely on from May through September.
For the girl who loves shorts
bodysuit | cardigan | shorts | sneakers
Not every office is cool with shorts. But, thankfully, for those of us who love shorts, some are. Opt for a pair of long, tailored shorts, and pair them with a bodysuit that'll be seamlessly tucked-in all day. Finish the look off with sneakers for a casual look that's perfect for a summer's day. Pro tip: Pack a cardigan in your bag in case the office AC is running cold.
For a cold day
As far as I'm concerned, UGG boots will never go out of style. They are simply iconic. And as someone who lives in upstate New York, I've also found them to be very practical. Style your Ultra Minis with a pair of jeans (wide-leg varieties are ultra comfy) and a sweater to stay cozy and casually put-together at your desk. Puffer jackets are also a must-have for frigid commutes.
For a fall day
sweater dress | riding boots | tote
As an upstate New Yorker, casual fall office outfits are near and dear to my heart. It is truly the time of year when my spirit comes alive (crisp leaves, long sleeves, and pumpkin spice everything, of course) and I love catering my clothing to the season.
When it comes to putting together a casual, office-friendly fall outfit, I constantly fall back on sweater dresses. They're ultra-comfortable, professional, warm, and can be playfully styled with any number of shoes, including (my favorite), boots! Grab a traditional pair of riding boots to add some posh to your casual look or a pair with rubber soles that can withstand rainy commutes. Mix and match to your heart's desire—you can't lose!