Unlike the coats you wear in winter to keep you protected from the elements, fall jackets are primarily chosen for fashion's sake. Sure, they're also a layer you throw on to keep you warm on crisp autumn days, but when you pick out a jacket to wear in the fall, it's all about what it'll add to your outfit. As we get ready to dip our toes in this season's fall trends, predictably, the jackets that are trending are in the running for what we're most excited for.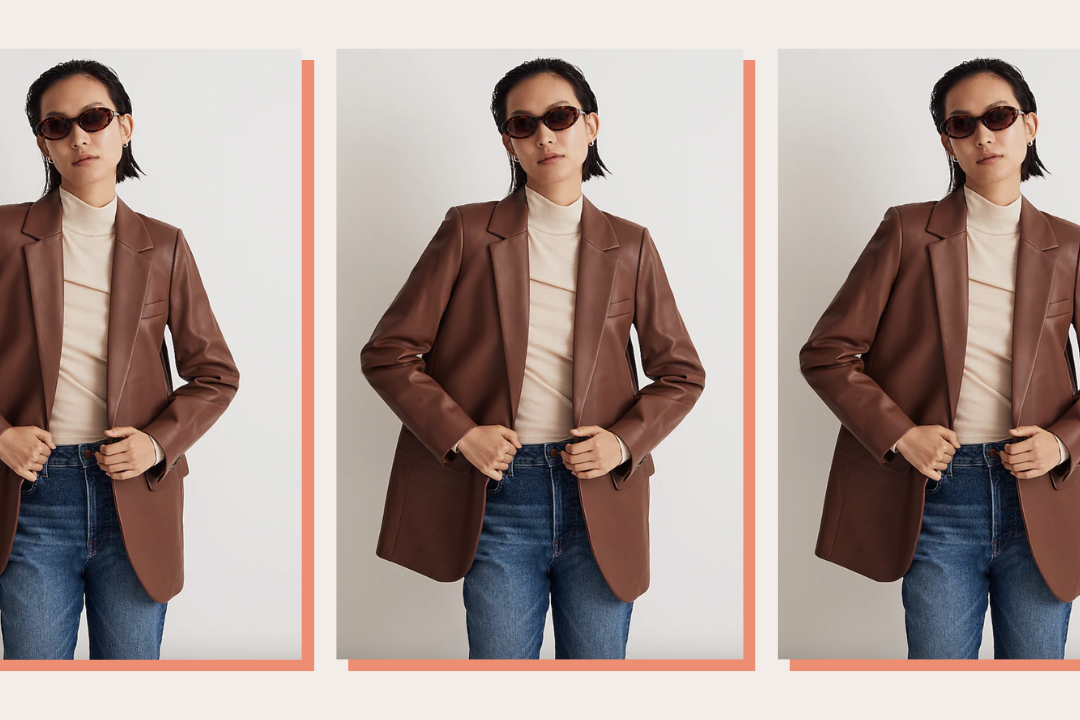 time for your fall wardrobe update!
2023's top trends are all about elevated basics and reworked vintage styles. While we'll continue to see nods to the early aughts, the styles of the '80s and '90s are being seen again (but don't fret, we're not dressing exactly how our parents did). Vintage silhouettes are being seen with more modern takes, and they're making our jacket game cooler than ever.
If you're looking for the piece that'll give you the most bang for your buck this fall, these jackets are it. Trust us: You'll be wearing them on repeat all season long.
Bomber Jackets
We saw bomber jackets make their way back onto the scene last year in the form of oversized leather versions that you couldn't escape when you opened up Instagram. It's safe to say that they're back for good, and 2023's takes on them feel completely fresh. Be it a classic oversized leather one or elevated wool version (remember last year's viral Zara bomber?) these can be worn with whatever your fall outfit plans entail.
Moto and Racer Jackets
Alexa, queue "Speed Drive" by Charli XCX, please. Add some fun to your jacket rotation this fall with a moto jacket. Giving ultimate cool-girl vintage vibes, we're seeing moto jackets both in oversized and cropped styles, but either way, they'll definitely be the main star of your outfit. Wear one with a mini dress on a night out or with wide-leg jeans and kitten heels for a date night, and thank us later.
Quilted Jackets
Coastal grandmother vibes, anyone? We've seen two types of quilted jackets pop up on our feeds lately: the blanket-quilt type, with various patterns or patches, and the puffer-liner-jacket type, typically in a solid color. No surprise here, but we're obsessed with both of them. This fall, we're styling our quilted coats with clogs and a farmer's market-worthy tote on our shoulder. Don't forget your hot cup of apple cider to top it off.
Lady Jackets
The lady jacket isn't just for power suits or office wear anymore. This fall, they're ready to take you to your casual days, too. This structured, collarless jacket is cropped around the hip, and is about as classic as a jacket can come. Wear yours to the office with trousers Monday through Friday, or pair it with relaxed jeans and sneakers for a weekend-ready look.
Trucker Jackets
You know how denim jackets go with literally everything and anything? So does a trucker jacket. A trucker jacket is essentially a simple, tailored jacket that usually has a wide collar and a zipper or button closure. Paired with sneakers and your favorite trousers, this look makes your everyday outfits a little more elevated.
Letterman Jackets
Did somebody say "Go team!"? A letterman jacket is our latest fall fashion obsession. You know the wrong-shoe method that the internet has been loving to make looks feel a little more fashion-forward? We're using letterman jackets in the same way: to add an unpredictable element to our favorite outfits.