If there's one thing that makes me feel put together, it's having my nails done. A fresh, glossy manicure can make me feel like a whole new woman – one that's much more sophisticated and chic than before. But, it's no secret that nail appointments can be expensive. That's why I took matters into my own hands (literally) a few years ago and taught myself how to master the art of dip manicures at home.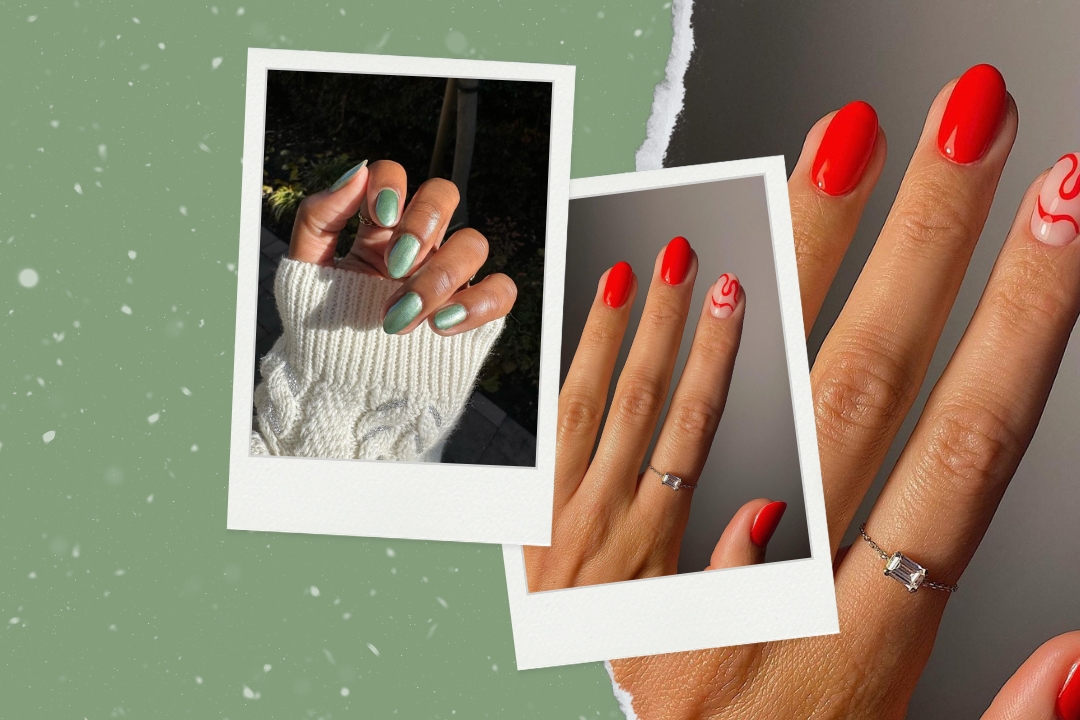 every one of them is a certified sleigh
If you're unfamiliar, dip powder nails (also known as SNS nails) are essentially a cross between gel nail polish and acrylic nail extensions. The main way dip nails differ from the two is that they involve dipping the nail into a powder as opposed to covering the nail in gel, paint, or acrylic plastic. This unique process is less damaging to the natural nails, which means weak, frail nails are a problem of the past. Plus, these kinds of manicures can last for up to four weeks and they don't require a UV light!
One of my favorite things about dip powder nails – aside from how good my manicures always look – is that the process is extremely easy to do myself. Here's a quick rundown of how the method works: First, you apply a clear base coat to a nail. Then, you dip that nail into a small jar that's filled with the colored powder of your choice. Once the powder is on the nail, apply a protective coat on top that seals the color. Overall, the process is quick, easy, and essentially mess-free. Not to mention, you don't have to spend a ton of time or money at the nail salon to achieve a long-lasting mani.
But, as with most at-home beauty treatments, DIY dip nails can come with different challenges. When doing them yourself, you might notice that your manicure looks lumpy or lacks shine. Luckily, there are easy ways to avoid those problems and instead get a gorgeous manicure from the comfort of your own home. Ahead, check out a step-by-step guide on how to dip nails at home like a pro.
How to Do Dip Nails At Home
To ~nail~ an at-home dip mani, all you need are the right tools and a little bit of time. In terms of tools, be sure you have a dip powder kit (that includes the base coat, activator, dip powder, and top coat), a nail file, a buffer, a cuticle pusher, and a small nail dust brush. Then, follow these easy steps and you'll never have to go to a nail salon again.
Step 1
Before you begin your mani, make sure your nails are ready for the treatment. To do so, remove any existing nail polish or gel. Once your natural nails are bare, trim and file each one to the desired length and shape you want. Pro tip: Gently push back your cuticles with a cuticle pusher to make your nails appear longer and keep your cuticles healthy.
Step 2
Apply a thin layer of base coat to one nail. Immediately after the base coat has been applied, dip the nail into the jar of dip powder. Leave your nail in the powder for a few seconds, ensuring your entire nail has powder on it. Then, take the nail out of the jar and tap off any excess powder. You can also use a nail dust brush to clean off the entire nail and to help avoid clumping. Proceed with this process for each nail.
Step 3 (Optional)
Depending on how bold you want your nail color to be, you might have to repeat Step 2 about two to three times. To do so, simply apply another layer of base coat and dip your nail into the powder again.
Step 4
Once all of your nails have been dipped in the powder, apply the activator. Allow it to dry for two to five minutes.
Step 5
Once the activator is dry, buff your nails to achieve your desired finish.
Step 6
Finally, apply a thin layer of top coat to each nail, making sure to cover the entire surface. Let the top coat dry for at least two minutes.
15 Dip Nails Ideas
Whether you're totally new to DIY dip nails or you're basically an at-home nail technician, these cute and creative ideas are perfect for your next mani. Ahead, check out the best dip powder nail ideas for beginners, experts, and everyone in between.
Milky Dip Nails
There's nothing quite as chic as a soft, milky mani. To achieve this look at home, opt for a dip powder nail kit that offers transparent colors. (Dipwell has an entire 'Milky' collection.) To make nails extra milky, only dip your nails in the powder once.
Red-Hot Dip Nails
Want something bold? Go all in with a bright red mani. To nail this look, start by filing your nails into rounded almond shapes. Then, dip your nails into the powder two to three times. From there, finish it off with a high-shine top coat.
Hailey-Bieber-Inspired Dip Nails
It's a fact: Everyone wants Hailey Bieber nails. To get this look, use the OPI Funny Bunny Dip Powder and top it with a chrome powder.
French Manicure Dip Nails
Trust us, you can't go wrong with a French manicure. To achieve this look at home, start by applying a light base coat to the nails. Then, dip the tip of your nail into the white powder. Once the white powder is on the nail, gently shake some pink powder onto the nail bed. Repeat this on every nail. (You can also watch a tutorial here.)
French Tip Design Dip Nails
Take the classic French manicure to the next level by incorporating a fun French tip design. You'll need a jet-black dip powder for the tips as well as a light beige or pink for the base depending on your preference. From there, create a V-shape on the tip of your nail with the base coat. Dip the tip of your nail into the black powder. Once the black powder is on the nail, gently shake some beige or pink powder onto the nail bed. Repeat this on every nail.
Double French Lines Dip Nails
If you can't tell, we love all variations of French manicures. This double French line idea is ideal for the beauty buff who wants to explore the realm of French tips without straying too far away. To achieve this look, just add a thin layer of base coat underneath each tip and gently dip every nail into the white powder. Done and done.
Spring-Inspired Dip Nails
Tell us, is there anything better than a floral nail design? If you want to try out this look, you'll need some time, patience, and commitment. However, the results are well worth it. To start, we suggest coating the pointers, pinkies, and thumbs in the dip powder first. Once those fingers are done, it's time to get creative. Use the base coat to design little flowers on the middle and ring fingers, and gently shake the different colored dip powders onto each one. (If floral designs are too hard for you to do yourself, we don't blame you. Opt for press-on nails instead. FYI, Glamnetic has a super cute floral set.)
Glitter Dip Nails
If you have a special occasion coming up, you need a special nail design. Our suggestion? Choose something glittery. There are tons of glitter dip powders that will turn your nails into a masterpiece. If you really want to get creative, get a glitter dip powder kit that comes with multiple glitter colors so you can make the most of every nail.
Glitter Accent Dip Nails
Make your mani stand out by adding a glittery accent. Simply coat four nails in the dip powder color of your choice, and dip the remaining finger in a glitter dip powder.
Pastel Dip Nails
Pastel hues never go out of style. We love this creative pastel look because it's noticeable without being too statement-making. For best results, we suggest dipping the pointer and pinky fingers into the pastel dip powder color of your choice first. Once those nails are done, apply a base coat to the middle and ring fingers. From there, create a swirly design with the base coat that the white and pastel dip powders can cling to. Finish it off with a shiny top coat.
Jelly Dip Nails
If there's one trend we can't get enough of, it's jelly nails. These ultra-glossy nail designs are playful, pretty, and perfect for any season. Plus, they're easy to do considering Dipwell has a full collection of cute jelly hues.
Neutral Dip Nails
Sometimes, less is more. If you're in the mood for something subtle, chic, and low-key, you can't go wrong with neutral nails. We find that it's best to only do one coat of dip powder if you want them to be on the sheer side.
Neutral Ombré Dip Nails
If your neutral nails a little oomph by adding an ombré twist. All you have to do is keep the tip of your nail in the powder for a few seconds longer than the base, and you'll be left with a stunning ombré hue. You can try this with any color you please.
Half-and-Half Dip Nails
Stuck between two colors? You don't have to choose! With this half-and-half nail design, you can have the best of both worlds. Simply coat half of your nail in base coat and dip it in the color of your choosing. Then, coat the rest of your nail in base coat, and dip it in the other color of your choosing. To get a matte finish, buff your nails after the top coat has been applied.
Rainbow Dip Nails
Let all your favorite colors shine with a rainbow manicure. Simply coat each nail in base coat and dip them into the colors of your choosing. (Note: It's best to get a dip powder set with a selection of colors.)