Whether you watch The Kardashians or you're one of her 260 million IG followers, you know Kendall Jenner is no stranger to the spotlight but also to the wellness scene. IV therapy, cold plunges, meditation sound bowls, and journaling are a few wellness practices she religiously stands by. If that doesn't convince you of her self-proclaimed health obsession, her state-of-the-art room dedicated to all things wellness will. Complete with a hyperbaric chamber, red light therapy bed, and oxygen therapy machine, it's every wellness girl's dream (major envy). Gadgets and gizmos aside, Kendall has open dialogues with the media and on social media about her mental health and struggles with anxiety.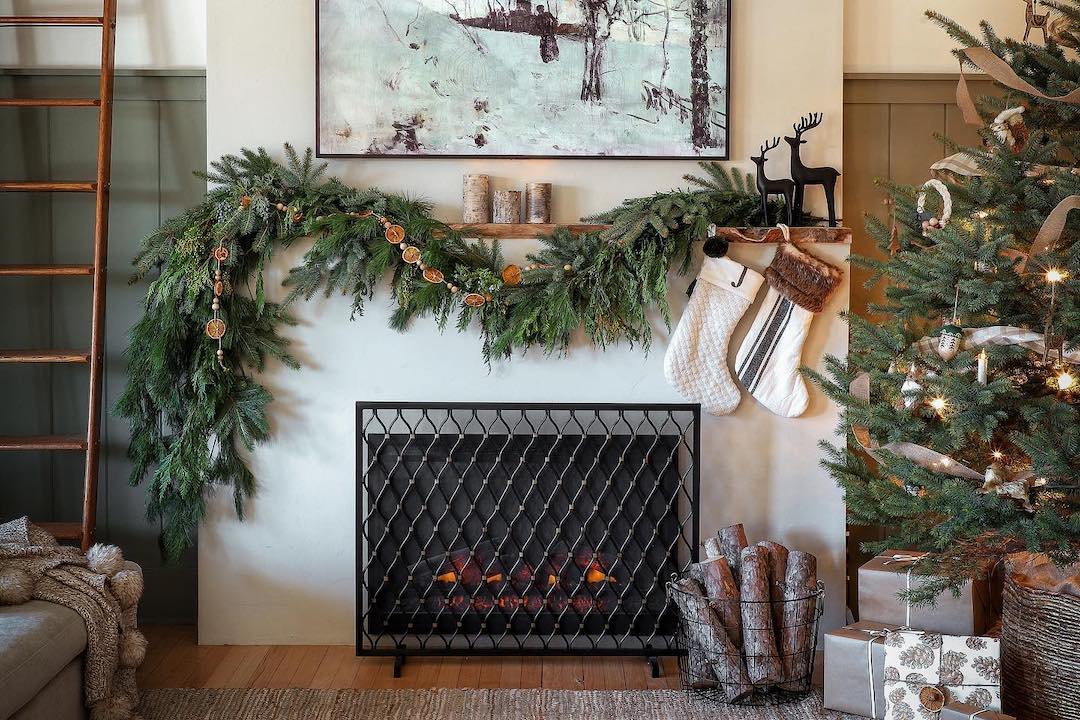 there's still time to deck your halls
Thanks to her recent interview with Jay Shetty on his podcast, On Purpose with Jay Shetty, I got the 411 on her self-work and steadfast wellness rituals. Read on for how she stays in tune with her highest self. Spoiler alert: They're practices you won't find on Hulu or Instagram, and we can all benefit from them.
Foster your higher goddess
In Kendall's work with her therapist, she focuses on living in her higher goddess, AKA her higher self. What does that look like? Words of affirmation, reassuring yourself of who you are, and recognizing everything else is just noise. "Sometimes it feels weird to say good things about yourself, but I've also learned a lot about talking to myself and a lot about looking in the mirror and being like, 'You're great. You're gorgeous. You're amazing. You're loyal. You're positive.'"
Admittedly, Kendall falls victim to false narratives. Like us all, she has moments she struggles to stay true to who she is and her purpose. "If your happiness depends on the actions of others, you're at [the] mercy of things that you can't control," she stated. Kendall emphasized holding your own happiness and not letting anyone else affect it. If you know yourself and the people important in your life know your true self, nothing else should matter. When Shetty asked Kendall, "What's something you used to value but you don't value anymore?" Her answer? Validation.
Set aside alone time
It's no secret that Kendall is surrounded by a large family and famous friends (hey, Hailey Bieber) in addition to her entourage. But she told Shetty that since she was a kid, the Scorpio in her enjoyed being by herself. "I went through a phase where I felt like I had to be around people," shared Kendall. "I think I live a very social life, and my job is very social, so I was kind of conditioned to want to be around people a lot. And then, as the pandemic came around, you're not around as many people anymore. Now I'm just re-enjoying being by myself, which is really cool."
At the end of the day, Kendall craves a simple routine. Her perfect day consists of riding her horses, taking a cold plunge, laying out, and journaling. Taking a cue from Kendall, give yourself space and step away when needed. Additionally, be comfortable in your own company. Sometimes the best remedy for a bad day is journaling (yes, it bears repeating), taking a solo walk outside, meditating, or picking up a new hobby.
Set boundaries at work
Let's face it: We all experience burnout, celeb or not. Kendall expressed there was a long period of time she was overworked, felt overwhelmed, and said "yes" to every opportunity—to the point where she was unhappy (anyone else relate?). Eventually, she learned to prioritize herself. She realized her well-being was necessary to show up better in her personal and professional life. So, she took a step back in her career to reconnect with her higher self: "I got to that point, and I just knew I had to do it…" Kendall explained. "It was just such an unbelievable sensation that I had where I knew that if I do this, I'm gonna be better for everyone. And I'm gonna be better for myself, which means I'm gonna be better for the people around me."
Learn to recognize the signs of burnout (think: fatigue, feeling apathetic with your work, changes to your sleep patterns). Then, enforce work-life boundaries to care for your mental health and restore a healthy balance. Maybe that means being upfront and clearly communicating with your boss or taking time off. Or, it's just saying "no" to taking on more projects or a meeting invite scheduled during your lunch break. Ultimately, your mental and physical health should be your number one priority (I know that's sometimes easier said than done),
Stay grounded in your relationships
When it comes to her family and friends, Kendall told Shetty that honesty and communication are her core values in maintaining healthy relationships. "I find it really important to not feel like you're on top of each other when you have your family around or your friends around," she said. "It's OK to sometimes, even if you're at a family dinner, run to the bathroom and just being like, 'Let me just take a couple breaths because this is getting overwhelming.'"
Kendall shared that she's prone to anxiety and can take things too seriously. When she feels inundated with family circumstances or stress, she recognizes her feelings: "I'm allowed to feel this way; it's valid. I'm just going to take a deep breath, and I'm not going to react, and then I'm going to go back out there, and I'm going to be fine." Try being in Kendall's shoes (wouldn't that be fun?) and pause whenever you feel overwhelmed. Give yourself a safe space to express your feelings through journaling, speaking to a mental health professional, or practicing deep breathing.
Nurture your inner child
After coming across a viral TikTok trend encouraging viewers to stop negative self-talk by picturing their younger selves, Kendall's therapist suggested she put a spin on it and find a photo of herself as a child to put on her bathroom mirror. Take a glance at her Instagram, and you'll see the Polaroid of young Kendall. It serves as a daily reminder that anything negative that she says about herself, she's saying to that beaming, hair bow-wearing younger version of herself. "If I'm ever looking in the mirror and being negative toward myself, I always look right over to her, and I'm like, 'She's dope, and I love her,'" Kendall laughed.
Bottom line: Practice self-love and find tactics that work for you. If you're not sure where to start, try exercising mindfulness, putting yourself and your needs first, or simply making yourself a healthy meal. Regardless of your method, keep being kind to yourself, just as you would your 5-year-old self or BFF.