I don't know if you can tell, but we really like fall here around Everygirl HQ. October is my own personal fave — I think it's the best smelling month. There's something indefinable about the scent of crisp air and falling leaves and the bracing promise of winter just around the corner. Now that I've waxed poetic about October, let's get on to the point of this whole thing — no-fail outfit formulas for your favorite fall events, from pumpkin patches to a night out on the town. It's basically your October fashion survival guide. See you on the other side, friends.
Pumpkin Patch, Apple Orchard, or Corn Maze
There is nothing more fall than a pumpkin patch or an apple orchard or, my personal favorite, a winding corn maze (preferably walked with craft beer in hand) — and there is nothing that goes better with any and all of these autumnal activities than a plaid button down. Pair it with a cozy thermal and relaxed mom jeans.
Jacket / Plaid / Thermal / Jeans / Booties / Sunnies
Date Night
A leather jacket is the perfect layer for a fall date — it never looks like "too much" and yet it goes with absolutely everything, from black jeans to tops with frills. Plus it's cozy enough for an outdoor date or an after dinner walk. Happy smoochin'.
Leather Jacket / Blouse / Black Jeans / Tall Boots / Gold Earrings
Tailgating
Layers are your best friend when tailgating — all that jumping up and down and cheering your team on will ensure you'll need to shed a few throughout the day and you'll also be set if you encounter that weird fall thing when the sun comes out and it's BLISTERING for like four minutes and then boom no sun and it's a freezing tundra again. Wear your favorite jersey over a comfy long-sleeve sweater and throw a cozy puffy vest over the whole shebang. Points for adding a dirty button a la Emily Gilmore.
Puffer Vest (comes in 3 colors!) / Mock Neck Sweater / Jeans
Slouchy Hat / Sunnies / All-Weather Boots
Scary Movie Night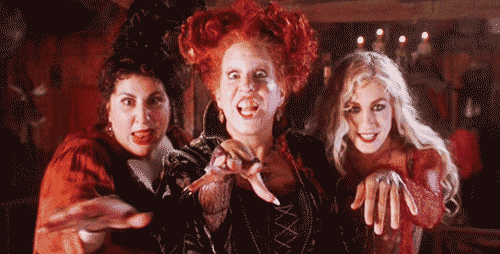 I'm a firm believer in crewneck sweaters and also that Hocus Pocus is the scariest movie I ever want to encounter. There's nothing better for movie night than the stretchiest of leggings, the coziest of socks, and a truly ginormous blanket. (Space heater not included but always preferred).
Graphic Crewneck / Leggings / Cozy Socks / Throw Blanket
Night on the Town
Last but not least, one of my absolute favorite things to do in the fall is to get all dressed up and hit the town. I'm talking fancy cocktails, a steak dinner, take in a show at the theater… the works. In my humble opinion, fall and winter are the best times to do this because you get the Big Reveal — the moment you take off your coat and wow everyone with your heretofore unseen outfit. Slay girl.
Coat / Dress / Double Hoop Earrings / Heels / Satin Clutch