CCENTDecember can be a stressful time, filled with jam-packed schedules, shopping for gifts, and a holiday party penciled into every night of every weekend—all while trying to find a moment to enjoy in the season. The perfect place to do that? Peyton and Shelly Boles' cozy Texas cabin.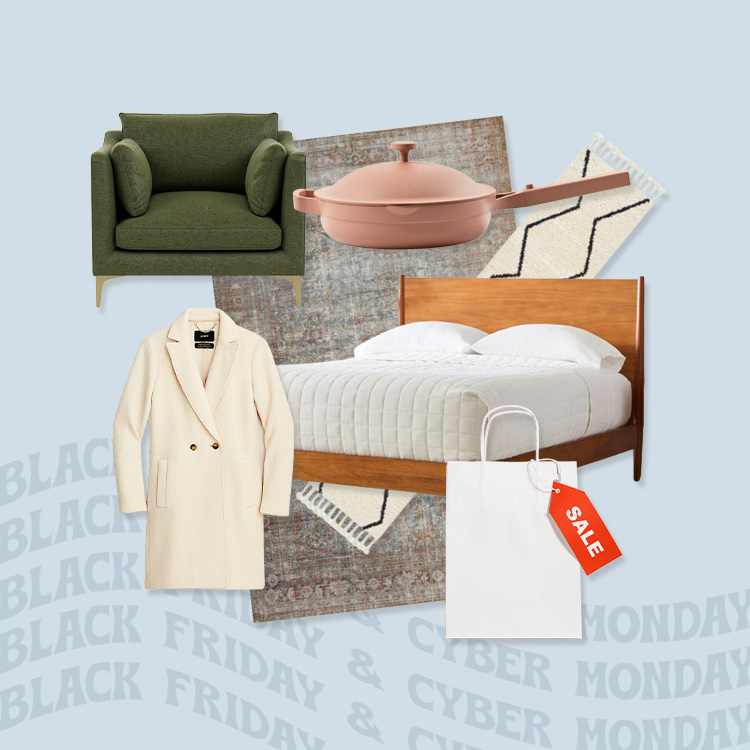 we combed the internet for the best OMG-CANNOT-MISS deals
To put it lightly, Peyton and Shelly's home looks like something straight out of a Christmas movie. Vintage ornaments, faux fur, twinkle lights, ceiling-high Christmas trees… all rolled into their incredible cabin—it's the stuff dreams are made of.
Peyton and Shelly talked to us all about how they decorate for Christmas, how they shop for decor, and what their Christmas morning looks like.
Name: Peyton (daughter) & Shelly (mom) Boles, Owners of Bob & Ginger Co.
Location: Hill Country, Texas
Sq. Ft: 3,000
When do you start decorating for the holidays?
Most years we begin decorating after Thanksgiving, but the past two years we've started in early November.
Tell us about your holiday decorating process.
We tend to change it up throughout the years. We don't buy in bulk, so we repurpose items, but make simple changes like adding colors or statement pieces. This year we went for a rustic-glam feel with reds, natural greenery, and pops of silver and gold. We always add a simple amount of glass ornaments to the tree.
Some of our favorite items to use are greenery and fruits, which we can access right outside the front door. We mixed in antlers with stockings this year for a rustic look, and vintage-styled ornaments on the tree for glam, and topped it off with twinkle lights. We always aim for cozy! There is just something about a cozy cabin that is good for the soul.
How do you budget when it comes to decorating seasonally? (Things can get expensive for such a short time of the year!).
We are low budget. We re-purpose most everything during the holidays, add natural greenery, and occasionally buy a few new statement pieces. We try and cozy things up with throws, scents, lighting, and bringing in color.
Where do you shop for holiday decor?
We search vintage at local flea markets, Etsy, small businesses around the Hill Country—and yes, Target and Home Goods!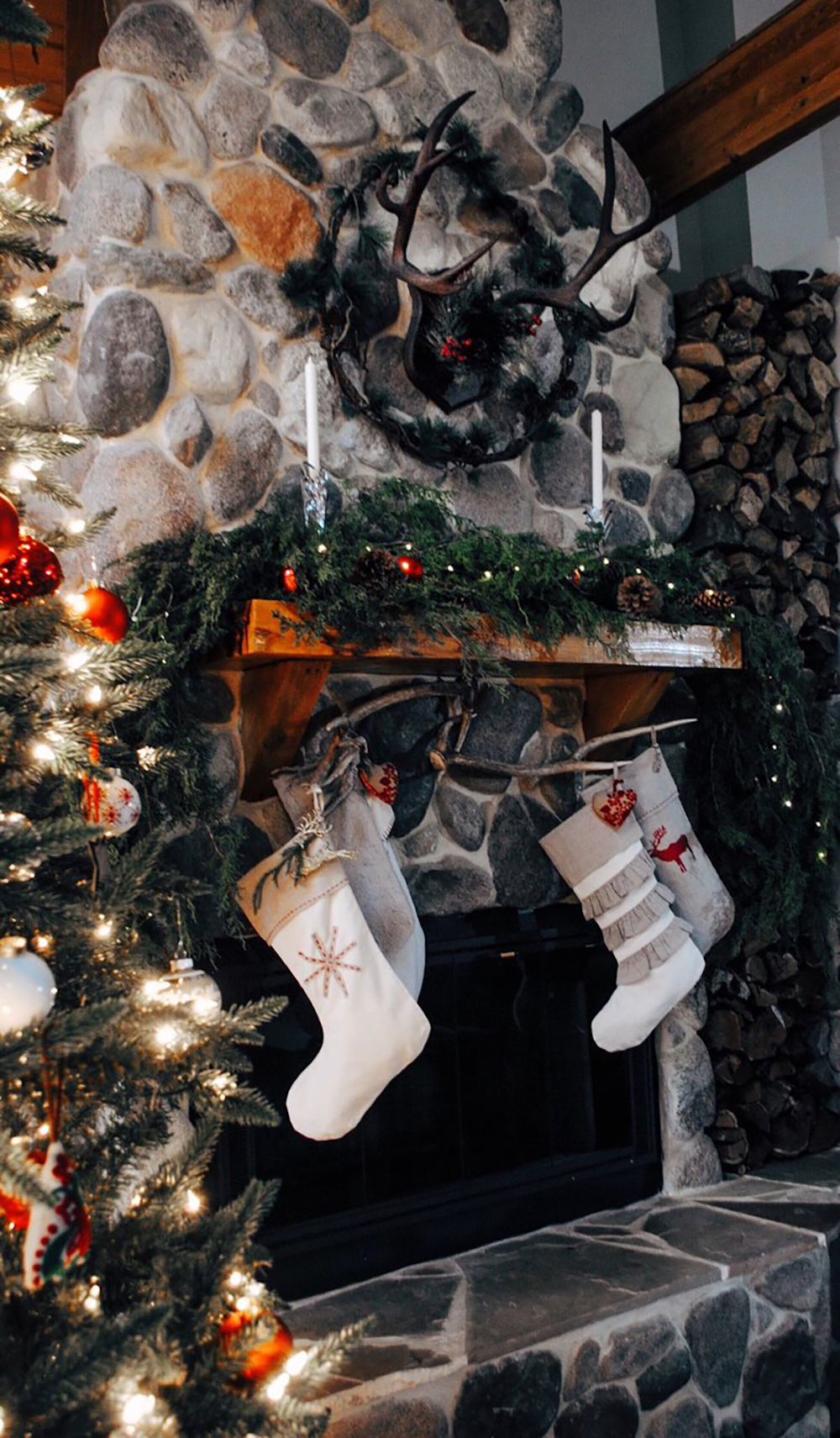 Do you have any holiday traditions that are special to you?
We do have our traditions of cooking and baking together. We love late night Christmas shopping and planning our holiday designs, but we also try new things every year, and sometimes that's the best part. This year we pulled out old holiday records to play while we decorate or bake.
Do you have any tips for readers who may live in smaller apartments (and who are on a budget) who might not be able to decorate to their heart's desire?
Yes! Bring in greenery from outside, or sometimes you can find free clippings at tree farms or Home Depot. All you need is a good pair of sheers and zip ties to make your own garland or wreaths. Twinkle lights are very inexpensive and make things instantly cozy. Also, low lighting and candles are an easy way to add ambiance during the season.
What was your childhood home decorated like at the holidays, compared to your own as an adult? Did you take any influence from your childhood when putting your own together?
One of us grew up in the '70s and one from the '90s. I believe we took a combination from both of those decades and evolved. We have always loved adding color in our Christmas decor and wrapping presents—which is not the norm. We tend to lean toward vintage ornaments and unique statement pieces that will last for years.
How has decorating for the holidays evolved over the years for you?
Over the years, we started to buy less and bring the outside in with greenery and fruits for color. One thing that never changes is our love for vintage ornaments, faux fur, and twinkle lights.
Have you slowly been collecting your holiday decor over the years, or did you purchase it all at once?
We re-use all the Christmas decorations we have been collecting for many years and add just a little to the collection each year.
Do you have a favorite ornament on your tree?
Our favorite is a handmade, vintage angel tree topper we use every year.
Overall, what's your favorite thing about celebrating in your home?
We love being together as a family and the slower pace of the season. The memories we make are always the best part of the holiday season. Christmas Eve is especially a favorite in our home, there is just something that feels magical about that night no matter how old you get.
What does your Christmas morning look like?
Christmas morning at the cabin starts with a long breakfast, hot coffee on the back porch, and a Christmas movie; a slow morning, feeling especially grateful for our family.
Do you have any kid- or family-made decorations that
must
go up every year?
Yes! We bring out all the handmade ornaments and put them on our upstairs tree in the loft. It's the favorite in our house! Ornaments are like old songs when you bring out the vintage one—it takes you back to the year you got it.
How do you get the whole family involved in sprucing up your home for the holidays? Do you have any decorating traditions?
We always play Christmas music and light the holiday candles when we decorate. The whole family will decorate the upstairs tree, and the rest is mom and I. We plan out our holiday styling/game plan in early November, and each year we change up our wrapping designs. We begin around or after Thanksgiving, and sometimes decorate up until Christmas Eve.
Peton and Shelly are The Everygirls…
Hot chocolate or hot cider?
Hot cider!
Favorite Christmas song?
Shelly: All the oldies, my parents, played on a record player
Peyton: Country Christmas Loretta Lynn
Favorite Christmas movie?
S: Four Christmases
P: All the Hallmark movies
Favorite Starbucks holiday drink?
S: Americano with one pump peppermint and light cream.
P: Iced coffee with two pumps of peppermint and almond milk.
The best gift you've ever given?
The best gifts are always sentimental, experiences or handmade gifts.
Gift at the top of your wishlist this year:
S: Lucchese boots or a Charlie One Horse hat
P: Live music tickets or a vintage Persian rug
The great debate: when do you start listening to Christmas music?
December 1st-25th!
GET THE LOOK