Raise your hand if you agree: November went by way too quickly. I don't know where the month went, but suddenly Christmas music is playing on repeat, trees are lit in my neighbor's windows, every store is decked with holiday decorations, and every catalogue that arrives at my apartment is chock-full of gift ideas. And I'll admit, while I love the holidays as much as the next girl, I'm feeling a bit overwhelmed. Mostly because once December hits (tomorrow!), I know it's the beginning of holiday party season, which means I'll stress about what to wear—and more importantly, what to bring as a gift—for about three weeks straight.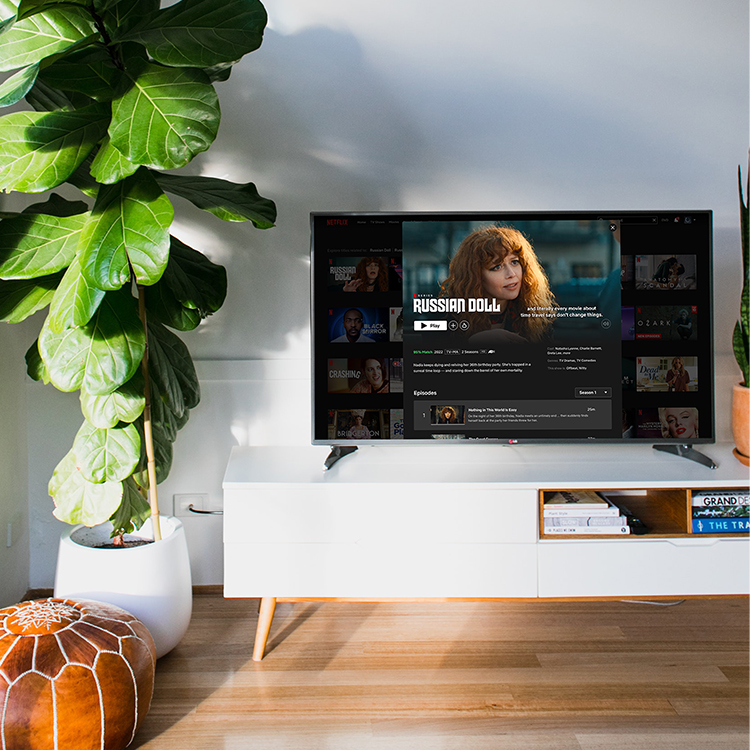 stop mindlessly scrolling on Netflix—these shows have our seal of approval
So, in order to ease my anxiety, this year I decided to simplify things and gift the one item everyone loves: WINE. Whether you're invited to a holiday party, a white elephant gift exchange with girlfriends, or dinner with the boyfriend's parents or your in-laws, a good bottle of vino is a pretty foolproof gift. But because showing up to a party with just the wine sometimes feels boring, we're breaking down three ways to spruce up your wine gift this holiday season with help from our friends over at Kendall-Jackson.
According to Emily Papach, a master sommelier (the highest level of trained wine professional) with the Kendall-Jackson family winery, the type of wine you gift speaks volumes, so make sure you're being intentional when navigating the wine aisle. "Wine is a really personal thing, and everyone has a different threshold for price point," she says. "But you really can't go wrong when gifting it. In general, in celebration of the season and the generosity of gift giving, wine is a really good fit because it shows that you're thinking of the recipient, and you're also gifting them with something they can immediately use and toast to the holiday season."
We couldn't agree more, and today, we're sharing three DIYs to elevate your wine-gifting game this year. As an added bonus, receive 20 percent off your next wine purchase and free shipping at KJ.com using promo-code KJxTEGWineNights, now through the end of December 2016!
WINE GIFT #1: THE TEA TOWEL
Perfect for: A holiday party, neighbor, or the hostess with the most-est
​Price Point: Under $20, plus cost of wine
What You'll Need:
Wine of choice: Kendall-Jackson AVANT and Kendall-Jackson Vintner's Reserve Pinot Noir. K-J AVANT Red Blend is fruit-forward and smooth, perfect for a more casual celebration with friends. K-J Vintner's Reserve Pinot Noir, with flavors of red fruit and elegant earthy notes, is soft and toasty, making it ideal for your next dinner party.
A patterned tea towel
Twine or ribbon
How to: While there are a variety of ways to wrap wine in a tea towel, we're sharing two of our favorites here.
For a Cleaner Look:
1. Lay the tea towel vertically on a flat surface, and fold the bottom half of the towel up to the top corners (this step will depend on the size of your towel).
2. Place the wine in the lower left corner of the tea towel and fold it over the curve of the bottle.
3. Continue rolling the bottle on its side until you've reached the end of the fabric. You can secure the overlapped fabric with a straight pin if needed.
4. Tie a ribbon tightly at the bottom of the bottle's neck, and be careful when handling, as there is no tea towel to support the bottom of the bottle.
For a Craftier Look:
1. Lay the towel vertically, and place the bottle vertically as well, with its bottom at the halfway mark of the towel. Fold the bottom of the towel up so it covers the bottle.
2. Take the right corner of the towel and fold it upwards towards the bottle, making a triangle.
3. Repeat with the left corner.
4. Fold the right side of the fabric inward towards the bottle.
5. Repeat with the left side so it overlaps.
6. Fan the top edges of the towel to your liking, and secure with a ribbon at the base of the bottle's neck.
WINE GIFT #2: THE CHEESE BOARD
Perfect for: The boyfriend's parents/in-laws, boss, when you're looking to really impress
Price Point: Under $30, plus cost of wine
What You'll Need:
Wine of choice: Kendall-Jackson Grand Reserve Chardonnay is a showstopper, meaning it's a bit more serious. You'll find lush tropical fruit flavors, intertwined with lemon, lime, and floral notes, elegantly layered with a hint of vanilla and spice.
Baguette
Cheese: Double cream brie or a creamy goat cheese will pair perfectly with K-J Grand Reserve Chardonnay. Also consider asiago and Havarti.
Ribbon
Special touches: rosemary, twine, a gift tag, citrus, and nuts
How to: Secure the baguette with parchment and twine. Place both the baguette and selected wine parallel to one another on top of the serving board. Position the cheese on top of the baguette, and secure all items with a thick ribbon. Tuck a piece of rosemary and a decorative gift tag underneath the ribbon.
Wine and cheese are obviously a great match. But beyond that? "Nuts are a great option to gift with a red, like a pinot noir," Emily says. "They've got the fats and salts, which pair really nicely with alcohol and acid in wine: cashews, almonds, or pistachios would be my number one picks." For whites, she recommends fruits, as opposed to sweets like cookies. "Especially at the holidays, there are so many sugary desserts, so opt for a nice basket of citrus. K-J AVANT Sauvignon Blanc with grapefruit and oranges would be my pick. It speaks to the season and it's a really nice complement to that variety."
WINE GIFT #3: THE DIY SPA NIGHT
Perfect for: The white elephant gift exchange or a close friend
Price Point: Under $50, plus cost of wine
What You'll Need:
Wine of choice: Kendall-Jackson Vintner's Reserve Chardonnay, a wine you can't go wrong with! With tropical flavors, such as pineapple and mango, aromas of vanilla and honey, and a hint of tasted oak and butter, K-J Vintner's Reserve Chardonnay is both divinely complex, approachable, and exceptionally food-friendly.
Wire basket
Small bouquet
Bath goodies
Scented candle
Pretty matches
Special touches: Decorative ribbon and straw
How to: Place straw at the bottom of the wire basket, and weave decorative ribbon through the basket's slots. Lean the wine against the back left corner of the basket, the flowers against the right, and position bath goodies and candle accordingly—with taller items in the back and shorter towards the front.
In the case of a white elephant gift exchange, you won't know the recipient or her particular tastes, so what varietal do you choose? Emily compares it to comfort food: stick with the classics. "If you invite someone over for dinner, you're not going to cook your most exotic Thai recipe. Same with wine. Stick with a chardonnay or sauvignon blanc for whites, and a pinot noir or cabernet sauvignon for red," she says. "These are wines that have mass appeal, which is why we see them so often in the market. You can't go wrong with the classics."
If you're the one playing hostess this season (and end up with six uncorked, partially consumed bottles post-party), how long should you keep 'em before tossing? "It varies from grape variety to grape variety," Emily says. "But there are some general rules of thumb. To extend the shelf life of those bottles, you should first put a cork on them immediately after pouring. Any time wine is exposed to air, it shortens the life of the wine."
Temperature can also extend the life of a bottle. "Even with reds, I would put in the refrigerator immediately," she says. "The lower the temperature the slower the evolution of the wine, so if you're not going to touch a red for another 2-3 nights, refrigeration is a key player." For more simple entertaining tips, from serving temperatures and food & wine pairings, to a party planning calculator that helps you determine how much wine you'll need at your event, check-out Kendall-Jackson's new entertaining tools page.
The key takeaway? Giving wine is like any other gift—it's the thought that counts. If you go with one of the DIY options above, you'll be including an extra-thoughtful, personalized complement to the bottle. And everyone can toast to that.
This post is sponsored by Kendall-Jackson but the opinions within are those of The Everygirl editorial board.