Dog walker turned reality show winner turned TV show star isn't a career path you hear of very often. But over the past ten years, LA darling and interior stylist Emily Henderson has accomplished just that.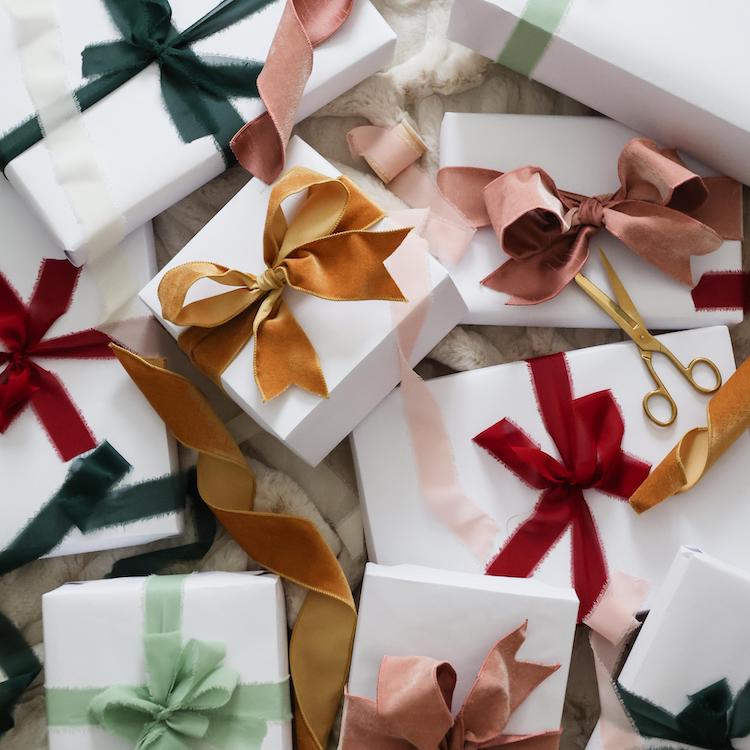 the perfect gifts for everyone—and we mean everyone—on your list
After earning a liberal arts degree in Oregon, Emily, like so many creative dreamers before her, moved cross-country to pursue life and success in the Big Apple. But without any clear career direction and bills to pay, she took on a number of odd part-time jobs (bartending and dog walking) before landing a position at Jonathan Adler. From there, she connected with stylists and signed on as an assistant after much persistence. Fast forward to 2009, Emily applied to be on HGTV's Design Star, won, and has since been producing her own show for the network, Secrets of Stylist, works full-time for herself, and has garnered design enthusiast fans across the nation (including a number of celebrity fans!).
We are so grateful Emily was willing to not only share her story with us today, but she also invites us into her office.
Full Name: Emily Henderson
Age: 33
Current Title/Company: Home Style Expert, Host and Designer of Secrets from a Stylist on HGTV, Writer/producer of daily style blog Emily Henderson
Educational Background: Degree in History and English from University of Oregon
Year you started your business: 2007
What was your first job out of school and how did you land it? 
Dog walker. However did I land that job? I had moved to New York not knowing what I wanted to do so I was bar tending at night, walking dogs during the day and taking design classes in between. It sounds like a shit job, pun intended, but it was pretty great. I just hung out with dogs all day, and i knew all of them and had real relationships with them so it was a strangely great job.  And yes at times 5 at a time, just like the movies.
How did you get involved in prop styling? What does that work entail? How is it different from the design work you do now? 
I started working at Jonathan Adler and quickly met stylists that rented pieces from them so I sent them all my resume with a very compelling cover letter (which worked, not the resume) and I started assisting. I assisted an amazing stylist, Cindy DiPrima, for 4 years who taught me everything.  The work is a big combo of shopping, schlepping, resourcing, obsessing, getting options, schlepping, crafting, composing on set, getting options, packing, unpacking, coordinating, arranging messengers, doing returns, and schlepping. It's a lot of work but a LOT of schlepping.  You literally wouldn't believe how many bags I can carry at a time in New York. I would walk into dinner with my friends with 12-13 bags, all too small to messenger individually (because that's $80 a pop) so it just made sense to carry them. On set the stylist is responsible for everything you see: the wall color, flooring, every piece of furniture, accessory, and flower. We set everything up and then the photographer, art director, photo editor, client, and stylist tweak things until it's obsessively perfect.
As far as how it's different now, there are a few things: 1. I don't obsess about the teeny things as much. I used to splurge, like $70 for the most perfect spoon because that spoon was going to really make the shot. But for TV the small stuff doesn't show up, so it's just a waste of money. Instead I splurge on big impact pieces, or dare I say 'wow' factors. 2. As a host of the show, I get credit for the work. I find it baffling that stylist aren't more revered and credited by the magazines or ads that they work so hard on.  So there is more satisfaction when you see your name (or face) on something. 3. With real homes things aren't torn down immediately after they are shot so you have the emotional reward of actually improving people's homes and lives. 4. But unfortunately in real life things have to be more functional. On set as a stylist you can rig drapery with duck tape, you don't have to really know all the different window treatment options, how to properly install them or care for them. A stylist cares way more about how things look and the feeling a space projects in one particular shot, whereas a designer you have to think about how things function, the needs of the homeowners, that the amazing brass trunk with some protruding shards of metal can't actually be in the home with the two year old.
How did you decide to apply to be on Design Star? What was that experience like for you?
I was a big HGTV fan but I didn't feel like there were very many shows that were very 'me.' But I really had no intention of changing it; I wasn't a big 'I should be on TV' person. But when we saw the post for design star auditions (on Craigslist), Brian insisted that I audition. The whole thing was totally nuts.  It was a 6-week adrenaline rush. 5am – 12am everyday, quarantined from all contact with friends and family, competing every day for your dream job. All said and done I do think that I was the right person for the job (although my friends Dan and Casey could have taken it at any point), but man I still can't believe I won. I was pretty terrified and had wildly less confidence than I do now. It was an incredible experience that I'm obviously extremely glad I did. It totally changed my life, propelled me toward success, and gave me the validation to really make things happen.
How did winning Design Star change your career?
It totally propelled me into a career that I had no idea that I wanted. It's opened a million doors, gave me tons of validation, made me financially stable, and I even got better hair. It's just pretty much the best thing that I've ever done.
What are some of the challenges you face in producing your own show, Secrets From A Stylist, and running a successful design business?
Figuring out how to profit is hard–especially when you love what you do and you love your clients. I tend to always want to throw services in for free or not properly charge for my time because it's so fun so it doesn't feel like a job, but ultimately it is my job, and I have a staff that I have to support. Figuring out how to qualify and quantify creative services is so hard. I've made a ton of mistakes this year and have learned some very hard lessons, but I'm super grateful to have learned them; that's for sure.
Best moment of your career so far?
Being able to be picky by turning down jobs that I just didn't want to do and 2 years ago would have had to say yes to. It's weird that saying the best moment is when I said 'no' but it means that I'm no longer a slave to my debts and bank accounts, and I'm now more in control of my life. Of course when Jerry McConnell told me that he and his wife Rebecca Romijn Stamos (and their friends) watch Secrets from a Stylist religiously it didn't hurt either, and made me feel really good. Strange how validating random famous strangers can be. It shouldn't be this way, but sometimes it just is.
Your blog is so beautiful and well done. How do you maintain frequent posts with so many other priorities? Do you recommend blogging as a marketing tool for other designers?
My blog is absolutely my best marketing tool. It's totally made my career. It's also one of my favorite things to do, but I have to make it a major priority or else it won't get done. It's what I wake up doing from 7am til 10am every day, and obviously more if I'm shooting.  It could be a full-time job, and this year I'm hoping to make it even more comprehensive with so much more information and more original posts every day.
When looking for pieces for your own home, where do you draw inspiration?
The flea market and Pinterest. I realized that at this point as much as I love a lot of pieces from stores, nothing makes me happier than vintage or one of a kind pieces–otherwise I can get kind of  sick of pieces.
How do you define your design style?
1970′s English grandma from Palm Springs, with a Kevin Bacon's 'Footloose' edge.
What would you say sets your work apart from others? Do you have any advice for other designers trying to find their niche?
I don't know. I'm picky without being snobby and I'm a perfectionist without wanting things to look too perfect. It's a weird balance and sometimes I lose it, but making things look effortless is actually a lot of effort, but at times so simple, too. My advice would be to take risks and to use your home as your best portfolio piece–push the boundaries because if you don't do it for yourself why would your clients let you do it? And we all know we get sick of clients that want a catalog, so it's our job to show them how things could look… how amazing and interesting they could be and the best way to do this is to use your own home as your best work.
When working with a client, how do you prioritize spending? How do you choose which pieces to splurge on?
Splurge on pieces that set your home apart from others–on unique pieces, conversation pieces, totally one of a kind pieces. This could be a piece of art or a piece of furniture–but don't spend a ton of money on something that other people will have–save that for the pieces that will make your home look as interesting as you are.
You've received lots of praise for your skills at layering design styles. How do you do so in a cohesive manner?
The biggest key is starting with one consistent color palette.  I tend to layer more feminine styles on top of masculine pieces of furniture – that is way easier than layering masculine accessories on feminine pieces of furniture.
Do you have any tips for making the most out of a small space?
Layer more textures than colors–lots of colors and contrast in patterns make small spaces feel even smaller, but layering different tones of minimal colors make rooms feel bigger because they are so much less busy.
What advice would you give to someone looking to break into the business of interior design?
Work for free, do your friends' houses, start creating a portfolio then apply to design companies as entry level. Oh, and make sure you are obsessed with it and that it's not just a weekend hobby. Like any career there is a lot of annoying stuff that goes along with the job and you aren't going to become a millionaire most likely, so make sure you are totally obsessed with design.
Describe your typical work schedule. Do you work many nights and weekends?
I officially work probably 7–4 every day, but then I relax and pin or I go shopping or I write a post–which are all work, too. And then the weekends are full of flea markets, thrifting, and writing the fun posts. So officially I work around 70 hours a week, but honestly so much of it feels like fun that I don't notice it. I definitely don't feel like a workaholic, but I probably am.
What advice would you give to your 23-year-old self?
I wish I had gotten more skills and studied something more practical. I'm now teaching myself Photoshop, Powerpoint, and Excel, and it really sucks to have to learn at 33 by yourself. If you are going to pursue an artistic/design career you have to know all the Adobe Creative Suite software, graphic design and all social media platforms that go along with it. Plus, take a few business classes, please. I didn't. I just knew how to shop, and I got into styling way before it was so trendy so I got a job, but nowadays you HAVE to have more practical skills. And forget majoring in liberal arts (I majored in English and History) unless you are 100% convinced you want to teach or write. I don't want to say it was a waste of time, but I don't know what I was thinking. I wish I could go back and double major in interior design and journalism or marketing. Oh, and open your mail. I was so broke that I avoided my bills thinking that some sort of finance fairy would take care of them. They didn't, and I got into trouble. Open your mail!