People generally fall within one of two categories: those who wait until September 23 to accept the fact that autumn has arrived and those who start drinking pumpkin spice lattes to welcome fall in late August. For those of us who identify with the latter, we're more than ready to emulate our favorite season in our homes and beyond. And what better place to look than the beautifully curated spaces created by our friends at Studio McGee?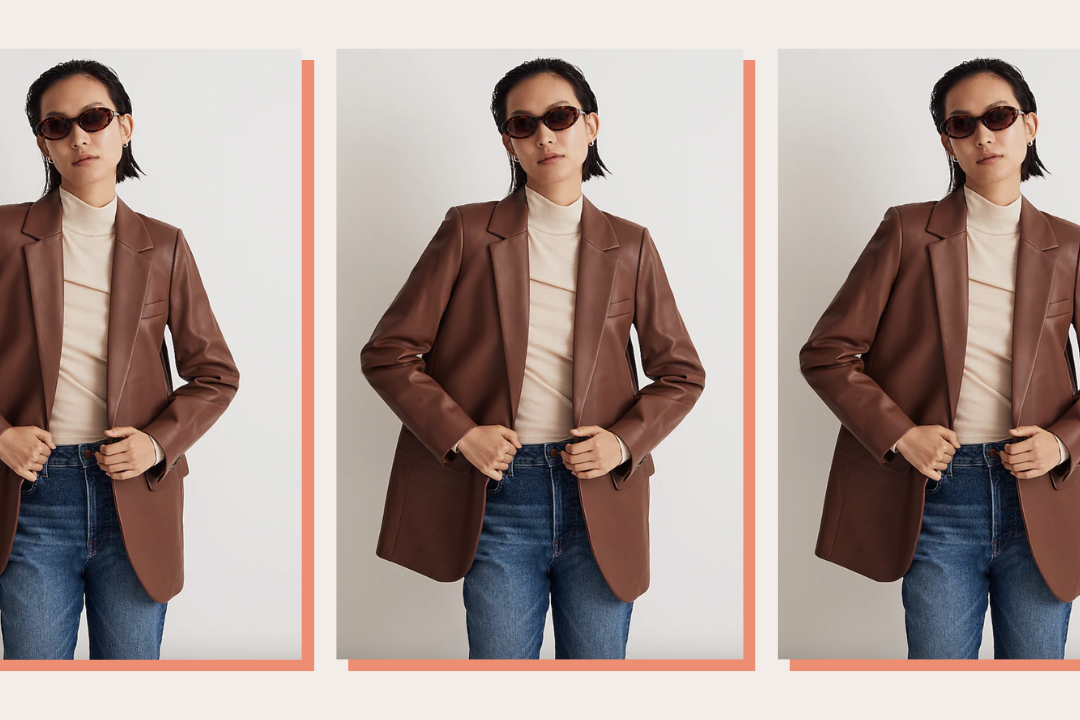 time for your fall wardrobe update!
One swipe through the design company's Instagram can simultaneously boost your serotonin and make you want to redecorate your entire apartment. We can't get enough of Studio McGee's traditional-meets-modern style, and it feels especially cozy and welcoming come fall. So if you're looking to turn your home into an autumn oasis, look no further. Here are eight fall decorating ideas that we're stealing from Studio McGee:
1. Pull a chair into a cozy reading nook
Reading is the ultimate cozy fall hobby, so it's time to get your space set up for it. To create a reading nook you'll want to curl up in all season, follow this formula we see repeated in tons of Studio McGee designs: Start by pulling an accent chair into an empty corner, then add a floor lamp, an accent table, and an element of greenery. With just four pieces, you can create the ideal comfy spot to start your next read.
2. Swap in moody landscape prints
Shea McGee is the undisputed queen of landscape art. Moody, nature-inspired artwork pops up throughout her designs all the time, but this decorating idea feels particularly appropriate for fall. Choose a print that gives off English moor vibes à la Wuthering Heights (the perfect fall read, IMO), or find one that showcases the rich colors of autumn leaves. Pop it into an antique-style frame and lean it up against a wall for that effortlessly chic look.
3. Fill a vase with branches
Nearly every room designed by Studio McGee features some element of nature. In the fall, you'll see branches often in place of fresh flowers. Offering the textured look that's perfect for fall, branches, and twigs provide an easy accent that feels cozy and season-appropriate. If you've got a backyard full of trees, trim a few branches straight from the source and use them to fill an oversized vase. No yard? No problem. Tons of retailers sell decorative branches, both real and faux.
4. Transform a room with seasonal throw pillows
Fall hasn't officially arrived until you swap out the throw pillows in your home to reflect the changing of seasons. It's an easy way to transform your home from a light, airy summer haven to a cozy fall nest. This year, we're reaching for pillows that boast earthy tones like beige, taupe, lush green, and ivory to help warm up and refresh our space as the cooler temps roll in.
5. Gather multi-colored pumpkins to fall-ify your front porch
There's nothing quite like a porch full of pumpkins to declare your love for the season, and Studio McGee has once again shown us how to do it with style. While the traditional (albeit attention-seeking) burnt orange pumpkin might come to mind when you think of outdoor fall decor, we challenge you to look beyond the obvious. As demonstrated here, pumpkins in other color varieties (green, white, gray-blue, and light orange) are the key to elevating your typical fall porch decor. If you can't find them at your local pumpkin patch, invest in some faux options you can use year after year.
McGee & Co.
McGee & Co.
6. Breathe new life into your space with fall-inspired florals
Adding fall florals to your space is a perfect way to help your home reflect the changing of seasons. It adds color, texture, and contrast to any room. In early fall, reach for autumnal florals like dahlias, eucalyptus leaves, and smaller blooms. In late autumn, opt for botanicals in tones ranging from jade to burgundy to burnt orange.
7. Add cozy throws to warm up any room
Throw blankets are undoubtedly functional and a binge-watching necessity, but they're also an easy way to transition your decor for the season. When the cool temps creep in and the leaves begin to change colors, we'll be reaching for cozy throws to add texture and warmth to our space.
8. Invest in a seasonal wreath to add greenery to your space
In the high autumn months of October and November, invest in a wreath that makes a tasteful seasonal statement. Adding greenery—whether it's real or faux—can help bring life to any room. As demonstrated by Studio McGee time and time again, greenery can bring an organic touch to an already well-decorated space.