If there's one thing I know without a shadow of a doubt, it's that how I eat throughout the week depends solely on one thing: what kind of mood I'm in when I go grocery shopping.
If I'm starving and had a bad day, I'm going to pick up peanut butter cups and ice cream and my nutrition will suffer until my next grocery trip. But if I'm strategic and write down a list and go at a time that I can actually enjoy grocery shopping, my week goes smooth and my body thanks me—and nothing makes my body thank me more than healthy Trader Joe's food.
If you've been around here a while, you already know how much we adore Trader Joe's. From trying their unique new arrivals to stocking up on their incredible, easy snacks, they make grocery shopping a complete dream and turn our pantries into an unlimited supply of tasty food for the week. When I head there knowing that my goal is to have a super nutritious menu for the week, these are the healthy Trader Joe's foods I make sure I add to my cart.
Vegan Kale, Cashew & Basil Pesto
Summarizing how important this little green tub is to me is just about impossible. This stuff absolutely rocks my world and the inside of my fridge doesn't know a life without it. I put this on just about everything I can: pasta (obviously), chicken wraps, and sometimes even my scrambled eggs in the morning. It turns everything into a gourmet-tasting treat, and it's as healthy as pesto can come.
Olive Oil Spray
While a relatively minuscule amount of cooking spray actually stays on your food, enough does that it adds up over time. I like to always keep this on-hand to cook all of my foods with, rather than regular ole' Pam.
Red Lentil Pasta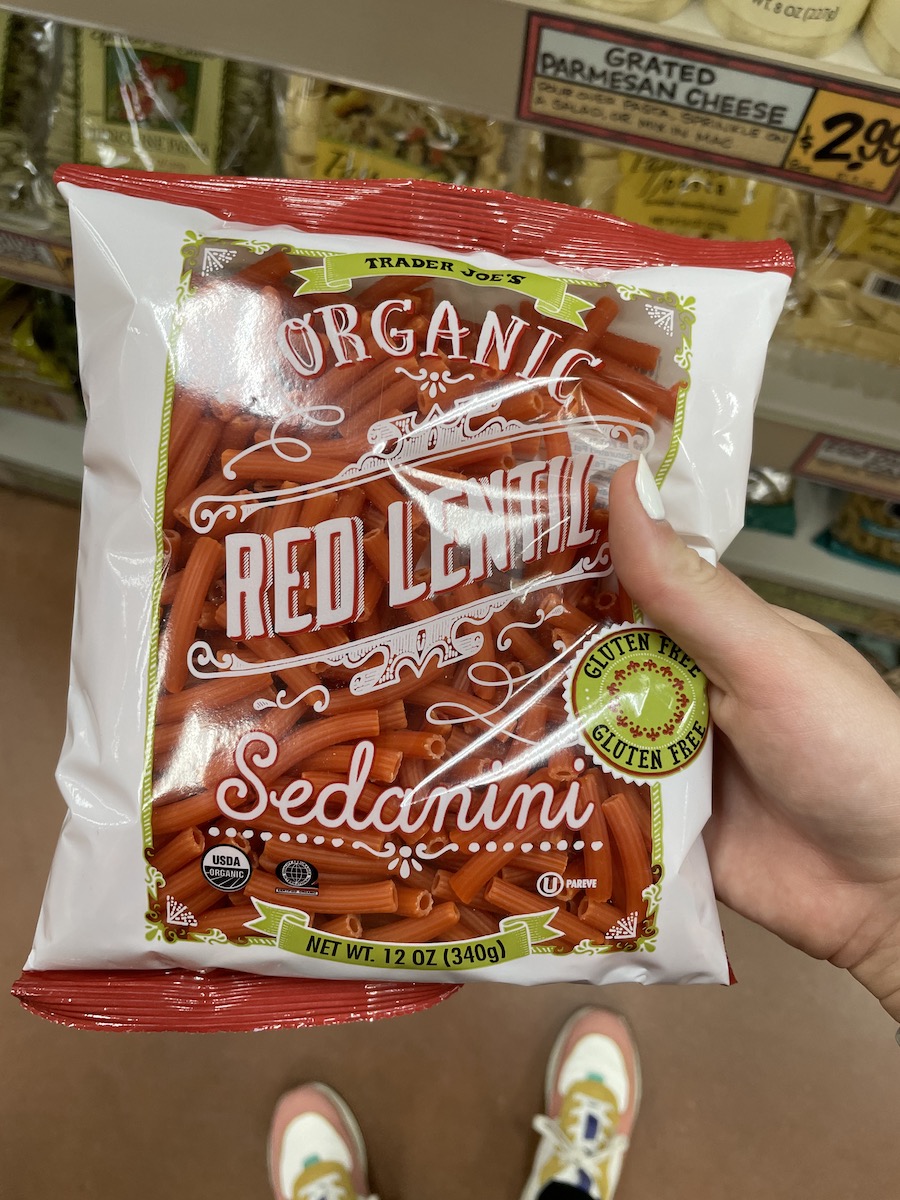 Pasta is great not only for its deliciousness, but for its ease of preparation, which is why I have to factor for some of my busier weeks to include it as a meal or two. While I always have some chickpea pasta in my pantry, I've found that I like this just as much, and I love to swap between the two to keep my taste buds on their toes.
Coconut Aminos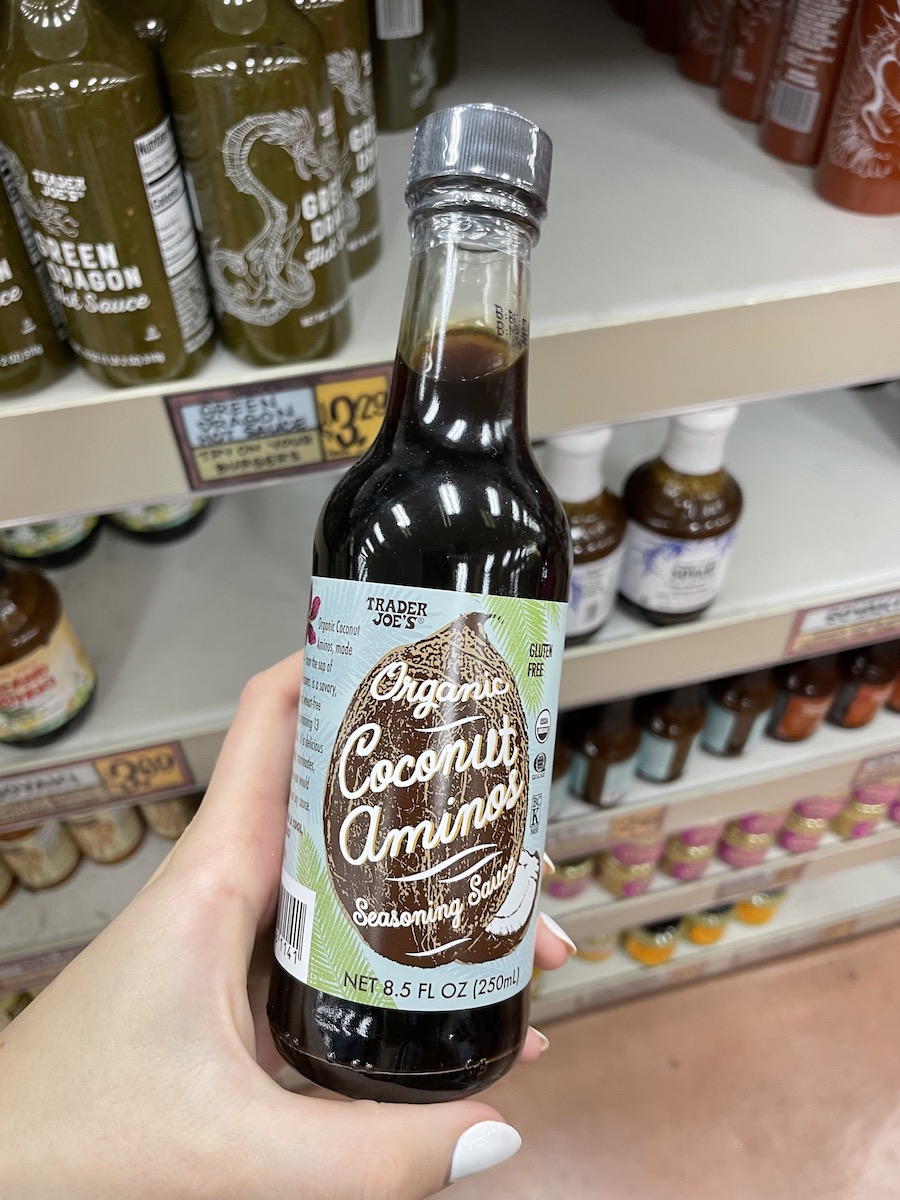 Another TJ's condiment I can't live without, coconut aminos have saved me from feeling like a slug the day after loading up on sodium-filled soy sauce with sushi, and I love to season all different kinds of things with this. It's an absolute must-have.
Red Refresh Herbal Tea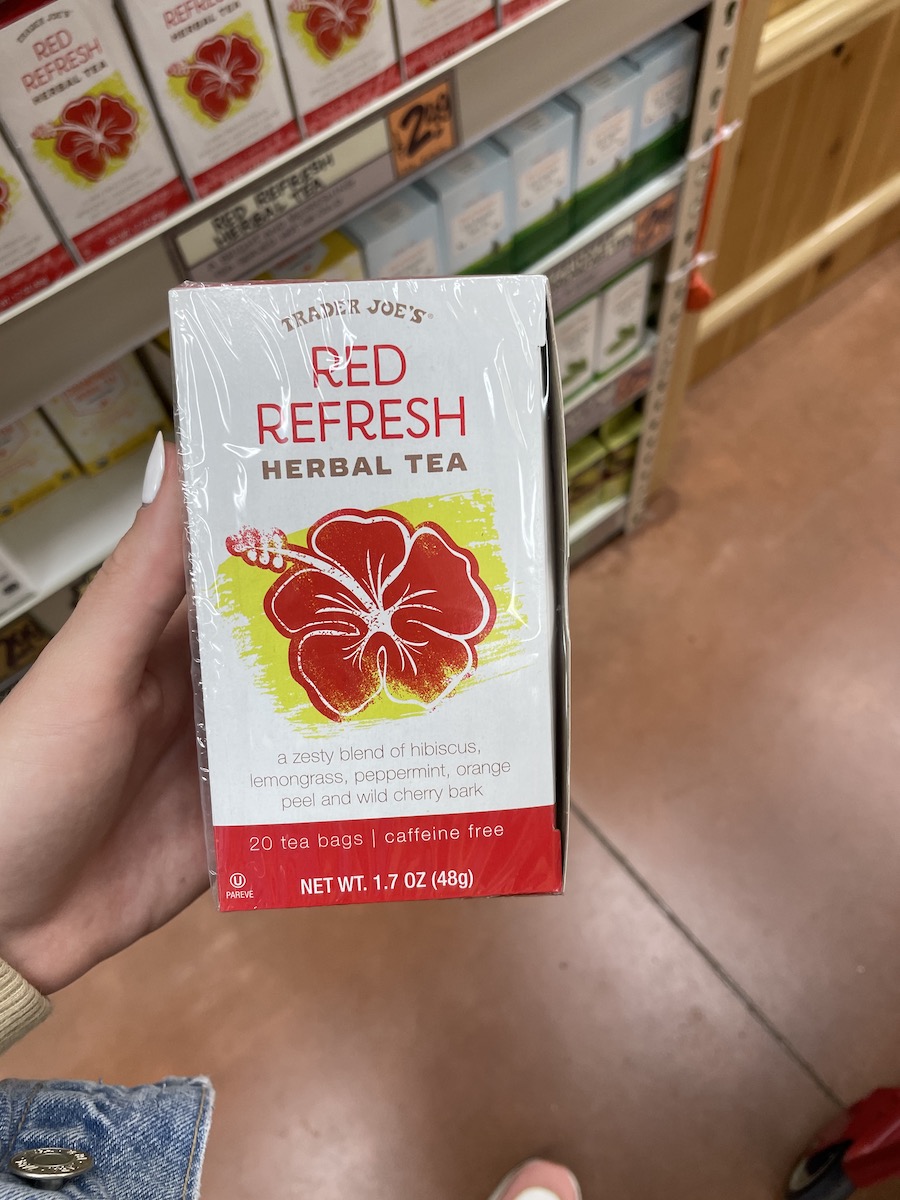 I try not to have too much caffeine throughout the day, so to curb my inevitable craving for a 2 p.m. coffee, I've been trying to switch over to a glass of iced tea. At the beginning of the week I make a big pitcher of this and ice it in my fridge, and it's 10x better than anything you could get at your local coffee joint and is tasty enough that it doesn't need any added sweetener to make it complete.
Riced Cauliflower Bowl
Back when we were in the office, this used to be one of my go-to lunches to bring to work, but I've recently re-discovered them as an at-home lunch and have fallen in love all over again. Loaded with veggies and protein and ready in under five minutes, this is the perfect, super-healthy lunch or dinner to have on hand for your week.
Cauliflower Gnocchi
An oldie but a goodie, I always have some of this stashed in my freezer. Toss that previously-mentioned pesto on it and you've got yourself a healthy 10-minute dinner.
Frozen Mango Chunks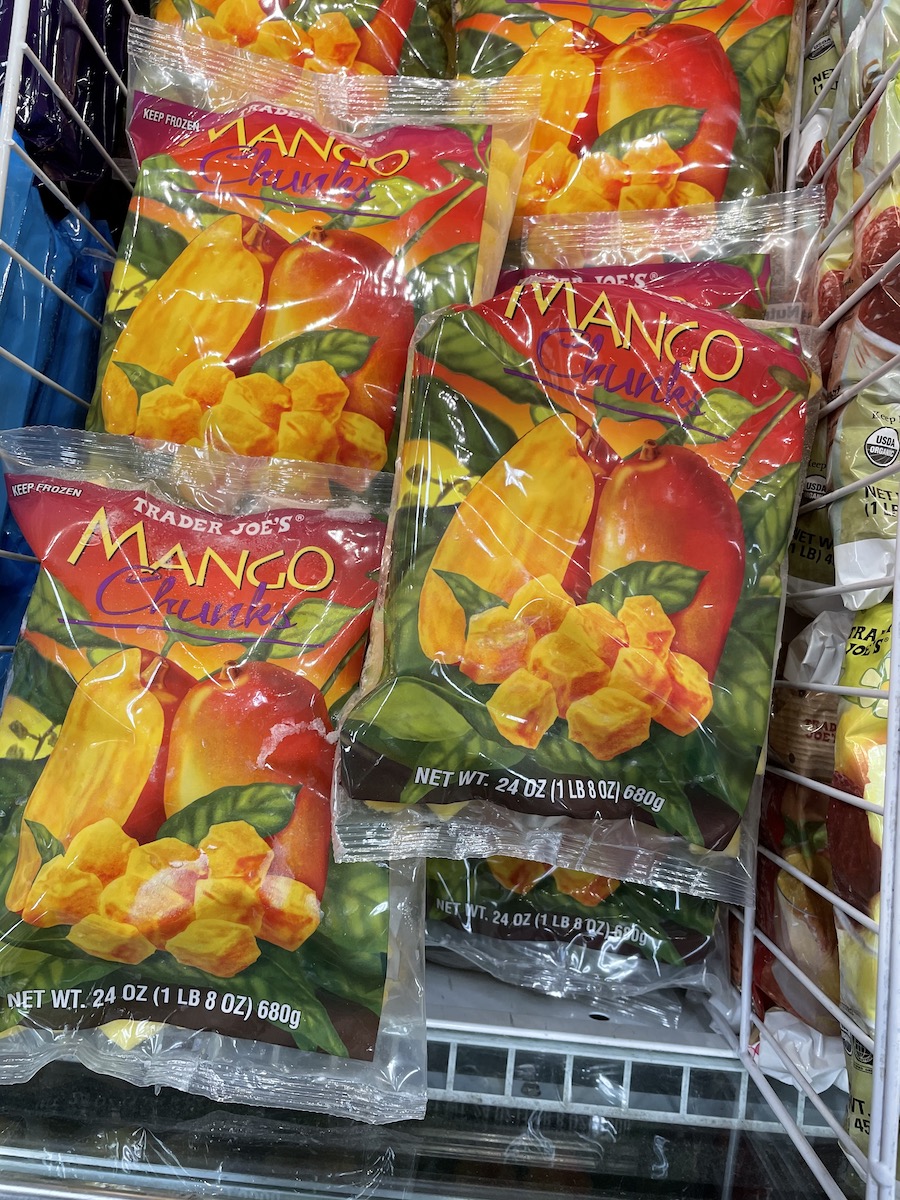 I'm a big morning smoothie girl, and my all-time favorite recipe is a banana, some spinach, almond milk, and mango. The mango and banana make it taste like your classic fruit smoothie, so you can really load up on the spinach and disguise it well. This frozen mango is my favorite of all time for its giant bag and affordable price.
Peanut & Crispy Noodle Kit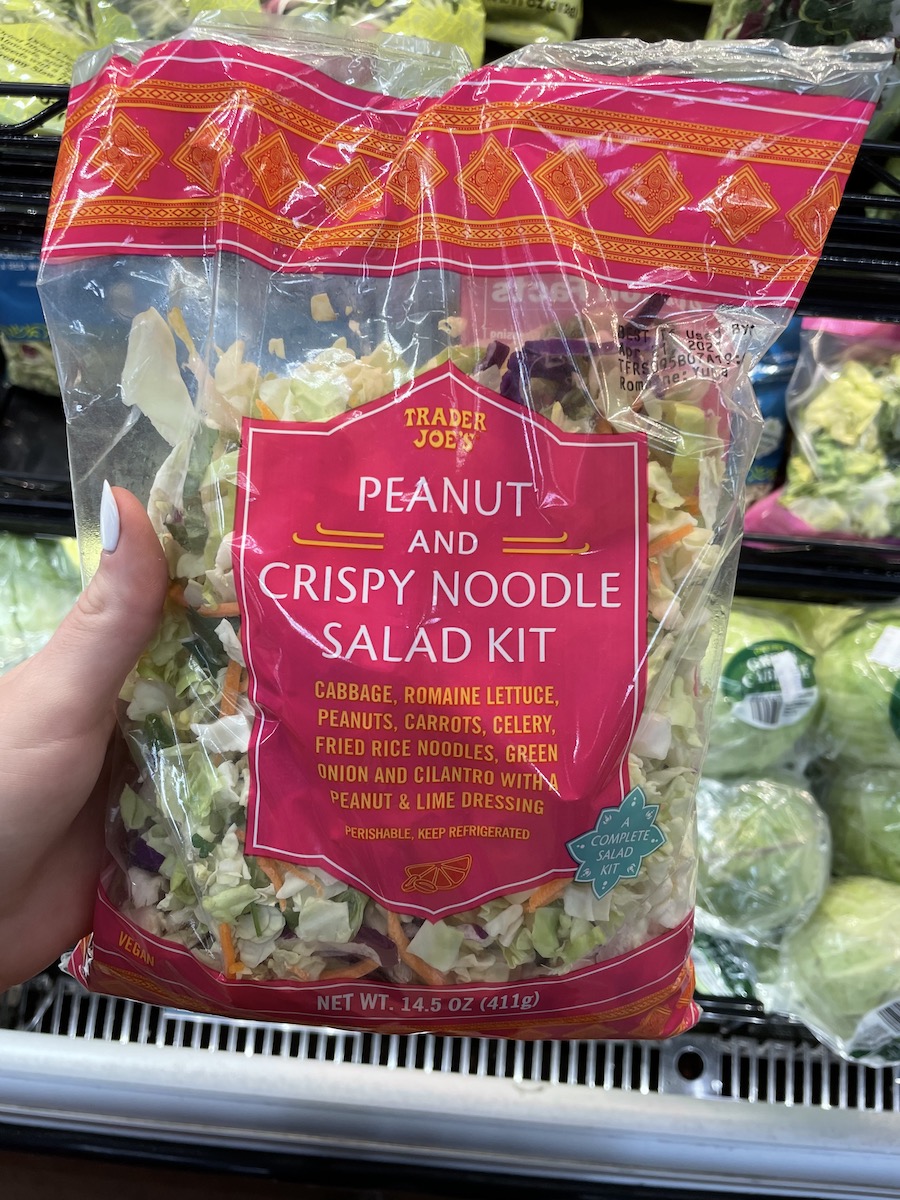 Inevitably, there are a couple of times a week that I find myself wanting to order out, and these nifty little pre-made salads help me curb that time and time again. They're so much tastier than anything I'm capable of making (what is it about homemade salads that's so lackluster?) and are loaded with enough ingredients that I'm actually full afterward.
Almond Butter Chia Overnight Oats
A couple of times a week, I'm so busy in the morning that I forget to eat breakfast, and then all of the sudden it's 11 a.m. and I'm a ravenous beast. I love keeping these in my fridge as a super-filling breakfast/lunch hybrid that feels just as much like a treat as it does breakfast.
Green Goddess Dressing
Trader Joe's Green Goddess dressing is hands-down the best I have ever tried, and I love keeping some in the fridge for everything from dipping veggies into to tossing on a salad to make it actually taste appetizing. Just look at that ingredient list! It doesn't get much better than that.
Cauliflower Thins
I love these mostly for their versatility: you can use them as a substitute for bread, a vehicle for a little cheese as a snack, or just munch on them on their own. They're super flavorful and almost cheesy-tasting and loaded with disguised veggies, which happen to be my favorite kind.
Mini Avocados
I'm a single gal living alone, so cracking into a normal-sized avocado feels like a commitment I can't quite get on board with, considering I only ever need half at a time and the other side always ends up going to waste. I love these mini avocados for being the perfect portion, and—this is not scientific at all, just an observation—they seem to not go bad quite as quickly as full-sized ones. I always actually am able to finish the little packs of these, and I buy them time and time again.
Almond Flour Tortillas
I always need tortillas in my home, and these are my favorite healthy-ish ones to use. They're still soft and tasty, two things a lot of gluten-free tortillas are not.
Sesame Crusted Ahi Tuna
My most recent TJ's favorite is this little diddy, and let me tell you why: it is already pre-seasoned, and you literally can make some rice, toss some coconut aminos and avocado in it, then top it off with this and you have a makeshift poke bowl. Do it and thank me later.
"These Peanuts Go on a Date" Bars
As much as a try to omit snacking from my life, I am who I am, and I need to have some snacking foods on hand for when my random hunger strikes. These bars have only five ingredients and fill me up until it's time to eat my next meal.
Grilled White Meat Chicken
I CANNOT sing this chicken's praises enough. Sometimes I go to Trader Joe's literally just to pick this up and I need it in my fridge at all times. This is hands-down the best pre-cooked chicken I have ever had, and I use it constantly to make wraps and to top off salads—even if I make my own chicken for the week, this is the best back-up on earth, and I always pick one (or two) up. Pro tip: their chile-lime seasoned version is just as good.
Banana chips
Again, my aforementioned snacking is an uphill battle for me, so when I need a little something during that afternoon slump, I love to choose these instead of chips or crackers. A handful of these goes a long way for me, and I'm not usually a dried fruit person.