So you're sick of the apps, you don't want to be set up again with a friend of a friend, and you're wondering why the hell it isn't as easy as the rom-coms make it look to meet someone serendipitously—you know, like in an elevator or a grocery store or a bar. A good old fashion meet-cute, if you will. Well, you're not alone. Sure, there are people who have great success on apps, but there are just as many people who want to look up from their phone and meet someone IRL too.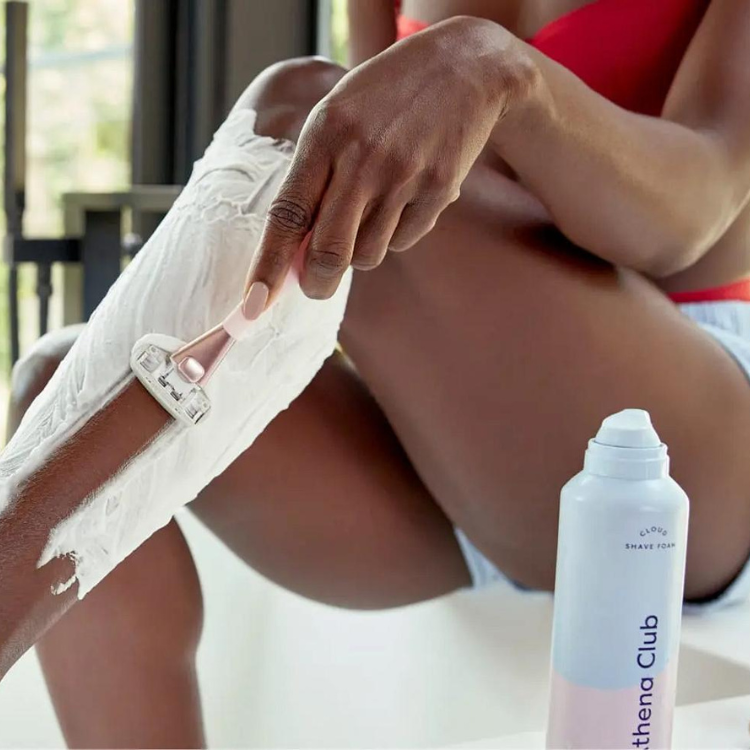 "This razor gave me the silkiest, smoothest shave I've ever had! I never get any cuts or scrapes, even on those hard-to-shave places."
If you're the latter and you're dying to know what it takes to meet the LOYL (love of your life) out in the wild, I have news for you: It might be time that you start doing things a little differently so you can set yourself up for a rom-com worthy meet-cute. This isn't to say that you can't meet someone on your weekly trip to Trader Joe's, but if you're always doing the same old things and coming up dateless, you know how the saying goes: Nothing changes if nothing changes. So get out there and try adding these 10 things to your routine to have your very own real-life meet-cute.
1. Say "yes" to plans more often
I love staying in and cozying up on the couch as much as the next girl, but you can't meet people if you're spending the majority of your time at home. Make an effort to say yes more often when you get invited to do things with friends, family members, or even your co-workers. You never know where you'll end up or who you'll meet!
2. Try a new workout class
Whether you work out alone at home or you feel like you've already met everyone at the studio you go to, try out a new workout class or studio! This is a great way to meet new people that enjoy doing the same things that you do (i.e. exercising), and if someone catches your eye, booking another class is a surefire way to run into them again.
3. Join a pick-up league
Don't worry, you don't have to be an all-star to join a pick-up league! Kickball, softball, and volleyball are no-pressure leagues that most people join for the sole purpose of meeting other new people. You might even meet someone on your team or the opposing team (cue flirty competition) that is looking for their meet-cute too.
4. Try a new coffee shop
Stopping at a new coffee shop on your way to work or on the weekends is a foolproof way to start interacting with new people. You don't have to give up your favorite coffee shop altogether, but by switching up your routine a little bit and slowing down (skipping the drive-thru and not using mobile order), you'll position yourself more frequently to meet new coffee-shop goers like you.
5. Volunteer
There are never-ending volunteering opportunities across the country (and beyond) to get involved in. By volunteering and doing something you're passionate about, you'll not only meet like-minded people but you will feel good about how you are spending your spare time along the way. That's a win-win if you ask me!
6. Attend local events
An easy way to find out about local events to attend is by looking on the Facebook Events tab (an underrated feature of Facebook, IMO), local bulletin boards, and asking friends and family. There are dozens of events (especially in the warmer months but there are also plenty in the colder months too!) that you can pick and choose from depending on your interests, and you're likely to meet someone there that has the same interests as you too.
7. Take in-person classes
Whether you want to be a better cook in the kitchen or beat all your friends at pickleball, in-person classes are a great place to start honing your skills and an even better place to meet new people. Since classes like these usually run on a regular basis, you will quickly get to know the other people in your class and be able to strike up conversations week after week.
8. Join a club
Take your pick: book club, wine club, sports club, music club, cultural club—the list goes on and on. With a quick Google search of clubs in your area, you are bound to find at least one that interests you, so if you are looking for a fresh group of like-minded people to meet and get to know, this is one of the best (and easiest) places to start when looking for a meet-cute.
9. Take a tour
Whether you're interested in touring a brewery or a winery, a museum filled with impressive artwork, or an abandoned building with dozens of ghosts, group tours can be a fun and out-of-the-norm activity to do with a few friends. Since they are usually an hour or so, you are able to meet new people and get to know them throughout the tour, and if it goes well, hang out with them afterward too!
10. Go on solo dates
I know what you're thinking: Solo dates are the opposite of what I need. But hear me out: When you take yourself out to eat, sit in a coffee shop and read, go for a long walk with your dog, and more, you are bound to run into someone you've never met before, and you'll be able to have an uninterrupted conversation with anyone who catches your eye since you're on your own agenda and not distracted or preoccupied with anyone or anything else.