The Everygirl pretty quickly jumped from our regular programming—spring capsule wardrobes, summer makeup trends, where to travel this summer, etc.—to cover topics that would actually be relevant to what's going on in our lives right now—what to do at home, what to watch, and how to cope with it all. And it wasn't a choice for us; it's always been important to create content that actually helps people. It's been quite the slower-than-a-snail-slow move toward the spring/summer we all are used to experiencing, and we're here for every step of this unprecedented journey.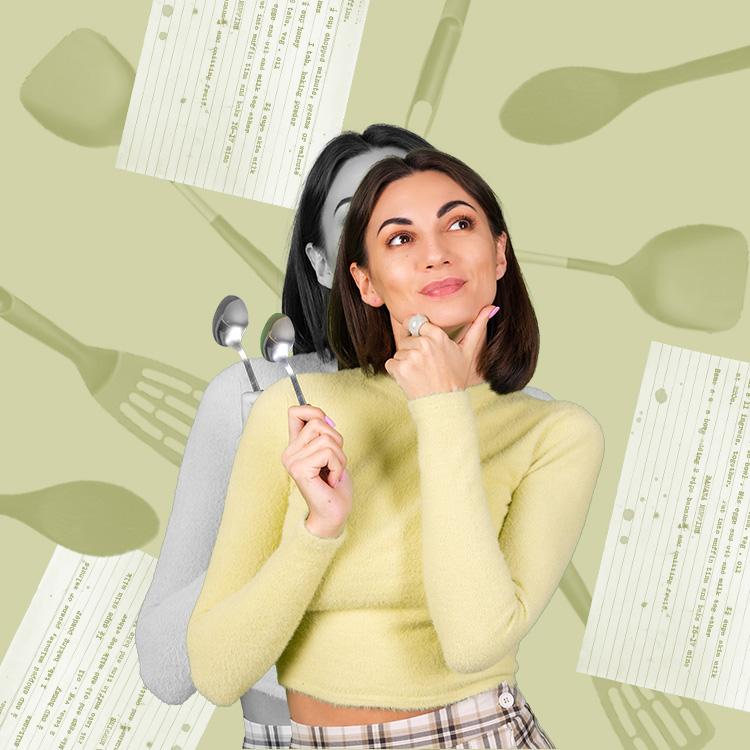 high in protein, good for gut health, and anti-inflammatory? yes, please!
So, what's next? We've talked loungewear, activities galore, makeup for video calls, how to help your friends during this time, what to do if you're laid off or furloughed, and more. Where could we possibly go next? "Normal" isn't particularly on the horizons for many of us. But we're ready to at least feel as much normalcy as possible right now. If you're also ready to feel like yourself again, here are a few ways to make it happen without going against any guidelines.
1. Set up a morning routine
Many of you probably already have this, but I'm talking to people who, like me, have been a little resistant to adapting to our new circumstances. And I'm not talking an hour-long meditation you'll be half-asleep for or a yoga flow you'll do once and never again—I'm talking a legit morning routine. Remember what it felt like when we got up for work and took a shower and slapped on some concealer and headed out the door for an iced americano and a Bacon Gouda sandwich? That's what I'm talking about—except instead of running off to catch the bus, you're making the long commute to your desk (or couch–wherever you work!). If you did work out or do yoga before the workday, then add that in. This is all about creating a morning routine that feels like your normal life.
2.
Make some good coffee
Although some of us have the luxury of a Starbucks drive-through, many of us are relying on coffee that rivals even the worst of gas station coffees (sorry, not sorry). But just because you're at home doesn't mean your coffee has to suck. Instead, try some of these products to make bomb coffee right in your kitchen.
Here you can learn how to make your Starbucks usual at home.
3. Use your planner
Um, excuse me, what the heck do I have to plan? Hm, lets see: walk around the block at 9am, watch TV for five hours, play video games for two hours, watch a movie while playing video game for two hours and 15 minutes, start dinner at 7:00pm. Yes, using your planner every day might seem a little weird, but penciling in time to talk with friends, when you'll get to that adult coloring book you purchased, and uninterrupted reading time is a good way to separate your day rather than everything blending together.
You can also use your planner to plan ahead. Obviously, we're not making any big plans or going on any vacations right now, but it doesn't hurt to plan ahead for the future. When you can go outside of your home, what will you do? My list currently consists of getting my hair done, attending a workout class, and laying out on the beach.
4. Self-Tan
If you're used to self-tanning normally, don't stop just because no one is seeing you. Having a little glow to your complexion might be exactly what the doctor ordered. You can go all in and do your entire body, or you can focus on adding a little extra glow to your face. Summer is on its way, and what's more summer than looking like a bronze, shimmer-y goddess?
5. Wear real clothes again
As much as I'm loving how comfortable I feel every day, I desperately miss the slight discomfort of denim and a cute top. Don't even get me started on wearing a pair of healed booties right about now. We already know how much better we feel getting out of your PJs in the morning, but if you really want to feel like yourself again, choose clothes that are both comfortable and stylish. You know, the clothes you wore to work but felt like you were just wearing pajamas. From leggings and a button-up to linen joggers to a comfortable dress, these clothes feel like you're getting ready for a normal day without wanting to change out of them ASAP.
6. Try a copycat recipe
If you're desperately missing the ease and true deliciousness of takeout, you can make it right at home. I know, it's not the same as going to pick up your favorite pizza or driving through the McDonald's drive-through after a wild night out with your girlfriends, but they taste just as good. A little grease never hurt anybody.
Here's how we're mimicking our favorite Asian-inspired recipes at home, and here are a few other recipes to get your takeout fix.
7. Walk (or drive) your typical routes
If you usually wake up and drive to work every day, it might feel good to do that every now and then. Getting up, getting ready, and driving or walking literally anywhere makes it feel like normal life again.
If you're outside, don't forget to wear your face mask and stay 6 ft. apart from all of your lovely neighbors (but if you can, throw 'em a smize!).
8. Transition as much as you can to digital
If you're working at home right now or consistently have a Zoom call with your friends or loved ones, you get the idea. But what about all those other little things? While it seems like our lives can't possibly happen without leaving home, many companies are finding ways to change that. For starters, don't cancel your doctor or therapy appointments if you don't need to—many providers are offering tele-health communication with phone or video calls for appointments. If you rely on specific appointments for medications or just to talk to someone, these are important to keep in place.
Along with appointments, you can order pretty much anything online right now. Obviously, groceries are among this list, but so is wine, meal-delivery (our editors love Freshly!), medications (CVS and Walgreens are both offering delivery!), and more.
9. Do what you can at home
Missing getting your nails done, getting a blowout, and going to dinner? Do those at home! If you always got your nails done on Wednesday nights, make it a point to do your nails at home then. Just like you're moving your life to be as virtual as possible, you can do the same with all the stuff you used to like doing outside of your home. Host happy hours with your friends, do a dinner party with your far-away family, attend virtual events.
If you need some help, the Cofounder of OPI shared her tips for the best at-home manicure with us.
10. Stay hydrated
You didn't have to read this to know you need to keep drinking water, no matter how much wine, Sprite, and sleepytime calming tea you stocked up on at the store. We'll always recommend a solid water bottle to make drinking extra easy.
11. Prioritize sleep
It's hard when you're spending every waking moment at home to remember that you have to sleep. While some of us are getting all the rest we could ever need, others are reading just one more chapter and watching just one more episode, putting sleep on the backburner. Getting adequate sleep, even if you didn't in your life before, is one aspect of mental wellness you just can't forgo. Without sleep, all the others won't feel as good as they should!