I started 2020 pretty strong. I went to my gym about four days a week. I was trying new recipes. I started a bullet journal. I felt very prepared to take on the next decade of my life. And yada yada, one thing led to another, and here I was, July 2020, and I, like many others, had fallen off. For the record, there was a global pandemic, but I wasn't doing so hot. I reignited myself, made some updated goals that fit the times, and went on my merry way. I'm here to say: I feel 100 times better now than I did then, and I'm carrying that same fervor into the new year.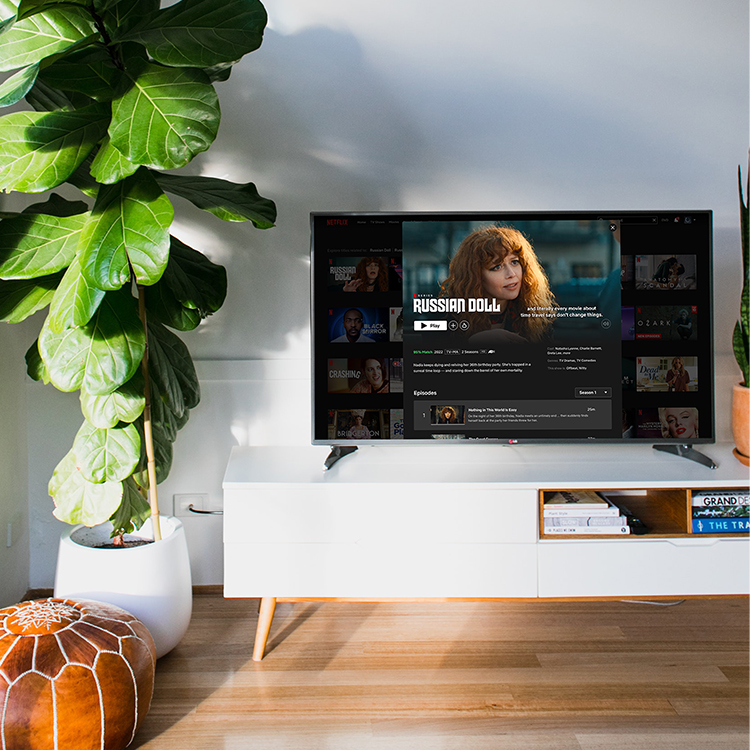 stop mindlessly scrolling on Netflix—these shows have our seal of approval
But I'll be the first to admit: health "trends" are not my jam. I need something that's going to stick. I don't want to completely overhaul my life and routine, and I'll never dare give up socializing over food and alcohol. So, what's a girl to do? Here are the health hacks I'm actually planning to implement into my life in 2021.
1. "32 Before Brew"
I saw this on Instagram a while ago, and it has changed my life; however, after the holiday season, I'm sure I'll need to reassign this goal to myself. Basically, it's the idea that you drink 32 ounces of water before you drink your cup of coffee in the morning, which I found genius. It's an easy, pretty straightforward concept, but I love that it gets me drinking water first thing, and it reminds me to keep drinking water after I've had my coffee. If I don't drink water during the workday, it's so hard to catch up and drink enough later, and this keeps me accountable all day, starting with the morning.
2. Controlling volume instead of portions
I will never be someone who eats like a bird. If I'm eating a meal, I'm eating a meal; that's all I'm going to say. But adjusting portion sizes is often a recommended hack for being able to still enjoy all the foods you love without eating in excess. Instead, I'm opting to try focusing on the volume of food I'm consuming versus how much. I can eat an entire plate of pasta, but I also want to bulk up the meal with protein, a side salad, and a big glass of water. I feel fuller, faster, and it builds my meals upon nutrients rather than going into it controlling how much I'm eating, which can often lead me to disordered eating. If I want to go get McDonald's, I'll drink a lot of water and add extra veggies or protein to my cheeseburger (highly recommend—one of the best hacks I've ever seen is asking for double meat and splitting the sandwich in half to eat two open-faced sandwiches!).
3. Finding alternatives to the foods I crave
If I tell myself that I can't have pizza or pasta or chips, it's all I'll want, and it'll lead to a binge. Always. No foods are "bad," so I can easily find or make alternatives to my favorites that feel better (and sometimes taste better too!). Currently, I'm loving MyBizzyKitchen's healthier pizza dough recipe, I've swapped regular chips for baked versions (Peetos are my current favorite spicy chip alternative!), and I'm using the above hack to enjoy pasta and other foods that are easy to overindulge in.
4. Creating "ceremony" in the evenings
Mental health is important as well, and it's especially necessary to create goals around this too. A therapist once recommended creating "ceremony" around normal day-to-day routines as a way to reorient your brain into a specific task and make these feel like an event more than another thing to tick off your to-do list.
One way I want to practice this is through working from home and separating my workday from my evening. When the clock strikes 6 p.m., I'm closing the computer, lighting a candle, drinking something other than water (see the next tip!), and reading 30 pages of a book, or maybe I'll watch a YouTube video or an episode of a show. (As long as it's not work or scrolling on my phone, I'm game!) I want to create a ceremony, or a ritual, around ending the workday. When I light the candle next to my bedside, it's time to finish work for the night.
5. Swapping to a different drink in the evening
Drinking water is not my strong suit. I have to really force myself to stay hydrated, especially working from home because it's easy to sit at my desk and not fill up my water bottle all day. So, I'm taking a slightly different approach to fixing that problem this year, and it's allowing myself to drink anything but water in the evenings. Don't get me wrong, I will still drink water with dinner, to take my medicine before bed, or just simply to sip throughout the night. But right after work ends, whether I'm hankering for a bubbly soda, sparkling water, or an adult libation, I'm letting myself have it instead of forcing myself to stick to water only. It encourages me to stick to water as much of the day as I can, but I know I can "indulge" with something else to change it up.
6. Create challenges for workouts
Motivating yourself to workout at home when the gym isn't an option is hard. Why would I push hard if no one can see me? Why would I create or follow a routine if I don't have to? There's nothing holding me back from stopping in the middle of a workout just because I don't feel like it. So to keep myself motivated and inspired, I'm creating challenges for myself. I'll tell myself to work out three times a week, and then after I do that for four weeks straight, I push it to four days a week. Maybe I'll try to do yoga every day for seven days straight, and then the next week I focus on doing 20 minutes of cardio a day. Making these small, reachable goals every week rather than some overarching goal of "work out more" is much easier to follow and accomplish.
7. Keep your phone in another room while sleeping
I can't be the only one who wakes up in the middle of the night, checks their phone, and ends up staying awake for way too long because I end up scrolling for no reason at all. I really try to limit how much I use my phone before bed, but if I keep it next to me, I'll inevitably use it any time I wake up (including first thing in the morning). By keeping it away from my bed, I'd have to get up to grab my phone if I want to use it, and when I'm half-asleep at 4 a.m., that's unlikely to happen. Prioritizing better sleep is a major goal of mine in 2021, and I'm trying this first!
This hack also might help me hit snooze less because I'll have to get up to turn the alarm off. Win-win!
8. Add movement into every part of your routine
If starting from no workouts to five a week feels daunting (for one, it is!), try just adding different forms of movement into every part of your day. Turn on some music (maybe a glass of wine!), and dance around the kitchen while you cook dinner. Maybe you do some stretches from the couch while watching your favorite show. You could try setting a timer during the day to get up and get more water and move around for 10 minutes. You don't have to follow an eight-week intense HIIT program to feel the benefits of moving your body more, and finding small ways to add that in (especially while working from home) is beneficial too.