We're big fans of the YouTube Beauty Community here at The Everygirl. We're constantly talking about our favorite creators, their best looks, and buying pretty much everything they recommend. The YouTube beauty world is honestly what we have to thank for some of the biggest trends in beauty—we'd never be baking our undereyes or curling our hair with straighteners or using men's post-shave balm as a primer if it weren't for the beauty YouTubers who taught us how.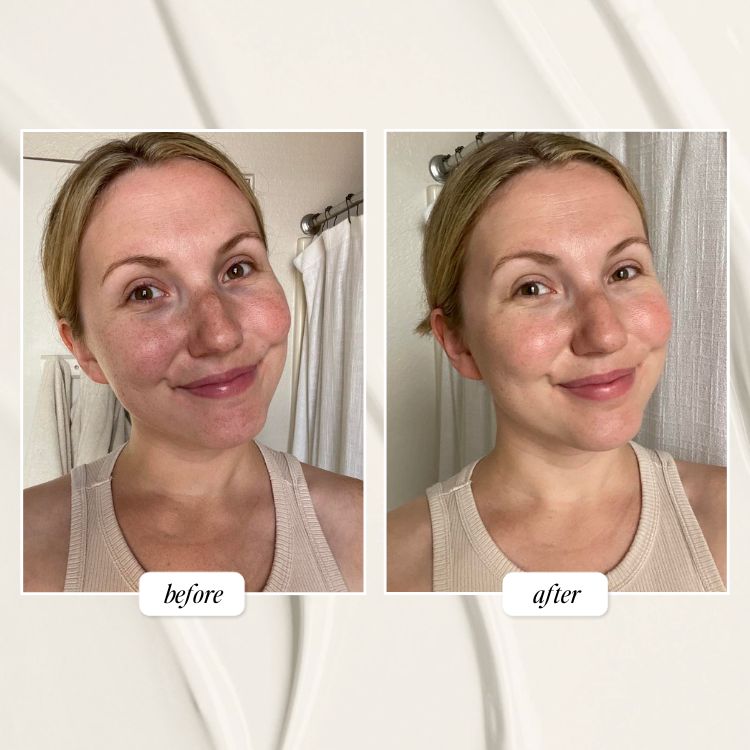 Alongside the various techniques YouTube has taught us, the phenomenon of the ever-so-popular "empties video" has truly taken over our subscription feeds. Every beauty YouTuber has made an empties video (if not five), and everyone who even knows just a glimpse of beauty YouTube has seen one. The concept is simple: show everyone what's in your trash and talk about if you loved it, if you'll buy it again, and how long it took you to use up.
So being the beauty-lovers we are at TEG HQ, we decided to create our own empties series. Every month, all of our editors will share a few of our own empties—from skin, hair, and makeup products to candles and vitamins and home items—and give our unfiltered review on each of the products. Some of them we'll love and need to repurchase ASAP … and some we'll celebrate finally finishing them up. If you've ever wondered what our absolute favorites (and not-so-favorites) are, this is the right place to be. It's finally time for our trash cans to shine!
Versed
The Emergency Eye Mask is one of my hero products that I can't live without (obviously, because I went through this one so quickly). As someone that has under-eye bags and dark circles, this product gets me emotional because of how much it has transformed my life (dramatic, I know, but the people with bad under-eye bags will get me). Loaded with vitamins to hydrate, cucumber juice to depuff, and caffeine to calm swelling and brighten, the formula is thick enough to be used as a 10-minute mask that can be washed off, but TBH, I haven't washed it off once (it's too good!). Instead, I dab it on at night as an eye cream or whenever the eye area needs a little extra TLC (like when I'm hungover or traveling). Yes, I will be buying again and have already ordered my next stash because I can't go too long without it.
EQUILIBRIA
TBH, I am already on my second bottle of this luxurious treatment oil because it's that good. Equilibria is always our go-to for CBD products, but I never knew I needed a CBD body oil until I tried this. Along with 500mg of full-spectrum CBD, the Daily Treatment Oil contains powerful oils like Sweet Almond, Litsea, and Olive Squalene to heal a common range of skin issues. The formula helps everything from sun damage to pore size, and I feel a major difference in my skin when I pat it on my face and body before bed. However, the greatest testament to its healing powers is what happened with my boyfriend. He got a painful rash on his hands (sorry for the TMI) from an allergy to our dog's saliva (he's still in the puppy-biting-everything phase. The dog, not the boyfriend), and nothing was helping. I put on a little of this oil, and within a few hours, the rash was completely healed. If that's not miraculous, I don't know what is! *Orders in bulk*
Use code theeverygirl for 20% off your first order!
Summer Fridays
It's finally happened: the go-to exfoliating mask that has been by my side for almost two years has hit its last leg. This Instagram-favorite product is one of the few masks that I actually notice an immediate difference in brightness and complexion. It has therefore become my go-to "weekend mask," like a treat to immediately make my skin better when the week's over (because you know you want to look your best on a Saturday). It uses vitamin-packed pumpkin and exfoliating apricot seed powder to slough away dead skin cells and boost glow for the most illuminating skin ever (and also smells absolutely delicious). The best part? I have used it weekly for a couple of years, and it's lasted me until now. You only need a little to make a huge impact, and isn't that what we all want more of with our skincare?
LUSH
I am someone who takes good care of the skin on my face, but neglect the rest of my body fully. I hate needing to put lotion on and feeling sticky and waiting for it to soak in and the entire process of it, but this has converted me into being a lotion lover. I've been putting this on every night before bed for two years now, and it's become the most amazing little ritual for my nights. It's the perfect lavender scent—it isn't too strong or overpowering—and to me it's the equivalent of diffusing an essential oil before bed. It also makes my skin so hydrated and I can put it on a minute before I get into my bed without fearing it getting everywhere because it sinks into your skin so quickly. This is an always repurchase in the biggest size for me, and would also make an amazing gift for anyone this season.
Rahua
I put my hair through a lot (frequent color appointments, heat styling, scrappy ponytails) so I like treating it to fancy shampoos and conditioners that I slather on in the shower while whispering affirmations and praise. I've been hearing amazing things about this brand for years so when I ran out of my old shampoo and conditioner, I traded up. I'll absolutely be repurchasing because these both lasted me a good three months and I've definitely noticed that my hair feels silkier straight out of the shower and there's less shedding overall. Win, win.
Ergo
Our Social Media Editor, Abigail, recommended this candle to me after I visited her apartment a few months back and was like "what is this heavenly smell?!" It's called "Rosemary" but maybe I just don't know what rosemary smells like, because it's more of a hiking-outdoors-with-a-sexy-lumberjack scent. I burn it every chance I get, and when it runs out, I'm always bummed. Constant repurchase.
MIELLE
I received the Mielle Rosemary Mint collection of products as a birthday gift and stashed it in my bathroom closet for almost two months before giving it a try (I'm very picky about the products I use on my hair). After discovering that I had used all of my favorite conditioner, I decided to pull out the Mielle Rosemary Mint Strengthening Hair Masque on wash day. This hair masque acts like a conditioner and deep treatment all-in-one; it was soft enough to detangle my curls with and after washing it out, it didn't leave behind any residue or build-up. The creamy masque smells amazing too, and contains certified organic products like ginger root oil, shea butter, honey, and coconut oil to help plump up dry curls. Let's just say that this product is no longer in the back of my closet anymore!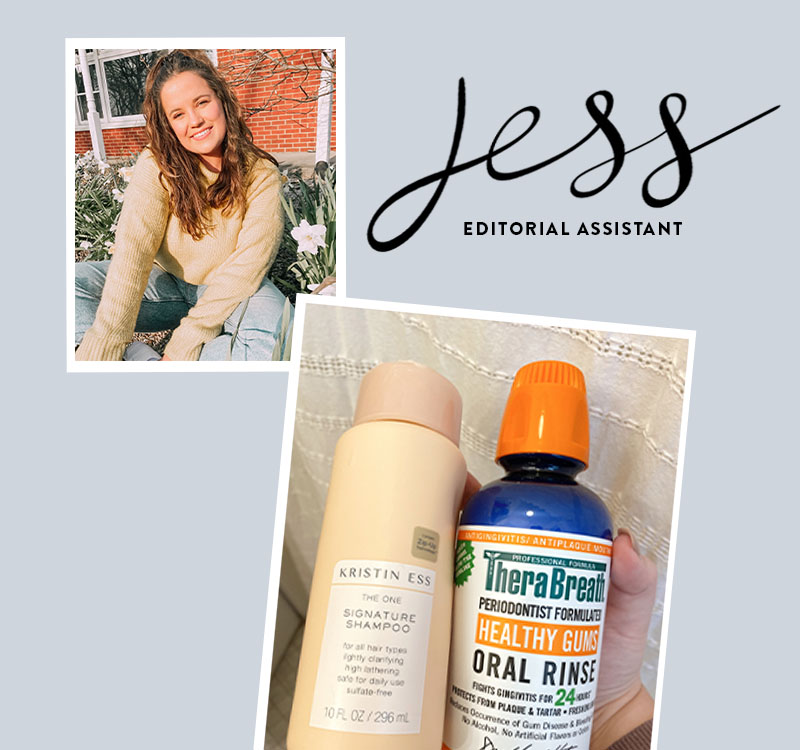 Kristen Ess
I've never really been able to understand what kind of shampoo I should be using. Do I splurge and buy one of the uber-expensive ones that is supposed to be a miracle worker? Do I stick with something I can grab for $5 at any drugstore? There are so many types and brands out there, and it has always been overwhelming to me. When I started using this Kristin Ess one, however, I felt like I finally found a happy medium between high-end salon shampoo and drugstore shampoo. It leaves my hair feeling super soft and clean, and it smells great too.
TheraBreath
This might seem weird and random, but I really love this mouthwash and I think people need to know about it. I've always had pretty sensitive gums, and this is the only thing that keeps them healthy and not irritated. I've been using it since about April or May, and have consistently seen improvements in my gums. Also, the mint taste is not overwhelming, there is no burning sensation, and it is made from more natural ingredients than traditional mouthwash, so it is a much more gentle option that still gets the job done.
DIPTYQUE
You've likely seen this candle in the homes of the rich and famous—and while I'm neither, I did get this candle as a gift and subsequently pretended to be. While massively overpriced, this candle is indeed my favorite home scent I've ever experienced. I can't afford to burn it on any random Tuesday, but I've spent the last year (I received it last Christmas) burning it for special occasions (even when the occasion is "I need to feel happy!"). It's expensive, so I can't recommend it for a casual purchase—but it's a great gift to give to yourself or a loved one. I repurchased, and I plan (and hope!) to make it last as long as this one did. (In the meantime, I'm going to clean this one out and use it as storage in my bathroom!) The scent is crisp, clean, and matches well with any season.
TULA Skincare
If you're looking for one single beauty product to brighten you up for Zoom calls, my vote is for this one. I was on the market for a product that would calm redness and add a bit of glow without a full face of makeup, and this one exceeded my expectations. I thought Tula seemed gimmicky when I first heard of it, but this is the most impressed I've ever been with a primer. I wear it alone for Monday Zoom calls or running errands (it's just a light cover that matches your skin and adds a little glow without too much shine), or I layer it under foundation if I'm looking for fuller coverage. The one downside: You can see on my bottle that it's stained—that's because I would apply it with my fingers and then it stained anything I touched. Annoying, but worth it.
Want more empties? Check out the previous months below!