Nestled in Washington, D.C., Sara Azani's gorgeous condo is a stylish blend of modern luxury and rustic charm. Vintage-inspired pieces—like a cozy blue sofa with nailhead trim and dining table made from reclaimed wood—exude warmth. Embracing the crisp white space in her home, Sara uses it as a blank canvas, adding splashes of color and texture through rich rugs, bold pillows, and elegant gold and silver accessories. Although it all looks super-luxe, as the woman behind High Fashion 4 Less—a blog focusing on fashion-forward style on a budget—Sara's design aesthetic reflects her sentiment that style should not be a privilege.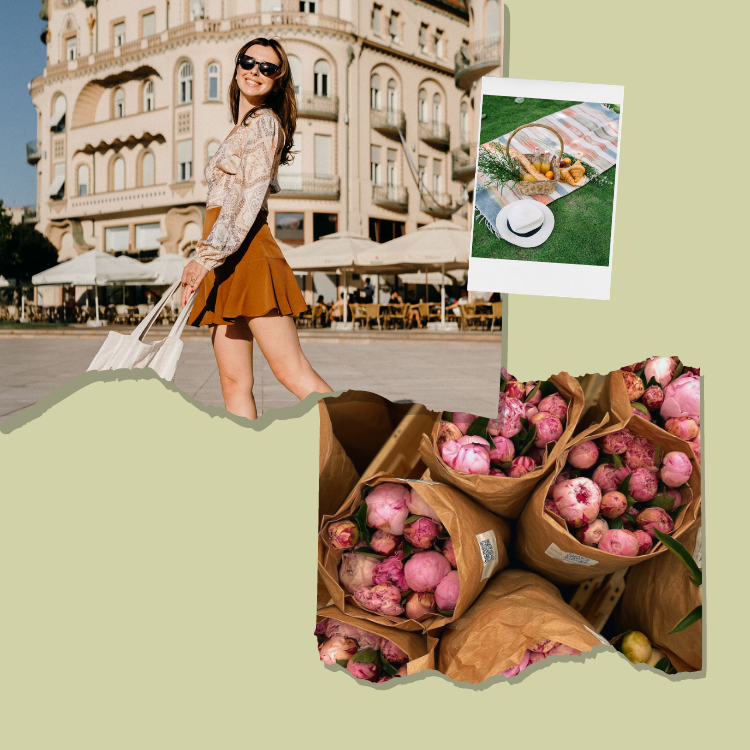 read this if you're in your saving era this summer
Sara transformed her condo into a place where form, function, and style meet. As a Sustainability Consultant, she works from home, and her lovely abode is both an office and space for entertaining friends—essential in maintaining work-life balance. Sara's smart and thrifty aesthetic is evident; she patiently spent two years fully decorating her home, discovering high-quality yet affordable pieces from HomeGoods, local vintage shops, estate sales, and even Craigslist. We're thrilled that Sara has opened her doors of her home to The Everygirl as she shares her inspirations and tips on styling with intelligence.
Name: Sara Azani
Age: 30
Location: Washington, D.C.
Current title/company: Blogger behind High Fashion 4 Less, Sustainability Consultant at Booz Allen Hamilton, Real Estate Agent at Fairfax Realty
Educational background: Bachelor of Science in Marketing, MBA from University of Maryland
What was your first job out of college and how did you land it? How did you transition from that position to where you are today?
Right out of college, I worked as a Real Estate Sales Representative for Ryan Homes. I was managing new home sales for a townhome community. I won rookie of the year while working at Ryan Homes and sold over $13 million worth of new homes in two years. After two years of working every weekend, I decided that it was time to actually live my life. The idea of working a 9-to-5 job and also pursuing my masters was more appealing to me. After interviewing with a number of consulting firms, Booz Allen proved to be a great fit. They value a work-life balance so that gives me time to pursue other passions and hobbies of mine, like fashion and home décor.
What drew you to become a Sustainability Consultant? How did your previous experiences benefit you in transitioning from Real Estate to consulting?
The environment has always been a huge part of my life. The concept of reuse and recycle is one everyone should adopt. My previous experience in Real Estate took me out of my comfort zone. I was always a shy person, so the idea of speaking to strangers that would come into the model homes was intimidating. After a few months, I was able to come out of my shell and become more outgoing. At my current consulting job, I do a lot of client presentations and debriefs, so it's no time to be shy.
What does a 'typical day' look like for you?
I work from home, so every day is pretty different for me. Typically, I start my mornings around 9/9:30 (I am definitely not a morning person) with some coffee and The Washington Post. Then, I spend an hour or so responding to work e-mails and scheduling client conference calls. During lunch, I head to the gym for Body Pump or Pilates. Then I come home, make lunch, and continue working on client work. I always take small breaks to check up on the blogging world (tweet, post a picture on Instagram, read unread posts on Bloglovin') and also do some home searches for my real estate clients. After work, I usually meet up with friends for dinner/happy hour or I invite them over and cook dinner. I'm all about cooking quick and healthy meals! Lately I have been obsessed with the blog Cook Smart and the meal plans they offer.
You are great at creating fashionable outfits on a budget. What inspired you to start High Fashion 4 Less? How do you find your affordable pieces?
I started my blog over three years ago and was truly inspired by my family and friends to do so. I always had a lot of people asking me who I was wearing or how much I bought the item for. I decided it was time to share my bargain shopping secrets with the public and also provide tips for readers on how to style a fashionable look on an affordable budget. I never believe in overpaying for something. Part of the thrill of shopping for me is finding an amazing deal! I am a huge fan of stores like HomeGoods, T.J.Maxx, Marshalls, Loehmann's, and Nordstrom Rack, and I often turn to those retailers for affordable, high quality pieces.
Tell us about the process of finding your home. What main attributes were you looking for in a home? What sold you on the place that you purchased?
My condo now was previously owned by a good friend of mine. He is a real estate developer in the Washington D.C. area. When I visited his place a few years back, I instantly fell in love. I told him that I was considering moving from Rockville, MD to Washington D.C. and when I did, that he would have to help me find a place exactly like his! He said he would, and I thought nothing of it. A few months later, he told me had found the perfect place for me; Little did I know that it was his actual place since he was recently engaged and getting ready to move into a bigger place. I was ecstatic and the negotiations in price began right away. ☺ I had lived in a studio for five years, so I knew that I wanted a one-bedroom so I could have a separate space for entertaining. That is probably one of the most important things I looked for.
What advice do you have for a woman wanting to purchase her own home? 
Find a good real estate agent! There are so many agents out there that do not always have the best interest of their clients at heart. I would also advise them to save save save! Rather than spending money on depreciating assets, focus on building a savings so you can make an investment that will have a high return.
What was the decorating process like? How long has it taken to get your home to look how it does now?
In the beginning, I found myself rushing the process and buying items that I wasn't truly in love with. It took me a total of two years to fully decorate my home. I decided to take my time and not hurry the process.
What is your least favorite things about your home?
The least favorite thing about my home is that it does not have an open kitchen. I love entertaining and having friends over so an open kitchen would have been a better set up and more conducive to socializing.
You're a self-proclaimed bargain shopper and are best known for showing readers that high fashion looks are attainable on a low budget. How does this translate into the way you style and decorate your home? How do you define your decorating style? What are your sources of inspiration?
My decorating style is rustic-chic. I love mixing rustic, vintage, and modern pieces. I am mildly obsessed with HomeGoods so that definitely played a large role in helping me stay on a budget. The store also served as a big source of inspiration for my home. I was recently chosen to be a blogger for the new HomeGoods blog launching in the spring—a total dream come true! I am beyond thrilled and can't wait to provide readers with some great inspiration and home décor tips. I also turn to the sites Design Sponge, The Little Green Notebook, and MadeByGirl for more home décor inspiration.
What advice can you give to someone looking to decorate on a budget?
Be patient. It's so easy to want to rush the process and get everything done at once. If you're patient, you can score some pretty awesome deals. Go to Goodwill stores, estate sales, garage sales, and most importantly, HomeGoods.
What is your favorite budget-friendly piece in your home and why? How did you find it?
My dining room table. I had been looking for a rustic wood table for some time so as soon as I spotted one at a local D.C. store, Miss Pixies, I immediately fell in love. The table was made from reclaimed wood from an old barnyard so it had so much charm and character. Since my condo is very modern, I wanted to incorporate a more vintage and rustic piece into my home.
What is one piece you recommend splurging on? What is one piece you recommend saving on?
Bed linens. You spend the most time in your bed so splurging on linens that will last and help you sleep better at night is worth the investment. One piece I recommend saving on is your couch. There are so many amazing couch options on Craigslist, too. Some of them are in tip-top condition while others might just need to be re-upholstered. To me, the two most important things about a sofa are comfort and shape.
What challenges have you encountered throughout the design process?
The biggest challenge that I have encountered through the design process is that everyone has an opinion. I would buy pieces that my parents or sister were not too fond of but now the pieces that I went with are my favorite ones. While it's nice to get a second opinion, go with your gut, you are the one living in that space, not them.
From the walls to your office desk and headboard, you seem to really embrace white space in your home, and I love how clean and crisp it looks. How did you use the white space when decorating?
I love having a blank slate to work with. What's great is that I always have the option of adding splashes of color through various accent pieces that are not a permanent fix. I love the white, crisp, sleek look of my white walls, and if I want to make it feel cozier, I add color and texture. Since my style is constantly evolving, I don't like making any permanent changes.
There is a stunning variety of prints and well-placed pops of color throughout your entire place. How do you find the right balance?
I am big on working with neutrals and whites as my base. When you have a neutral base, you can work with more colors. I try to keep the colors in the same family, whether it's golds, blues, or reds. The trick is to not use more than three to four colors in your home. You don't want to have more than a few focal points of prints and colors because then visitors will just get lost in the colors. You should only have a few pieces that stand out and complement the base colors of your home décor.
What advice would you give to your 23-year-old self?
Travel. Travel. Travel. Traveling has been such a huge part of my life but I still wish I would have traveled more when I was younger. Sophomore year of college, I studied abroad in Madrid, Spain and lived with a host family and was able to travel some. I highly recommend getting out of your comfort zone once in a while because it makes you grow and evolve as an individual.