The moment the temperature hits 60 degrees or above, I want to spend every minute outside. I may still have to wear a light jacket on my walk, but at least I'm outside instead of inside a gym. After a long winter, there's something so therapeutic about feeling the warmth of sunshine, breathing in the fresh air, and listening to the world around you. IMO, spring activities don't even have to be physical or planned. Just spending more time outside lifts my mood and brings me joy.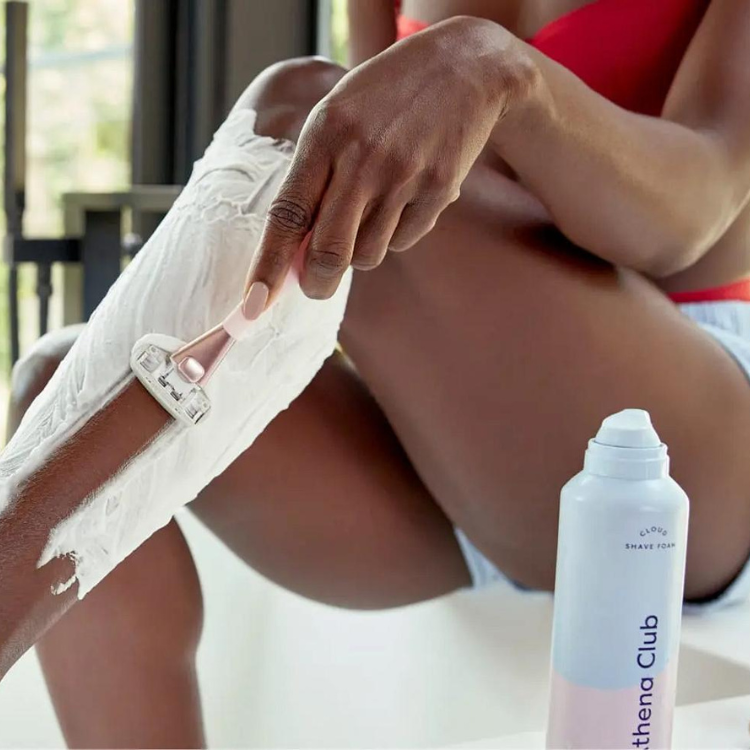 "This razor gave me the silkiest, smoothest shave I've ever had! I never get any cuts or scrapes, even on those hard-to-shave places."
To celebrate the warm weather, here are ten spring activities we can all enjoy this season. Whether you want to invest in your fitness, go on an adventure, or simply soak up the sun, we've got you covered.
1. Play some pickleball
Is it just me, or did we wake up one day to pickleball being the talk of the town? The sport is so popular now that courts are popping up everywhere. Pickleball combines ping pong and tennis and has very simple rules, giving you endless hours of fun. When you play pickleball, you're pretty close to one another (the play area is smaller than a tennis court), so while this is a sport, it's also a great way to spend quality time with friends and family—or even make new friends!
2. Enjoy outdoor yoga
I've never been one for hot yoga, but sunshine yoga? Sign me up. Set up your yoga mat on your porch, in your yard, or even in a local park. You can download an app to coach yourself through a yoga session, or check in with your local yoga studios to see if they host outdoor group classes.
3. Take a hot girl walk (or run)
Hot girl walks are here to stay, whether you prefer strutting it by yourself or bringing friends along. Take this time to hit your step goal, listen to an audiobook, reflect on your day, or unplug. If you want to level up your HGW, try a hot girl jog. OK, I'm not actually sure if that's a thing, but jogging is an easy way to add cardio to your day!
4. Explore local festivals
One of my favorite spring activities is attending local events around my city. This spring, you'll find flower festivals, berry festivals, farmer's markets, or other live events popping up all over the U.S. Most have much more to offer as well, like live music, food, drinks, carnivals, and more, so check out the local goings-on in your area for a fun weekend activity.
5. Celebrate patio season
Sitting outside is the ultimate way to dine, and nobody can tell me otherwise. When restaurants, breweries, and wineries open their patios, I feel like everything just tastes better. Grab your besties and head to your favorite spot, or try somewhere totally new to ring in patio season.
6. Take up photography
Years ago, photography was an expensive hobby. Now, we all carry high-quality cameras and editing tools in our pockets, so it's easier than ever to photograph the world around us. Start exploring new places, capture what inspires you, and then share your work on Instagram or a blog.
7. Go to a baseball game
I'll be the first to admit I don't know much about sports. But if I'm invited to a baseball game, the answer is always yes. After all, baseball games are about more than the actual game. It's a whole event with great food, traditions, and good vibes. If you don't live near a major league team, look for minor league teams in your area—the games are just as fun!
8. Start your own garden
Gardening is a hobby that requires a bit of effort but provides you with something beautiful or delicious to enjoy. Even if you live in a city, gardening isn't off the list of spring activities you can try. If you don't have the yard space for a garden, start by growing your own herbs, small flowers, or potted vegetables on a balcony or windowsill.
9. Go for a hike
If you live in an area with trails or mountains nearby, hiking is a great way to enjoy the springtime weather. Take a day to spend time in nature and enjoy the beautiful view from the top of the mountain. If you're feeling really outdoorsy, make it a full weekend getaway by turning it into a camping trip—just make sure you're prepared with all the right gear before you head out!
10. Find a new spot in your city
If you want to get outside and get some vitamin D, explore your city or town and find a new space to relax. When I lived in Boston, I would walk along the Esplanade, find a place to set down a blanket, and enjoy reading a book or drinking my coffee in the sunshine. It's fun, free, and a great way to embrace the warm weather.