For Stacy Adimando, working with TV's reigning queen of the 30-minute-meal was in the stars. Now the Food Editor for Everyday with Rachael Ray, she is probably the only editor in history who turned a trip to the pharmacy into a job at a national magazine. The New York native and cookbook author takes the importance of creating a work-life balance very seriously and is thankful her job includes the eating of many a pastry.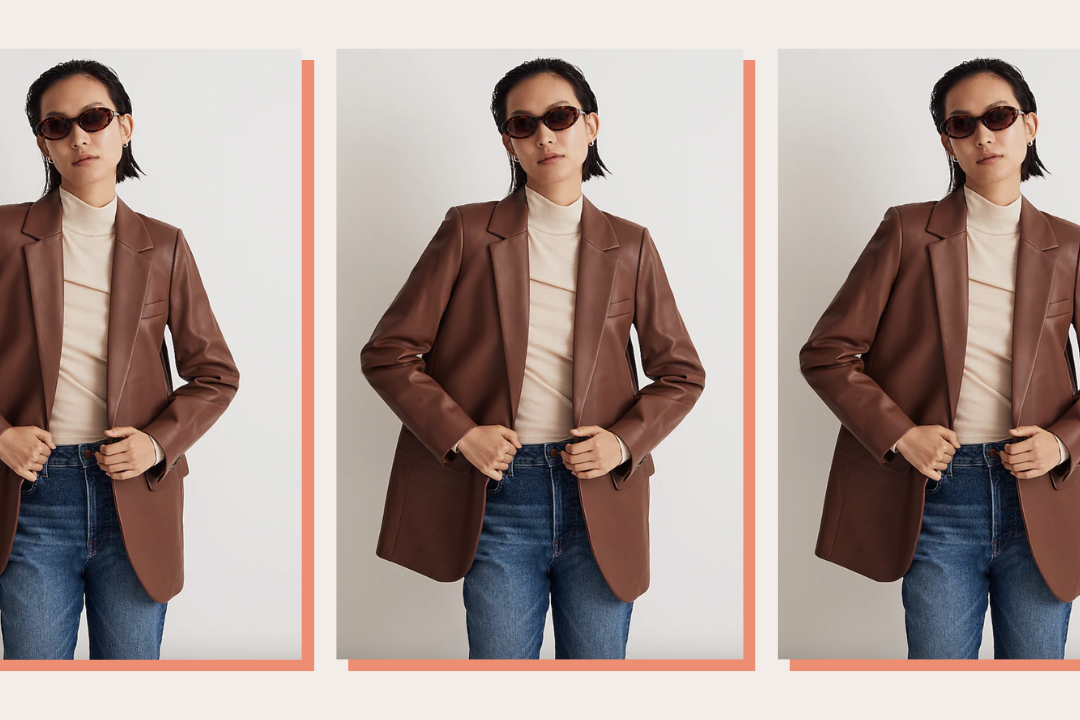 time for your fall wardrobe update!
Today on The Everygirl, find out the story behind how Stacy built herself up from a wide-eyed English major to a full-fledged editor before she hit thirty. We're not entirely sure, but it seems that hard work and an uncanny diligence worked in Stacy's favor here.
Full Name: Stacy Adimando
Age: 29
Current title/Company: Food Editor, Every Day with Rachael Ray
Educational background: Bachelor's degree in English from Wake Forest University, degree in Culinary Arts from the Institute of Culinary Education in New York City
What was your first job out of college and how did you land that position?
Well, I probably applied to every magazine job under the sun the first few months out of college, then figured out that internships were pretty much the only way to break into magazines. So, in typical overachiever fashion, I got three at once! I switched off a few days a week between a really beautiful magazine on healthy living, one on budget living, and another about fashion. Immediately I realized how much I didn't in fact know about working in magazines, so it was a tremendously helpful experience. The fashion mag (of all topics!) turned into an editorial assistant job. And the rest is history.
At what age did you realize your love of food could turn into a career?
I come from a big Italian family of amazing cooks, and was just always an adventurous eater growing up. I still have no idea how my parents did it, but they had my siblings and I excited about eating foods like soft shell crabs and escarole when we were 8 and 9 years old. My two sisters and I were helping my mom make homemade noodles for manicotti or mix up the meatball batter probably around the same age. Looking back, I guess I never realized how lucky I was to come from such a food family. I bought food magazines throughout my teens and early 20s, just looking for inspiration and ideas like any cook. But the idea of a job in food never really occurred to me until I worked in magazines.
What other jobs did you hold before becoming the Food Editor at Every Day with Rachael Ray?
I came up through the ranks at other magazines before deciding to focus solely on food. So I started at a really small little fashion mag, then got a job at a magazine all about health and natural living, which I really loved and learned a lot at. We were a tiny staff, but everyone was passionate there and we were all happy to pitch in. We didn't have a food editor, so I started jumping at the chance to take on food content—whether it was calling in a hundred olive oils to conduct a tasting, or trying out all the frozen pizzas in the grocery store to narrow down the healthiest and best-tasting. My editors at the time were very encouraging. Huge opportunities for me were getting to do things like interview Michael Pollan about his food philosophies, or writing a feature on growing your own food (at the time the whole farm-to-table explosion hadn't yet happened, so it seemed really "edgy"). I'll never forget how excited I was when my editor-in-chief actually let me see it through. (Mary, if you're reading this, you—and that story—changed my life!)
The job at Rachael Ray's magazine I think was fate. I was standing in line at the pharmacy with a terrible cold waiting for a prescription to be filled, and came across a copy of her magazine on the shelves. To be honest, my first thought was, "Rachael Ray has a magazine??" (The mag was only a year old then.) It looked kind of cool though, so I bought the issue. When I got back to my desk the next day, I Googled the title of the magazine and the first thing that came up was a news story from the New York Posts' "Page Six" that said an editor had just left. Right then and there, I looked up the editor-in-chief on the masthead, sent her my resume, and three weeks later I got a call back. I got the good news standing in an airport in Burlington, Vermont, where I had flown up to visit my best friend, and called my mom at baggage claim to tell her. I still remember what I wore on the first day of the job!
So many people claim to be Foodies these days. What advice do you have for women trying to follow a career path in food?
Food writing is definitely a crowded industry, but no one should feel like it's impossible to break into. One myth I think needs to be shattered is that you can find instant success as a food writer. We all see bloggers or TV stars who have made it big, but they didn't get there overnight. It takes time to develop yourself as an expert and build a following.
The great thing about food writing, though, is that, even if you don't have a full-time job doing it, you can still practice it and get better about it on your own time and terms. Starting a blog is obviously a great way. There's also the option of running a small business based on one thing you really love and are great at—dozens upon dozens of thriving, creative food businesses in New York City started out with one little idea, like a popsicle stand (literally!). So never feel like you're too late to the game. There are plenty of ways to be a part of the food world.
What are your responsibilities at the magazine?
Ohhhh, they are manyfold! I bet most people would be shocked if they knew what actually goes into making a magazine issue. At any given time, the staff and I are working on a handful of issues at once—and usually six months in advance of them hitting stands. I write and edit a bunch of our food columns (topics like $10 weeknight dinners, out-of-the-box cooking techniques, and reinventing classic dishes like the BLT or chicken noodle soup). Then I split our food feature load with another editor on staff, my buddy Nina. Some are technique-based—like one I just edited on learning how to braise, and another on making great cocktails at home. Others are travel-related—like a search for the best taco in America—or feature chefs and cookbook authors.
From start to finish, completing a feature is a long journey. Our editors come up with ideas for a story, then pitch a big fleshed-out proposal on it detailing things like what kinds of recipes we might run or who the star chef would be and why. Once my editor in chief is excited about it, I'll either get started on the research myself, or tag-team the feature with a chef, writer or recipe developer. We have an amazing database of cooks, cookbook authors and other experts we're so lucky to work with—continuing to learn about food and cooking from them is probably the best part of my job.
Once the story is taking shape, we brainstorm with our creative team, who come up with a concept for how we might shoot it or what the finished layout might look like. Do we want to go big, bold and in your face with the photos? Or clean and simple? Then, we take the story to set—usually in a New York City studio, but sometimes we photograph outdoors or at actual food events. We hire food stylists and prop stylists to bring the plates and napkins and pots and pans, and make the food look amazing. (I'm tellin' you—a lot goes into this!) Then we fit the story to the page, tweak text to match the photos, and package the whole thing up with a great headline that'll catch your attention when you're flipping through.
Oh, right. And then there's the tasting part! We have a test kitchen at the office where we test out all of our recipes at least two times to make sure they're delicious and as easy as possible for our readers. There are around 85 recipes a month in the magazine, so I do a lot of eating! My part in the process is to get the recipes to the kitchen, then chat with our kitchen staff about what kinds of tweaks we could make to make them easier or more flavorful. When my phone rings and it says "Test Kitchen" on the caller ID, that means it's time for a tasting, and I am a happy camper.
Take us through a "typical" day at your office.
We work in midtown in a big high-rise with an awesome view. But, an office is an office, and I'm sure it's no more glamorous than most. My day always starts with caffeination, followed by answering lots of emails from restaurant groups and PR companies looking to introduce us to their latest cooking gadget or a new chef or restaurant. On most days I do some recipe editing, story writing, reaching out to writers about assignments or circling back with questions on things in the works. My desk is BURIED in cookbooks, which is my own fault (I'm kind of a cookbook hoarder). Some days there are staff tastings (today we tasted about a million canned and boxed soups as part of a mission to find the best in the grocery store); other days there are big brainstorming meetings or art meetings where we go over story layouts and make sure they are the best they can be. And a few times a week I'm on set at photo shoots, working with stylists and our photo team to make sure the food looks incredible and the recipes look true to life. It's nonstop! But it's fun.
What inspired you to write your book, The Cookiepedia?
About a year into my job at EDWRR (I've been there about five years now), I started thinking I might want to go to culinary school. I went on a few tours of schools around the city, but when I walked into the Institute of Culinary Education, my eyes welled up with tears. I knew it was my calling. I took classes at night after my magazine job to get my Culinary Arts degree. It was no joke. I'd run out of work at 5:30 three days a week, do a Clark-Kent clothes change into my chef's jacket and checkered pants and get to work at the stove. Class was four hours long, then we had to scrub the pots and pans and every last inch of the kitchen. It was exhausting beyond belief, but I made amazing friends there and we survived it together and laughed the whole way through. After about 9 or 10 months in the kitchen, we all did culinary externships, mostly in restaurant kitchens. I worked at Peter Hoffman's restaurant, Savoy (now closed after more than 20 amazing years), which was a hugely inspiring place to be. Every time I walked (well, ran) into the kitchen, there was some enormous sack of farmer's market beans that needed to be shelled, or a huge bin of fresh octopus that needed its tentacles scrubbed. One time I even had to shave the hair off a pig skin to make chicharrones (fried pork rinds)! They used every part of the animal and so many amazing heirlooms and farmer's market plants. It was such a cool adventure and a ridiculously important learning experience. We were like a family by the end. The experience changed my life.
Anyway, midway through that I got in touch with a book publishing company thinking maybe I could sharpen my recipe editing skills even more and do some book writing on the side. (I told you I was an overachiever!) They saw my resume and wrote back that they would love to do a book with me. A cookie book. I thought, "Huh? Me?! Why me?!" I was shocked. I'm still shocked. But I'm glad they convinced me I was ready to be an author. I learned so much in the process, not only about baking but about what it takes to make a book. Again, invaluable experience I'm so glad I have. Since then I've been doing some book projects on the side—most recently I've been testing recipes for the Roberta's restaurant cookbook in Brooklyn. I get to try out the chefs' recipes and report back on what might need to be slightly tweaked or any details that might've been a little tricky to understand. I invite friends over and we pig out on the amazing restaurant food. It's a pretty great gig.
Describe the process of writing your first book. What was your most difficult challenge? What was the most rewarding part of the process?
For me the biggest payoff was being able to fully dive into one subject for an entire year and learn everything I could about it. How cool is that? It's such a rare opportunity. I wouldn't have even considered myself a great baker before taking on the book project. But I'd experiment with cookie doughs in the mornings before work, then come home and bake them off to see how they turned out. The failures were exhausting, sure, but the successes—man, it's such a thrill to come up with the perfect dessert. One of the biggest challenges was those last couple of months of baking. Christmas was over and I remember thinking, "If I have to bake one more cookie, I'm going to lose my mind!" The kicker was, I ended up baking and styling every single cookie we photographed for the book myself. FIFTY COOKIES in two days. No sleeping; just baking. I'll never (ever) do that again! It was more than worth it in the end though. Some of the best cooks go their whole careers never really becoming a great baker (or writing a book!), so I feel tremendously lucky to have gone through it.
What goals do you have for your future? Do you plan on writing another cookbook?
So many goals! But a lot of them are personal rather than professional. I have been teaching some cooking classes and dinners for Karen Mordechai's blog, Sunday-Suppers.com. She's always been someone I've looked up to, and now is a good friend. And I just have the best time ever when I'm teaching at her studio. My favorite topic to teach is Italian cuisine—I know so much just from being around it growing up, and the last couple of years I've traveled to Italy and Sicily as often as possible to visit distant family and keep learning about the food. You see people's eyes light up when you reveal a little cooking tip or secret you've brought back from the cooks there. It fills me up. So much of cooking is about the stories behind it and the conversation that happens around the table. When you can all stand around a counter cooking together and nibbling as you go… Is there anything better? I definitely plan on sticking with the teaching thing.
And, yes! More cookbooks is on the life goals list for sure. I may or may not be in some conversations about that right now, actually. :wink wink:
How do you balance your personal and professional life?
My dad, who's an amazing inspiration to me both personally and professionally, taught me one of life's great secrets. He said to me, "You should never live to work. Work to live." He's so right, and I think of work as a means to be able to do all the other inspiring things I want to do. The most valuable and exciting things in my life aren't my professional goals or successes. My happiness has everything to do with having support from friends and family, laughing my head off and getting out there to see as much of the world as I possibly can. There's only so much you can do in a day and a lifetime, and in the end, it's bonding with people and celebrating the things we have that makes me feel happy and successful.
Also, I eat a lot of pastries. And pork. That helps with the balancing thing.
What is the most important lesson you've learned professionally?
This one took a while, but I've realized that success is actually pretty fleeting, and that's helped to calm me. New York is a competitive place, and I am a big dreamer and do-er by nature. But when you do check something off of your life goals list or celebrate an accomplishment, there's usually another one waiting behind it. So I'm starting to realize that if you spend your life chasing after the next big thing, you'll always be struggling. That whole idea that one day you'll feel like "you've made it" is a myth. You've made it when you realize that "making it" isn't everything.
What is your career highlight, thus far?
I have two, I'd say. The first was working on a feature this year with my lifelong culinary idol, the wonderful Lidia Bastianich. She is everything I want to be in a cook—warm, generous, gracious, and always surrounded by family and friends. And the woman's cooking can melt anyone into a puddle on the floor. She's a genius. I interviewed her and worked with her on recipes for a story about Italian sauces beyond marinara, and she was everything I thought she would be. It was a definite highlight of my career.
The other one was watching my parents and grandparents open my cookbook for the first time. They're not a quiet bunch, but you could've heard a pin drop in the room as we all got tears in our eyes. Taking it to my grandfather and watching him smile as he opened it in his big cushy chair. I felt like the luckiest, proudest person in the world. I love my family.
What advice would you give your 23 year-old-self?
This question makes me smile. I'd tell 23-year-old Stacy that everything can change in a year, a month, a day. So stop worrying if things aren't going your way for a short time. Nothing ever is what you predict it will be. Stay smiling because optimism and friendliness will take you everywhere. Spend as much time as you can with your grandparents—talking to them and getting to know as much as you can about them. Because they won't be around forever. Oh, and working out is for suckers. (Seriously. Who has time?)