September is finally here, which means it's time to swap your iced coffee for spiced lattes and your crop tops for blazers. Fall is by far my favorite season: I much prefer cozy knits to cut-off shorts, and I'd drink a hot toddy over a spicy margarita any day. I also favor fall because I get to celebrate my birthday at the end of September (shout out to my fellow Libras!). Maybe it's because my birthday brings presents or because I've never fully understood how the leaves change color, but fall has always been the most magical time of the year to me. Even though I am now (kind of) grown up and no longer dress up as a Disney princess for Halloween, the season is still just as special. You can bet I'll be drinking my fair share of PSLs over the next few months.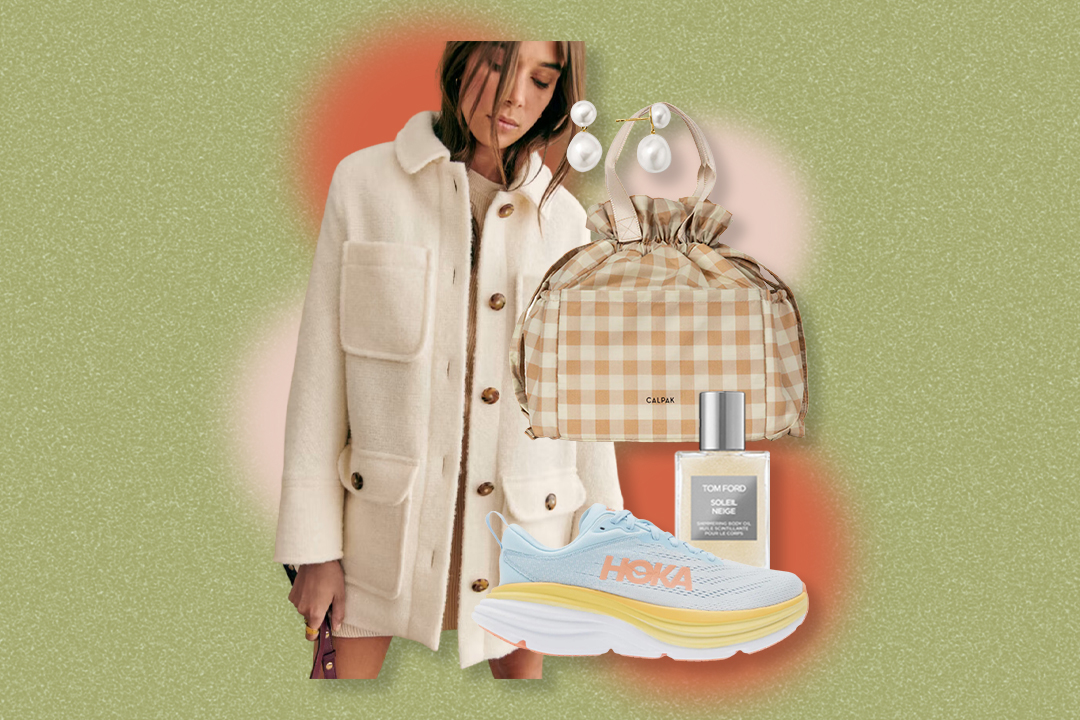 To celebrate our love of autumn, we've put together our annual fall bucket list—full of activities to bring you and your crew closer, help you become your best self, and make the most of what the season has to offer. Grab your scarves, throw some apple cider on the stove, and get ready for your best fall yet.
1. Give your home a cozy makeover
Your home should change with the seasons, just like your wardrobe. Start by swapping out your summer linens for warmer sheets, cozy throws, and an extra quilt. Then, pick up some cozy-scented candles (the more, the merrier), add cinnamon oil to your essential oil diffuser, and throw in a fuzzy rug or throw pillows. For more inspo, check out this fall decor you can score on Amazon or our favorite items on Etsy to decorate for both fall and Halloween. If you want to deck out your front porch to give your neighbors an extra dose of seasonal cheer, you know what to do. Lay out the themed doormat, stock up on pumpkin decor, and get a dried floral wreath in seasonal colors like burnt orange and golden yellow.
2. Make a new fall drink
While you could always DIY your own PSL (we love you, Starbucks, but we could really put that extra $6 toward our sweater budgets), there are tons of other fall flavors to enjoy as well. Whether you're team apple cider or team hot cocoa, experiment with warm, comforting drink recipes using all the flavors of the season. Who knows, you might find a new drink that's even more satisfying than classic pumpkin spice.
3. Stock up on your favorite fall candle
There's something about a pumpkin-scented candle that just hits different. A great fall candle can transform any space into an autumn oasis, so if you can't get enough of all things pumpkin, you go, girl. But if you want to try something new, there are countless other scents that were practically invented for cool evenings spent curled up on the couch. Try a variety of candles with notes like fig, vanilla, leather, sandalwood, or woodsy tones. Once you find the fall candle you like best, stock up on it because you're going to want to light it every day.
4. Have a fall-inspired movie marathon
Time to channel your inner Sanderson sister—it's spooky season! Get in the spirit by grabbing a bowl of popcorn and playing your favorite scary movies back to back (yes, Halloweentown counts). If you're like me and scary movies are more torture than fun, watch some of these not-too-creepy classics or opt for a movie with impeccable fall vibes like When Harry Met Sally, You've Got Mail, or Dead Poet's Society. Nothing gets me in the mood for autumn quite like Meg Ryan in black tights and a chunky knit.
5. Take your workout outdoors
Whether you're a treadmill gal or a devoted yogi, consider taking your workout outdoors as the weather gets cooler. Enjoy the gorgeous views and refreshing air on your morning jog, or do a few sun salutations in your yard or local park. Just imagine the sound of crunching leaves as you ease into cobra position! No matter what your preferred workout is, aim to take it outside at least once a week. Bonus: Exercising in cold weather might have some additional health benefits (as if the views weren't enough).
6. Invest in the perfect cozy sweater
Sweaters are undoubtedly the fashion item of fall. You can wear them indoors and outdoors, as loungewear or a part of stylish OOTDs. Basically, as soon as temperatures start to drop, we don't want to wear anything else. While we're huge fans of affordable basics (and have piles of under-$20 sweaters in our closets to prove it), there's nothing like investing in a high-quality fabric that you'll want to live in. This season, splurge on the perfect sweater in the shape, fit, color, and fabric that you won't want to take off. Trust me, the right one will last you for years—as long as you know how to care for it.
7. Start a spooky book club
We love a spooky movie in the fall as much as the next basic b*tch, but there's something about a good page-turner that's even more chilling. Gather your friends for a spooky book club to challenge yourselves to read more and discuss the scariest thrillers. Bonus points if you DIY a cozy reading nook for the season. Keep a throw blanket, candle, and a coaster (for a warm cup of tea, of course!) nearby.
8. Eat seasonally
PSA: There's more to fall produce than pumpkins. This season, load your fridge with produce like apples, green beans, kale, sweet potatoes, beets, chard, figs, and radishes. Get creative trying new recipes, or add some autumn ingredients to your favorite go-to recipes (grilled cheese with apples and figs, anyone?). Bonus points for shopping at your local farmer's market, where you'll find an array of fruits and veggies that are in season near you. Plus, don't forget to add classic flavors that taste like fall: cinnamon, sage, nutmeg, and so on.
9. Change up your beauty routine
Just like how you may add bronzing face drops, dewy tinted moisturizers, and extra SPF to your skincare regimen come summer, cold weather requires adjustments to your beauty routine, too. Stock up now to ward off dry and scaly skin, dull complexion, and chapped lips when temperatures start to drop. Try adding a heavy moisturizer or overnight mask, replacing powder makeup with cream versions, and having an on-the-go mist, balm, or oil for emergencies. Likewise, use less dry shampoo and increase deep conditioning treatments to keep your locks lush. To step it up a notch, add a fall beauty trend to your routine, whether it's a dark lip or an of-the-moment hair trend.
10. Plan a fall-themed date
You know what I'm talking about! Get cozy with blankets and apple cider to watch a spooky movie. Rake leaf piles and then kiss in them—IDK, I've seen it in movies. Or check out the coziest coffee shop in your town before heading to the bookstore. No matter what your ideal fall date looks like, autumn is arguably the most romantic season, and you should make the most of it. Plus, cozy sweaters are arguably sexier than bathing suits. There, I said it. Whether it's a new date you met on Hinge, the person you just went Facebook-official with, or your spouse you've been married to for years, don't be afraid to get #extra and plan the fall date of your dreams.
11. Make your favorite fall recipe from childhood
Nothing screams fall quite like the smell of chili on the stove or pumpkin bread baking in the oven. Revisit your childhood by making your favorite autumn treat, whether it's an apple pie like your mom used to make, roasted pumpkin seeds (as easy to make as they are tasty), or classic apple butter. Cook with the flavors of the season and indulge in the tastes that bring back memories. If you need some inspiration, check out our favorite fall recipes, recipes with pumpkins, recipes with apples, or some delicious sweet treats if baking is more your style.
12. Have a fall picnic
Picture this: The leaves are orange and red, you're cuddling up in cozy sweaters and layers of blankets, and there's a tasty spread of butternut squash pasta and pumpkin cookies in front of you as you sip on hot toddies. In other words, you're living out a scene from a classic fall rom-com. All this to say, picnics are not just a hot weather activity. In fact, I'd make an argument that fall is the optimal time to grab your friends or significant other and have a picnic. Whether you bring a blanket and a Thermos of apple cider to your local park or go all out with a picnic basket of seasonal foods, plan a picnic to enjoy all the views that autumn has to offer.