Remember in Mean Girls when Regina George's mom asked the girls, "What's the 411? What has everybody been up to? What's the hot gossip? Tell me everything. What have you guys been listening to"? Well, if she were to ask me that question right now, I would say podcasts.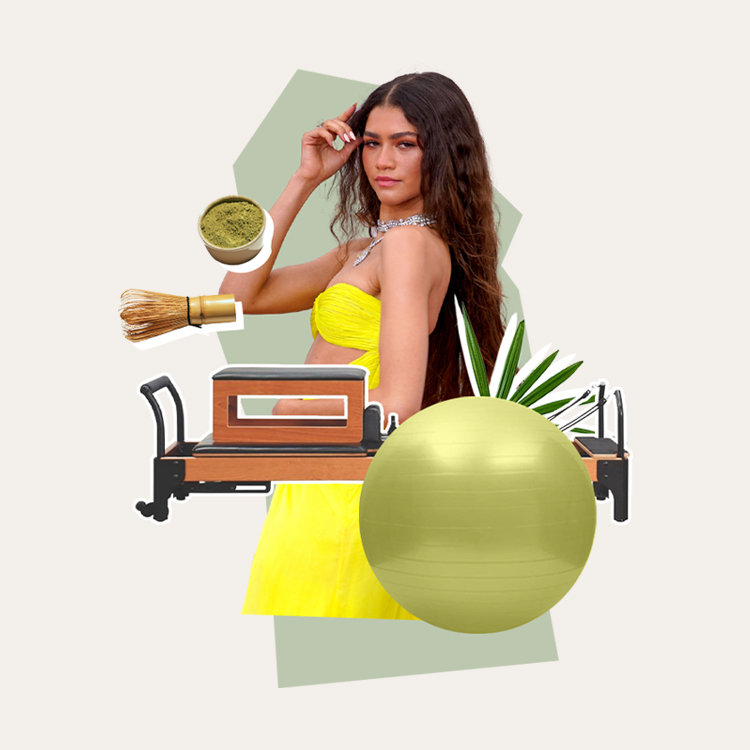 she's (kinda) just like us!
If there is a buzzword for 2019 so far, podcast is a strong contender. This digital, episodic series trend is bigger than ever before. They're the perfect thing to listen to on your daily commute to work or school. That time of the day that is normally spent being unproductive can now be used to learn and explore something new through an episode.
There is such a vast range of genres available now that you can find episodes on topics from murder mysteries to daily news to stand-up comedy. Deciding which one to listen to next can be a bit overwhelming. To help you out, I've rounded up some of the favorites at The Everygirl office right now. Keep reading to find out the podcasts we're listening to this year!
Goop, the lifestyle brand by Gwyneth Paltrow, talks all things wellness, culture, food, business, and more hosted by Goop's Chief Content Officer, Elise Loehen. Elise sits down with leading thinkers and industry disruptors to bring the audience eye-opening information. I love this podcast for the real facts behind health trends. My favorite episode right now is Herbs, Spices, and Proteins to Live By!
This podcast is all about discovering and connecting to the deeper meaning of the world. The goal is help you create your best self with some of the biggest spiritual thinkers out there. This is the perfect Sunday morning podcast to re-energize your mind and soul. Also, it's hosted by Oprah! Yes, THE Oprah! How could you not listen to it?
Hosted by best-selling author and lifestyle entrepreneur Lewis Howes, School of Greatness covers topics like business, entrepreneurship, relationships, inspiration, and more! Whether you are super into business or want to become more business-savvy, you'll hear the stories of some of the most brilliant business minds and how they got to be there. Lewis explores what really makes people great and how you can be great, too.
Calling all Harry Potter fans, this one's for you! Mallory Rubin and Jason Concepcion delve into all things witchcraft and wizardry. From the movies to the books to the extended Potter universe, this podcast covers it all. This one is a must listen to at The Everygirl office!
Amanda Seales, comedian and actress from Insecure, is seriously funny! In this podcast, she is bringing all her unapologetic realness to societal topics that aren't discussed enough. Funny and inspirational, she is the girl we all want to be friends with. If you listen to her podcast and need more, check out her new HBO special I Be Knownin'.
Second Life is all about the unique, career-changing experiences that women in all industries have gone through. Clique Brand co-founder, Hillary Kerr, chats with inspirational leaders such as Kendra Scott, Jennifer Lopez, and Alli Webb on their struggles, triumphs, and everything in between. As a young woman, I love to hear the stories on how these entrepreneurs and business owners came to be where they are today. This is a great podcast for some awesome and relatable career advice. Women supporting women all 2019!
2 Dope Queens is a live comedy show in Brooklyn. Phoebe Robinson and Jessica Williams are two comedians sharing their hilarious and relatable stories on romance, sex, race, and the adventures of living in New York City. I am a huge fan of stand-up comedy shows and this one gets me every time. Though the show has stopped producing new podcasts, all of the old episodes are still available for you to listen to!
The royal obsession is real! If you're like us and can't get enough of the family, then this podcast will keep you up to date on everything you need to know. I never knew I needed all the Buckingham Palace drama in my life until now. Since it is hosted by two royal family experts, Kaitlin Menza and Lisa Ryan, you'll never miss out on anything Meghan Markle again!
This weekly podcast is celebrating "the messiness of being human." Dax Shepard, self-proclaimed armchair expert, sits down with the actors whom we all know and love. He opens them up to share their setbacks and shortcomings. Dax takes a humorous approach to something we can all understand and relate to: growing from what we go through.
Last year on The Everygirl we talked about what code switching really is. This podcast will take you more in-depth on race, ethnicity, and culture in politics today. Hosted by two journalists of color, they break down their own experiences with their racial identity and why it is important for individuals of all races to emphasize with one another. It covers so many topics from perceptions of beauty to historical events to what is happening on the steps of Washington today.
Award-winning financial strategist, TV host, and best-selling author Farnoosh Torabi shares everything you need to know on business and finance. Farnoosh sits down with some of the top business figures to ask them questions about their money strategies, financial wins and failures, and how they manage their money today. As women, it is so important to be knowledgeable and smart with our money now more than ever before. This podcast is so educational and you get to hear first hand the habits of financial experts.
What are some of your favorite podcasts right now? Let us know in the comments!