Tomorrow we ring in the first official day of fall, but we have to admit that we've already been a step ahead—embracing the cooler weather, pulling out our favorite sweaters, and stocking up on seasonal produce. What can we say? We just love fall.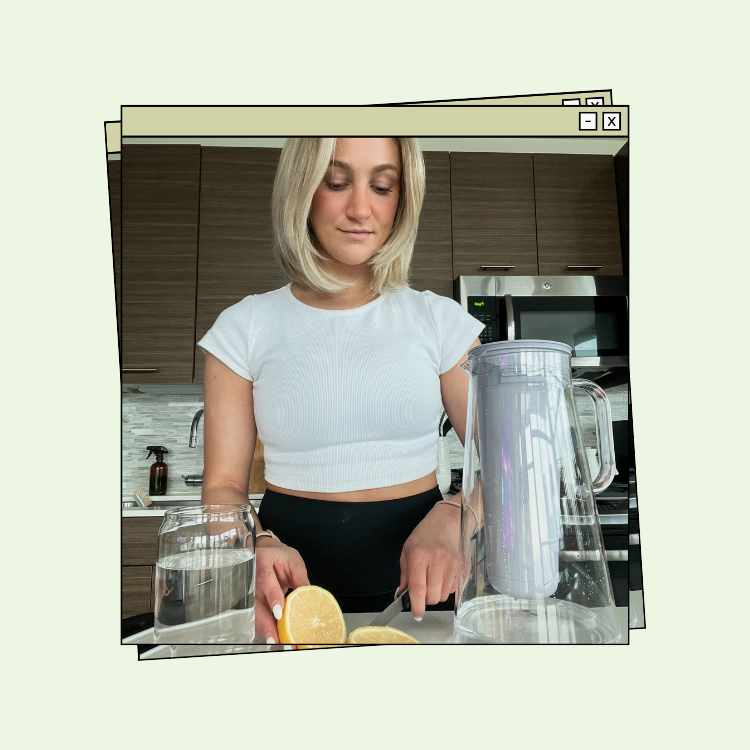 get it right in 2023 and beyond
Because farmers' markets and grocery stores are abundant this time of year with some of our most-favorite ingredients (butternut squash, cauliflower, kale, and apples to name a few) we thought it only appropriate to equip you with three of our own recipes to help you get cooking this season. From a warm, creamy soup to a roasted veggie side dish to a light weeknight meal, here are the healthy recipes we urge you to go make now!
Also: Be sure to share your own fall recipes for a chance to be featured in our next round-up of favorite reader recipes. Follow @theeverygirl_ and tag your photos using #theeverygirlcooks.
Butternut Squash Soup
This soup is addictively good, but totally healthy. It makes a big batch, so eat some, keep some in the fridge, and freeze the rest in quart size plastic bags for a quick workweek lunch.
Ingredients:
2 medium butternut squash
1 c. diced onion
1/2 c. diced carrot
1/2 c. diced celery
Extra virgin olive oil
2 cloves garlic, minced
1 can chipotle peppers in adobo (find in the Mexican aisle)
4 c. chicken broth
1 sprig of fresh thyme
Salt and pepper
1 c. Greek yogurt or sour cream
1 big handful of roasted pepitas (pumpkin seeds)
Directions:
Preheat oven to 400 degrees. Cut each butternut squash in half. Coat a large baking dish with olive oil. Place the squash in the dish, face down. Using a fork, poke holes in the skin side of each half. Bake for 45 minutes, until tender. Meanwhile, saute onion, carrots, and celery in olive oil in a Dutch oven or large stock pot. Remove one pepper from the can of chipotle peppers in adobo and chop. Add the pepper and garlic to the pot, saute a minute more, then set aside. Once squash is cooked, let cool. Scoop out the meat and add to the pot of sauted veggies, along with 4 cups of chicken broth. Bring to a simmer. Season with thyme leaves and salt and pepper to taste. Let cook 10 minutes. Using an immersion blender, blend the soup until smooth. Alternatively, transfer soup to a blender.
In a small bowl, combine 1 cup of Greek yogurt or sour cream with 1 tablespoon of the sauce from the can of chipotle peppers in adobo. Serve the soup into shallow bowls, add a dollop of chipotle crema, and a sprinkle of roasted pepitas.
Roasted Cauliflower with Capers & Parsley
Cauliflower is anything but boring in this easy roasted dish. It's all about the right seasonings pre-roasting and toppings afterward. We bet this will become your go-to vegetable recipe this fall–it's one of ours!
Ingredients:
1 head of cauliflower, broken into florets
1 Tbsp. olive oil
2 Tbsp. of capers, drained and rinsed
½ tsp. coarse salt
½ tsp. red pepper flakes (go light if you like less heat)
Freshly ground black pepper
Pinch of garlic powder
Fresh parsley, chopped
Fresh Parmesan, grated
Directions:
Preheat oven to 425 degrees. Line a baking sheet with parchment paper. Spread cauliflower florets on the baking sheet. Drizzle with olive oil then season with salt, red pepper flakes, black pepper and garlic powder. Scatter the capers on top. Roast, turning halfway through, about 20-30 minutes, until cauliflower edges golden and capers become crispy. Lifting the sides of the parchment paper, transfer to a bowl. Top with fresh parsley and Parmesan before serving.
Grilled Chicken Sausages with Shredded Kale, Apple, and Hazelnut Salad
Ingredients:
1 package of lean chicken sausage, any flavor
1 bunch of Tuscan kale, thinly cut (use the chiffonade technique!)
1 large Gala apple, thinly sliced
2 handfuls of hazelnuts, toasted and roughly chopped
1 small shallot, minced
2 Tbsp. olive oil
1 Tbsp. fresh lemon juice
Parmesan, finely grated
Salt and pepper
Stone-ground mustard, for serving
Directions:
Heat a grill to medium-high heat. Cook sausages, turning occasionally, until browned and cooked through, about 10 minutes. Meanwhile, whisk together shallot, lemon juice and 2 tablespoons olive oil in a small bowl. Season with salt and pepper. In a large bowl, toss kale with dressing and let sit. Top with the apple slices and hazelnuts just before serving. Serve sausages and kale salad with a dab of mustard.