Southern Weddings started out as a blog on Lara Casey's (13″) computer with only the help of two interns in 2008; it has since grown into a premiere publication for modern brides with a print edition sold in 43 states and shipped to readers in 46. What was born as a resource for Southern brides has now turned into a publication that brings the Southern lifestyle to brides everywhere.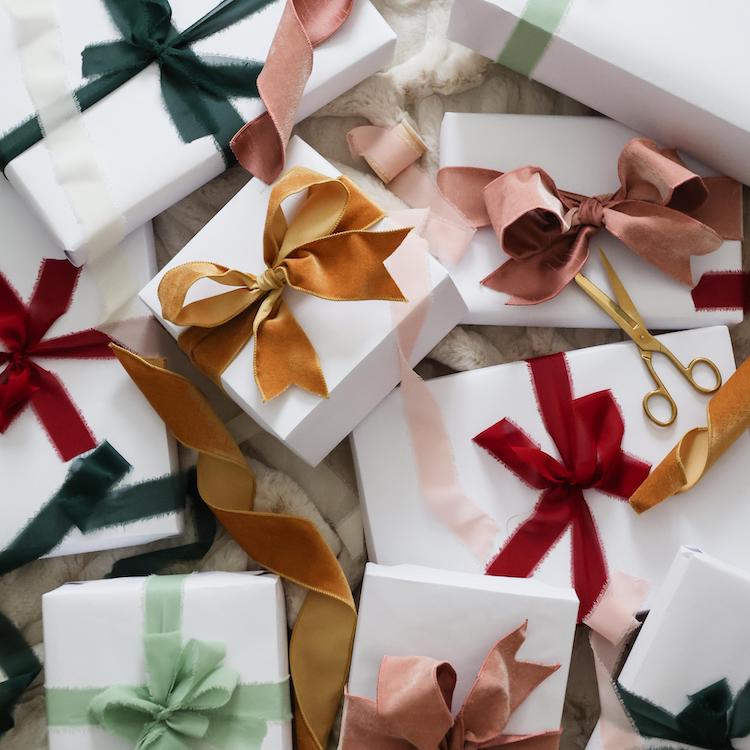 the perfect gifts for everyone—and we mean everyone—on your list
We were lucky enough to talk to Lara, who has been with SW from the start, and with Nicole Yang, who started as an intern in 2010 and hasn't left since. Read on to learn about their unique journey to their current careers, finding your company's niche, and what it takes to work in their industry (hint: must love love).
Full name: Lara Casey
Age: 33
Current title/company: Editor-in-Chief and Publisher
Educational background: B.F.A. in Music and Theatre from Carnegie Mellon University — nothing related to publishing!
Full Name: Nicole Yang
Age: 23
Current Title/ Company: Art Director, Southern Weddings
Educational Background: B.A. in Journalism and Mass Communication with a specialization in graphic design from The University of North Carolina at Chapel Hill.
What was your first job out of college and how did you land that position? What were you pursuing prior to Southern Weddings? How has your career path changed through the years?
Lara: Ten years ago, right after college graduation, I made the decision to leave the path everyone thought I would take. Not knowing what I was going to do to pay off my college debt or pay my bills, I left theatre and became a personal trainer in New York. I wanted to help people transform themselves from the inside out. Fast forward to two years later when my family's home was ravaged by Hurricane Ivan, my brother lost the ability to walk in a snowboarding accident and I, fresh off of a failed relationship, had left NY and moved in with my very disappointed and depressed parents. Then, one Sunday afternoon, a tall, dark, handsome Navy gent walked up to me in the gym and introduced himself. Ari was the first person to make me feel loved, not despite my flaws, but with them. He helped heal my family's heart. Shortly after we started dating, my brother began to walk. A true miracle. My mom – a French chef – got back in the kitchen and my dad started to smile again. I started to believe in true love. Little did I know that I would fall in love with Ari and we would be married just five months later (in Vegas, but that's another story!). I started a little event planning company and fell in love with the world of weddings. On our one year wedding anniversary, Ari was deployed to Iraq. I was so afraid for him and needed something to keep my mind occupied. So, one night I found myself dreaming of pretty things – anything to keep my mind off bomb threats. I started mocking up a wedding magazine cover on my little 13-inch PC and the rest, as they say, is history.
Nicole: My first job was at Southern Weddings! I started out as a design intern the summer before my junior year of college and was asked to stay on for the next year. It was great timing. I was present for a lot of growth in the company, and apparently I made my value known, because I was asked to stay on after that year as an editorial assistant, and the year after, promoted to Art Director – my dream job! At least, it was my dream for the past four years. I went into college as a chemistry major and thought I would become an anesthesiologist. Though I loved science, it was not as thrilling as I wanted it to be. I literally woke up one day and thought, "I should change my major." And I did. My switch to journalism wasn't entirely spontaneous, though. In high school, I was an editor for my school newspaper and designed all of my pages (to the chagrin of my assigned designer). I loved it, but never thought it would be my career path.
Take us through the launch of Southern Weddings from the ground up.
Nicole: Lara's story of starting this magazine and blog on her teeny PC are our quaint beginnings. Conceptually, we started out as a wedding blog for Southern brides, exposing them to the things happening in the wider wedding world. Over time, we've actually flipped that on its head: we now share all the things that are so amazing about the South and weddings in the South with the wider world, which is eternally fascinated by our corner of the country! Realizing that, and the power of our niche, we transformed into a Southern lifestyle blog for brides. We've spent a lot of time experimenting with features and trying to mirror the complexities and nuances of the region into our blog and magazine. We include everything from food, expert advice and Southern traditions to wedding inspiration and real weddings, but our biggest focus over time has become the richness of life and of marriage.
To give you a little background, Lara launched the SW blog and magazine in 2008 with two interns. Two full time editors were hired in 2009 (including Emily, who is still with us today!). When I came on as an intern (2010), we were only beginning to see our work gain some traction, and from my point of view, it felt like we were growing tremendously in a small period of time. We needed more people to take on new roles and responsibilities and after some trial and error, we learned to trust our gut and go back to basics – our team is only comprised of people who believe in our mission, who represent the South and its hospitality and can't get enough of love. We've continued to grow because we have a team that's a powerhouse operating off of the best this region has to offer. Our readers love this because it's exactly how they are, too. We're currently in the middle of many exciting projects – a new issue, a new website and a new partnership. All of these things are just a way for us to spread our mission even wider, and it's only been possible because of how amazing our current readers are and how they've cheered us on as we've found our way.
Tell us a bit about your current positions – what do your day-to-day responsibilities look like?
Lara: Every day is completely different for me, which I love! My over-arching job responsibilities include keeping the company financially and legally sound through book keeping and examination of our growth and expenses; motivating the team to focus on our core mission; big picture editorial view to ensure we have a well-rounded publication and blog that shares our mission clearly; helping each team member to feel supported, educated, connected and celebrated so that we all do our best work for the mission; being a voice for our brand mission in public relations, speaking and outreach via networking events; keeping our focus on our mission and the culture of the South; making money in other arms of the business (consulting, book, speaking) to ensure the business stays diverse; and helping to build solid relationships.
Day-to-day, my activities include being on the phone, doing consulting for small business owners, making editorial decisions with Emily, creating new shop products and doing magazine layout with Nicole, managing challenges that arise, doing all the financial planning and book keeping, speaking at conferences about authentic branding and the core of a solid business, motivating our amazing team, and — among many other things — replying to a whole lot of email.
My responsibilities drive the heart of the company and help to keep us growing and moving forward, always facing reality of where we are and what is and isn't working so that we can reach more people to connect for the mission — stronger than oak marriages and relationships that last. My hold on these responsibilities allows each team member to take the lead in other areas, helping us reach our greatest potential.
I am passionate about the culture of the South and the beautiful warmth that abounds here — truly God's spirit in action. Loving thy neighbor. Serving our neighbors. Encouraging, feeding, giving, illuminating. My strengths also lies in seeing the big picture and connecting the emotional dots to what each aspect of our company makes others feel. My job is to help funnel the best into what we produce.
Nicole: In a team of six, my position is very flexible, but it's gotten more specific over time as we've grown and made ourselves more efficient. In general, I'm responsible for executing our visual brand across any of our visual platforms – whether on the blog, in print, in marketing collateral or shop promotions — and maintaining its integrity. This is very much a team effort – we don't make any brand decisions without taking it to the team. On a day-to-day basis, I work on a multiple projects: helping our ad director create styled proposals and marketing materials, helping our creative director determine the best way to graphically represent our blog posts, developing new products for our two shops and maintaining our site.
Tell us about your team! What are your offices like and how many team members do you currently have?
Nicole: Our team is awesome. Every time I think of the girls I work with, I am amazed at what only six women have produced. Currently, there are only four of us working from our base in Chapel Hill. We work on the second floor of Lara's house (we're the only thing up there), where we've taken over all the closet space with Southern Weddings Shop products and old shoot props. We all work in the same room, so we often spin around in our (monogrammed) office chairs to ask questions or chat about The Bachelorette (that's mostly Emily and Lisa). Lara and I talk about goats and pigs and chickens. My favorite part of our office is that each of us has our own giant bulletin board full of visual inspiration that we've carefully curated. Two of our team members, Marissa and Kristin, work remotely from home. We do a Google hangout every week for our team meeting.
Best moment of your career so far?
Lara: There are so many highlights! Every magazine launch, team dinners (I LOVE the women I have the honor of working with!), hearing from readers who we've inspired to love deeply, and finally getting SouthernWeddings.com recently (read the full story here). There's one more big highlight that's about to happen in November, but I can't share what it is yet. Keep your eyes and ears peeled!
Nicole: This is so hard to answer! Our V5 magazine launch party was such a huge moment for all of us. For me, it was the first time I was present to witness so many people coming together to celebrate love, marriage and us. It was also the first year that I acted as art director of the magazine and I felt so nervous but proud because of that. It was incredibly overwhelming to see what we had created together and the community that we brought together in one glitter-decked ballroom.
Lara, you also run a branding company (Making Brands Happen), are writing a book, founded the Making Things Happen movement and frequently travel for speaking engagements. How do you balance so many different projects?
In short, I stay focused on what matters and I REST. I used to work 24/7 until my marriage and life started to fall through the cracks. I had to learn to fight for my time by killing distractions (for instance, I don't use social media or email after hours or on weekends so I can focus on my family instead of my phone); setting solid boundaries; working my tail off during business hours; and always taking breaks to go hug Grace (my daughter), stretch, pray, read scripture, or just take a deep breath. I don't work on weekends anymore and it has made me so much more productive during the week. Also, I have a truly remarkable team that helps me keep everything together!
Lara, how has your degree in music theater and dance influenced your work now? Did you ever consider pursuing something more in line with what you studied?
Ha! Yes, I considered it, and God had other plans. When I look at my life, I see how the pieces fit (theatre taught me visual story telling, creativity, technical production, stage presence and how to understand people's hearts and motivations) but it still all blows my mind that I am where I am. I am not formally equipped for any of this, but I truly believe that God will equip you when you follow His narrow path. I've tripped and fallen on that path a billion times, but each fall has helped me to learn to get up stronger and walk with purpose.
Nicole, you started out as an intern at Southern Weddings. What advice do you have for women looking to work their way up at a company?
Learn as much as you can. Doing your job is what makes you valuable to everyday operations, but getting to know a company's mission and thinking critically about decisions that affect it are what make you valuable to a company. Don't be afraid to ask questions and don't be afraid to tell people what your goals and your dreams are. Some people think they're dreaming too big when they vocalize their goals or that it makes them sound ungrateful, but I'm also surprised by how many people think my crazy ideas are good ones and how much support you gain when people know you're dedicated to a dream.
Nicole, as art director, your job requires you to be creative on a daily basis. What do you do to stay inspired? Where do you look for inspiration?
This used to be, and really still is, a challenge for me. I've realized the hard way that to stay inspired, you have to do the counterintuitive thing and let your brain take a gosh darn break. The best ideas come to me in the shower or right before I fall asleep, when I've totally shut down and have no expectations or pressures. You can't find something new in the world when you're concentrating on something concrete. When it comes to looking for inspiration, I surround myself with other creatives. My best friends are photographers and my boyfriend is a film nerd and musician. Sometimes all it takes is seeing something through a different medium, watching other people who are passionate about what they do or just having a conversation with someone who sees the world through a different creative lens.
What advice would you give to your 23 year-old self?
Lara: Follow God, not people. Chasing more followers and bigger business and more more more will run you right into the ground, but He never fails.
Nicole: I'm 23 currently, and I remind myself all the time to have courage and keep asking for what I want (definitely easier said than done). No one can support you or give you what you want unless you work for it and ask for it.